Deliver team building with a breath of fresh air
It's hard not to be inspired when you gaze at the rugged peaks of the Sierra Nevada or the early-morning fog rising up from the Great Smoky Mountains. And the 500 inches of annual snowfall in Utah's Wasatch Mountain Range is impressive enough to support the buzz phrase of "Greatest Snow on Earth."
Planners already know that inspiring settings often generate inspired ideas. However, they're also finding that when it comes to team building activities, few settings can match the mountains. The terrain offers a range of options unimaginable elsewhere, with four-season variety.
"Team building is, more than ever, a motivating force for meeting planners," says Mona S. Meretsky, CSEP, president of Fort Lauderdale-based COMCOR Consulting Services. "And mountain settings are perfect, because they offer possibilities you really can't incorporate anywhere else. This setting challenges participants physically and mentally to come up with solutions to unusual situations."
Utah
Park City Mountain Resort has emerged as the largest single ski and snowboard resort in the United States. A key property in the Vail Resorts portfolio, it has completed $50 million in improvements, including the new Quicksilver Gondola that connects the property to the former Canyons Resort. The project has resulted in 7,300 skiable acres.
"Park City being only 35 minutes from Salt Lake International Airport has always set the town apart as a desirable destination for meetings, events, and conferences," says Bill Malone, president and CEO of Park City Chamber of Commerce/Convention & Visitors Bureau. "The fact that $50 million was invested into our mountains only improves the Park City vacation experience, and gives meeting planners more incentive to host their event here."
A key meeting and lodging area of the extensive property is Canyons Village at Park City Mountain Resort, with six properties that combine to offer 1,383 guest rooms and more than 70,000 sq. ft. of meeting space. Westgate Park City Resort & Spa, which features 488 guest rooms and a 5,500-square-foot ballroom, offers team-building experiences such as art and wine classes, bowling, a ropes course and ziplining.
Park City Mountain Resort has three other properties with guest rooms, including The Lodge at the Mountain Village, which features 100 sleeping units. Including space at the resort, there is a combined 21,961 sq. ft. for meetings and events.
"Park City is making history this season and we want you to be a part of it," says Bill Rock, chief operating officer for the resort. "Moments like this only happen once in a lifetime. Our team has worked tirelessly this summer to complete over $50 million in resort improvements that will completely transform the experience at Park City. There is only one Park City and we cannot wait to share it with the world."
Park City Mountain Resort and Deer Valley Resort sandwich historic Main Street, which is lined with quaint shops, galleries and restaurants. Deer Valley Resort's eight properties also bring variety to the destination, with a combined 1,120 guest rooms and nearly 180,000 sq. ft. of event space. Stein Eriksen Lodge Deer Valley, which offers 180 guest rooms, can accommodate the largest groups in the city, with meeting space for up to 1,064.
Greater Salt Lake City served as host of the 2002 Winter Olympics. Utah Olympic Park in Park City now offers activities such as bobsled competitions (winter and summer), ziplining and alpine slides. National Ability Center has 26 acres of self-discovery options for planners. With hiking, biking and boating among the summertime activities, Park City's got you covered all four seasons.
In Moab, Utah, near Canyonlands and Arches National Parks, millions of years of blowing winds and sands have carved one of the great natural sculpture studios on Earth. This is where Red Cliffs Lodge is located, surrounded by 2,000-foot high red-rock cliffs. It's a rustic working ranch, with the Colorado River running right through it. The lodge offers 110 guest rooms and 8,900 sq. ft. of event space. Red Cliffs works with several local companies to create special activities, which are sure to wow attendees amid a dramatic natural backdrop.
"We're able to create memorable experiences you just can't duplicate on any other type of terrain," says Mark Widmer, owner of Ampelis, a local company. "And when the sun comes up over Red Cliffs Lodge, it's an experience like no other."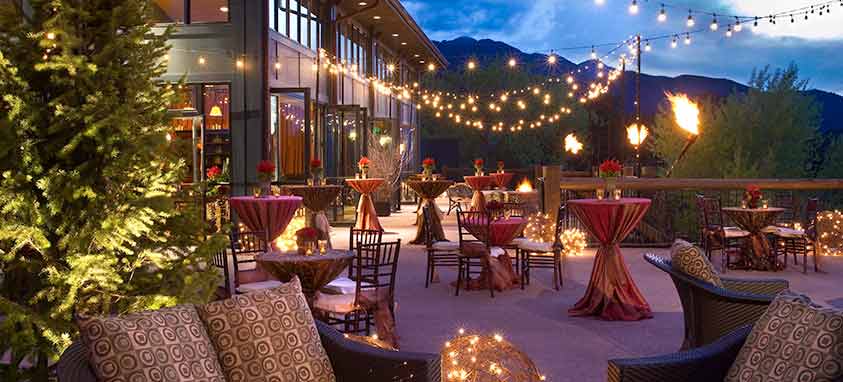 The Broadmoor, Colorado Springs
Colorado
Coloradans have a simple name for the 53 peaks that stand taller than 14,000 feet in their state: 14ers. Small wonder this is a popular place for meetings. The Broadmoor, in Colorado Springs, is one of America's grandest resorts. It was built in 1918 at the foot of Pikes Peak by Spencer Penrod, an aficionado of Italian culture named. As a result, there's a peach-colored Italianate palace that oozes elegance.
The Broadmoor has one of the greatest collections of early-American and Western art in the world. The hotel is owned by billionaire businessman Philip Anschutz, a renowned art collector.
With 799 guest rooms and 185,000 sq. ft. at the main resort, two smaller rustic properties and a log-cabin meeting lodge, The Broadmoor can host every kind of meeting. In addition, with 18 restaurants, three championship golf courses, a world-class spa, a swan-filled lake with boating, and scenic Western towns nearby, attendees will never run out of things to do.
The resort's new Soaring Adventure takes attendees above the thunderous Seven Falls, where they follow rope bridges, rappel down a cliff, fly on ziplines ranging from 250 to 1,800 feet and enjoy stunning views of the canyon.
"Guests can experience an all-new adventure and have more reason to visit than ever before," says Jack Damioli, president and CEO.
Park Hyatt Beaver Creek Resort and Spa anchors a quaint European-style village, facing the ice rink/central square, where a chef brings out warm chocolate chip cookies every afternoon. This chateau has 190 guest rooms and 20,000 sq. ft. of event space, along with a 'S'mores Happy Hour at the firepit. Guests will enjoy Allegria Spa, a slope-side pool and hot tubs, and three restaurants. In a place where hiking and skiing trails are literally right out the door, teamwork opportunities are plentiful.
For planners seeking urban luxury, consider booking events at Grand Hyatt Denver and Hyatt Regency Denver at Colorado Convention Center. Grand Hyatt is an AAA Four Diamond property with 516 guest rooms and 52,600 sq. ft. of event space. The lobby is known for its stacked fireplaces encased in stone. Hyatt Regency has 1,100 guest rooms and 60,600 sq. ft. of event space, including a 30,000-square-foot ballroom. It's adjacent to Colorado Convention Center, which offers 584,000 sq. ft. of exhibition space with plans to expand.
Colorado Wilderness Rides & Guides, which operates mostly in northern Colorado, has a large menu of team-building exercises guaranteed to put moxie in your team, including rock climbing, cross-country skiing, snowshoeing and a bison round-up.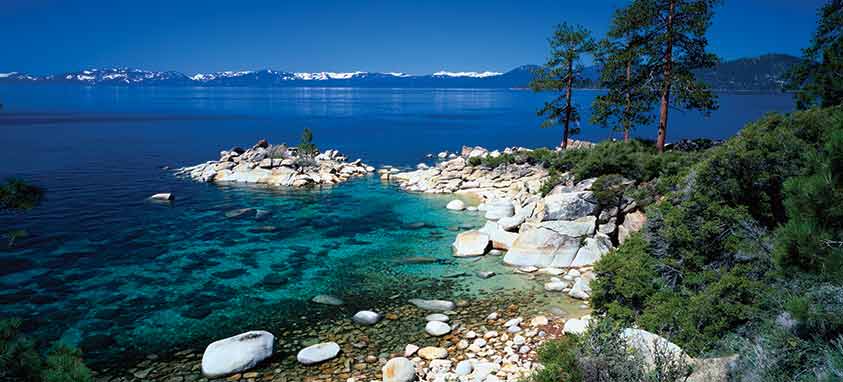 The Cave, Lake Tahoe, California
California & Nevada
Surrounded by granite peaks, Lake Tahoe is North America's largest alpine lake. North Lake Tahoe Convention & Visitors Bureau knows the best meeting and team-building spots and is available to help planners identify the right venues and activities for groups.
North Lake Tahoe offers more than 30 meeting venues on both sides of the California-Nevada border, with 7,000 guest rooms and 200,000 sq. ft. of meeting space. The depth of lodging options includes Resort at Squaw Creek, Hyatt Regency Lake Tahoe Resort Spa & Casino, The Village at Squaw Valley, Squaw Valley Lodge, PlumpJack Squaw Valley Inn and Granlibakken Tahoe.
The Ritz-Carlton, Lake Tahoe is a AAA Five Diamond resort, which features an intermountain gondola that connects to Village at Northstar. The Ritz has 170 guest rooms, 30,000 sq. ft. of indoor and outdoor meeting space and an award-winning spa. Nearby is Northstar California Resort, a Vail Resorts property. Reflecting a capital investment of $30 million over the past five years, Northstar is a premier family resort that features 3,170 skiable acres, a boarding park, a skating rink, restaurants and condominium rentals.
Other Vail Resorts properties in the Lake Tahoe area are Heavenly Mountain Resort and Kirkwood Mountain Resort in California.
MontBleu Resort Casino & Spa in Stateline, Nevada, gives attendees access to great skiing and other outdoor activities, while allowing them to experience the buzz of Lake Tahoe's South Shore. Many of the resort's 437 guest rooms offer spectacular views of the lake and mountains. The resort convention center, which underwent a renovation last year, offers 16,000 sq. ft. of event space. MontBleu Theater can seat 1,500.
At Tahoe Treetop Adventure Park, groups can snowshoe and cross-country ski in the winter. Warmer days are reserved for ziplining, hiking, orienteering through the woods with a map and compass, and kayaking.
Tenaya Lodge At Yosemite is located 2 miles outside the entrance to the national park. There's more than 15,000 sq. ft. of meeting space, including a LEED certified conference center. There are 302 guest rooms, suites and mountain cottages. Perfect for executive retreats and board meetings, the property features a spa, retail shops, a business center and a fitness center.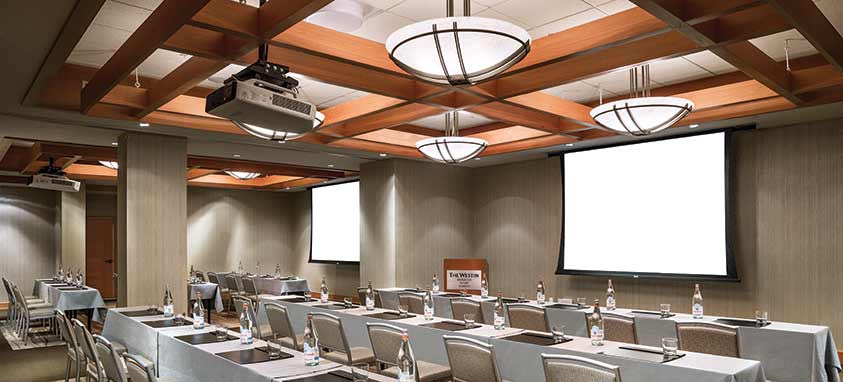 The Westin Monache Resort, Mammoth, California
In Mammoth, California, The Westin Monache Resort, Mammoth has 230 guest rooms and 2,000 sq. ft. of meeting space. Sitting on a forested hill overlooking the Village at Mammoth, the resort offers winter team-building opportunities such as skiing, snow tubing, snowmobiling or a snowcat dinner tour. In summer, there's hiking through wildflower-filled meadows to alpine lakes, or places such as Rainbow Falls or Devil's Postpile National Monument.
Whitney Peak Hotel in Reno, Nevada, has a 5,300-square-foot ballroom that can accommodate up to 550 for receptions. The 310-room nonsmoking property features a 7,000-square-foot indoor bouldering park and a 164-foot climbing wall, the world's tallest.
New Mexico
The air is different here. The light is different here. The shadows, canyons, gorges, wildlife and the Native pueblos are all different as well.
At the Isleta Resort & Casino, on Isleta Pueblo in Albuquerque, you can get a dose of authentic Native American culture. Nestled between the Manzano Mountains and the Rio Grande, this resort has a casino, a golf course, a bowling alley, a full-service spa, indoor and outdoor pools, gift shops with Native American crafts and four restaurants. There are 201 guest rooms and more than 60,000 sq. ft. of indoor and outdoor space.
Building your team? Isleta can offer options such as fishing contests, tugs-of-war, golf scrambles, and salsa and barbecue cook-offs.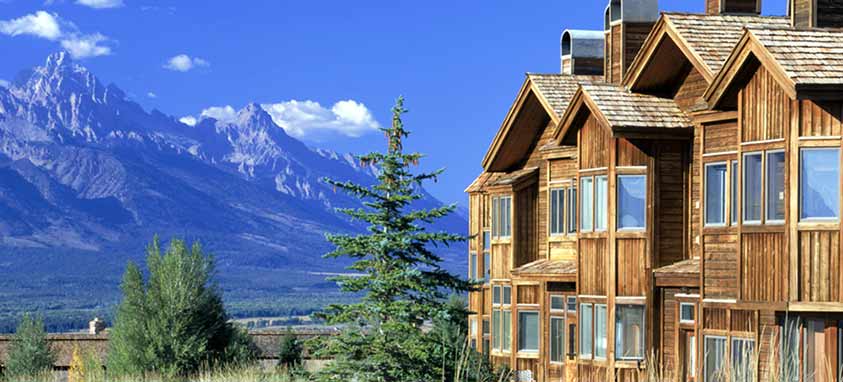 Condos at Spring Creek Ranch, Jackson, Wyoming
Montana & Wyoming
Flathead Lake Lodge in Bigfork, Montana, is a dude ranch that has been coordinating team-building activities since 1945. Located 35 miles from Glacier National Park, guests can take advantage of the lodge's unlimited equestrian and water recreation options in addition to the visiting one of America's spectacular parklands. Perfect for executive retreats, Flathead Lake Lodge features 20 cabins and 25 lodge accommodations. There's 3,500 sq. ft. of meeting space.
Visit Billings embraces all that its nickname, Montana's Trailhead, suggests. Although attendees will likely prefer to spend their time outdoors, Montana's largest city has great meeting space, including Crowne Plaza Billings, which can host up to 764 in its ballroom and offers 289 guest rooms. Holiday Inn Grand Montana Hotel and Convention Center provides 50,000 sq. ft. of event space and 317 guest rooms. It can host 4,670 for banquets.
Big Sky Resort in Montana is much more than a ski resort. Just 18 miles north of Yellowstone National Park, it's a gateway to otherworldly thermal activity and a meeting center with a 55,000-square-foot conference center. There are more than 750 lodging rooms, including a hotel and condominiums. Three new terrain parks and three new ski runs opened in November. The four resort has an Arnold Palmer-designed golf course.
Four Seasons Resort and Residences Jackson Hole in Wyoming offers 124 guest rooms and 8,000 sq. ft. of meeting space. There's ski-in, ski-out access, three slope-side restaurants with panoramic views, an excellent spa and proximity to Grand Teton and Yellowstone National Parks. Corporate programs here feature wildlife safaris, fly fishing, snowmobiling and mountain biking.
Spring Creek Ranch in Jackson, Wyoming, offers a variety of lodging. There are nine cabins, with four guest rooms apiece. The luxury resort also has townhomes and villas that are perfect for executive getaways. Expansive views of the Grand Tetons are part of the package when staying at the ranch, which is located about 1,000 feet above town in a wildlife sanctuary. The 3,200 sq. ft. of meeting space includes a 2,800-square-foot ballroom.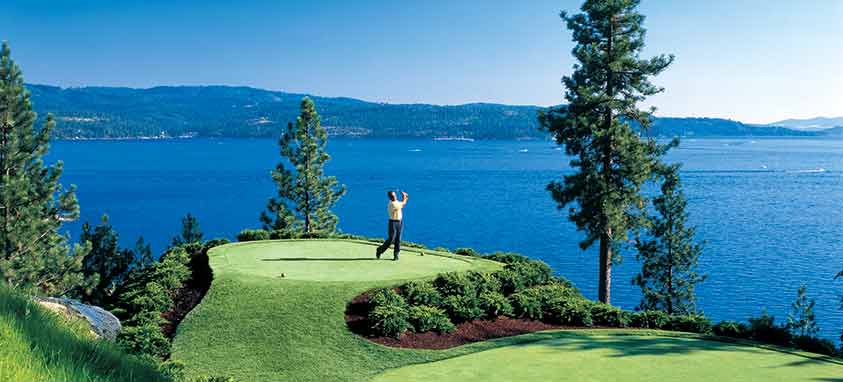 Coeur d'Alene Resort Golf Course, Idaho
Idaho
Coeur d'Alene Resort, with 314 guest rooms and suites and 32,000 sq. ft., sits on a lake with 125 miles of mountainous, forested shoreline. It offers dinner cruises as the sun sets and the moon rises over the mountains. Guests can also take advantage of float-plane rides, a full-service spa, and 10 restaurants and bars.
Coeur d'Alene Resort has innovative attendee programs such as Build-A-Boat competitions and "The Ironman," a mini-triathlon on a course designed by participants. The resort's golf course features the famous 14th hole, which is situated on a man-made, computer-controlled island that can actually change locations.
"I hear it time and again from planners," says John Rovie, director of sales and marketing. "Mountainous settings help them achieve exceptional results from their team-building programs."
Coeur d'Alene Resort is close to the route of the Hiawatha, which provides a unique team-building experience. The Hiawatha train carried passengers to Chicago until the mid-1960s, leaving 22 empty tunnels through Idaho's mountains. Today, one of America's most unusual and scenic bike routes runs through those tunnels, a couple of which are up to 2 miles long. There are no lights inside, so cyclists rely on headlamps and each other to negotiate the darkness.
Sun Valley Resort dates to 1936 and ranks as the first destination ski resort in the United States. It christened a new 20,000-square-foot spa last summer. Other renovations completed during 2015 included expanding the size of guest rooms, reducing the number of accommodations from 148 to 94. Surrounded by several mountain ranges, such as the Sawtooths, the resort is near of Ketchum. It's an outdoor lover's heaven, with world-class hiking, mountain biking, rock climbing, fly-fishing, golfing and ice shows at the year-round outdoor rink.
New York
Lake Placid, a key winter and summer destination in the Adirondack Mountains, will always be remembered for hosting the 1980 Winter Olympics, during which the U.S. men's hockey team shocked Russia en route to earning the gold medal for what has since been dubbed "The Miracle on Ice." The area also hosted the 1932 Olympics, making Lake Placid one of only two U.S. cities to host more than one Olympics; Los Angeles is the other.
Lake Placid Olympic Museum honors both international events the city hosted and its home-grown athletes. The museum gallery can be rented for receptions.
There are so many outdoor opportunities in this region that planners and attendees will have unlimited options for team building. The largest protected area in the contiguous United States, Adirondack Park is larger than Yellowstone, Everglades, Glacier and Grand Canyon national parks combined.
The region also offers great lodging variety, with 11,000 rental rooms in hotels, motels, inns and cottages. Planners interested in holding a meeting or event here can contact the Regional Office of Sustainable Tourism/Lake Placid CVB (ROOST). For large groups, The Conference Center at Lake Placid has more than 90,000 sq. ft. of event space, including a 9,000-square-foot ballroom.
On an island in the middle of Lake George in Bolton Landing sits The Sagamore Resort. A white Victorian lodge built in the Adirondacks in 1883, The Sagamore is listed in the National Register of Historic Places. The 390-room resort features 30,000 sq. ft. of meeting space, including a conference center and an event center, along with seven restaurants. Surrounded by jogging trails,
The Sagamore can arrange group horseback riding and white-water rafting, kayaking, hiking, stand-up paddleboarding and biking with the Lake George Kayak Company.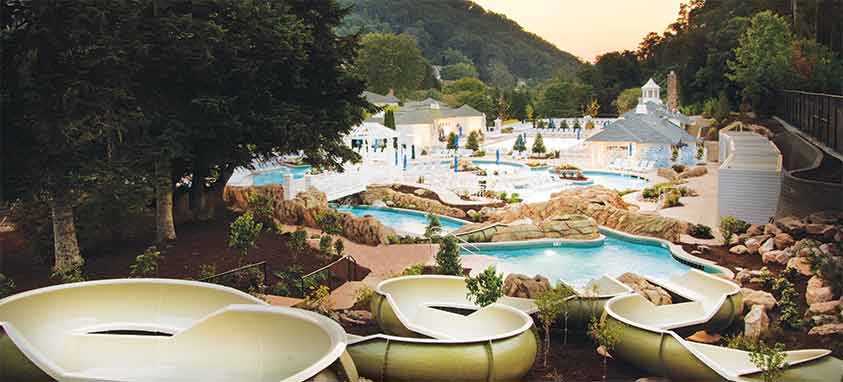 The Omni Homestead Resort, Hot Springs, Virginia
Virginia
Southwestern Virginia is a colorful collage of mountains, forests and ridges that blanket the countryside like a rumpled quilt.
The Omni Homestead Resort is situated in Hot Springs on 2,300 acres. It features a spa, two championship golf courses, a family-friendly water park, the South's first downhill ski area, horseback riding, shooting, fishing, off-road Segway tours, falconry and customized team activities. It offers 483 guest rooms and 72,000 sq. ft. of meeting space. This year, the historic resort is celebrating its 250th anniversary. The lodge has hosted more than 20 U.S. presidents, and George Washington actually awarded the land grant on which it was built.
Wintergreen Resort is located in the Blue Ridge Mountains west of Charlottesville. There's an inn with guest rooms, and condominiums and houses for rent. With more than 40,000 sq. ft. of indoor and outdoor event space, this is a popular destination for executive retreats.
West Virginia
West Virginia has some of America's most beautiful mountain scenery, but without the crowds. Located in Davis amid a 13-mile-long valley at 3,200 feet, Canaan Valley Resort & Conference Center is surrounded by natural wonders. Among the attractions are Seneca Caverns, a 900-foot-high Seneca rocks formation, Canaan Valley National Wildlife Refuge and Monongahela National Forest.
The resort has 160 guest rooms and suites, cabins and cottages, 25,000-square-foot full-service banquet facilities, a conference planning team and three restaurants. Team-building options include geocaching, skeet shooting, hiking, biking and rock climbing. "Euro Bungee" allows attendees to fly 20 feet into the air.
North Carolina
It's not really smoke you see rising from the Great Smokies early in the morning: It's fog rising up out of the valleys, slowly unveiling mountain ridges rolling into the horizon as they're first touched by the sun.
Tucked away on a mountaintop above Bryson City, North Carolina, you'll find Lands Creek Log Cabins. With 19 country cabins with fireplaces, in which 100 can be accommodated, Lands Creek offers an intimate alternative for meetings. The cabins have wraparound decks, most with hot tubs, and they're on stilts, so you fall asleep to the sounds of Lands Creek right below you. Harmony Hall, built specifically for meetings, can hold up to 80, with more space outdoors and on the deck.
"Up here, we do a lot of corporate team building," says Capt. Kyle Fronrath, owner of Bryson City-based Fontana Guides. "And it's precisely because of our mountain location. We specialize in taking groups out on the water—either the Tuckasegee River or Fontana Lake—for fishing or float trips, where they have to work cooperatively to accomplish tasks. And it's easy to see the sense of camaraderie and teamwork that's created."
Meeting Spotlight:
Who: VF Corporation, parent company of Wrangler; 180 attendees
What: Annual Mass Summit (sales through mass channels, including Wal-Mart, Kmart, etc.)
When: Oct. 12−14, 2015
Where: The Omni Homestead Resort, Hot Springs, Virginia
Why: "The mountain setting made all of our team-building activities, both inside and outside, more fun. The beautiful setting and the fresh air make people more fwocused. And, as a result, they're more investing in achieving the goals of the meeting…and in bringing that attitude back home with them. Because of the setting, we were also able to do a wide variety of what we call Appreciation Activities—such as horseback riding, skeet shooting, fishing, waterfall hikes—that our attendees chose just for the fun of it. And it was a great bonding experience.
−Jenni Broyles, director of marketing