Bliss Dance at The Park, Las Vegas
MGM is busy creating and reinventing in the heart of The Strip
A small stretch on South Las Vegas Boulevard near West Tropicana Avenue in Sin City has been buzzing with activity recently—with plenty more to come. That's because MGM Resorts International is immersed in a development project that is changing the city's landscape, literally and figuratively.
"MGM Resorts has had a busy development year, specifically in opening The Park and T-Mobile Arena, and with the upcoming opening of the Park Theater in December," says Michael Dominguez, senior vice president and chief sales officer for the company. "This development has created a central hub of energy for all Las Vegas visitors."
Central to the project is the reimagination and rebranding of Monte Carlo Resort and Casino. New York-based Sydell Group is partnering with MGM Resorts International on the $450 million transformation, which will create two distinct hotels—a Las Vegas version of Sydell's acclaimed NoMad Hotel and a new luxury property, Park MGM.
"We are thrilled to partner with Sydell Group as we enter the final phase of transforming the neighborhood that we believe represents Las Vegas' true epicenter," says Bill Hornbuckle, president of MGM Resorts International. "Coupling MGM's rich legacy of hospitality and entertainment with Sydell Group's expertise in creating hotels that cultivate a strong sense of place will result in a destination that both celebrates the history of Las Vegas and ushers in a new era."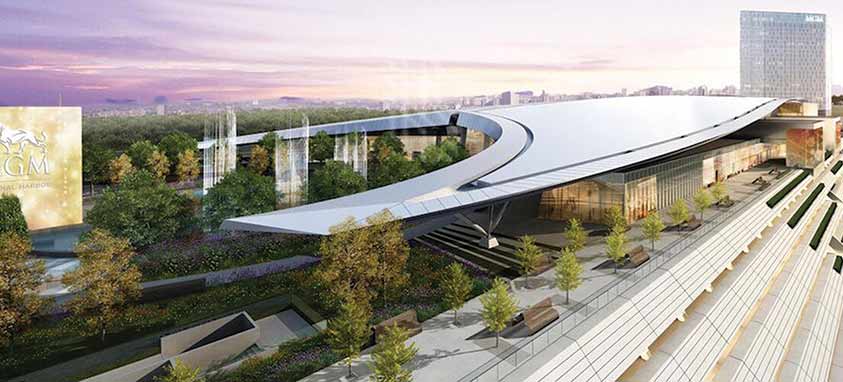 MGM National Harbor rendering, Oxon Hill, Maryland
Major Property Transformation
The transformation of Monte Carlo Las Vegas Resort and Casino will be taking place over the next two years and is slated for completion in 2018. NoMad Las Vegas and Park MGM will feature fully redesigned hotel guest rooms, and innovative food and beverage offerings.
NoMad Las Vegas, which will occupy the top three floors of the hotel tower, will offer 292 guest rooms, a swimming pool and gaming. It also will feature a restaurant established through the collaboration of chef Daniel Humm and Will Guidara, who created TheNomad restaurant in New York City and Eleven Madison Park, one of only a few U.S. restaurants to receive three Michelin stars.
Park MGM is building upon the history of Monte Carlo resort by incorporating European influences. The property—which will offer some 2,700 guest rooms and 100,000 sq. ft. of meeting space—will introduce a new concept developed by MGM and Sydell to attract a young demographic seeking unique experiences and innovative design.
The public areas will feature a casually elegant design, classically inspired European furnishings and a robust art program. Eataly, a vibrant Italian marketplace, will have cafes, to-go counters and full-service restaurants interspersed with high-quality products from sustainable Italian and local producers.
One of the main attractions at Park MGM will be Park Theater, a $100 million, 5,300-seat entertainment venue slated to open Dec. 17 with a show featuring Stevie Nicks and The Pretenders. The theater will be intimate, with the farthest seat from the stage only 145 feet away. It will also include a 240-foot-wide projection surface, 3-D motion graphics and an 80-foot-wide LED screen.
An Oasis in Vegas
Park MGM will be linked to The Park, which opened April 4. The Park serves as an indoor and outdoor community gathering place, with water walls stretching more than 100 feet long, native and desert-adaptive species of plants, as well as restaurants and entertainment venues. The Park received the South Nevada Water Authority's 2016 Water Hero Award for its water conservation practices and LEED Gold certification for its restaurant corridor.
Bliss Dance, a 40-foot-tall sculpture of a dancing woman, is The Park's focal point. Marco Cochrane was inspired to create the piece after her first experience at Burning Man, an annual arts and culture event in Nevada's Black Rock Desert. Bliss Dance later debuted at Burning Man and then was publicly displayed on San Francisco's Treasure Island before being refurbished and brought to The Park.
Two days after The Park opened, T-Mobile Arena was unveiled in an adjacent area, Toshiba Plaza. The 650,000-square-foot facility is used for a variety of events and has a capacity of 20,000 people. It's pursuing LEED Gold certification. Besides the arena seating, the facility has 13 event areas, collectively offering more than 52,000 sq. ft. of event space.
"This first-class arena has given us the largest venue in Las Vegas and was needed for some entertainment events and the [still-to-be-named] NHL team we have landed," Dominguez says.
MGM Resorts now has much more flexibility, with three arenas—T-Mobile Arena, MGM Grand Garden Arena and Mandalay Bay Events Center—offering varying scale and scope.
---
A Game-Changing Resort
Greater Washington, DC, will never be the same after MGM National Harbor opens toward the end of this year. The $1.4 billion resort in Oxon Hill, Maryland, will offer spectacular panoramic views of the eastern shores of the Potomac River in Maryland. It's a short distance from Washington, DC, and its historic sites, including George Washington's Mount Vernon estate across the Potomac River in Virginia.
The 24-story resort will feature 308 guest rooms, high-end retail shops, a world-class spa and salon, 50,000 sq. ft. of meeting space and restaurants from famous local, national and international chefs, including Marcus Samuelsson, Jose Andres and the Voltaggio brothers. It will also significantly augment the area's recent influx of gaming facilities by offering 125,000 sq. ft. of slots, table games and poker.
"It is, candidly, just a stunning project," Dominguez says. "It is the entertainment project that should complete the National Harbor vision. It allows an MGM experience in such a critical market for the company, and since entertainment is our core, it will be a valuable marketing tool in addition to what is expected to be a very successful integrated resort for the community."
The resort will also include a theater with a capacity of 3,000 people for reserved-seating events and slightly more than 4,000 for general admission shows. In September, MGM announced that it will collaborate with Live Nation, one of the world's premier live entertainment companies, to develop an event calendar featuring world-class performers.
All levels of the theater will offer food and beverage options. Meeting planners will be able to coordinate top-notch banquets and speaking engagements using the venue's scalable chair and table designs. MGM National Harbor's catering department will be able to help provide a gourmet food and beverage experience.
---
Meetings, Meetings, Meetings!
MGM Springfield rendering, Massachusetts
During the past year, MGM Resorts International has been expanding many of its meeting spaces and equipping them with advanced technology.
"The company has focused on continued growth that is aimed at our core entertainment DNA as well as dedication to additional meeting space, the meeting experience and advancing technologies and services that would enhance engagement when bringing people together for face-to-face meetings," Dominguez says.
Mandalay Bay Resort and Casino, Las Vegas completed a $70 million convention center expansion that added 350,000 sq. ft. of exhibit space, a 20,000-square-foot foyer and the 70,000-square-foot Oceanside Ballroom. The convention center now boasts more than 2 million sq. ft. and more than 900,000 sq. ft. of contiguous exhibit space.
Aria Resort & Casino Las Vegas is adding 160,000 sq. ft. of technologically advanced meeting space to its LEED Gold certified convention center. The expansion, which will increase Aria's space to 500,000 sq. ft., will include indoor/open-air areas and a glass-enclosed venue with excellent views of The Park and T-Mobile Arena.
A $950 million resort casino in Massachusetts, MGM Springfield, will have 250 guest rooms, a 7,000-square-foot pool and spa, 125,000 sq. ft. of gaming and 44,000 sq. ft. of meeting space. It's currently being built, and is set to open in September 2018.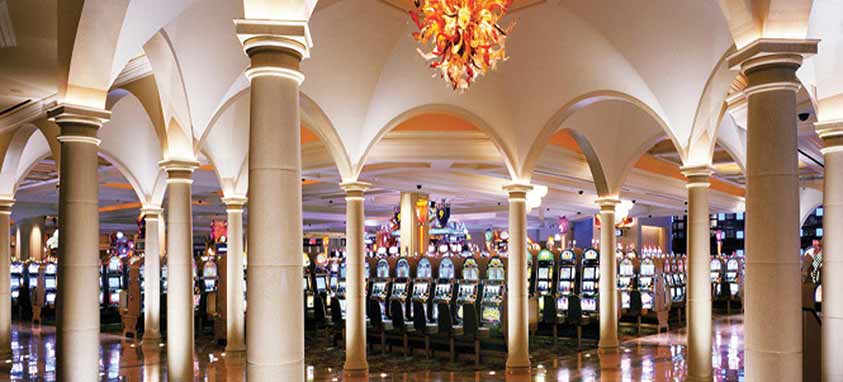 Borgata Hotel Casino & Spa, Atlantic City, New Jersey
This year, MGM Resorts International also acquired Boyd Gaming Corp.'s 50 percent stake in Atlantic City's Borgata Hotel Casino & Spa for $900 million. As part of the deal, MGM Resorts then sold the entire property for $1.18 billion to MGM Growth Properties LLC, a real estate investment trust it created earlier this year.
Located in Atlantic City's Marina District, Borgata Hotel Casino & Spa features 2,000 guest rooms and 161,000 sq. ft. of gaming, five acclaimed fine-dining restaurants, 10 casual dining options, a 54,000-square foot spa and 70,000 sq. ft. of event space. The resort also features Atlantic City's first cosmopolitan hotel experience, The Water Club at Borgata, with 800 guest rooms and suites, along with a 36,000-square-foot spa, six designer retail boutiques and 18,000 sq. ft. of meeting space.
MGM has 14 Las Vegas properties, as well as five in other U.S. locations and three in other countries. The company plans to keep expanding its geographic portfolio, but Las Vegas will remain its main hub.
"Las Vegas, from scale and scope, will continue to be the focus," Dominguez says. "The projects in the U.S. and abroad—specifically our noncasino hotels—will enhance the brand recognition to a larger audience. Our projects in Springfield and National Harbor, and the purchase of Borgota, extend our East Coast footprint, and that will benefit Las Vegas visitation to MGM resorts."