Exciting attractions and new prospects move Great Wolf forward
There is a new kid on the block in theme park central. Southern California's wide variety of amusement parks and attractions was joined by a neighbor from the north. Last month, Great Wolf Lodge opened a property in Garden Grove, its 13th resort in America and first California property. It was a monumental move for the world's largest chain of indoor water parks.
"This is an exciting time for Great Wolf Resorts," says Rhonda Khabir, corporate director of group sales for Great Wolf Resorts. "This new resort is the epitome of our brand and offers signature Great Wolf Lodge experiences, guest service and quality, along with new attractions and entertainment."
Public reception, so far, has been overwhelmingly positive for the brand's newest and largest flagship resort to date. Unlike other water parks in the area, Great Wolf Lodge, Southern California is exclusive to resort guests and focuses on its appeal as a meetings destination. Its conference center boasts more than 20,000 sq. ft. of flexible meeting space and the resort has 603 guest suites.
"The Southern California market is an exciting one, and we are not only something new and completely different to the current hotels and entertainment in the area, but we are also the perfect complement," she says. "Our proximity to the Anaheim Convention Center also makes us a great location for meeting planners looking for a hotel nearby that offers more than just a room with a king bed."
The $250 million complex offers several family-friendly rides and attractions—including a six-story funnel slide, a 476-foot-long raft ride and a gigantic wave pool—in its 105,000-square-foot indoor water park. There's also a whole slew of dry entertainment, with more than 100 video arcade games, live-action adventure games, a motion-thrill ride with movie-theater action and more.
Project Green Wolf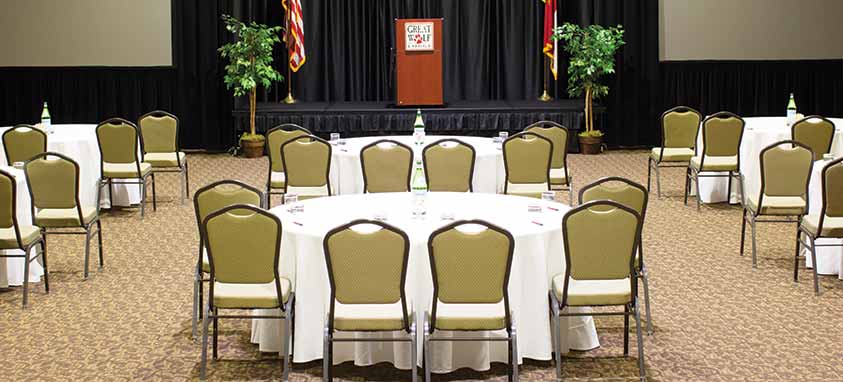 Opening water parks in drought-prone areas such as Southern California comes with a need for increased sensitivity toward water usage. Great Wolf Resorts' environmental sustainability program aims to reduce each location's carbon footprint through a number of streamlined initiatives.
"Energy and resource conservation is a shared responsibility between guests and pack members, and our guests can feel confident they are staying at a resort committed to sustainability," Khabir says.
Water consumption and reduction under Project Green Wolf is a twofold effort. Fresh water resources are recirculated throughout the entire resort, from linen washing to low-flow bathroom facilities. For all of its water parks, the pool filtration system uses up to 90 percent less water than traditional filters. It also contains the lowest levels of chlorine possible, while still complying with local and state regulations. Humidity and temperature in the park are carefully maintained to reduce water loss from evaporation.
Besides decreasing water usage, Great Wolf Resorts implements several recycling measures. Recycled paper is used throughout the resorts, soaps and shampoos are packaged in sustainable materials, nontoxic and biodegradable concentrated cleaning products are used, and comingled recycle bins are provided throughout the complexes.
Energy consumption is also strictly monitored. All heating and air-conditioning equipment is programmed for maximum efficiency, and light bulbs and windows are energy efficient. In guest rooms, an area where properties often expend the most energy, air-conditioning turns off when doors or windows are opened.
Brand Progression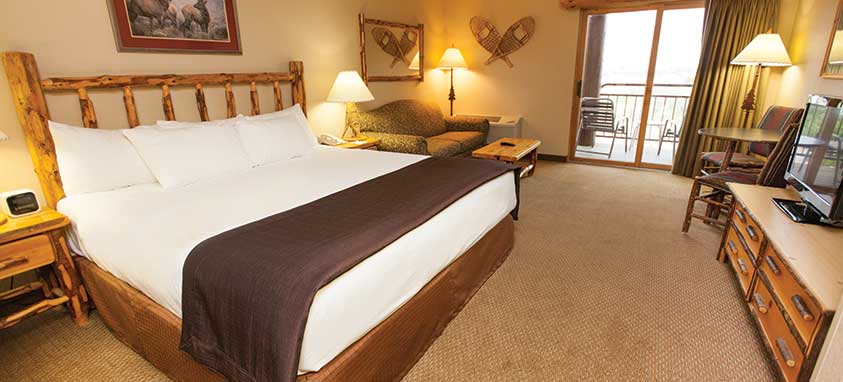 The brand's trajectory and what it stands for today would have certainly amazed the founders of Great Wolf Resort. For generations, the Waterman family ran a hotel in Wisconsin Dells. In the days before indoor plumbing, the original hotel had only two stoves and pipes that ran up to the ceiling and heated the second floor. Passing through five generations, each owner was named Andrew Waterman.
It wasn't until Jack and Andrew "Turk" Waterman were at the helm that the concept of a water park emerged. The two brothers renamed the property Black Wolf Lodge and introduced Noah's Ark water park, which was later bought by The Great Lakes Company. The name changed to Great Wolf Lodge in 1997, heralding the first-ever resort and water park chain.
"The concept of an indoor water park, allowing for year-round water play, immediately resonated with families looking for short getaway destinations," Khabir says.
All Great Wolf Resorts properties exemplify its signature rustic timbered lodge motif. Antler chandeliers hang from the rafters and log cabin-style furniture transports visitors to the Northwoods of Wisconsin. Family has always been at the core of its business, and it is still built on creating traditions and bringing families together.
Bleisure Travel Boom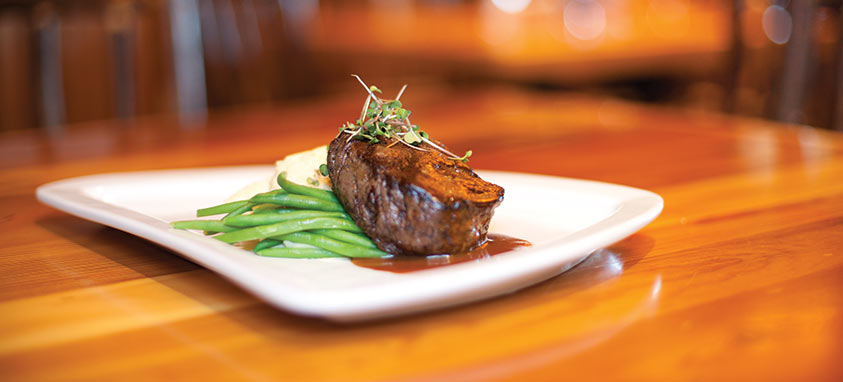 As Great Wolf Resorts spreads across North America, its meetings business continues to expand. Because of its unique position in the hospitality industry, Great Wolf Lodges are an attractive option for groups looking to combine business and leisure travel.
"Planners often look to us not only because they know we deliver on exceptional service and support for meetings, but also because we are a destination for families. This allows meeting attendees to potentially bring their family and combine work with pleasure," Khabir says.
Until recently, the concept of bleisure travel was relatively uncommon. But in the last five years, more business travelers are adding extra days to their itineraries and bringing their families along. Hotels and resorts are now realizing the value of branching out of traditional hospitality and bridging work and fun. It's something Great Wolf Resorts has done all along.
"We are one of the first brands to understand this is how people travel and that companies often consider [leisure] when planning conferences and overnight meetings," she says. "While the indoor water park primarily attracts our leisure clients, it is a brand differential for us."
Meetings & Team Building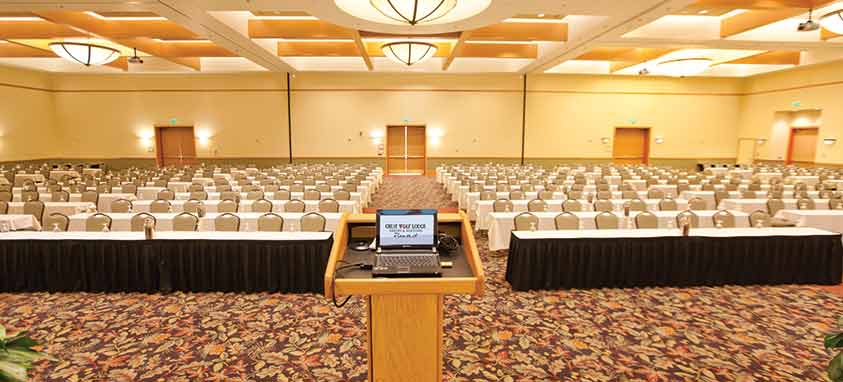 Great Wolf properties host everything from executive retreats for financial institutions and medical meetings to technology conferences with anywhere from 50 to 500 people. Conference centers are separate from the water park facilities and offer built-in technologies, including cutting-edge audio/visual equipment and satellite check-in capabilities. Its water parks also double as atypical event spaces for private parties hosted after hours.
Events held over the weekend typically attract more families and build more time for group activities, including team building. Great Wolf Resorts offers a variety of team-building activities, including culinary competitions and challenges on park attractions, such as the popular 50-foot-tall Howlers Peak Ropes Course offered at six Great Wolf Lodges.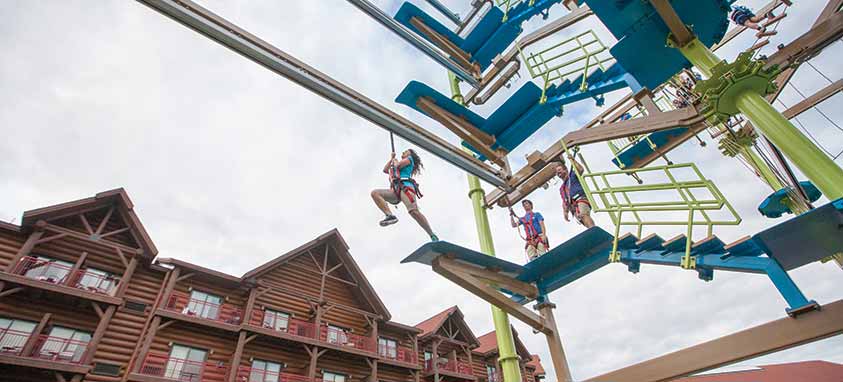 Participants are securely harnessed before maneuvering through various obstacles, from tight-rope walking to crossing bridges high above the ground. Khabir says groups feel rewarded with a sense of accomplishment after enduring a physically demanding, yet exhilarating experience.
"Our ropes course's team-building programs…focus on trust, creativity, prioritizing, execution and unity," she says. "Groups will develop and maximize skills through these unique programs while adding energy and fun to each meeting's agenda."
What's Happening Next
Later this year, Great Wolf Lodge will open Great Wolf Lodge, Colorado Springs with 311 guest suites and more than 20,000 sq. ft. of meeting space. In addition to more than 380,000 sq. ft. of entertainment and lodging, the resort will have a 65,000-square-foot indoor water park—the largest in the state.
It will have many of the same attractions and amenities offered at existing locations, plus an indoor dry park that will include a rock-climbing wall. Great Wolf continues to pursue future prospects throughout North America, including possible considerations for a water park and resort in Orlando.
---
By the Numbers
1997—the year the first Great Wolf Lodge was built in Wisconsin Dells, and was named Black Wolf Lodge
105,000 sq. ft.—the size of the company's largest water park, which opened February 2016 at Great Wolf Lodge, Southern California in Garden Grove, California
25,000 sq. ft.—the amount of flexible meeting space at Great Wolf's largest conference center in Cincinnati/Mason, Ohio
10,686 sq. ft.—the size of its largest ballroom, accommodating over 1,100 people, in Ground Mound, Washington
20—the average number of attractions you'll find inside the water parks, with numerous waterslides and activity pools for all ages
14—the number of Great Wolf Lodges operating throughout North America
5—the number of new Great Wolf Lodge locations anticipated to open within the next five years, including Great Wolf Lodge, Colorado Springs, opening late in November
46,000—the number of nights corporate and association meeting planners booked with Great Wolf in 2015