Naples Grande Beach Resort
Naples Grande Beach Resort exemplifies the best of Collier County
Collier County, dubbed Florida's Paradise Coast by the local convention and visitors bureau, is part meeting destination and part winter refuge. The annual Midwest migration has definitely helped create a getaway on the state's southwest Gulf Coast with all the amenities groups need to be inspired and feel rewarded.
Naples is the key meeting and entertainment city in Collier County, which also includes Marco Island, Everglades City, Immokalee and Ave Maria. Embodying all that is wet and wild on Florida's Paradise Coast, Naples Grande Beach Resort is a grand home base to experience the entire region.
"We're modern yet coastal," says Frank Cavella, director of sales and marketing for Naples Grande. "We're designed to give you a sense of Florida—the feeling that you're really in a resort."
Meeting & Event Space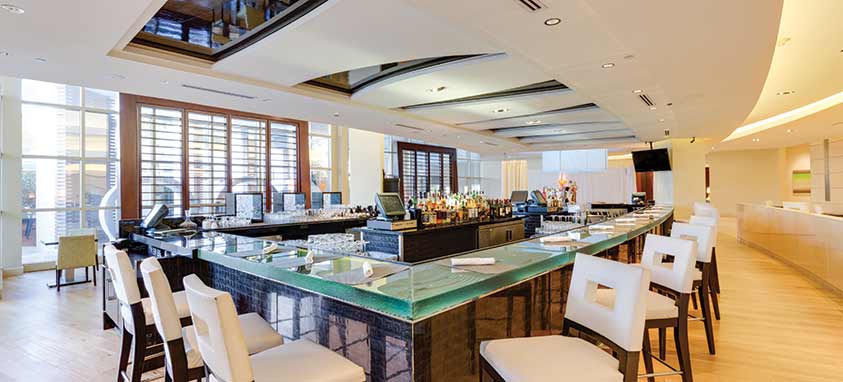 Lobby lounge
Naples Grande features 424 guest rooms and suites in its 18-floor main tower, and 50 garden villa suites nearby. Most indoor meeting space is conveniently positioned on the resort's second floor, creating a contained area for groups to easily move from general sessions to breakouts. In total, there is 83,000 sq. ft. of indoor and outdoor meeting and event space, including a 14,442-square-foot ballroom, one of the largest in Collier County.
The 5,802-square-foot ground-level ballroom opens up to the terrace, creating great flow for receptions. The ground level is open and inviting, with a lobby bar and restaurant that are conducive for networking. It's totally easy to meet on the second floor and continue the conversations with a cocktail at the oblong bar, or on the terrace or at the pool just beyond the terrace.
Backdoor Recreation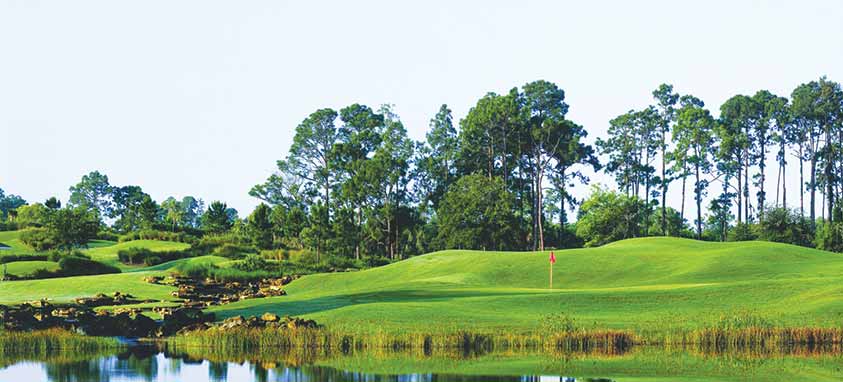 Naples Grande Golf Club
An excursion unto itself, a winding, 3,168-foot pathway leads from Naples Grande to the Gulf of Mexico. The resort sits back a tad from the beachfront, but makes sure guests have access to the Gulf by offering a shuttle that weaves through a mysterious mangrove forest. It's just one of the amenities attendees will enjoy when meeting here.
At the end of the path, the mangroves give way to the white sand of Clam Pass Beach. With the calm, warm water of the Gulf gently kissing the shoreline, it's a very safe option for swimming and other water sports, especially compared to Florida's meeting giants across the state on the Atlantic Ocean.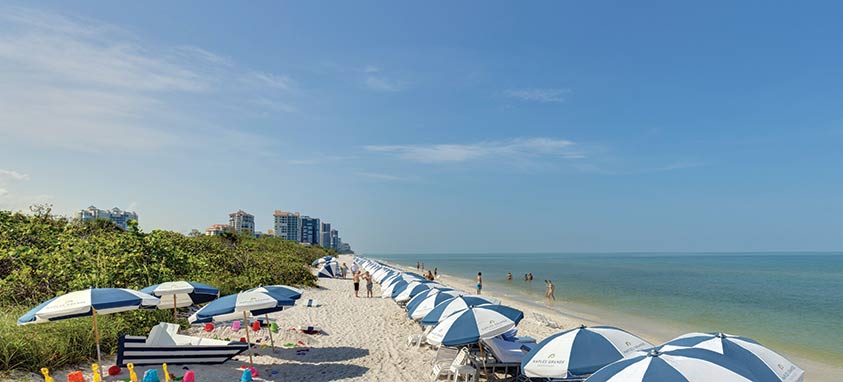 Clam Pass Beach
Beach umbrellas, luxury chaise lounges and cabanas can be rented to enhance the relaxed, tropical vibe. The resort also rents single and double kayaks, with the ability to accommodate around 15 people at a time. It's not uncommon for groups to rent out the entire supply and take turns kayaking, once again taking full advantage of the calm waters and incredible scenic waterways that separate the resort from the Gulf.
Among the seven eateries at the resort, Rhode's End is a beachfront cafe that serves light fare and cocktails. Virtually private due to its isolated location, the beach offers a magnificent setting to experience the colorful sunset and have an after-dinner drink.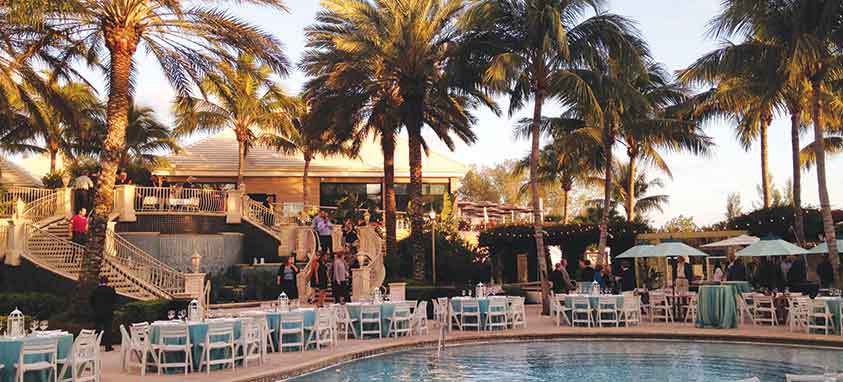 Mangrove Pool reception
For those who prefer pools, Naples Grande has three of them. There's a large family pool with a slide, an adjacent adult-only pool and a lap pool just off the tennis complex, which sports 15 clay courts. Just want to relax? Enjoy a treatment at The Spa at Naples Grande, which was recently renovated.
"Once you're at the resort, everything is here," Cavella says. "The resort allows you to create your own experience. It's not scripted. There are options everywhere."
Naples Grande even has its own private golf course, located about 15 minutes from the resort. It's open only to hotel guests and local members. The new clubhouse makes a great one-two punch for a golf outing followed by a reception.
DMC Onsite
Located on the second floor of Naples Grande is GlobalWorks Events & Destination Management. The destination management company (DMC) helps coordinate events at the resort and throughout Southwest Florida.
GlobalWorks has staged events on the Naples Grande beachfront and its ballrooms. With Naples' location on the Gulf of Mexico, GlobalWorks has access to a bevy of water-based activities, including deep-sea fishing, sailing, and dolphin, luxury and sightseeing cruises.
The Artis-Naples concert venue and art gallery are walking distance from Naples Grande. Home to the Naples Philharmonic, the performing arts center has a variety of event spaces, including a pavilion that can accommodate 300 for receptions and a garden that can host 750.
Downtown Doings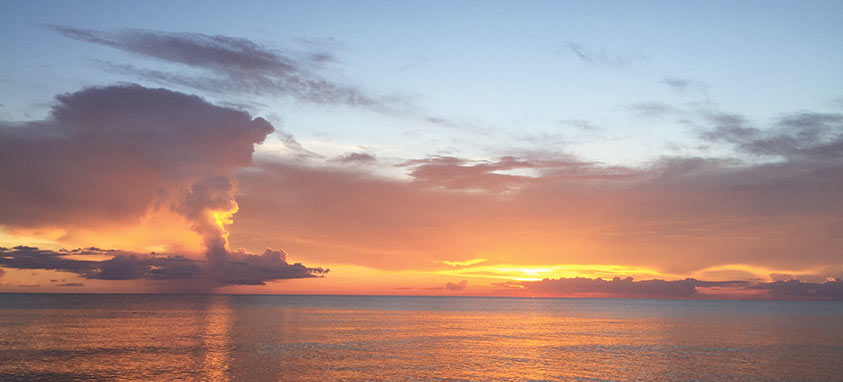 Sunset
Shopping and dining amid Naples' sophisticated downtown is like visiting Worth Avenue in Palm Beach, Florida, or Rodeo Drive in Beverly Hills, California. Even though Naples Grande is walking distance to exclusive Waterside Shops, resort guests will want to explore Fifth Avenue South and Third Street South, which is about 5 miles away.
Fortunately, a vintage trolley runs from Naples Grande to downtown, calling attention to points of interest along the way. Meeting planners can buy out a trolley to take attendees out to dinner or just tour Naples' signature points of interest.
Fifth Avenue South is trendy, with outdoor cafes, art galleries, apparel shops and a few luxury hotels. It's the perfect place for a dine-around, which can be arranged through GlobalWorks or Naples, Marco Island, Everglades Convention & Visitors Bureau.
"People love downtown Naples," says JoNell Modys, public relations and communications manager for the CVB. "Once planners discover us, they are blown away."
Getting There
Most visitors to Naples fly through Southwest Florida International Airport (RSW) in Fort Myers, about a 30-minute drive to Naples Grande. (Fort Myers is the meetings hub for neighboring Lee County.) RSW offers direct international flights to and from Dusseldorf, Germany; Toronto, Montreal and Ottawa, Canada; San Juan, Puerto Rico; Nassau, Bahamas; and Cancun, Mexico. The airport provides nonstop service to 45 destinations on 14 air carriers.
Florida's Paradise Coast is just that—a slice of paradise. And Naples Grande Beach Resort is doing its part to help build and uphold that reputation.
"Naples is one of Florida's best-kept secrets," Cavella says.