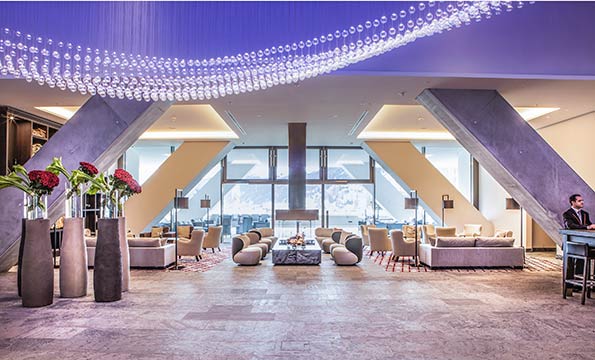 InterContinental-Davos
International Hotels Group (IHG) launched several new programs in 2014 to help address the ever-changing needs and priorities of meeting groups and other guests.
Among the highlights, the company introduced Anywhere Check In and Anywhere Check Out for members of the IHG Rewards Club, enabling them to use their mobile devices, tablets or desktops to make their arrivals and departures easier. IHG also announced that a new sustainability initiative, IHG Green Engage, would be a standard for all of its hotels beginning Jan. 1, 2015.
The Crowne Plaza brand unveiled a new guest-room concept featuring a design that enables guests to move freely between three key areas—a cocooned bed, flexible "nook" and streamlined workspace.
"It's a next-generation concept that features an optimized design that enables guests to feel more at home and relaxed, and in turn more productive," says Heather Balsley, senior vice president of Americas Brand Management for IHG. "Crowne Plaza also is rolling out new 'Always On' enhancements that focus on connectivity, wellness and productivity."
On the development front, in 2014 IHG signed agreements to open 319 hotels in the Americas, the most since 2008. Toward the end of the year, IHG announced it had acquired Kimpton Hotels & Restaurants, one of the largest boutique hotel operators in the United States, for $430 million.
This resulted in adding to the IHG portfolio Kimpton's 62 hotels in the United States (with 16 more in the pipeline) and its 71 hotel-based destination restaurants and bars. While Kimpton is operating under the IHG umbrella, it operates as a standalone business.
IHG also opened its first two Even Hotels brand properties—in Norwalk, Connecticut, and Rockville, Maryland. This new brand is designed for business and leisure travelers who maintain a healthy and active lifestyle.
The company was busy adding new hotels that already were part of its brand collection, too. Four of these brands—InterContinental Hotels & Resorts, Crowne Plaza, Hotel Indigo and Holiday Inn—are particularly popular among meeting groups.
InterContinental Hotels & Resorts
Aiming to make guests feel as if they're part of a club, this luxury brand strives to provide meaningful and unique experiences. Within the past year, it unveiled significant properties in Sydney, Dublin and Davos, Switzerland.
The 140-room InterContinental Sydney Double Bay, one of the most exclusive properties in Australia, became the fifth InterContinental Hotels & Resorts property in the country and the only luxury hotel outside Sydney's central business district. It offers stunning views of Double Bay village and the bay, as well as 8,611 sq. ft. of unique event space.
Four Seasons Dublin Hotel was rebranded as InterContinental Dublin, which opened Jan. 1. The property is located in south Dublin in the area of Ballsbridge, but within walking distance of Trinity College in city center and the Dublin Bay coast. The Four Seasons property was voted one of the Top 25 Luxury Hotels in Ireland for 2014 by TripAdvisor.com.
InterContinental Dublin hotel has 197 guest rooms and 15,000 sq. ft. of meeting space, which is divided among six rooms. The public areas, meeting rooms and restaurant will undergo renovations as part of a five-year property improvement plan.
InterContinental Davos features 216 guest rooms and 7,297 sq. ft. of exhibition space; there are nine meeting rooms. The large balconies and beautiful floor-to-ceiling windows provide every room with stunning views of the spectacular Graubunden Alps.
Crowne Plaza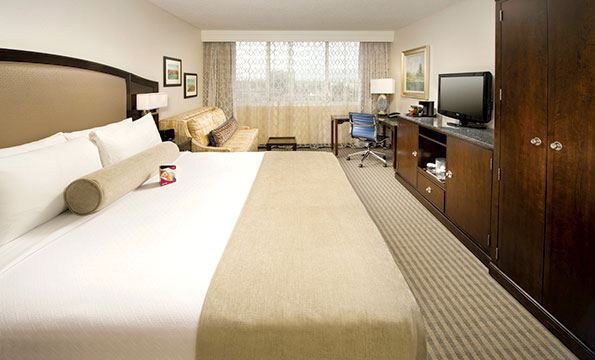 Crowne-Plaza-Seattle-Airport
This upscale brand, which supports career-focused travelers, opened significant properties in Seattle, Atlanta and Barcelona, Spain, last year.
Located just one block from the Seattle-Tacoma International Airport (SEA), the 260-room Crowne Plaza Seattle Airport hotel was converted from a Holiday Inn last year. The property now has many features designed to empower ambitious travelers, including single Internet sign-on, free Wi-Fi and one-click secure wireless printing.
The hotel has 12,000 sq. ft. of meeting space, including six meeting rooms and 5,000 sq. ft. in the 12th-floor Summit Ballroom, which provides a view of Mount Rainier.
The former Hotel Melia in Atlanta re-opened as Crowne Plaza Atlanta–Midtown last year, with 502 guest rooms and more than 31,000 sq. feet of flexible meeting space. The totally renovated property features restaurants, stunning views of the city and an outdoor pool on the fourth floor.
Another key property that opened last year, Crowne Plaza Barcelona–Fira Center, is located between the famous Plaza de Espana and Gran Via Avenue, an area rich in culture and with great connections to anywhere in the city. The 276-room property is ideal for large groups and events, providing 32,292 sq. ft. of meeting space, including 18 meeting rooms, executive private areas and a new club lounge.
Hotel Indigo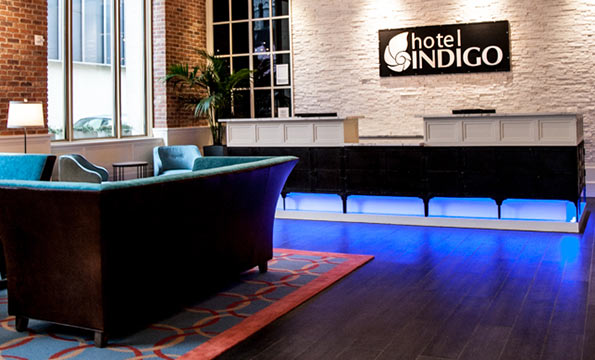 Hotel-Indigo-Newark-Downtown
"Hotel Indigo is IHG's boutique brand, combining the design and intimate service of a boutique hotel with the conveniences and consistencies of one of the world's largest hotel groups," Balsley says.
The brand opened two new hotels in the United States last year. Hotel Indigo Cleveland–Beachwood boasts 100 guest rooms and 4,000 sq. ft. of meeting space. It features two restaurants, a business center, a 24-hour fitness center and a bar/lounge.
Hotel Indigo Newark Downtown is a contemporary, upscale hotel that provides convenient access to the businesses, restaurants, shops and distinct destinations that define the neighborhood around it. The property's signature murals capture the essence of the style and culture of the area The property has 108 guest rooms and 546 sq. ft. of meeting space.
Another significant property that the brand opened in 2014, Hotel Indigo Paris, is located on a charming and quiet pedestrian street next to Place de l'Opera, yet it is near a thriving business area. The hotel offers 57 spacious guest rooms.
Holiday Inn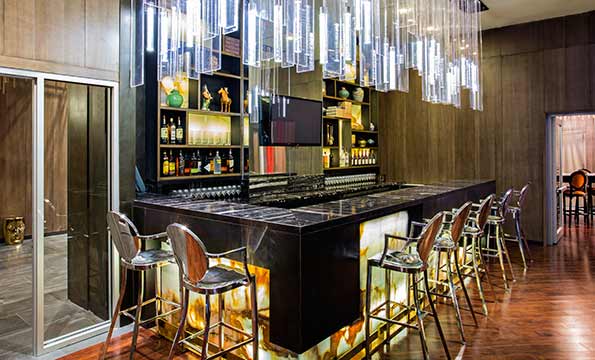 Holiday Inn Manhattan-Financial District
This midscale, full-service brand, which emphasizes contemporary design and modern amenities, opened several important properties in 2014, including Holiday Inn Manhattan–Financial District. This new property, Holiday Inn's tallest (453 feet), has 50 stories and 492 guest rooms.
Holiday Inn also opened four major international properties. Holiday Inn Cairo Maadi, situated on Cairo's famous Maadi Corniche, became the brand's second hotel and fifth IHG hotel in the Egyptian capital. Located in the city's embassy district, the 172-room property is just outside of the hustle and bustle of downtown Cairo. The hotel's nine banquet and meeting rooms offer around 1,300 sq. ft. of meeting space.
Holiday Inn New Delhi International Airport, located 2 1/2 miles from Indira Gandhi International Airport (DEL), has three dining options, contemporary rooms and leisure facilities such as Lea Spa & Salon, a 24-hour fitness center, souvenir shops and an outdoor pool. The 265-room property has 8,611 sq. ft. of meeting space.
Looming Ahead
IHG's major brands have many properties in the pipeline, including InterContinental Hotels & Resorts (53), Crowne Plaza (90), Hotel Indigo (59) and Holiday Inn (264). Among the most significant are InterContinental hotels in downtown Los Angeles and on the Washington, D.C., waterfront, both of which are expected to open in 2017.
Many brands also plan to keep developing and creating progressive new concepts and programs. Holiday Inn is developing Burger Theory, a new restaurant concept featuring gourmet, specialty burgers.
"Burger Theory's inaugural installation was at the Holiday Inn Atlanta Airport South hotel, where it has been open since February 2014," Balsley says. "IHG is piloting this 'solution' at a number of other hotels before offering it later in 2015 to the entire portfolio of Holiday Inn hotels in the United States and Canada, with expansion to other parts of the Americas being explored for 2016."