Bently Reserve, San Francisco
A themed gala showcases creative spark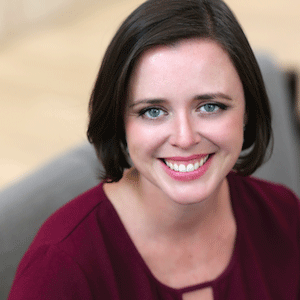 Editor's Note: For the following behind-the-scenes look at planning Vernal Equinox, a signature annual event at Bently Reserve (former Old Federal Reserve Bank of San Francisco), Smart Meetings talked to Claire O'Neill, account executive for experience design, based in Entire Productions' London office.
Business Goal: Entire Productions has been inviting clients to this event for the last nine years to showcase the latest trends and offerings in entertainment and experiences, including a taste of the company's production capabilities. It keeps getting bigger, better and more exciting—and strengthens relationships with long-time clients, new clients, potential clients, artists and vendor partners. The invite list was carefully curated to include only movers and shakers in the events and hospitality industry (hello, Smart Meetings).
The spectacle also draws a huge online audience, thanks to an active community sharing photos and videos. Social media allows events to live on long after the doors have closed and house lights have come on.
Challenge: Especially in a creative field such as the events industry, it's hard to come up with something the audience has never seen before. Entire Production's objective was to lead the way, surprising and delighting guests, making them say, "Wow." The goal was to reinvent Bently Reserve into something unexpected, making the evening nothing less than the party of the year for events professionals.
Solution: Planning started almost a year before the event. Once the date was selected (fun fact: March 20, 2018, was the actual spring equinox; hence the title, Vernal Equinox), the team started thinking about what this would mean and how to go in an entirely different direction from years before.
Last year's theme, "Swing into Spring," centered around 1960s Palm Springs. This year, instead of going with colorful and bright, the focus was on what the vernal (spring) equinox means. It is the day in which darkness and light are equal, the day of transition from winter into spring. Guests embarked on a journey from darkness to light in different ways.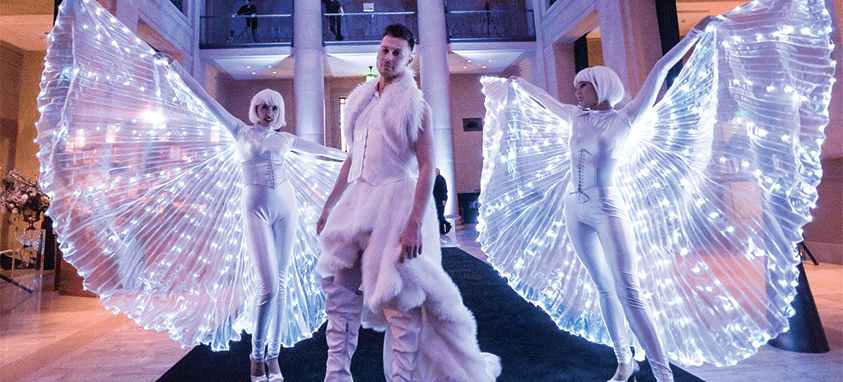 Guest Journey: Guests entered and were greeted by a moon and "starry, starry night" room with a winter-themed food station and a photo set where an artist painted with light. Then they traveled through an ombre into 8,045-square-foot Banking Hall, signaling the transition from dark to light. They finished at a floral explosion room with floral crafts and a floral-themed photo shoot.
Main-Stage Moments: Instead of having one grand entry moment (as was done in the past), four experiences were staged throughout the evening—a harpist and singer, a quartet of multi-disciplinary cirque artists, hip-hop ballet dancers and a Holi festival-themed piece.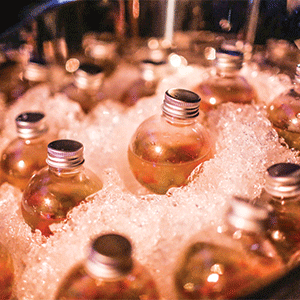 Vendor Features: Partners helped with the transition. As the evening progressed, Elevate Productions, a sister lighting and sound company, slowly increased the light in Banking Hall. And 49Square Catering created custom stations in every room, including a circular piece in Banking Hall that transitioned from wintery foods to spring and floral delights. With a slow gradation in highboys, Blueprint Studios created a transition in color as guests walked through Banking Hall.
Focal Point: As an entertainment and experience design company, Entire Productions' main focus was to showcase talent. A total of 54 artists were on site to ensure that, at every point along the guest journey, there was an exciting experience—from Japanese taiko drummers out front to welcome guests to a 13-foot moon, to fashion sketch artists and a human-sized birdcage for wishing guests a fond farewell.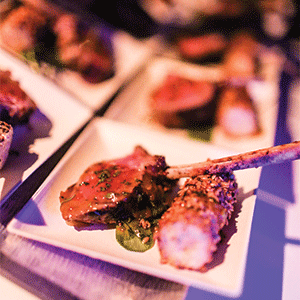 Interactive Elements: Food and beverage was a big part of the experience. Drinks incorporated dried flowers and a darker theme for the darker room. In the more colorful space, there was a floral drink. A winter-themed station activated the sense of touch, as guests reached through a mossy box to grab capsules of delicious, winter-inspired foods. There was also a seven-tiered food station in Banking Hall that transitioned from dark at the bottom to bright and colorful at the top.
Success Measurements: Social media engagement was one measure of success, as were a survey of vendors and the number of requests received because of the event. After less than a month, 1,000 Instagram likes and 46 requests for talent showed a record amount of buzz had been generated.
Lessons Learned: Rain can have a huge impact on events. Although the event drew 400 attendees, it also had a much higher attrition rate than past years. Next year's event may include a live stream—so people can attend virtually, rain or shine.