Nemacolin Woodlands Resort, Farmington, Pennsylvania
Unique experiences cater to business travelers
You don't have to live in California's Silicon Valley to see the impact technology is having on leisure and networking activities, especially when it comes to golf. With computerized greens, high-tech putters and balls with wafers enhancing the modern game, today's golfing experience is driven by how technology helps players perform better while still having a good time.
Technology is one of six trends shaping the meetings and events industry, especially at golf and spa resorts. Health and wellness, and F&B continue to reign supreme, with unique as the sovereign mantra.
Today's business travelers also want to celebrate their surroundings. To accent this trend, resorts are helping guests learn about local lifestyles and culture, and soak up their environments even when time is limited.
"A truly successful event is when you are able to achieve business goals and give the attendees a taste of the destination," says Charles Mullins, director of sales and marketing for The Naples Beach Hotel & Golf Club on Florida's southwest coast. "The best way to do this is by incorporating an outdoor venue that exemplifies the area."
While it may be tough to predict the future, the six trends identified below by Smart Meetings are shaping the meetings and events industry. Here's how golf and spa resorts are capitalizing on the changing world and attendees' quest to make the most out of every business trip.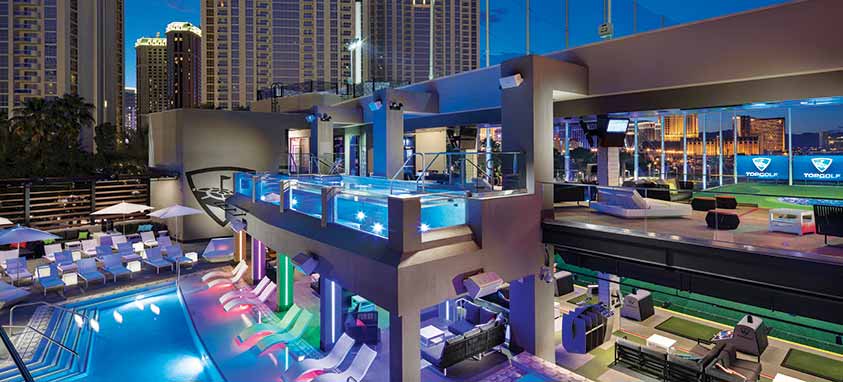 Topgolf Las Vegas (photo by Michael Baxter, Baxter Imaging LLC)

High-Tech Putting
Trump National Doral Miami snags the top vote for using the most cutting-edge technology to manage its golf courses and enhance the experience. The practice facility has the only LED-lighted driving range in the world and is equipped with a state-of-the-art system that allows players to practice into the wee hours.
But that's not all. Golfers also drive carts equipped with LED screens so they can keep score, view maps of the course and see details of each hole. The carts are GPS-enabled, allowing staff to communicate with golfers by sending texts to the screens. Golfers use the touch screen to order food and beverages from the bar for delivery to the cart at an upcoming hole. Wi-Fi is available at the first and 18th holes.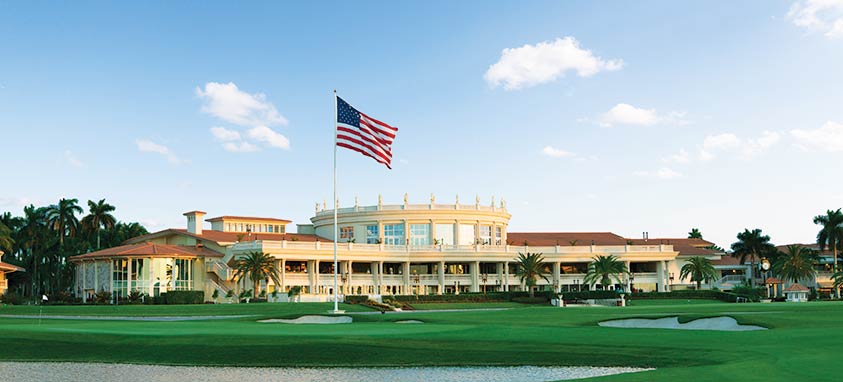 But the technology goes beyond player improvement. All four courses are managed with advanced technology, including an irrigation system connected to the resort's IP network, allowing maintenance crews to remotely regulate watering. The 643-room Trump Doral also features a full-service spa and more than 100,000 sq. ft. of meeting space.
Topgolf Las Vegas is a chip off the old Strip. Players hit microchip-embedded golf balls that track each shot's accuracy and distance while awarding points for hitting dartboard-like targets. Billing itself as the biggest, brightest, loudest and most lavish driving range in the world, this techno course was developed by PGA tour veteran and golf commentator Bobby Clampett.
Topgolf, which has spread to 34 locations in the United States, is designed for every level player, from experienced pros to those who have never been on a green. Players can track their distance and accuracy on a TV screen in their own private hitting bay, each with its own heater and mister, allowing for play no matter what the weather.
Spread over four levels, the 105,000-square-foot Topgolf Las Vegas accommodates up to 600 players at once, with those on the top level enjoying spectacular views of the Las Vegas Strip. Topgolf Las Vegas also offers custom fitting at its Callaway Golf Studio. It uses Callaway's proprietary fitting software and monitors equipment to capture club and ball dynamics, and then simulates ball flight in a 3-D environment. Data collected includes club and ball speed, launch angle, spin rates and clubhead path.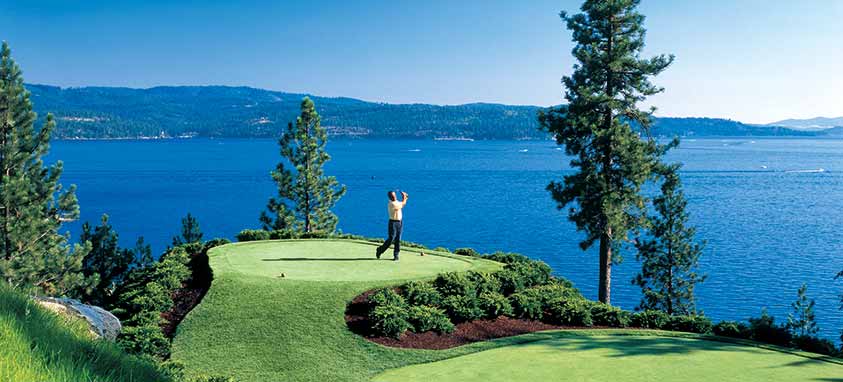 At the 338-room Coeur d'Alene Golf & Spa Resort in Idaho, which boasts 32,000 sq. ft. of meeting space, you'll find the world's only computer-controlled golf course. A panoramic view at nearly every hole is featured at the resort, set along the shores of Lake Coeur d'Alene. The course is ranked among the best in the world, and what makes it unforgettable is its floating green, an island off the shore with a wicked No. 14 hole that challenges even the most experienced player.
Players use golf carts equipped with touch-screen GPS to navigate the course until they get to the par-3, 14th hole. Here they are shuttled to the Floating Green via high-speed boat (christened Putter) to complete the hole. If the ball lands on the island, everyone is happy. If it doesn't, it sinks to the bottom of the lake, where thousands of other golf balls are retrieved at season's end.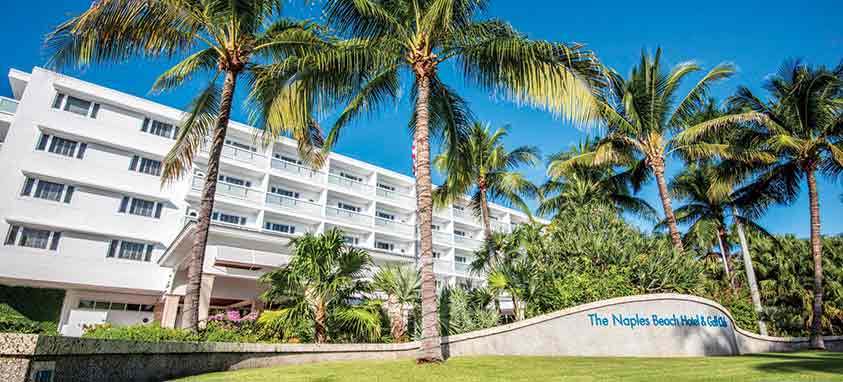 Golfers also drive carts equipped with GPS tracking systems at Florida's AAA Four Diamond The Naples Beach Hotel & Golf Club, which features 319 guest rooms and 34,000 sq. ft. of event space. The golf course is undergoing a major redesign of its Jack Nicklaus-designed layout. The carts will aid players by providing yardage on each hole, thereby helping the pace of play. In addition, golfers will have access to a new 300-yard practice and teaching range.
"The completion of this renovation will bring our golf course in line with the rest of our AAA Four Diamond resort and enhance the overall guest and group experience," says Henry B. Watkins, co-owner of the resort. The total redesign of the resort's 125-acre golf course began in April and will be complete this month.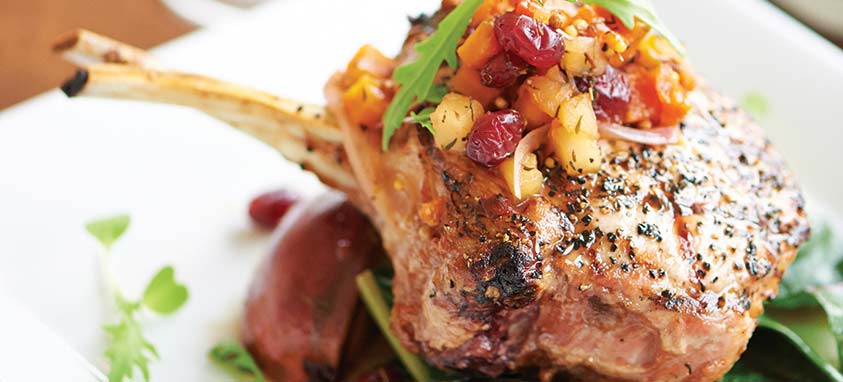 Hyatt Regency Hill Country Resort and Spa, San Antonio
Food First
Fine food and beverage have long been key ingredients of successful meetings. These days, resorts are catering to a new generation of diners seeking healthy, innovative dishes made with fresh, farm-to-table ingredients, as well as vegan and vegetarian options.
"[One] advantage Napa Valley has is its proximity to so many great farmers," says Julie Maurer, vice president of marketing at Silverado Resort and Spa. "We celebrate our local suppliers, who are growing, harvesting and crafting products for our farm-to-table menu creations."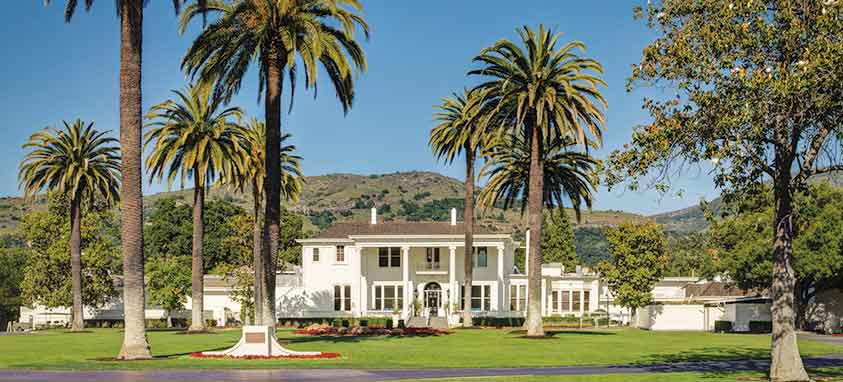 Silverado Resort and Spa, Napa, California
Maurer says executive chef Jeffrey Jake buys from wine country producers including K&J Orchards, Big Ranch Farms, Wineforest Mushrooms, St. Helena Olive Oil Company and Osprey Seafood to build locally sourced banquet menus. Guests also can enjoy weekly interactive "Chef and Somm" series, led by the chef and the sommelier, who guide them through three courses with Napa wine pairings.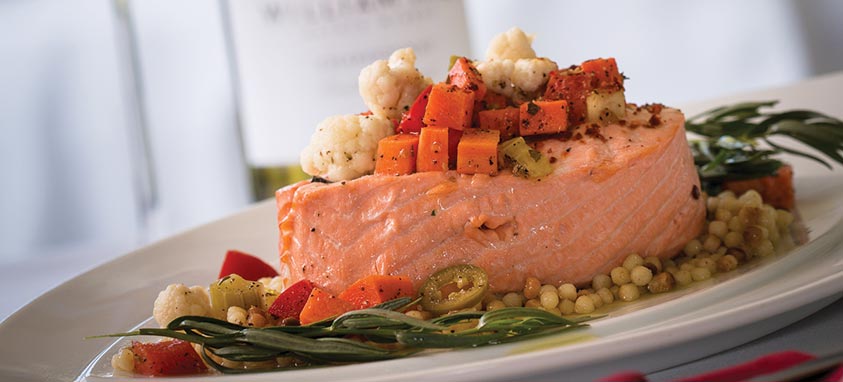 Silverado, located in Napa, offers 390 guest rooms, more than 15,000 sq. ft. of meeting space and two golf courses. The new 30,000-square-foot Mansion Gardens indoor/outdoor venue will open by the end of the year. The setting includes a vineyard and a 5,000-square-foot pavilion for receptions, dinners and meetings. The Grove features an open-air setting, surrounded by 300-year-old oak trees and mountains.
Restaurants at Encore Las Vegas have added a meatless, dairy-free menu created by vegan chef Tal Ronnen and based on reinterpretations of traditional dishes. Nonvegans can still enjoy Kobe beef, double pork chops and fresh fish flown in daily from Hawaii. Wynn Las Vegas and Encore form a mega resort with 4,792 guest rooms, 260,000 sq. ft. of event space and more award-winning restaurants than any other resort in North America. Encore features Forbes Four Star rated Andrea's, which is Asian inspired. Among the award-winning restaurants at Wynn is Michellin-starred Wing Lei.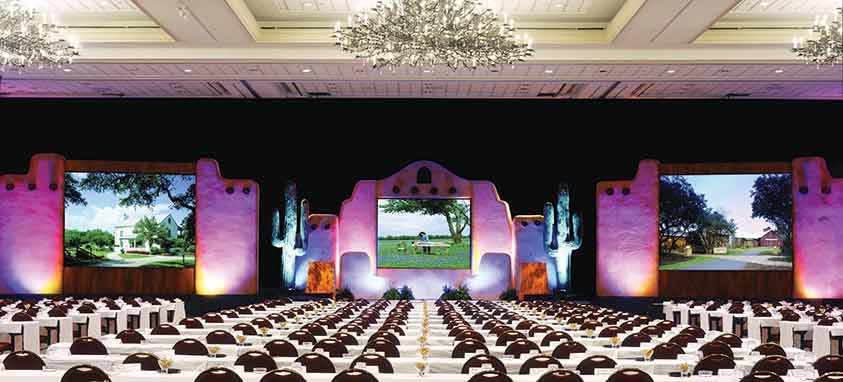 Antlers Lodge restaurant at Hyatt Regency Hill Country Resort and Spa in San Antonio puts an innovative twist on traditional Texas fare by using local farm-to-table ingredients and regional specialties. The restaurant is crowned by a chandelier comprised of 500 sets of naturally shed antlers.
A seasonal menu lets diners choose from creative reinterpretations of ranch food, such as wild boar ravioli, wood-roasted prime rib, antelope carpaccio, Texas quail and whiskey trifle. Even the cheese plate pays tribute to the Lone Star State. The AAA Four Diamond property has 500 guest rooms and more than 100,000 sq. ft. of meeting space.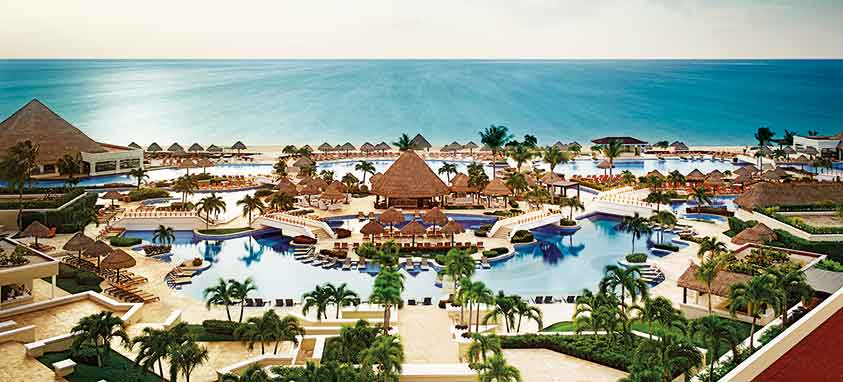 Moon Palace Golf & Spa Resort, Cancun, Mexico
Green & Getting Greener
From water conservation to recycling, to energy efficiency, business travelers should expect to see an increase in environmental stewardship in 2017. Many resorts feature an eco-friendly mentality by retrofitting electrical systems, installing low-flush plumbing and preserving green space, rather than adding more rooms.
Moon Palace Golf & Spa Resort in Cancun, Mexico, already operates under an environmentally responsible program that reduces carbon emissions and consumption of valuable resources such as energy and water, most notably in its 140,000-square-foot convention center. The 2,457-room resort features a Jack Nicklaus-designed golf course, spa and 17 restaurants.
"Palace Resorts is currently working on measuring the environmental impact of the events we host on property, as well as generation procedures in order to enhance the brand's sustainability practices and ultimately offer groups a green meetings option," says Alan Doyle, vice president of sales, meetings and incentives for Palace Resorts.
With all-inclusive properties throughout Mexico and one in Jamaica, Palace Resorts is not only changing the way people meet, but also influencing sustainability practices in resort destinations.
Hyatt Regency Hill Country Resort and Spa is an active steward of the environment. As one of 908 courses in the world that is part of Audubon Cooperative Sanctuary Program for Golf Courses, the resort goes through a strict recertification process every two years to keep its designation, which is given only to golf courses with a wildlife sanctuary.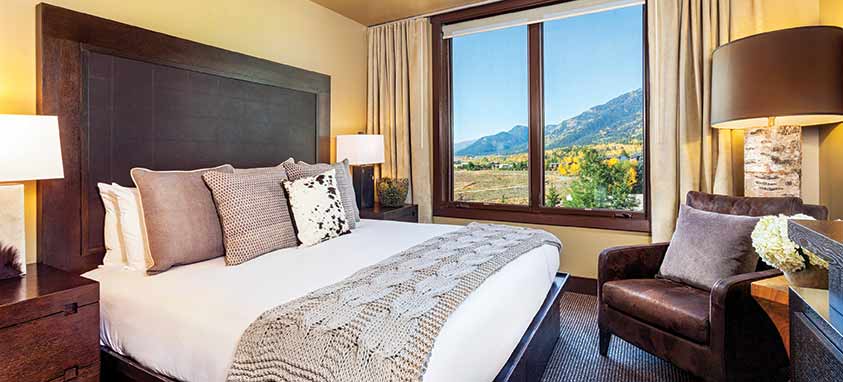 You can't get much greener than the LEED Silver certified Hotel Terra Jackson Hole in Teton Village, Wyoming. Though in a virtually carbon-free location, the resort supplements power with solar, wind and hydro energy, and conserves runoff water. Ninety percent of the interior uses natural light, and the rooms come with 100 percent natural and organic mattresses, recycled metals and low volatile organic compounds (VOC) carpets, pads and paints. The AAA Four Diamond boutique hotel has 135 guest rooms and suites, and 5,000 sq. ft. of meeting space.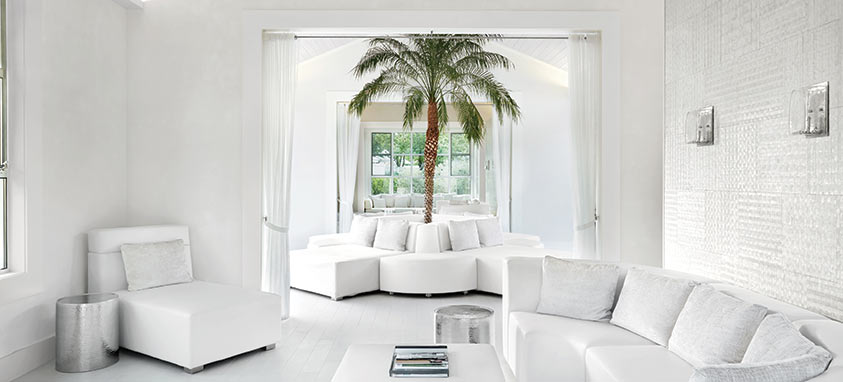 Solage Calistoga is one of the first resorts in Napa Valley to implement sustainable practices, which include an electric car-charging station, solar roof panels, salt-water filtration in the geothermal pools and irrigation through reclaimed water. There are 89 guest rooms, 15,000 sq. ft. of meeting space and Michelin-starred Solbar restaurant.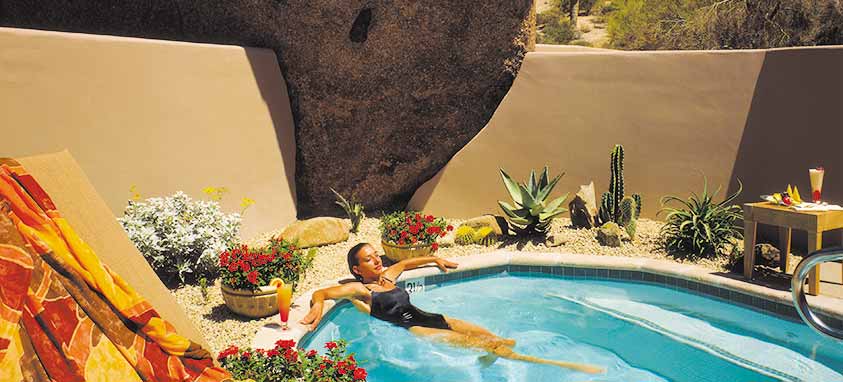 Four Seasons Resort Scottsdale, Arizona (photo by Mary Nichols)
Total Immersion
Nature. Art. Culture. The next generation of travelers are seeking more than a fitness room and club lounge for after-work activities. They want to be immersed in their surroundings, wherever they may be.
Guests at Four Seasons Resort Scottsdale can experience Arizona's Native-American traditions at a ceremony celebrating the heritage of 22 federally recognized tribes, communities and nations, many of which are based in Arizona. The ceremony starts with a Native-American blessing, followed by demonstrations of Hopi Kachina carving, Navajo rug weaving, basket making and traditional pottery. A Native-American dinner is served in an outdoor area overlooking the Sonoran desert, with dishes inspired by the traditional "Three Sisters" crops—maize, beans and squash.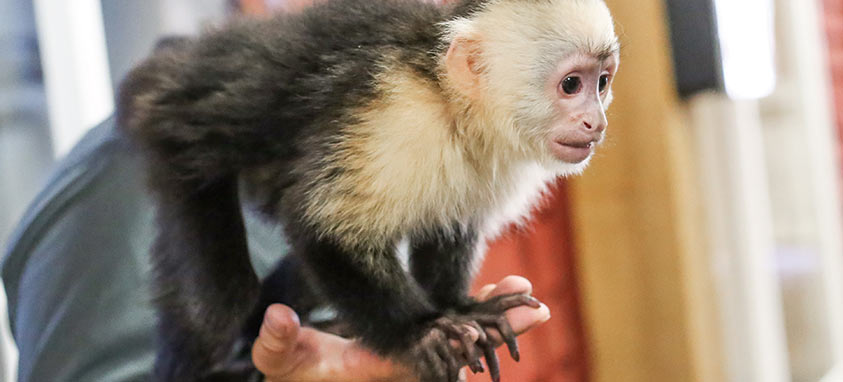 Photo by Nemacolin Woodlands Resort
It's all animals, all the time at the 2,000-acre Nemacolin Woodlands Resort in Farmington, Pennsylvania. Home to the unique Wildlife Academy, Nemacolin Woodlands Resort is famous for its educational animal programs and interactions that bring together living creatures from all over the world. Guests see black bears, zebra, buffalo, tigers, hyenas and other wild animals while learning about their habits and habitats. Wildlife Academy also has a nursery of smaller exotic and domestic wildlife, such as kinkajou, fennec foxes, two-toed sloths and rabbits.
Nemacolin has 320 luxurious guest rooms, suites, townhouses and private upscale homes, and 32,000 sq. ft. of event space. From a Pete Dye-designed golf course to Forbes Five Star Lautrec restaurant, to its own art gallery, Nemacolin offers guests a unique luxury experience.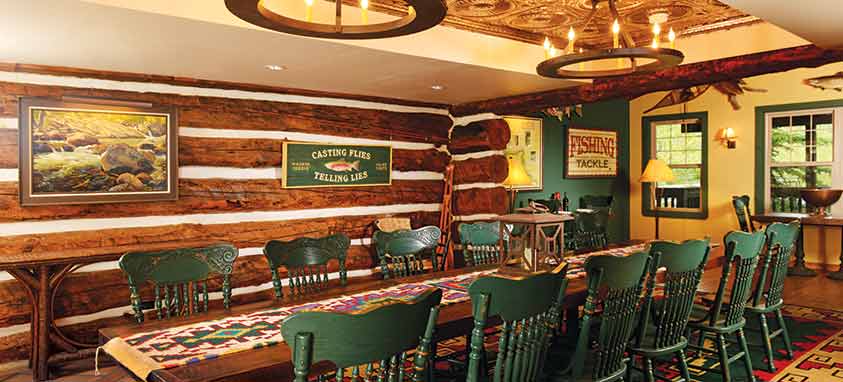 Those seeking a wilderness experience will want to check out The Broadmoor in Colorado Springs, Colorado, where they can learn the art of fly-fishing by day and stay in authentic miners' cabins by night. The Broadmoor Fishing Camp is a private retreat in a picture-perfect alpine setting where professional guides help students of all levels experience world-class fly-fishing. At night, everyone gathers at the main lodge for cocktails on a deck overlooking the river, followed by a creek-to-table meal.
In addition to Fishing Camp, The Broadmoor features a historic main meeting campus that includes 185,000 sq. ft. of meeting and event space, and 784 guest rooms. Three golf courses, a tennis center and nearby ziplining give attendees plenty of options to experience Colorado's fresh mountain air. For those who can't make up their minds, there's an adventure center onsite.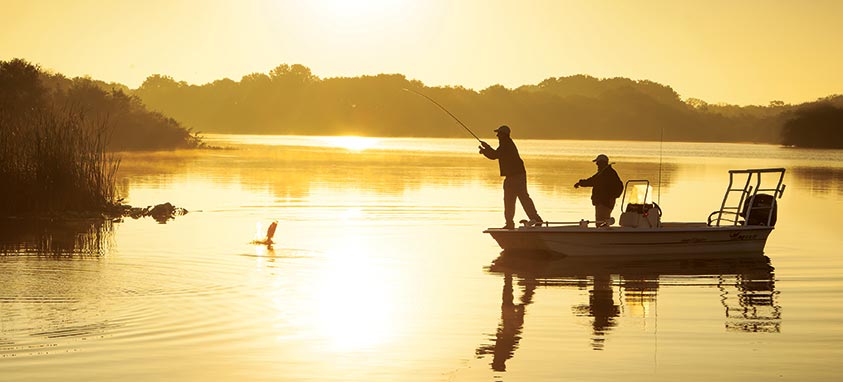 Photo by Streamsong Resort
Fishing is also featured at Streamsong Resort, a high-end golf resort in Bowling Green, Florida. Groups meet on the resort's lakefront fishing dock, where skilled guides take them to the top fishing locations. Anglers who catch a bass of 8 pounds or more can become members of Florida's Bass Fishing Hall of Fame. Besides fishing or golfing, the 216-room resort has hiking trails, bird watching and clay shooting available. Streamsong's 64,600 sq. ft. of indoor and outdoor event space includes a 14,000-square-foot conference center.
For groups interested in history and wine, Best Western Sonoma Valley Inn, located on California's historic Sonoma Plaza in the city of Sonoma, makes a great base. Dating to the 1800s, the plaza is the largest in the state and a National Historic Landmark. It is home to Mission San Francisco Solano, Salvador Vallejo's Casa Grande, Sonoma Barracks and City Hall, still in use and built with four identical sides to avoid offending early shop owners.
Sonoma Valley Inn's Krug Event Center features 2,000 sq. ft. of meeting space and 82 guest rooms. The tasting rooms that surround Sonoma Plaza give groups a convenient introduction to wine country; no driving is required.
Salishan Spa & Golf Resort is a 205-room all-inclusive resort and recreation destination on the Oregon Coast in Gleneden Beach. There's a private trail that leads to the beach, but guests may prefer to relax with a local craft beer or glass of Oregon Pinot Noir at one of four restaurants. Long House Ballroom, which can seat 350 theater-style, features exposed cedar beams and high ceilings, exuding a Pacific Northwest ambience.
Carlsbad, California, on the northernmost tip of San Diego County, allows business travelers the chance to immerse in water activities such as boating, surfing, wake boarding, sailing, windsurfing and fishing at Agua Hedionda Lagoon. Home to Hubbs/Sea White Sea Bass Hatchery and Carlsbad Aquafarm, a commercial mussel-farming operation, Aqua Hedionda has its own Lagoon Discovery Center dedicated to environmental education and outreach. It is located on the eastern end of Agua Hedionda Lagoon estuary and wetland areas in Carlsbad.
According to Visit Carlsbad, the city is home to the first skateboard park in the world and is proud to call alternative-sports superstars Tony Hawk and Shaun White its favorite sons.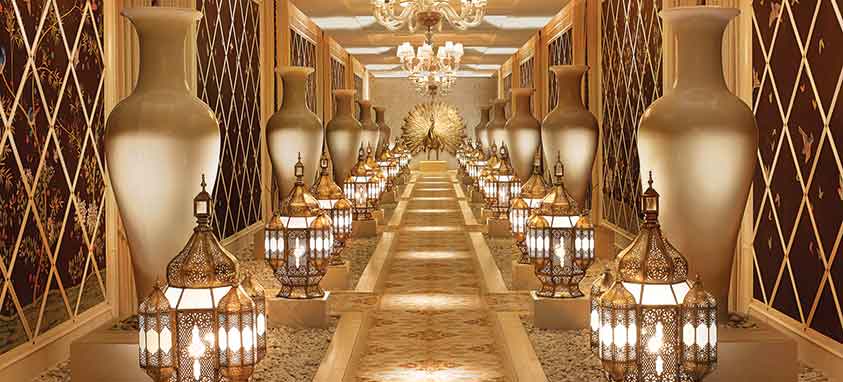 The Spa at Encore Las Vegas
Cutting-Edge Treatments
While pampering will always be popular with spa-goers, today's spa enthusiasts are looking for the latest and greatest treatments inspired by ancient rituals, unique ingredients or special needs.
Once reserved for royalty, 24-karat gold facials are now available at The Spa at Encore Las Vegas to anyone wanting to revitalize their skin. Ancient Egyptians believed gold has healing properties, and it was used by Cleopatra as a nightly mask to enhance her complexion and keep her skin glowing. The ions in gold help to stimulate cells, which leads to improved blood circulation. This increases the metabolism of skin cells. The spa's facials employ three types of the precious metal, in addition to rare frankincense from the gardens of Ethiopia.
"The Deluxe 24-Karat Facial embodies our vision of delivering a truly luxurious experience while leaving the skin radiant and youthful," says Erika Valles, director of spa operations at The Spa at Encore Las Vegas.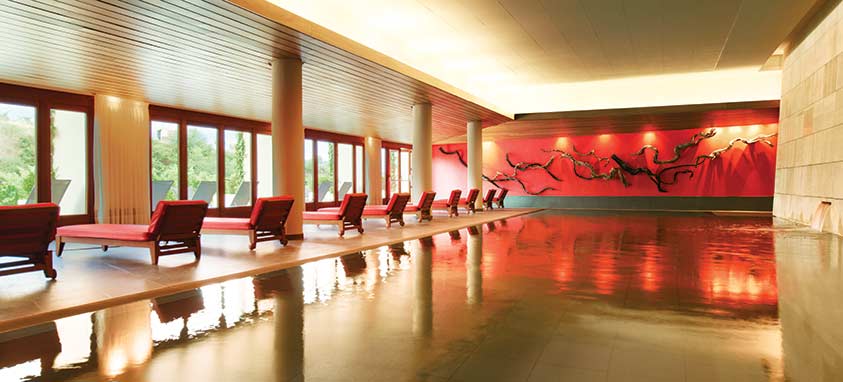 Red grapes have long been coveted for their health benefits. At Hotel Marques de Riscal in Elciego, Spain, the signature Spa Vinotherapie Caudalie is inspired by the therapeutic healing of red wine. The treatment starts with a crushed cabernet scrub, followed by a winemaker's massage and red vine hydro-massage bath with red vine extracts.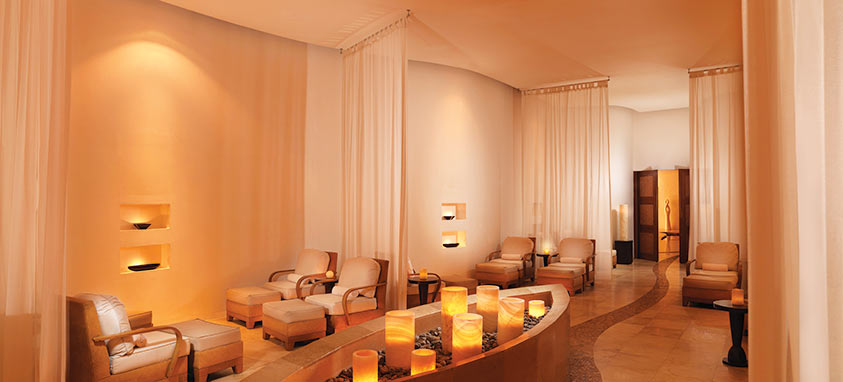 Mayan philosophy is the focus of the AAA Five Diamond Le Blanc Spa Resort in Cancun, Mexico, where guests can experience an 80-minute Kukulcan Mayan Massage. Based on the Maya cosmo-vision— featuring sacred animals such as the jaguar, eagle and snake—the treatments start with pre-Hispanic music and a "rain stick" (bamboo stick filled with seeds that simulate the sound of rain), along with a moment of meditation.
Convenient, in-room spa treatments are offered at Westin Galleria Dallas, which wrapped up a multimillion-dollar renovation last month. The Westin offers 448 guests rooms and suites, 54,000 sq. ft. of meeting space and boutique service.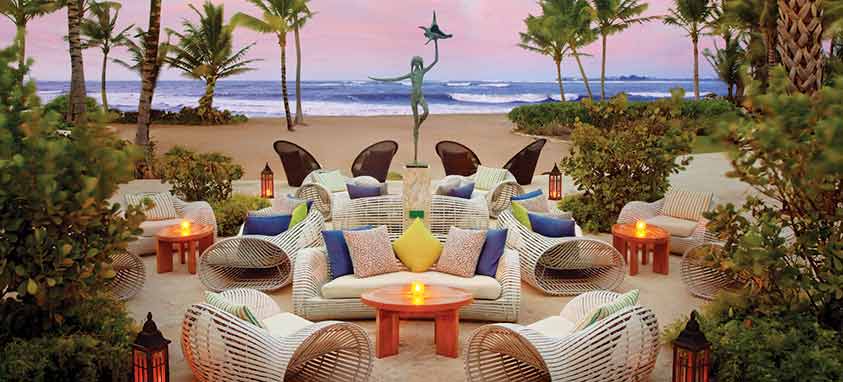 Sea Grapes Terrace at The St. Regis Bahia Beach Resort, Rio Grande, Puerto Rico
Call of the Wild
Meeting participants are seeking outdoor venues, whether on the beach, the mountains or surrounded by desert. Luckily, there's no shortage of resorts catering to their tastes.
The Naples Beach Hotel & Golf Club maintains 7 miles of white-sand beach for guests to explore and a variety or picturesque outdoor venues for receptions and events. Southwest Florida's only beachfront resort with a championship golf course features scenic Watkins Lawn, which overlooks the Gulf of Mexico and can hold 800 guests.
"Outdoor space can turn an ordinary event into an experience," Mullins says. "And planners want the buzz of how great the event was."
The St. Regis Bahia Resort in Rio Grande, Puerto Rico, capitalizes on its coastal setting with three landscaped outdoor venues for guest use. The Estate Lawn is located on the beach, directly behind a traditional Plantation House, and has a view creating the illusion that the lawn merges with the ocean. The free-form Sea Breeze lawn is accessible by a wooden walkway and offers a firepit so guests can linger long after the sun sets.
The oceanfront Estate Lawn adjoins the Sea Breeze Lawns, with the Old World Plantation House accommodating groups of up to 420. For smaller groups, the 139-room property offers Astor Terrace, an elevated wooden deck framed by trees and plants, with benches resembling tree trunks.
Elevating Experiences
Meetings and events deserve to be taken seriously, just as free time and fully experiencing a destination are highly valued by participants. Golf and spa resorts are not only paying attention to these trends, but are also raising the bar on such experiences.
---
Kristine Carber is a California writer who spent many years attending offsite meetings and now enjoys writing about them.