Stressed? Even posh spas now offer CBD oil massages
You've just put on the best show of your life. Your attendees were inspired and energized. Your client (or boss) gave you a perfect 10. But once the post-event euphoria dims, why do you feel so beat? All that stress, of course. And maybe a little beat up, too—from the physical activity that comes with setup and breakdown.
If you're able to steal an extra day—even an extra afternoon—in your hotel, a little Me Time seems just the thing. A massage in the spa, perhaps.
More: 4 Extreme Spa Tourism Options
Incorporating essential oils derived from nature in massage therapy has been all the rage for some time now. Lavender, sage and apricot kernels come to mind. Spas in hotels, like their restaurants, look to locally wildcrafted or farmed products, or to the traditions of the indigenous peoples of the region, to make their experiences local and more unique.
Well, if you happen to be Colorado, California or any of the increasing number of states that have loosened laws and attitudes about cannabis, then what could be more unique (and perhaps even local) than that?
A cannabidiol (CBD) oil massage may be exactly what you need.
It's Not Psychoactive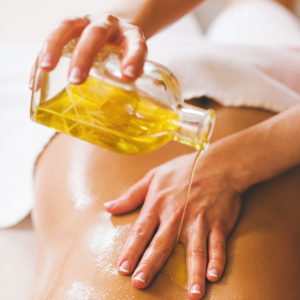 CBD is legal in 30 states where medicinal and/or recreational marijuana is legal, according to Governing magazine. Another 17 states have CBD-specific laws.
If your reaction to having a CBD treatment is "Oh, wow," it won't be because you're high.
One of the more than 100 compounds found in the cannabis, or marijuana, plant, CBD is not psychoactive. (THC, or tetrahydrocannabinol, is the wild child in marijuana that causes euphoria.) It's extracted from the flowers and buds of marijuana, but can also be extracted from industrial hemp, which has no THC. And it is touted in numerous medical studies—mostly in animal tests—for reducing inflammation, pain and anxiety. Balms and oils with CBD have been recommended for topical application to ease symptoms of arthritis, menstrual cramps, and soreness and strains from sports or other strenuous motion.
In June, the FDA approved the prescription use of a CBD-based medication to treat two forms of epilepsy.
This isn't countercultural stuff. Not when you can get these massages at venues such as Remede Spa at five-star The St. Regis San Francisco, even though that posh venue couldn't resist naming its treatment Love and Haight, a nod to the city's Haight-Ashbury neighborhood, famed for the Summer of Love, hippies and passing the bong. A 60-minute CBD oil massage there is $275. At Spa Anjali at The Westin Riverfront Resort & Spa in Avon, Colorado, it's a $30 enhancement to any regular massage.
90 Minutes of Heaven
"It is definitely still fairly unique in the spa world, but it's growing in popularity. People are interested and willing to give it a try," Ingrid Middaugh, director of Spa Anjali, told The Vail Daily. "The topical CBD products are also very moisturizing and helpful in dealing with altitude issues."
Andrea Kennedy, a Remede Spa client, said one of her friends told her the CBD treatment really helped with muscle recovery, so she tried it. "Seriously, it was 90 minutes of heaven," she said to San Francisco Chronicle. "I had a hard workout that morning, and I wasn't even the slightest bit sore after the massage."
If tapping into CBD just before or after your next conference or meeting can't be squeezed into your schedule, you can still try it at home. Many spas in cannabis-friendly states sell CBD in topical salves, systemic patches and tinctures for home use. So does Amazon.
And why ignore your best friend? CBD-infused pet products are already on the market, too.