Meetings industry takes a look within and discovers a centered place
One breath in and one breath out—it's a simple concept. But if we take a moment to think about it, at least a thousand different thoughts come between our awareness of the constant flow of breathing that our bodies naturally carry out. No matter what happens in life, breathing carries us through, and it's our right to recognize it.
Yet, it is human tendency to walk the Earth while being completely unaware of what occurs around us. Preoccupied with images of past and future that flash across our minds, we are often incognizant of reality that exists in the present—that which lacks the labels and definitions we have superimposed to give the world its meaning.
That is, until now. Collective consciousness is waking up. The movement to live mindfully is gaining momentum, and extensions of this lifestyle are becoming mainstream. In 1979, Jon Kabat-Zinn, described as the "Father of Mindfulness," introduced his mindfulness-based stress reduction (MBSR) program as a way to cope with anxiety, pain and illness. The practice of yoga is widespread, according to a recent study from Yoga Journal and Yoga Alliance that counts 36 million active yogis in the United States.
But most importantly, there is a wealth of research that says being mindful is good for us, and its benefits are trickling into meetings, hospitality and travel. From wellness amenities at hotels to meditation sessions at conferences, it's becoming more important than ever to live life and conduct business from a centered place in the now.
"Some are just approaching the general idea of wellness while others are fully immersed. Those who have experienced this type of offering within their meetings and events want more because they have an experiential understanding of the value that it provides."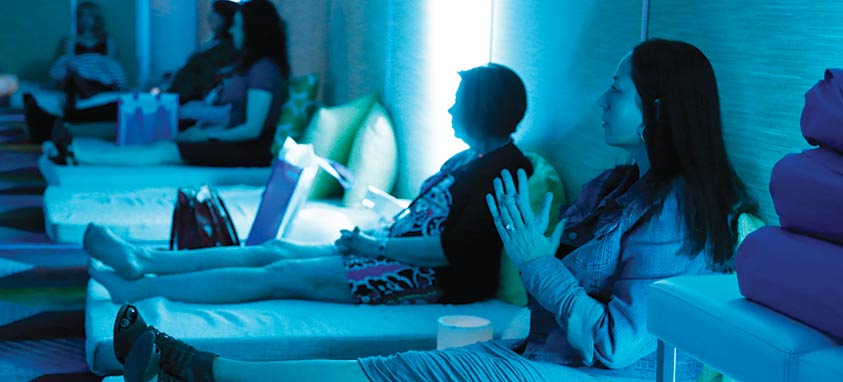 Be Well Lounge at IMEX America, Sands Expo, Las Vegas
Meditating at IMEX
Living in the moment was the gist of what Lee Papa, an inspirational speaker, trainer, transformational advisor and author, conveyed to a full house of high-powered meeting planners, hotel sales directors and representatives from top destination management organizations during last year's Smart Monday MPI keynote at IMEX America at Sands Expo in Las Vegas. Papa has been helping meeting attendees take a closer look at mindfulness since she began facilitating breakout sessions at IMEX in 2014.
"When I first introduced my mindfulness programs to meetings and events, it felt like the industry was just dipping its toe in the pool," Papa says. "With each year, the amount of awareness is growing significantly. Some are just approaching the general idea of wellness while others are fully immersed. Those who have experienced this type of offering within their meetings and events want more because they have an experiential understanding of the value that it provides."
The former corporate executive turned meditation guru is all too familiar with demanding schedules and high-stress environments, as she once lived this life herself. Knowing the pressures meeting professionals face, Papa helped design Be Well Lounge, where she and other wellness experts facilitated highly attended meditation sessions and yoga classes during the busy three-day conference.
The lounge was an oasis of calm and serenity amid the buzz of the trade show floor—a snapshot of the growing interest toward taking a mindful approach with our increasingly hectic, digitally connected lives. Papa, who will be returning to IMEX America this year, attests to the power of her sessions and keynotes, which are intended to plant a seed of awareness in the minds of audiences filled with both believers and skeptics.
"One of my favorite comments is related to attendees who came to one of my keynotes with apprehension and then fully embraced the concepts," she says. "The takeaways are immediately actionable tools to shift their perspective and their quality of life. The amazing thing about this talk is that the tools and awareness that are provided in these 50 minutes cannot be unlearned. It is the takeaway that seeds awareness and changes one's life."
Meeting planners and their attendees are becoming more aware of the life-enhancing benefits mindfulness provides. Even a few minutes of meditation can help one sleep better, feel more inspired, become more creative, encourage a sense of peace, retain information better, experience fewer jetlag symptoms, feel more confident, have more energy and even make better choices.
According to an IMEX survey of nearly 1,200 people, more than three-quarters confirmed the importance of well-being while on the road. But the challenge for meeting professionals often comes with attempting to build in a few precious moments of stillness during a busy schedule of events. Papa recommends layering mindfulness training throughout the program, with different offerings that fully support all attendees.
"I would say use mindfulness training in consistent and overall threads in the theme and tapestry of the program," Papa says. "Meaning, layer the mindfulness approaches on multiple levels. With my overall expertise in wellness practices and focusing on mindfulness as the foundation, all other programs benefit immensely."
For example, using a keynote or general session to introduce mindfulness is a great way to start an event. A dedicated space, such as a meditation lounge, can hold yoga and meditation classes for quiet time in between sessions. Brief breakout sessions interspersed throughout the day keep the focus on attendee health and well-being.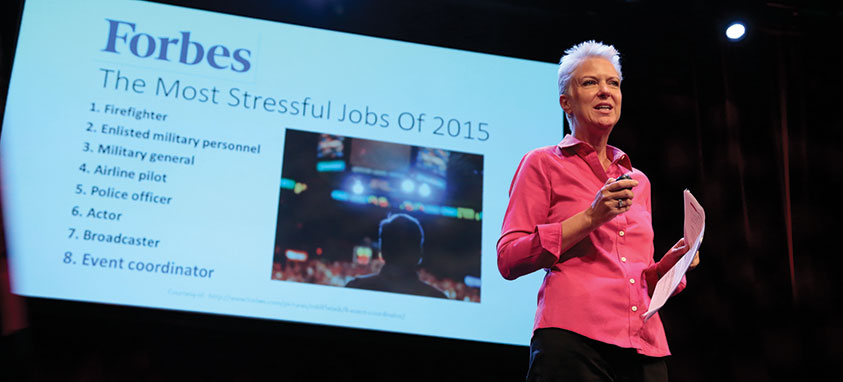 Smart Monday keynote by Lee Papa at IMEX America, Sands Expo, Las Vegas
Shifting Toward Health & Wellness
Sometimes incorporating wellness into business travel can be like mixing oil and water. Major stressors such as airport security, delayed flights and squished cabin seating are hardly conducive to relaxation and inner peace. By the time travelers reach their final destination, they arrive harried and anxious about the busy schedule of events ahead, and it gets worse. During the conference, attendees are often bombarded with unhealthy food and beverage choices, and overindulgence takes over.
"Stress, diet and burnout plague the average meeting attendee," says Melissa Mongoven, president of Phoenix-based Event Savvy, LLC. "The daily meeting agenda is jam-packed, the travel is exhausting and constant stress from work fuels overeating unhealthy food from the buffets and consumption of alcohol at the evening events."
Mongoven knows firsthand the pressures meeting planners and conference-goers encounter over the course of a meeting or event. Her company manages and coordinates corporate meetings and incentives around the world, and she is acutely aware of the obstacles in the way of keeping attendees healthy.
"The problem is that the average meeting attendee doesn't have enough time to take advantage of the classes because their days are so full with general session, breakouts, meal functions and evening events," Mongoven admits. "They definitely have to make it a priority to get to the gym early so they can get a good workout in before their day starts.
"[But] the biggest obstacle might be from some of the attendees. When some people get away from home and travel to a company-funded meeting, they want to eat and drink whatever they want and not have to worry about working out."
This has been the way business groups have convened for decades, but times are changing. Camille Hoheb, president of Los Angeles-based Wellness Tourism Worldwide, paints a different picture of the modern traveler based on years of research on wellness trends shaping global travel.
In search of personal and professional fulfillment, this type of meeting attendee seeks out conferences and events designed to bring them closer to their pursuit of total well-being. Hoheb explores these shifting attitudes in her report, Wellness Travel: Shaping America's Health & Economy.
"[Wellness Tourism Worldwide's] proprietary research shows that wellness travelers are as much, if not more, interested in emotional well-being and psychological health than physical health and fitness," Hoheb says. "Activities that support mental and spiritual health are of growing interest. Consumers are replacing hedonism and overindulgence with restoration and replenishment. Wellness comes from having a meaningful life, not just looking good, [or] being fit or happy."
Hoheb outlines several criteria that define the concept of travel for the purpose of wellness. She believes it must be purpose-driven; focus on key attributes such as discovery, connectivity, transformation and fulfillment; emphasize positive engagement with the natural environment; and provide activities that support personal and societal prosperity. These attributes create a lifestyle that doesn't stop for travel.
Planning with Purpose
Health and wellness are so important to Mongoven that she recently became certified as a holistic health coach by Institute for Integrative Nutrition. She plans to use her certification to educate her clients, vendors and suppliers on the importance of implementing healthy practices and offering wellness-related activities, so that people can continue living in healthier ways long after the meeting has concluded.
Last year, Mongoven planned a women's conference in San Francisco that embodied the best aspects of health and wellness. Attendees began every morning with mentally and physically stimulating activities, including yoga, dance and meditation. She and her client also assembled a menu filled with wholesome ingredients and very little processed food. While the women in the group were thrilled with the modifications, Mongoven implores planners to know how receptive their own groups are before incorporating healthier changes.
"As a meeting planner, I suggest healthy menus and activities, but ultimately it is up to the end client," Mongoven says. "It really depends on the demographic of the group, though. Certain attendee types will resonate with activities like yoga and some won't. So, of course, you have to cater to the demographic of the group to make sure they will enjoy the food options and the activities offered."
Just like paying more for organic produce, healthier food options and fitness classes can be an added expense. Clients must also be willing to carve out time in the agenda to include fitness classes and other activities. Those who understand the value of splurging for quality food and beverage choices are likely to foster appreciative attendees.
The Mindfulness Movement
Making mindful choices every day to some may seem like an insignificant task with little impact. This could not be further from the truth. For those wondering how much good can be accomplished by simply paying attention to one's thoughts, they need only look to the example of major corporations and public figures touting the advantages mindfulness bestows.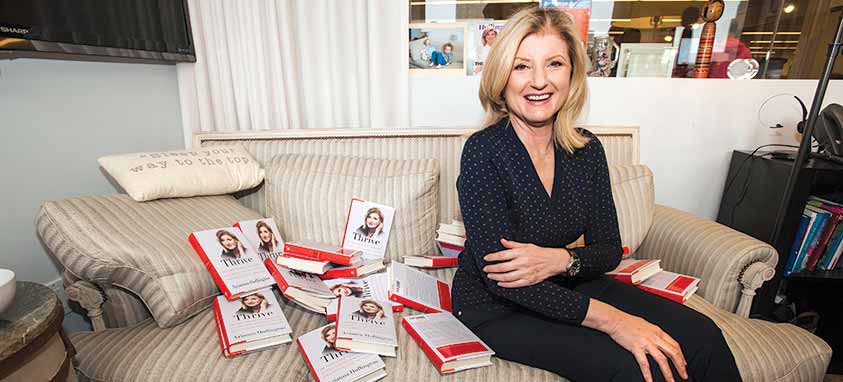 Arianna Huffington
Media mogul Arianna Huffington, co-founder of The Huffington Post, extols the virtues of work-life balance and the productivity that comes with it in her book, The Sleep Revolution: Transforming Your Life One Night at a Time. Oprah Winfrey regularly hosts awakened thought leaders, including Eckhart Tolle, Deepak Chopra and Byron Katie, on her inspirational talk show series, SuperSoul Sunday. And Hillary Clinton famously withstood an epic round of congressional hearings during a grueling election, thanks to nothing other than meditation.
"[Mindfulness] is most certainly reaching movement status," Papa says. "In my opinion, it is because of the science that is behind it. It is the knowing and understanding of human awareness; the empowering nature of connectedness and relationships; the knowledge that you can change your life by changing your attention to it. It is the expansion in the silence, consciousness. There is nothing trendier than that."
---
6 Steps to Healthier Meetings
Meeting planner Melissa Mongoven has a few simple suggestions to keep attendees healthy, happy and productive during meetings and events.
• Offer various classes first thing in the morning such as yoga, fitness and meditation. Offer a motivational company incentive to those who attend. If attendees learn an exercise onsite, then they may continue it in their daily lives.
• Use one of the breakout rooms as a meditation or quiet room, and make it available throughout the entire meeting.
• Provide healthy food options at every meal. Remove sodas and replace them with fruit-infused water stations.
• Offer a fresh juice and mocktail station at evening functions. This way, people do not have to choose between alcohol and soda. They can have a healthy beverage instead, and still be able to drink something other than water.
• Implement guided movement breaks throughout the day. Attendees can stay active and recharge with movement versus with soda, caffeine and sugar.
• Break menus should consist of protein, whole foods and fruit instead of carbohydrates and sweets. That will help keep attendees alert instead of crashing in the afternoon.
---
Wellness Makes the World Go 'Round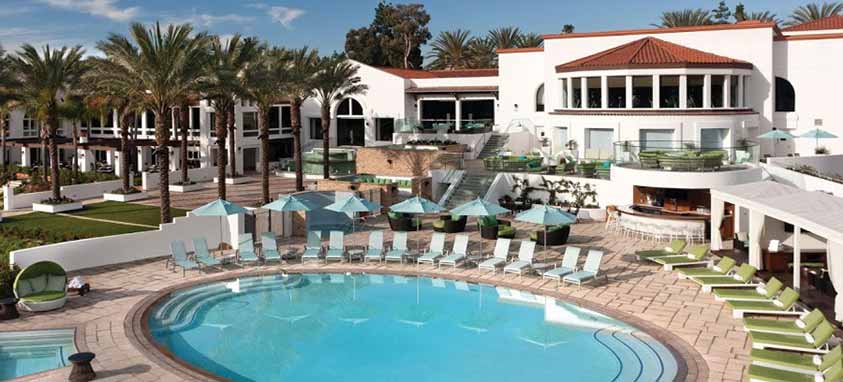 Omni La Costa Resort & Spa, Carlsbad, California
The wellness phenomenon is no small segment of travel and tourism. The Global Wellness Summit pegs the global wellness economy at $3.7 trillion, growing at a rate of 10 percent over the last two years. Hotels and resorts around the world are responding to this lucrative niche with wellness centers and detox retreats aimed at busy adults seeking some serious R&R while away from home.
"A profound shift in the way people consume wellness is underway: Once a luxury or add-on, it's now being infused into every aspect of daily life, from how people work to how they travel," said Katherine Johnston, senior research fellow at Global Wellness Institute. "The spend on proactive healthy choices will continue to comprise a greater percentage of multitrillion-[dollar] industries, whether real estate, food and beverage, or travel."
Consumer demand for life-enhancing services and products that fall under the wellness tourism umbrella are at an all-time high. These include fitness, personalized/preventative medicine, spa facilities, thermal and mineral springs, wellness-lifestyle real estate and healthy eating, and are offered at wellness hotels and resorts around the country.
Near Palm Springs, California, Two Bunch Palms in Desert Hot Springs is the first carbon-neutral resort in America, and follows an ethos that bridges personal well-being and planetary health. The resort stands out for many reasons, including the spa, which is an approved treatment center by the Wellness for Cancer organization, and offers a natural hot springs grotto rich in healing minerals. The resort has 70 suites and 3,321 sq. ft. of meeting space across 77 acres.
Omni La Costa Resort & Spa in Carlsbad, California, is the world headquarters of The Chopra Center, founded by world-renowned holistic practitioner Deepak Chopra. Various retreats, seminars and fitness classes are designed to provide physical and emotional empowerment, as well as spiritual freedom. Groups can choose from integrated fitness and meditation camps, yoga retreats, personalized mind-body consultations and live events. The resort has more than 600 guest rooms, suites and villas and more than 100,000 sq. ft. of indoor and outdoor meeting space.
Miraval is one of two premier health and wellness resorts in Tucson, Arizona. Surrounded by the arid desert landscape, guests understand the full extent of what it means to retreat. With the assistance of an onsite experience planner, there are myriad outdoor activities and indoor spa experiences from which to choose. Challenges range from rugged mountain biking and horseback riding to desert tight-rope walking and rock climbing. Other unique activities include apiary honey tastings, nutrition-based cooking classes, artistic meditations and photography classes. Miraval has 118 casita-style guest rooms and 16 private suites.