The future of events may hinge on doing more
This will be a bit wonkish, but bear with me. The questions before us: In a world of rapid and increasingly cataclysmic climate change, could the return of F2F events and our drive for their continual growth contain the seeds of the industry's decline? And most importantly, how might it be possible to avoid this potential fate?
We've reported in these pages previously about how the hospitality industry has linked arms with nations and other business sectors to pledge achieving net-zero carbon emissions in its activities and supply chain by 2050 (see "Hotels Are Zero-ing Their Game," Nov. 2021). Joint Meetings Industry Council's 2021 commitment to a net-zero target for the global events industry also included a 50 percent reduction in emissions by the beginning of the next decade, less than eight years from now. Over 180 events organizations have joined in this pledge so far.
One of these is Gallus Events, a U.K.-based virtual and hybrid events consultancy. But William Thomson of Gallus has taken another step by recently producing a well-researched white paper that examines two possible scenarios for the industry over the next 28 years—which on the one hand seems far, far away but on the other is well within the career span of many of us who presently work within it.
The report focuses on the events industry in the U.K., but it's easy to extrapolate it to encompass the United States and just about anywhere else in the world. Thomson himself, who is also the founder of Virtual Event Campus, a training resource for online events, is currently studying for a MSc in Green Economy in Barcelona.
Read More: Beyond Carbon-Neutral Hotels: Evolution of Eco-Friendly Hotels
Business As Usual
The first scenario is business as usual. It goes like this: Throughout this decade and the next, F2F business events continue to flourish and grow, with both domestic and international attendees. People continue to fly in to participate. More and more hotels are built with significant meeting space, and convention centers continue to expand and upgrade.
Ah, but by the 2040s begins the rub. And the inconvenient truth is, what hits the brakes on physical meetings has nothing to do with the power of F2F or the motivation of people to meet to do business. Companies, striving to meet their own net-zero targets, begin to mandate cuts in activities like air travel and participating in large gatherings because these carbon footprints count against company goals.
By 2050, according to the scenario, "many industries and nations" fail to reach their net-zero targets, including the events industry. The pressure to avoid the carbon impact of F2F only intensifies.
Thus, despite good-faith efforts to be more sustainable, the events industry shrinks and is in jeopardy.
The other scenario is called "sustainable events transition." It requires "implementation of a wide variety of sustainable solutions, not only a net-zero target." These include 100 percent renewable energy for all operations at large event venues, zero percent waste-to-landfill policies and much more—but most importantly, it entails "redirecting the human need to meet by proactively promoting, marketing and researching virtual meetings and events."
In other words, like it or not, what Covid isolation began, climate change will demand.
"Like it or not, what Covid isolation began, climate change will demand."
A Meta Future?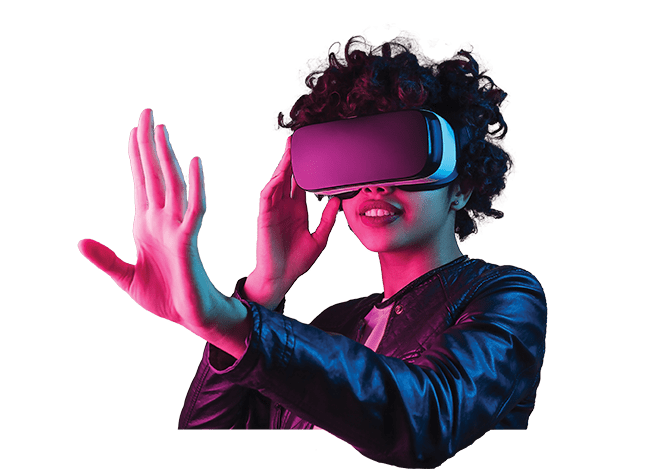 Thomson's report concludes: "The desire for infinite growth of physical events in the business-as-usual scenario is the fundamental weakness concerning sustainability for the events industry. The industry is heavily dependent on nonrenewable resource use, greenhouse-gas emissions from energy use, travel, food and beverages, and transport and cannot decouple this resource use and waste from ever-larger events."
He concedes that promoting virtual meetings as the solution may seem self-serving for someone like himself who works in that sphere. "I think that's the benefit of a scenario-based report, as it is more about asking questions and focusing less on the specific answers because no one knows!" he says. "It is to raise the issue and to get people to think about it. Perhaps virtual isn't an answer, but if not then it stimulates the debate to find out what is."
The trend of coupling geographically dispersed, small in-person pod events with virtual components for all attendees may be one workaround that helps to feed our appetite for physical gathering while curtailing carbon footprints. As will advances in AI and realization of the metaverse promise to make the virtual experience ever more emotionally impactful and, well, real.
"Advances in AI and realization of the metaverse promise to make the virtual experience ever more emotionally impactful and, well, real."
In that future, the role of the meeting professional and venue operators will be just as important, yet significantly different—and, in many ways, more complex, technical and light years away from the old days of measuring success by simply getting "butts on seats."
This article appears in the May 2022 issue.