Meeting professionals have always shouldered a hefty bag of tricks to fix the jagged edges that emerge at even the most meticulously polished events. Epoxies could range from repurposing florals for sterile rooms to finding gluten-free meals for the dozen VIPs who didn't RSVP, to filling in for the speaker who missed a flight.
All executed with a gracious smile and check mark on a clipboard, of course.
Today, though, even veteran meeting organizers face Code Red calamities previously unimaginable. From protocol changes du jour to technical glitches resulting in blank screens at virtual and hybrid meetings, new mishaps require a fresh batch of creative fixatives.
One example: During a recent Smart Meetings Experience, CEO Marin Bright learned at pre-con that the hotel was understaffed and thus would be turning almost the entire property on the day her guests arrived. Going into full hostess mode, she arranged for a hospitality suite stocked with food and a changing room in case early arrivals wanted to hit the beach before the welcome reception.
"I think about what I would need if I were arriving," she explained. "They enjoyed kicking back and chatting in the comfort of the suite and appreciated that they weren't left to fend for themselves." A little empathy and looking at a meeting from the perspective of the attendee can go a long way.
Right now, those sorts of challenges are popping up at events all over the world. Smart Meetings asked readers and Events Industry Council pioneering explorers to share hazards they have encountered and the hacks that got them and their guests safely to the other side of the crevasse.
A Meaningful Return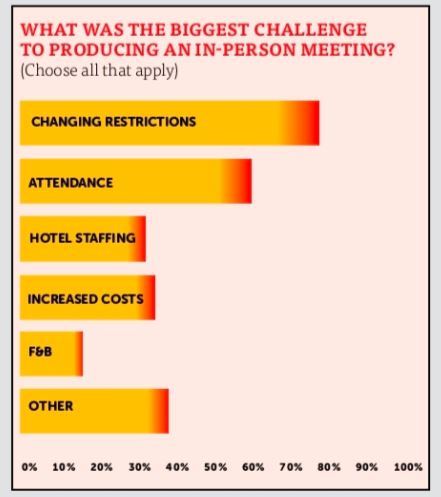 An overwhelming majority of survey respondents said they are getting back into the physical meeting room. Almost three out of four (72 percent) had produced at least one in-person meeting between March 2020 and August 2021. More than seven percent had produced more than 10 face-to-face meetings during that time.
The surprises they encountered ranged from unpredictable restrictions (79 percent) to attendance roulette (56 percent) and increased costs (33 percent). Click to see full results.
Fewer said they were producing true hybrid events—only one in three (35 percent)—but greater than five percent had already designed more than 10 multichannel programs. Their challenges were as unique as the plates they were spinning. Orchestrating meaningful engagement was the big hairy goal keeping one out of four hybrid meeting maestros up at night. Technical glitches (14 percent) and measuring ROI (seven percent) rounded out the top five.
Power Tools
There is an old adage, probably originating from the back aisles of a dusty hardware store somewhere: When you are a hammer, everything looks like a nail. Meeting professionals are finding they need a cordless adjustable driver with laser light and all-day battery pack to tackle the variety of scenarios in a typical 2021 day.
We asked these hard-working general contractors to share their most challenging situations and the quick thinking that kept everything from falling apart. From firm advice to build flexibility into contracts, particularly when it comes to attrition clauses, to tips for elevating boxed lunches and overcommunicating, these experienced craftspeople were eager to share their instruction manuals.
Rotating Wheel of Protocols
"Planning and producing in-person programs over the past year has been a constantly moving target. We learned to be nimble and have plans A to Z ready to execute," said Erin Scholes, president of SD Meetings & Events in San Diego, who has struggled with predicting attendance at the few in-person meetings she has planned as the rules governing what could, or couldn't, happen in a month, a week or a day were less than certain.
For Tina Wehmeir, president and CEO of AMC Institute at Bauder College in Arlington, Texas, the solution to rapidly changing restrictions across the country was to adhere to all CDC guidelines strictly. She implemented mask usage, sanitizing stations, required daily temperature checks and advanced electronic vaccine screening; she also distributed "Covid kits" at registration for the in-person meetings she planned.
To cover costs, one respondent suggested getting a sponsor for the gallons of hand sanitizer, masks, plexiglas and additional technology required.
Stacey Zeller, executive producer with SZ Productions in Woodland Hills, California, found funding to stream the keynote in multiple languages in the shrinking F&B line item. To manage rapidly changing Covid guidelines, she posted daily updates through a custom website with on-site changes, expanded vaccine rates and current safeguard protocols.
Creative Catering
Meg Walker, CEO and executive chef of Made by Meg catering in Redondo Beach, California, has made it her job to find innovative ways to safely serve food and beverages that excite. For a recent event, she whipped up a "gala in a box," with robust cheese, charcuterie and snack packs people could eat at their well-spaced seats. As a nod to food allergies, elegant labeling listing everything in the box, and the company logo aligned with the theme of the event.
See also: 6 F&B Trends That Will Shape 2021 Events
"A lot of the conversation these days surrounds concern for employee health, obviously, but also company liability and how food and beverage [can] be hospitable, while at the same time making sure that they are Covid-safe," she explained.
Physical Limitations
Sometimes the problems are Old School. Kara Ferguson, a meeting planner with American Society of Anaesthesiologists, shared that while she was concerned about possible attrition, establishing a quorum and making attendees feel safe, it was a torrential downpour that threw a wrench in the reception. It created a sudden leak in the ballroom. Acting quickly, she closed off that section and expanded the reception to the foyer to ensure enough space for all participants.
Snapshots from a Quick Change in Southern California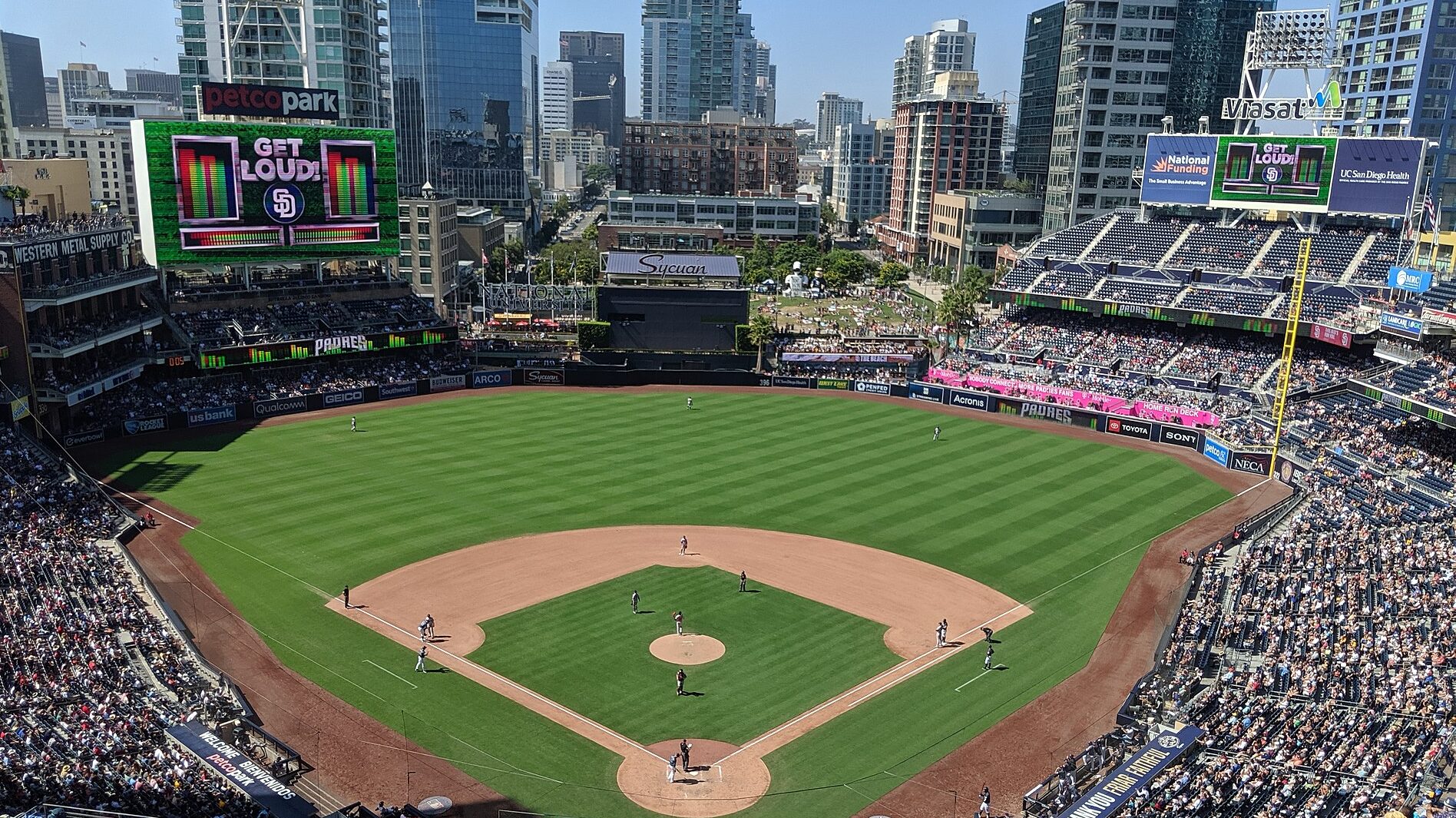 Three-and-a-half months prior to a client's largest annual trade show, Mandi Graziano, vice president of global accounts for HPN Global, was notified that San Diego Convention Center would be unable to host the program. The venue was being commandeered as a temporary Emergency Intake Site and was not going to be available for groups. All the hotel blocks were booked, and the event had already moved twice.
Case Study: How to Move a 2,000-Person Expo to an MLB Stadium in 3 Months
"There was no way we were going to move it again. Changing the date or city was not an option," said Graziano, who recently published the book "Sales Tales".
Cue the woman with a plan: Andrea Dekker, former event director with ADS Inc. She flew to San Diego to do site inspections of all available venues—Petco Park, The Shell, Port Pavilion and various hotel ballrooms. As she walked through Petco Park (with the intention of using the seating bowl for the keynote speaker), she realized it would be a memorable location for the entire show. "We got lucky," said Graziano. The week of the conference happened to be an away week for MLB's Padres, so the stadium was available for set-up and tear-down time.
Prior to this, Petco Park (photo above) had never hosted a convention with more than 200 exhibitors and 2,000 attendees. Luckily, it had hosted a handful of non-baseball events, so there was at least a smaller footprint to build from. The show took over two levels of the ballpark, several ballpark restaurants, utilized the seating bowl and large videoboard, many suites on two levels and provided space for offices and smaller breakouts. It was a huge undertaking with countless hours of work, changes and our not-so-favorite word: "pivots."
But the team pulled off a major-league miracle.
Snapshot from a People-first Event in Seattle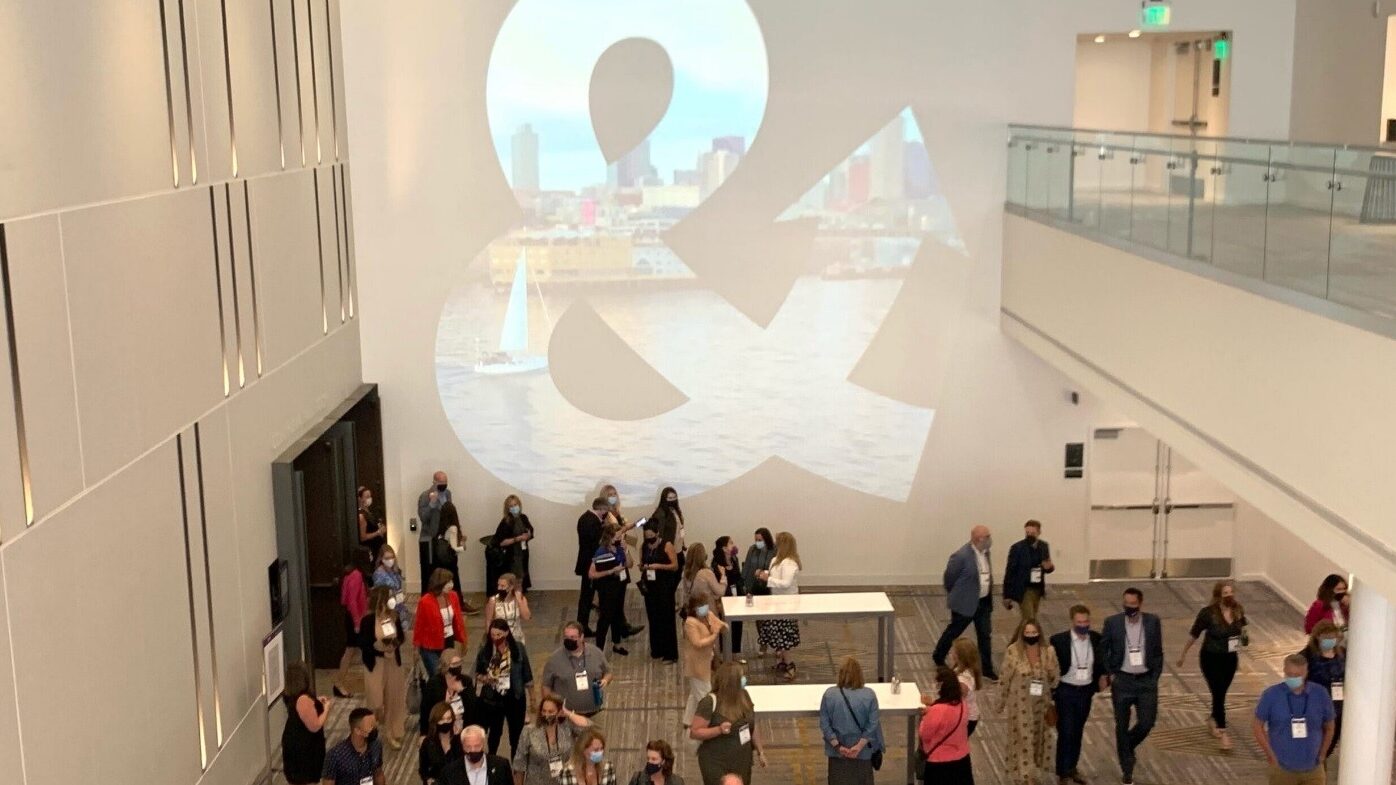 When Maritz Global Events decided it was finally time to get back to face-to-face in August, the experience-design company brought 500 people who represented the entire meetings ecosystem to Seattle—clients, employees, team members and partners—and focused on talking openly and solving shared challenges. Next& (photo above) at Hyatt Regency Seattle was envisioned as the evolution of a February virtual event (which lasted a month, with new content dropped daily) and a subsequent Next& community that kept the conversation going.
Maritz President David Peckinpaugh and Visit Seattle Vice President of Convention Sales & Service Kelly Saling explained the "people first" approach. The agenda was mindful of people's information and emotional needs. Sessions were no longer than 45 minutes, followed by 30-minute breaks. Days started later and lunch was a little longer. If people didn't feel comfortable in a ballroom, they could watch on their devices in the lobby. Suggestions from locals for where to get out and enjoy the city—from listening to cathedral bells to finding fun coffee shops to check out—were built into the event app.
"The focus of this in-person gathering was to find solutions together," said Peckinpaugh.
Virtual Meeting Wrenches
While swapping out desert buffets with digital cookies may sound like a simple proposition—no bus schedules or rooming lists to coordinate—those who have made the transition to streaming content know that the list of things that can possibly go wrong is just as long. Survey respondents identified the most common "whoopsies" and their proactive "cheat codes" to level up the production in the video meeting competition.
See also: Where Does #EventTech Go from Here?
Brad Mayne, CVE, president and CEO of Coppell, Texas-based International Association of Venue Managers, suggested keeping the price low and offering discounts to invite more participants. Guillermo Flores, meeting logistics manager with Los Angeles-based Weingart Foundation, warned that picking a platform everyone is comfortable with is easier said than done. And many suggested keeping the meeting short and focused.
Engaging Audiences
Wanda Johnson, CEO of American Society for Parenteral and Eteral Nutrition in Silver Spring, Maryland, has produced a handful of virtual events designed to draw robust attendance, keep people glued to their screens and deliver measurable success. Her approach? "I reimagined what the virtual experience should be versus taking in-person design and making it virtual. I looked at all content from an end-user perspective and was willing to try new things," she said.
Many reported recruiting event hosts to link the virtual audience to activities in the physical environment. Even if presenters were prerecorded, they could be live to answer questions and/or conduct interactive workshops.
"Engaging the virtual audience with a host is how you create FOMO for next year!" said Brad Weaber, a popular moderator for events of all types.
Carole McKellar had to get creative for an international hybrid event she has planned during Covid times. She is Helms Briscoe vice president for Europe, Middle East and Africa and volunteer women's empowerment ambassador with Positive Workplace Politics Academy. All in-person attendance from a global audience was impossible, so her team developed a virtual hub and live satellite event with 13 small live events in six countries. "The emcee was critical to engage everyone," she said. A virtual magician, featured guest speakers, background music and an applause track added to the engagement.
Interactive elements such as chef-led cooking classes and musical entertainers trended as ways to break the home-office barrier. Gamifications, prizes and rewards also helped for many respondents.
Training Measures
Back at the beginning of the pandemic, one of the biggest challenges with virtual events was that so few meeting professionals had experience with robust streaming programs. Heather Black Cosgrave, director of customer success and operations with Soundings Connect in Philadelphia, developed a series of educational opportunities for freelancers to learn by doing. The company's Platform Playground Mock Events and Reskill & Revive webinar series allowed meeting professionals to collaborate and reinvent their skills as webcast producers, virtual event concierges, consultants and moderators to meet the needs of the market.
"We couldn't have been more proud and inspired by the resilience in our clients, partners and team," she reported.
Dave Stevens, director of global meetings and field marketing with Silicon Valley, California-based Alation, found his dream candidate for a new role as digital events producer on the staff roster. His head of corporate events, who has a background in radio and concerts, stepped up as a mix of someone who understands what the company's audience wants and what is possible.
"We know virtual isn't going away any time soon, if ever, because it has so much reach, and it gives access to people who traditionally couldn't attend for health or other reasons. Evolving our offerings will future-proof the business," said Stevens, who plans to backfill the physical events position when "the live events area is more reliable."
Presenters also need to be trained. Michelle Hill, program director with North American Society for Trenchless Technology, has been streaming education to keep her membership current until the No-Dig Show—the largest trenchless technology conference in the world—is live in Minneapolis in April 2022. "We've hosted dry runs that have lasted anywhere from one to three-plus hours," she reported. She created a toolkit as preparation, but ultimately the most reliable approach was to keep booking the same instructors so experience with the platform was assured.
Snapshot from a Quick Recovery in Texas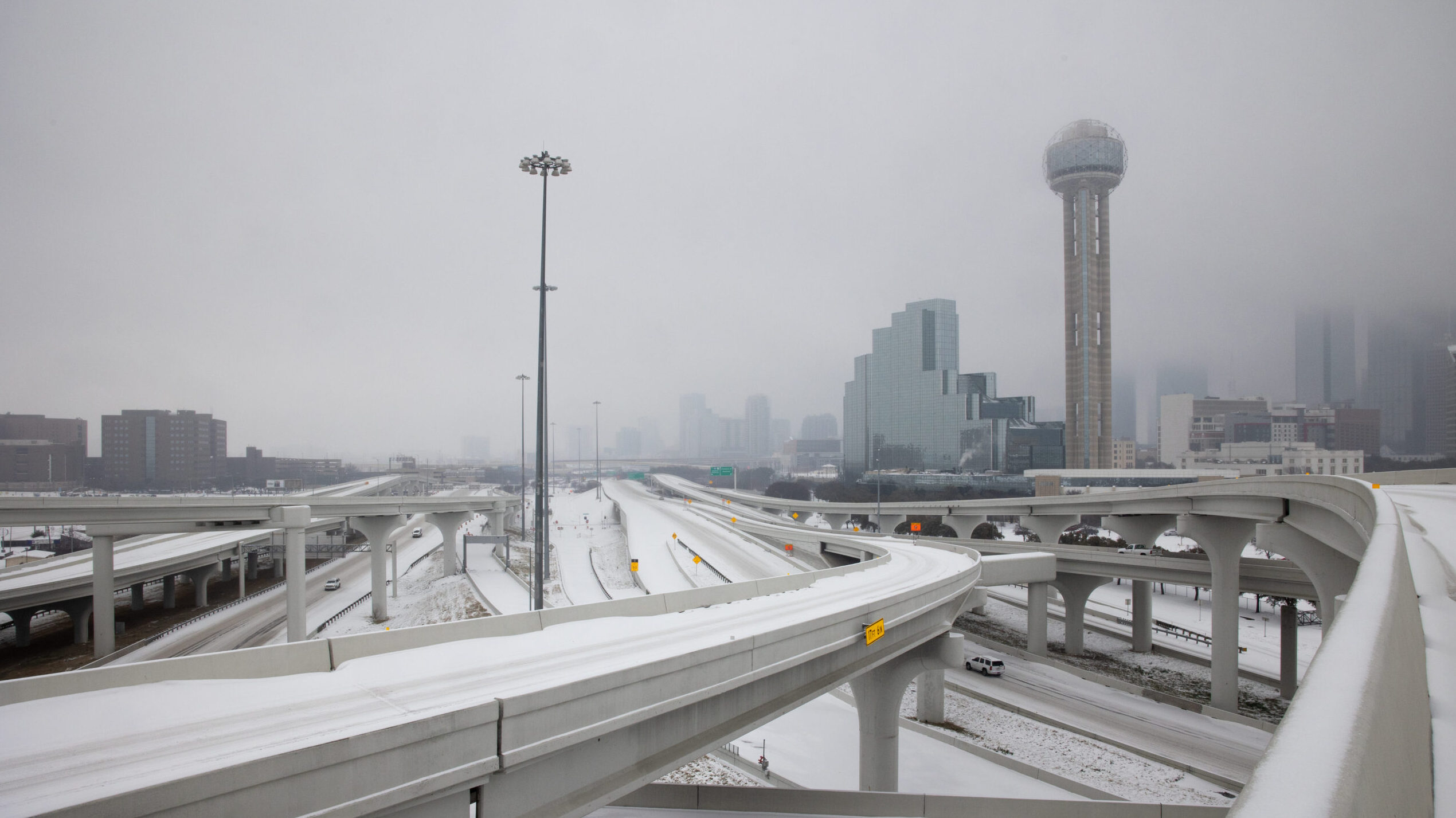 What do you do when no rides were provided for a celebrity gala in a freak Texas snowstorm? Cindy Hartner, CMP, senior director of global sales with DMC Network, shared the story of The Night Hell Froze Over in Terry Matthews-Lombaro's new book, Meeting Mayhem: A Humorous but Factual Look at the Serious Business of Making Meetings.
At an event for a celebrity athlete during the Final Four Tournament in a large, open Dallas warehouse venue, no one had predicted a rare ice storm. All day, vendors scrambled to load in all the infrastructure required and get back out on the road before the worst of the storm hit. A number of vendors abandoned their commitment and turned their vehicles around to avoid risking life and limb traveling the suddenly dangerous roads.
"While scrambling to cover those already identified missing bases, we also discovered that somehow a valet parking service had never even been contracted. We realized it would be impossible at this point to find an available company, especially during the Final Four mania in an ice storm," Hartner recounted.
Her solution? "We called every available body to do us a favor and somehow managed to cobble together a motley crew to do the job. We did have a couple of professional leaders, but the rest were friends, family and people who owed us favors."
The result: Over 2,500 guests–primarily elite athletes and celebrities–somehow managed to attend that night. And not one of them realized that the actual company owners were shoveling snow from the entryway as fast as they could after each guest walked a no-longer-visible red carpet.
But that's show biz, right?
Snapshot of a Verified Safe Event for All in Orlando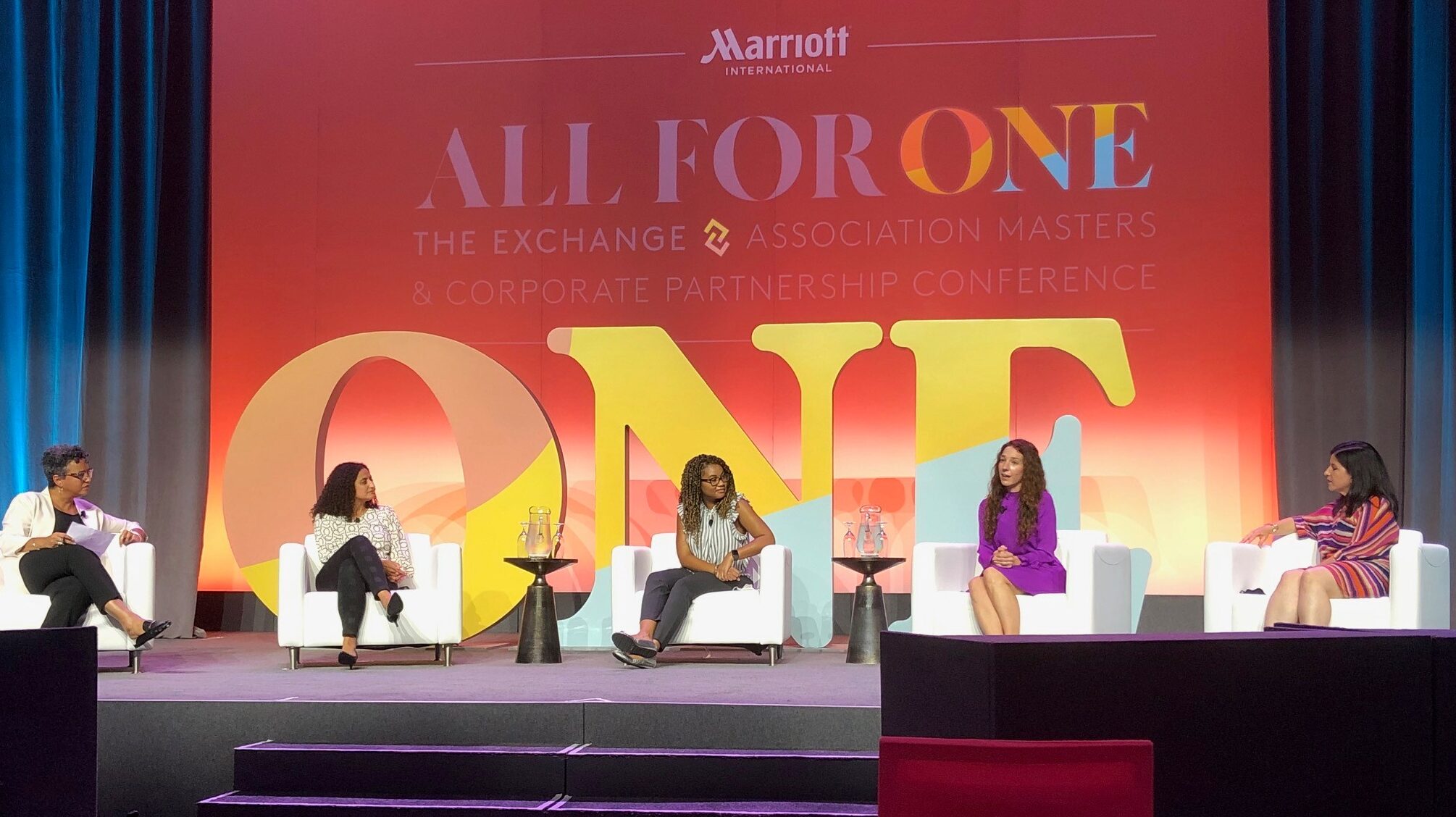 When Marriott International brought 800 association and corporate partners and associates to Walt Disney World Swan and Dolphin resorts in Orlando in August, they left nothing to chance.
Attendees were instructed to download the Clear Health Pass app and enter their Covid-19 vaccine type and date details or proof of negative Covid-19 test results within 72 hours of the event start. Each day, they were also asked to fill out a short health survey on the app and show the green screen with a QR code and their face to the attendant at the entrance to the event space where "All for One" (photo above) was the theme.
More: 4 Reasons to Take Your Groups to Walt Disney World Now
That process created a bubble of people who had been cleared in the space, something Resort Area General Manager Sean Verney explained the hotel pioneered when it hosted Major League Soccer (MLS) in 2020. "These tools and resources allow us to conduct safe, productive meetings, bring people back to work and support the local market and beyond," he said. "It takes a village."
Early in the pandemic, Verney's team identified that the layering of social distancing, masks, verification and planning for how to handle positive cases if they did occur was the best way to protect attendees and "cast members" (employees). "We can still have creative food and beverage offerings that are enjoyable without hampering the quality and service; we can still be creative," he said, pointing to the 5,000 meals a day served during MLS season.
Snapshot from a Reunion Down Under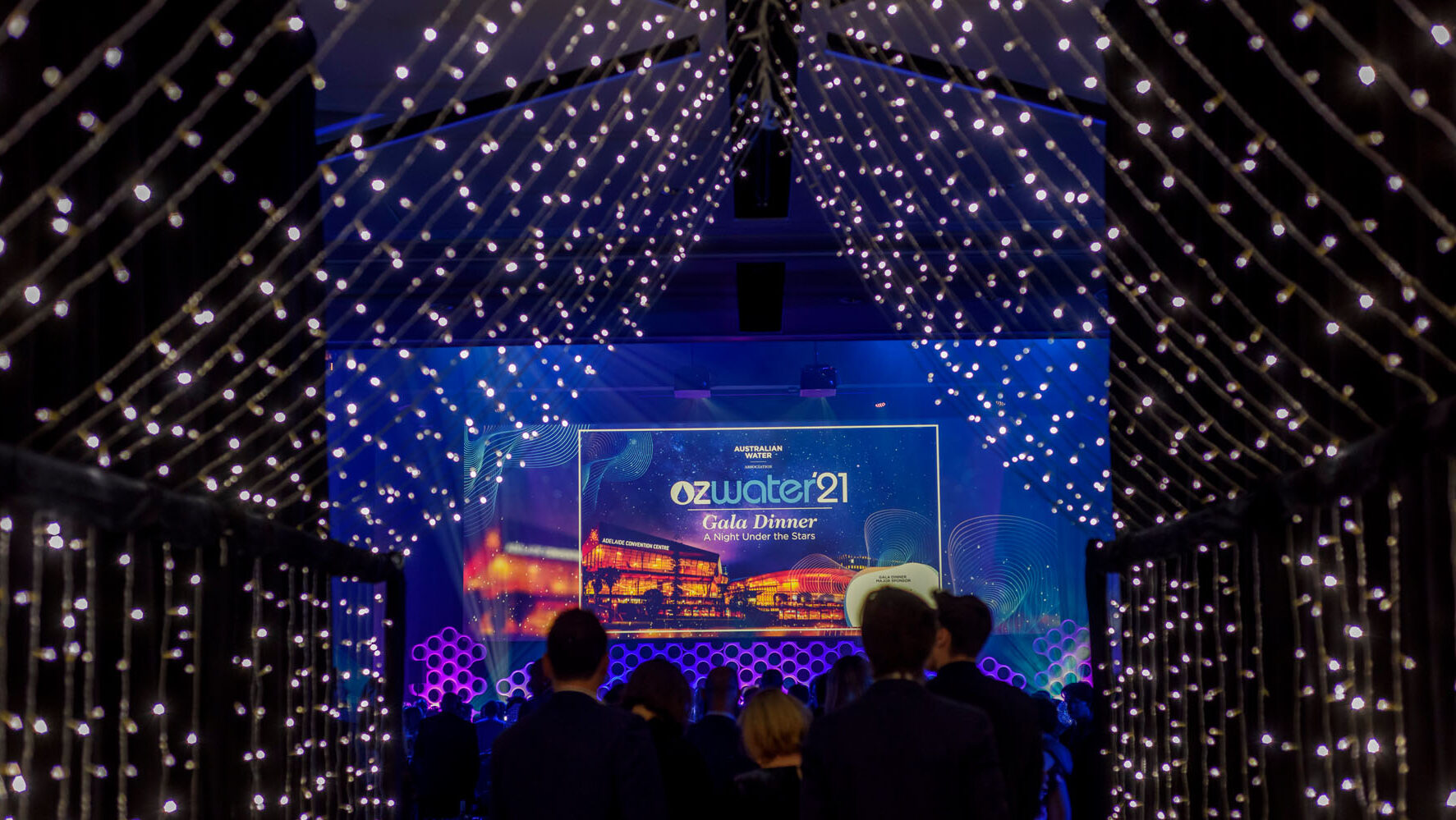 In May, Adelaide Convention Centre in Australia hosted more than 2,500 people for Ozwater'21, the country's largest in-person conference since the pandemic. The show also included a trade exhibition featuring 160 exhibitors, along with the announcement of the Australian Water Award winners.
Action on the trade-show floor was complemented by an online program for international members from across New Zealand, Europe and Southeast Asia. The conclave, originally scheduled for May 2020, was the first time the industry had been able to gather under one roof in two years filled with the stress of Australian wildfires and a plague.
Australian Water Association, the host organization, said meeting in-person was important for financial sustainability (it generated $5.2 million for the local economy) and to allow the industry to "share, connect and inspire."
As a water industry event, a requirement of Ozwater'21 (photo below) was that delegates were served tap water only. To accommodate this with strict Covid serving requirements, four water stations were set up within the venue, with staff individually serving delegates water in 100 percent compostable biocups. In addition to this, SA Water received special approval to bring in 'Miss Isla,' a water caravan featuring fruit-infused water stations.