Omni La Costa Resort & Spa
Carlsbad has been rolling out the red carpet since the '60s
Between Hollywood stars traveling south from Los Angeles for a little R&R to international golfers converging for pro tournaments, San Diego's North County beach town of Carlsbad and its famous resorts are proven hosts.
There's no question that Omni La Costa Resort & Spa has played a pivotal role in Carlsbad's notoriety, starting with hosting Frank Sinatra, Dean Martin and Bob Hope on its golf courses in the '60s and '70s. Johnny Carson loved playing tennis at La Costa, and political figures such as former President Richard Nixon and Jackie Kennedy also found their way to the 400-acre oasis.
The La Costa story includes a chapter about rumored ties to the Mafia and a lawsuit against Penthouse magazine for implying that the resort was a playground for organized crime figures.
La Costa's colorful past also features golfing legends such as Arnold Palmer, Jack Nicklaus and Tiger Woods, who participated in the PGA Tournament of Champions, which had a 30-year run at the resort. It also staged the PGA Match Play Championship for seven years and the LPGA Kia Classic twice.
---
---
"This iconic property offers guests a true Southern California meeting experience in casual luxury," says Tamara McGiboney, group sales development manager for Visit Carlsbad. "Productive meetings go hand-in-hand with wellness at this resort."
The Chopra Center for Wellbeing opened at La Costa in 2006. Although the wellness center operates separately from the resort, many people attending sessions stay at La Costa and a healthy breeze seems to permeate the grounds as a result.
"They're a part of what we do," says John Anderson, director of sales for the resort.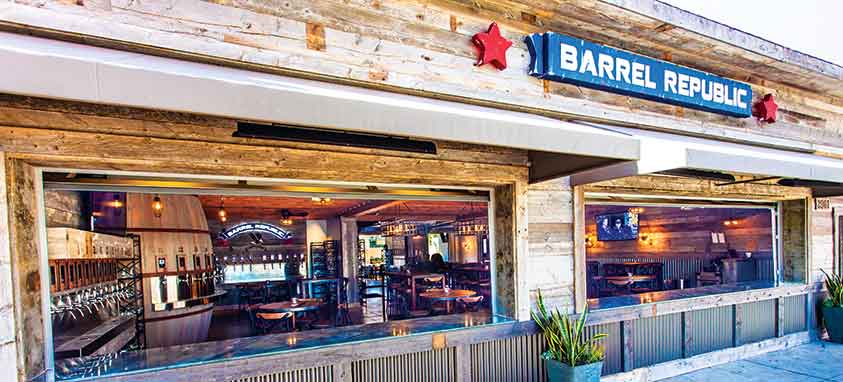 Barrel Republic
Groups are Welcome
Purchased by Omni in 2013, La Costa has more than 607 guest rooms, suites and villas; 50,000 sq. ft. of indoor meeting space; and 60,000 sq. ft. of outdoor event space. The standalone conference center features an 18,000-square-foot ballroom that is divisible by eight. The conference center also includes 6,600 sq. ft. of prefunction space and two 1,500-square-foot offices.
Besides two championship golf courses, amenities include an award-winning spa, 17 tennis courts, eight swimming pools and five restaurants. The Edge Pool is used for private events, with plenty of surrounding space to accommodate groups of all sizes. There's a grab-and-go cafe that is very popular, especially in the morning for coffee and light fare, and a sports bar that overlooks the golf course.
To show just how relaxing and rejuvenating La Costa can be for groups, consider the success of the NFL Miami Dolphins, who made the playoffs in January. The Dolphins started the year by losing four of their first five games before enjoying a six-game win streak. During the winning streak, the Dolphins spent nine days at La Costa sandwiched between road victories over the San Diego Chargers and Los Angeles Rams.
"They had exclusive use of the events center," Anderson says. "It was like a retreat for them, and they won both games."
Park Hyatt Aviara Resort
LPGA Comes to Town
Park Hyatt Aviara Resort, just up the hill from Omni La Costa Resort & Spa, turned 20 last year. Boasting Forbes Five Star and AAA Five Diamond ratings, Park Hyatt hosts the LPGA Kia Classic on its Arnold Palmer-designed golf course in March.
The resort features 327 guest rooms, 37,400 sq. ft. of indoor meeting space and 40,600 sq. ft. outdoors. Indoor meeting space is contained in one area of the property, including the 11,730-square-foot ballroom, and most of the rooms have great flow to prefunction areas and terraces.
The Park Hyatt is very conducive to buyouts, according to Troy Wood, director of sales and marketing, with groups taking over the property about once a month. Wood says tech, insurance and law conferences are the primary groups that are buying out the Park Hyatt in order to have exclusive use of meeting space and, thus, privacy.
"We have experienced an increased inventory; however, the Omni and Park Hyatt continue to lead the way as our largest meetings resorts," McGiboney says. "The visibility on a global level has helped to identify Carlsbad as a must-experience destination."
Park Hyatt Aviara Resort
Visit the Village
Carlsbad Village is trending, with unique F&B outlets lining State Street and the surrounding area. Located about 15 minutes from La Costa and Park Hyatt, the village is a great place to stage dine-arounds for small groups, providing an alternative to the resort experience.
Definitely start with drinks and appetizers at the new Barrel Republic pub and restaurant. With windows that open up to the buzz along State Street, visitors get a great perch from which to experience coastal living at its casual finest.
Barrel Republic features beers, wines and ciders on tap. Each person is given a bracelet with a microchip that keeps track of what you pour. This allows you to customize your own tastings. The chip in the bracelet calculates the cost, which is charged to a credit card. Barrel Republic serves up five-star pub food, ranging from cream of crab soup to pistachio-crusted lamb meatballs to chili-dusted pickle chips.
Campfire restaurant features wilderness-inspired menus, including wood-fire grilled meats and vegetables. Make sure to order s'mores for dessert. Servers bring the fire right to your table, with all the ingredients needed to give you a campfire experience and after-dinner treat.
Emphasis on Meetings
Less than a year ago, Visit Carlsbad added McGiboney to its staff to capitalize on the growth of the coastal community and spread the word about Carlsbad as a meetings destination. Besides hosting journalists, Visit Carlsbad is teaming up with Smart Meetings to create a fam trip for meeting planners March 2–4.
"Although our properties are competitors, they come together and have collectively hosted larger meetings using three or more resorts," McGiboney says. "We do not see the lack of a convention center as a detriment, but as an opportunity to be creative and sell together as a whole."
For further information on the planner fam trip co-hosted by Visit Carlsbad and Smart Meetings, contact Nancy Pullen at nancy@smartmeetings.com.