Cliff House, Cape Neddick, Maine
Destination-Commune merger unites domestic, international companies
At first glance, the merging of Destination Hotels and Commune Hotels & Resorts looks like a mismatch akin to the marriage of a domestic, resort-loving person and a worldly, urban type. But seemingly opposite qualities can be complementary, as seen both in marriages and the unification of hotel companies.
Destination consists of premier destination properties throughout the United States, while Commune's portfolio includes urban hotels and resorts across North America, Asia and Europe. The two companies merged in January, creating an as-yet-unnamed company with 92 hotels in seven countries and some $2 billion in property-management revenue.
"The merger was beneficial for both our companies, as we created the leading operator of independent and lifestyle hotels and resorts," says Andre Fournier, vice president of sales and marketing for Destination Hotels. "It also expands opportunity for both our successful and growing companies to leverage their respective strengths and competitive advantages to better compete in a dynamic industry."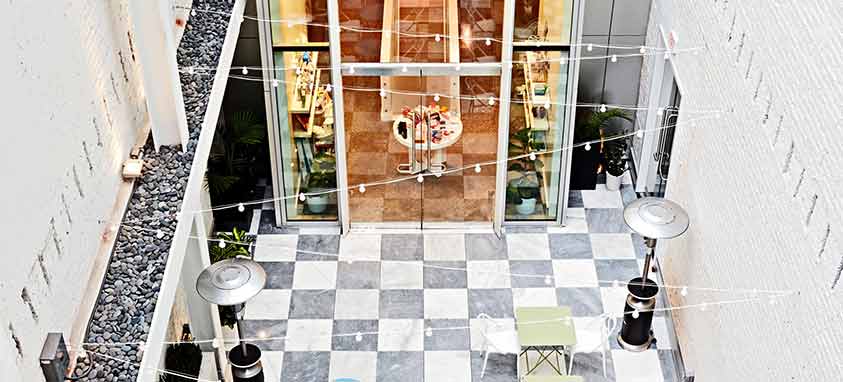 Quirk Hotel, a Destination Hotel, Richmond, Virginia
Benefits of the Merger
By merging, the companies—which do share similar values and operating methods—will create a larger sales, marketing and revenue management platform and distribution system to drive property revenues and performance.
"The combining of Commune and Destination was a merger of like-minded companies," says Brian Jones, senior vice president of sales and marketing for Commune Hotels & Resorts. "While there are obvious financial benefits to our union, this also gives us the ability to broaden our offerings for guests."
Fournier says that the new company will maintain the individuality of each brand and property, and look to expand its geographic reach, both domestically and internationally.
"For our guests, the combined company will offer a greater selection of options at both urban and resort properties that create unique and memorable experiences," Fournier says. "With a distinctly local and service-oriented focus across a broader range of geographies and price points, guests will be able to experience a greater array of what they have come to know and appreciate about Commune and Destination properties."
The combined company will be based in Denver, with offices in San Francisco, New York City, Singapore and Shanghai. The company will be led by Jamie Sabatier, the president and chief operating officer of Destination Hotels, and Niki Leondakis, the CEO of Commune Hotels & Resorts. Co-chairmen of the new company will be John Pritzker, chairman of Commune, and Robert Lowe Jr., co-CEO of Lowe Enterprises, Destination's parent company.
Since the merger was announced, both companies have been acclimating and conducting meetings to identify and solidify the structure of the new firm. The fate of the companies' loyalty programs has not been announced. Both companies have recently experienced several other significant developments.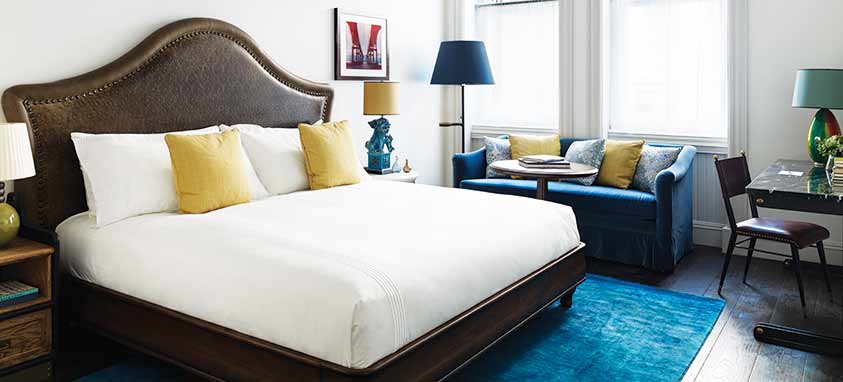 The Beekman, New York City
Destination Hotels
During the past year, Destination implemented several programs and brand initiatives focused on delivering immersive, memorable resort experiences. Fournier says that one of them, Signature Touchpoints, "elevated our offerings to those that are locally sourced and genuinely true to place."
Signature Touchpoints includes three elements:
–Destination Suitcase provides guests with a virtual suitcase of tools to help them explore a property's unique location, and thereby experience a range of enjoyable amenities and activities.
–Destination Taste allows guest to begin their stay by enjoying a small bite on or off property that draws on rich local cuisine.
–Destination Discovery consists of mini-excursions, including sightseeing and activities that provide authentically inspired experiences.
Destination Hotels also teamed up with Tesla Motors to create Tesla Destination Charging Stations at hotels from coast to coast. The properties' Tesla High Power Wall Connectors charge Model S and Model X vehicles overnight, adding nearly 60 miles of range per hour.
The charging stations at Destination hotels and other places are hosted on Tesla's interactive web page, and recently were GPS-located on both models' navigation systems through a free software update sent wirelessly to the cars. So, Tesla owners now are able to use the 17-inch touchscreen in their vehicle to help plan trips.
Fournier says that as Destination moves forward, its main emphasis for meetings will be to maintain its practices and programs that lessen meetings' impact on the environment.
Commune Hotels & Resorts
Commune has been busy expanding its national and international footprints during the past year. The company consists of the Joie de Vivre Hotels, Thompson Hotels and Tommie brands, plus the Chicago Athletic Association Hotel and Alila Hotels & Resorts (added in June 2015).
Last year, Commune introduced a personalized guest communication program powered by Checkmate, a mobile technology provider. The service allows conversations between guests and hotels through any mobile device before, during and after their stay. Guests at most Joie de Vivre and Thompson hotels now can check in, be notified when their room is ready, request an upgrade, report service issues, ask for restaurant recommendations and more—all by texting. Commune also has continued to increasingly individualize many of its offerings, including food options, at its properties.
At Thompson Chicago, the company partnered with Owen & Alchemy to offer fresh, cold-pressed juice breakouts and amenities. Hotel Lincoln, a Joie de Vivre property in Chicago's Lincoln Park neighborhood, offers interactive chef demos—which can include everything from pickling and canning to a full butchering demo—for meeting and event groups. Another Joie de Vivre property, Carmel Valley Ranch in Carmel, California, has implanted the Taste of Carmel Valley Ranch menu.
"It takes farm-to-table to the next level with direct artisan interaction, bringing meeting attendees and loyal purveyors together," Jones says.
Thompson Chicago
Exciting New & Renovated Properties
Destination Hotels and Commune Hotels & Resorts properties have been busy opening and renovating properties during the past year. Here are a few of the highlights.
Quirk Hotel, a Destination Hotel is a boutique, art-centric property that opened in September in Richmond, Virginia. It features 74 guest rooms and suites, an artisan restaurant and bar, a rooftop terrace bar and more than 3,000 sq. ft. of meeting space.
The historic Cliff House in Cape Neddick, Maine, is undergoing the second phase of a transformation project, to be completed by spring 2017, which will include 93 additional guest rooms to bring the total to 225, and an adults-only pool. The Destination property, which will reopen next month, offers 25,000 sq. ft. of premier conference and event space.
The 476-acre Lansdowne Resort and Spa, a Destination Hotel in Leesburg, Virginia, is undergoing a multimillion-dollar renovation that will include a complete redesign of the resort's 296 guest rooms. Lansdowne offers 55,000 sq. ft. of flexible meeting space.
This spring, the AAA Four Diamond La Cantera Hill Country Resort in San Antonio will be opening Loma de Vida, a 25,000-square-foot indoor/outdoor spa with 15 treatment rooms. The luxury Destination property boasts 498 guest rooms and 115,000 sq. ft. of flexible indoor and outdoor event space.
Turning to the Commune properties, Hotel Kabuki, a Joie de Vivre Hotel, situated in the heart of San Francisco's Japantown, will begin a multimillion-dollar renovation project this summer that will include the lobby, guest rooms, fitness center and outdoor Japanese garden. A new lobby and cafe will also be added to the 225-room property, which boasts 12,000 sq. ft. of meeting and event space.
Thompson Seattle, a 158-room property situated in the heart of downtown Seattle, is slated to open this month. The hotel features a signature restaurant, 3,500-square-foot bar and lounge, and more than 5,500 sq. ft. of indoor and outdoor event space, spanning six areas.
The Beekman, which was built in 1881, was one of Lower Manhattan's first skyscrapers. The New York City building is undergoing a restoration to convert it into a luxury boutique hotel. Scheduled to open this summer, The Beekman, a Thompson Hotel will include 287 guest rooms and 4,700 sq. ft. of meeting space.
Thompson Nashville, slated to open in the fall, will be located in The Gulch—a mixed-use neighborhood that is one of the Tennessee city's most popular destinations. It will provide 224 guest rooms and 6,880 sq. ft. of meeting space.
Hotel 50 Bowery, located in New York City's Chinatown, will draw on the area's rich heritage when it opens in the fall. It will include The Gallery, curated by the Museum of Chinese in America, 229 hotel rooms and 10,000 sq. ft. of function space.