Denver has a lot to brag about these days. The Mile High City boasts 300 days of sunshine per year, some of the country's best outdoor experiences, a burgeoning dining scene, an active arts environment and, of course, rising prominence as a meetings destination.
I discovered this first hand during a recent trip to Denver to tour Marriott International's very first dual-branded property—Le Meridien/AC Hotel Denver Downtown. The property, which is slated to open at the end of August, deftly melds Le Meridien's stylish French sophistication with AC Hotels' modern European sensibility. A number of local luminaries, including Denver Mayor Michael Hancock and Marriott International CEO Arne Sorenson, were on hand to celebrate the innovative property.
Two Birds, One Stone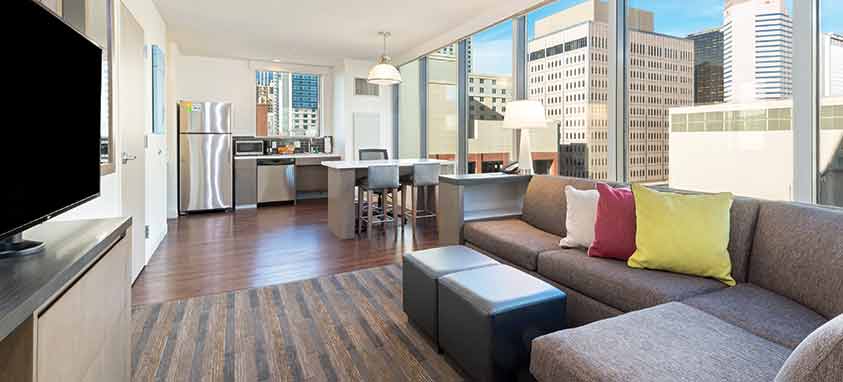 Suite at Hyatt House/Hyatt Place Denver Downtown
Having two hotel brands under one roof isn't a new idea, but it's becoming increasingly popular among leading hospitality companies. The arrangement allows companies to market their property to two different groups of visitors. It also gives travelers greater freedom of choice. Sorenson says it's a winning strategy: "Le Meridien/AC Hotel Denver Downtown was in the works long before Marriott's acquisition of Starwood, and it will become Marriott's first dual-branded property. It was something the developer was interested in doing from the start."
Hyatt House/Hyatt Place Denver Downtown, where I had the pleasure of staying, is a great example of a successful dual-branded hotel. Hyatt Place contains 248 well-appointed guest rooms, while the Hyatt House side of the property offers 113 accommodations that exemplify the "house" name—each room is essentially an apartment with a kitchenette and living room area. It is ideal for professionals taking extended trips and business travelers looking for a more home-like feel.
Experiences Come First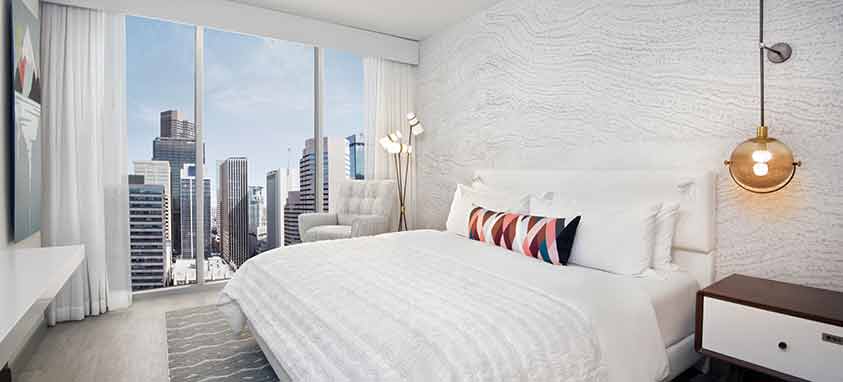 Guest room at Le Meridien/AC Hotel Denver Downtown (rendering)
Many planners would likely agree that "experience" is the word of the year. Whether you're talking about meetings, hotels or travel, experiences are the name of the game. Designing a hotel that offers a unique local experience is important to the world's biggest hotel company, as well. These days, Sorenson says, "It's about more than the meeting. Guests want experiences. They want to be entertained. They want to be healthy." Naturally, Le Meridien/AC Hotel Denver Downtown offers all of these things.
Le Meridien features 272 guest rooms, while AC Hotel is slightly smaller, with 223 guest rooms. With a total of 12,000 sq. ft., Le Meridien contains the bulk of the property's meeting space. The spaces are divided into eight rooms, including a 5,700-square-foot ballroom and 4,300 sq. ft. of flexible pre-function space.
Aside from sharing their meeting space, another characteristic the hotels share is a strong sense of place. Although each brand's rooms have their own distinctive elements, artwork from local artists that embodies the character of the city is featured prominently throughout to provide guests with a more immersive experience.
Marriott has also partnered extensively with local companies to bring Colorado flavors to its clientele. AC Hotel guests will have the opportunity to attend complimentary pickling classes from The Real Dill, an artisan pickling company that also happens to make a mean Bloody Mary mix. And if you didn't know that Colorado has its own wine country, now you do—urban winery Infinite Monkey Theorem will present complimentary tastings for Le Meridien guests.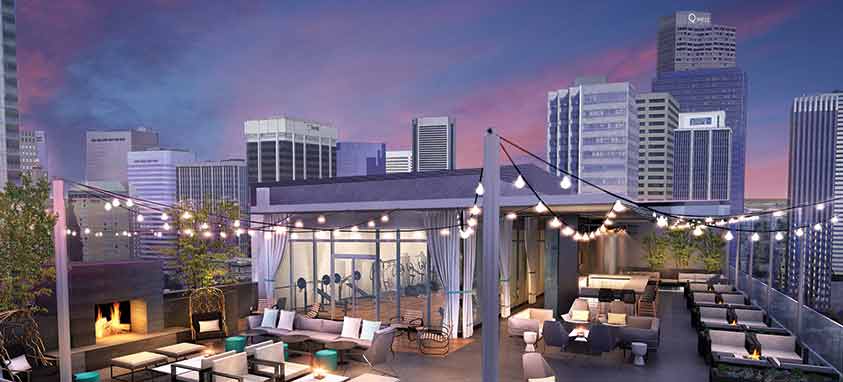 Amenity deck view at Le Meridien/AC Hotel Denver Downtown (rendering)
Wellness isn't forgotten, either. The two hotel brands share one fitness center, but it's a great one—the 24-hour rooftop fitness center offers the highest unobstructed views of the city skyline. Outside of the enclosed fitness center is a rooftop bar that can double as an outdoor event space.
A Winning Location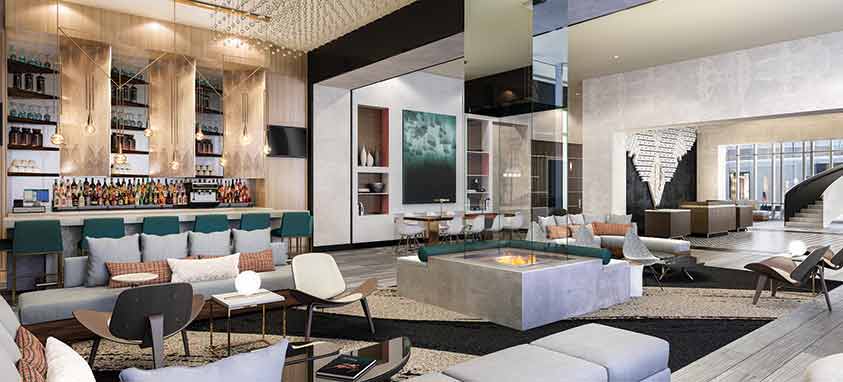 Lobby at Le Meridien/AC Hotel Denver Downtown (rendering)
Both Le Meridien/AC Hotel and Hyatt House/Hyatt Place are located in downtown Denver, just steps from Colorado Convention Center. As anyone who has been to Denver can likely tell you, it is an amazing place.
Why is Denver such a draw? It's a city that's very accessible, easy to navigate, and happens to have just about anything a meeting attendee wants. Colorado Convention Center's 584,000 sq. ft. of exhibit space and downtown Denver's 9,000 hotel rooms check the boxes for basic meeting requirements. But this city has all the extra bells and whistles, too:
Getting there: Denver is the country's most centrally located metropolis of its size. It also boasts great airlift, road access and Amtrak options.
Getting around: Getting from Denver International Airport (DEN) to downtown Denver is a breeze. Visitors can choose to take taxis or the light rail from beautiful Union Station—which is an attraction in and of itself.
Dining: There are more than 300 restaurants within walking distance of Colorado Convention Center.
Sipping: For beer connoisseurs, Denver is the place to be. With breweries scattered all over the city, beer might just be Denver's most popular export.
Shopping: For shopping and sightseeing, nothing beats 16th Street Mall, a mile-long, tree-lined pedestrian walkway in the heart of downtown Denver. Pianos painted in playful designs are scattered throughout, giving everyone a chance to get their musical groove on.
Entertainment: Denver's Performing Arts Complex contains 10 venues where visitors can enjoy ballet, opera, theater, concerts and more.
Cultural experiences: Denver Art Museum is a premier attraction for art lovers. Next door is Clyfford Still Museum, the country's only facility dedicated to the works of the acclaimed abstract expressionist.
Outdoor activities: Groups looking to get a taste of the great outdoors will appreciate that Colorado's famed Rocky Mountain National Park is just 70 miles from Denver. The city is also home to its own ski area, although Colorado's top ski resorts are just an hour away.
No longer just a stopover: "Denver has the convention center, downtown hotels, new restaurants and great attractions," Sorenson says. "It's a good self-contained meetings destination. Denver is no longer a place travelers pass through on the way to the mountains. It's become a destination in its own right."