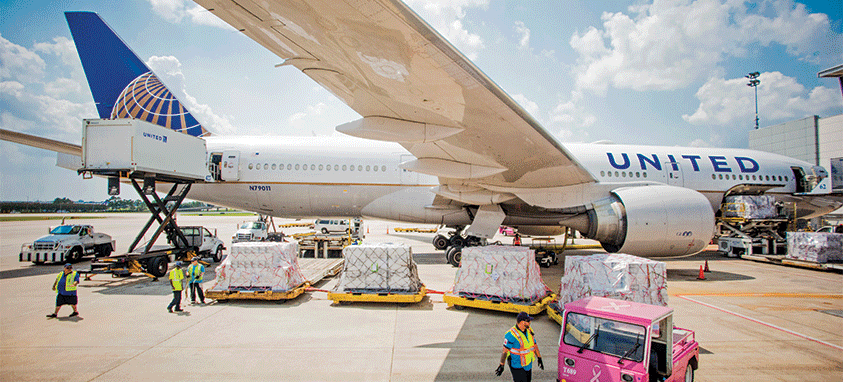 'You deserve medals'
There's a reason they call it the hospitality industry. The word itself comes from Latin roots that originally meant "to have power." As hosts, convention centers, hotels, restaurants, air carriers, cruise lines and other facets of hospitality certainly have it within their power to create memories of a lifetime.
They definitely have the power to spell success (or something less) for our meetings and events. But for several frightful weeks beginning with Hurricane Harvey in mid-August and continuing through the end of October with wildfires in Northern California, the hospitality sector used its power in a wholly different way—as a guardian angel might.
To protect. To shelter. And, by so doing, to literally save lives amid death-dealing calamities and their aftermath.
Over and over, these were stories of business-as-usual, interrupted. For instance, some 10,000 Ambit Energy consultants were set to fill Kay Bailey Hutchinson Convention Center in Dallas on Aug. 29 for an annual, three-day convention. Even the most diligent of planners could not have anticipated they would be joined by thousands of evacuees fleeing the deluge of rain and rising floodwaters along the Texas Gulf Coast.
Texas state officials asked the City of Dallas to make the facility into a mega-shelter, habitable for 5,000 Hurricane Harvey victims. Swiftly, city officials turned the lower-level, air-conditioned garage into a refuge and basic medical facility.
Most of the anxious evacuees were from Galveston and Houston, where George R. Brown Convention Center already sheltered hundreds more Texans. The "overflow" evacuees moved into the Dallas mega-shelter. Ambit Energy went ahead with its meeting upstairs and made a $25,000 donation to Red Cross for its flood relief efforts downstairs and elsewhere.
It was to become a pattern for the days and weeks that followed. As natural disaster followed natural disaster, as horrifying news footage shifted from Harvey to Irma to Maria, from earthquake to raging infernos, similar scenes of rescue and comfort played out in the U.S. Virgin Islands, Central Mexico, Puerto Rico, Florida and Northern California.
The stories show resiliency, courage and even hope for our mutual future. They are profiles in hospitality. We cannot retell them all, but offer these few as examples of the heights to which hospitality can soar.
Overnight Island Rescue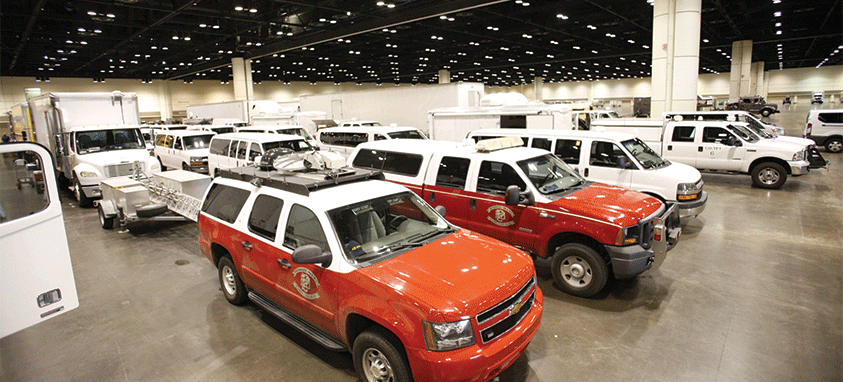 Frenchman's Reef & Morning Star Marriott Beach Resort, a Marriott property on St. Thomas in the U.S. Virgin Islands, wasted no time in offering a temporary home to its own staff and other locals who lost their homes to Hurricane Irma. But what to do with registered guests? Planes were not flying, and communication with the mainland was sketchy. So, Marriott International chartered a ferry to take them off the island—and on their way to other Marriott properties in the Gulf of Mexico, Caribbean and southeastern United States.
After she was safely relocated to San Juan Marriott Resort & Stellaris Casino in Puerto Rico, Instagram user @yinzergirl posted a heartfelt thank you.
"Most of the staff live on the island and selflessly gave their service with a smile and I couldn't and still can't say 'thank you' enough times," she wrote. "They volunteered their own cars when we convoyed through treacherous conditions to get to a port to ferry us here to San Juan at night. Marriott paid half-a-million dollars just to get us on that ferry, and as if that wasn't enough, to keep everyone's spirits high, they fed us delicious food, and provided a magician, a band, hot tea and coffee all throughout.
"When we got to our port in San Juan, we were greeted by Marriott workers who clapped and cheered, and I was embarrassed by the level of kindness and felt undeserving. I'm crying typing this because of how kind these people are."
Her post pictured a letter signed by Tim Sheldon, Marriott's president for Caribbean and Latin America, that was accompanied by a $200 voucher to help offset travel expenses home (as well as two nights free lodging in San Juan and a $50 food voucher).
"I'll tell you what," she concluded, "I will never, ever stay at another hotel [brand] again in my life… You deserve medals."
Hospitality by Land and Sea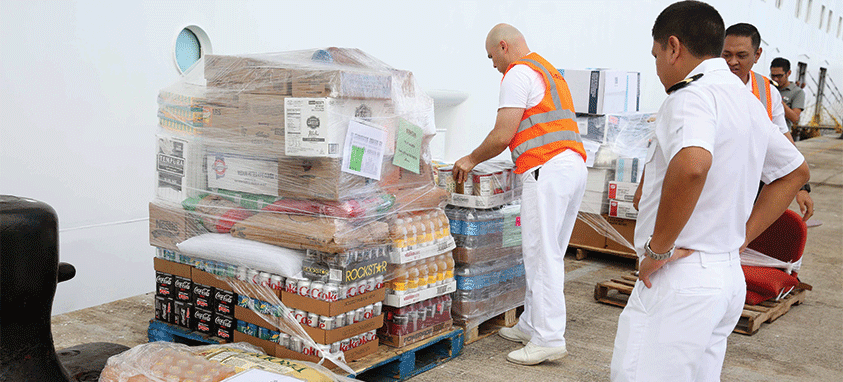 Several cruise lines took on stranded tourists and homeless evacuees wanting to reach the mainland. Royal Caribbean dispatched two ships with berths for 6,000 to the Caribbean, according to a report in Fortune, and later sent ships to evacuate others in Key West, Florida.
As reported in Daily Mail, a Norwegian Cruise Line ship, Norwegian Escape, cut short a cruise because of Hurricane Irma, then returned to Miami to drop off local passengers who needed to get back home to board up their houses. Passengers who stayed on board were treated to a "cruise to nowhere," complete with free booze, in a hurricane-free zone off the coast of Mexico.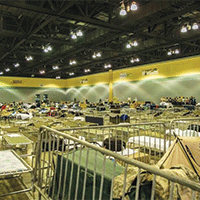 In earthquake-shaken Central Mexico, hospitality mainly took the form of free food from restaurants for rescue volunteers and survivors, because homeless were taken in by friends and relatives. In Puerto Rico, more than 500 people evacuated to Roberto Clemente Coliseum in the capital of San Juan. According to Los Angeles Times, "Pieces of the roof began to give way and leak at the height of the storm. As winds howled outside, Lydia Gonzalez said she watched in horror as the roof stretched and strained like bubble gum. But it held." Hundreds more slept on the exhibition floor of Puerto Rico Convention Center Dr. Pedro Rossello Gonzalez.
Florida was ready and waiting for Hurricanes Irma and Maria. Orange County Convention Center in Orlando, second-largest in the United States at 7 million sq. ft., became the staging area for the state's entire rescue response, with more than 500 military personnel and fire and rescue workers—from as far away as California, Arizona and Colorado—bunking on cots, subsisting on Meals Ready to Eat and hunkering down on the glossy concrete convention floor.
Five Pave Hawk helicopters, retrofitted after Afghanistan duty for search and rescue, were at the ready, along with other choppers for police, hospitals and media. This was in the 950,000-square-foot north-south exhibit hall. In another concourse, motorized boats were stacked next to fire vehicles, bulldozers and other equipment, The Washington Post reported.
As wildfires raged with hellish ferocity in Northern California in October, local media reported that many hotels slashed prices for fire workers and victims. The Westin St. Francis San Francisco on Union Square, a historic, luxury landmark, lowered rates from about $250 per night to $95. Across the bay, Days Inn & Suites Antioch took in first responders and evacuees for free. Airbnb activated its Disaster Response Program, and more than 100 hosts on the house-sharing platform offered their homes at no charge.
Opening the Cash Drawer
But opening their arms and doors was not the only way the hospitality world demonstrated support for local communities and people in need. So many suddenly homeless—with little more than the clothes on their back—prompted a huge outpouring of financial aid. Of the more than $157 million pledged by U.S. businesses to Hurricane Harvey relief by mid-September, for example, more than $9 million, about 6 percent, came from travel and hospitality companies.
The single largest of these pledges came from Wynn Resorts, which committed $3.75 million to aid those affected by Harvey, with a focus on the financially disadvantaged. A similar amount was directed to Macau in the People's Republic of China, which was lashed and flooded by Typhoon Hato on Aug. 23, killing 10 people.
Wynn operates properties in both locations. "These events, 8,000 miles apart, have affected the lives of our employees and our friends in both cities, and we have felt compelled to help in some small way," said Steve Wynn, Wynn Resorts chairman and CEO, in a statement.
Other notable donations came from Carnival Cruise Line ($2 million, half from Carnival Chairman Micky Arison and wife Madeleine), Enterprise Rent-A-Car ($1 million), Hilton Hotels & Resorts ($500,000, plus a like amount from The Conrad N. Hilton Foundation, a private family foundation established by the founder of Hilton Hotels) Delta Airlines ($250,000) and United Airlines ($1.1 million in cash, food and amenity donations, plus the value of relief flights). Several airlines also set up programs to allow customers to help victims through mileage-rewards programs. And a crowdfunding campaign jointly sponsored by United and Chase Card Services raised in excess of $2.5 million.
And that was just for Harvey. Similar donations followed in the wake of Irma and Maria.
Furvacuations, too
Hospitality, as every planner knows, is not simply measured by a warm, dry room and a roof over one's head. In this era of therapy dogs at airports and puppy visits at hotels, our furry friends were not forgotten, either. Lessons learned from an earlier disaster named Katrina, a dozen years ago, when thousands of pets were abandoned in the rush to flee floodwaters, were heeded with the military precision of an airlift. Among several pet evacuation efforts, Southwest Airlines teamed up with Helen Woodward Animal Center in San Diego to fly shelter animals to Southern California for adoption.
In Florida, Gov. Rick Scott urged hotels to waive rules banning pets for those fleeing hurricanes—for dogs and cats, at least. No one seemed ready to make exceptions for snakes, tarantulas or other exotics. A Facebook post went viral claiming, falsely, that federal law required hotels to accept pets during weather-related evacuations. The 2006 Pets Evacuation and Transportation Standards Act did mandate that Federal Emergency Management Agency (FEMA) consider the needs of pet owners when developing disaster preparedness plans. It made no mention of hotels or motels.
Hyatt Regency Orlando became an overnight social media hero for taking in nearly 1,000 pets and their human families seeking safe haven. The 1,641-room property already had a pet-friendly policy. It enhanced it by waiving a 50-pound weight limit, and reduced from $150 to $50 the cleaning fee to guests with pets. The rule against dogs in its restaurants was kept in place, but the hotel set up pop-up, grab-and-go markets in common areas.
Maybe the time has come for a new hashtag: #hospitalitystrong.
More Help on the Way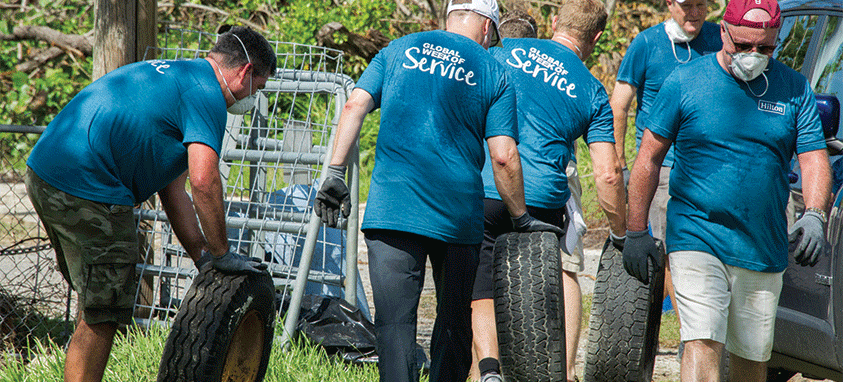 More than 440 Hilton hotels were impacted by 2017's unprecedented storms, says Joe Berger, executive vice president and president for the Americas for Hilton. All but but 14 are open and operational at this time.
In the lead-up to hurricanes Harvey and Irma, the safety and security of all guests and team members was the priority, Berger said. That was where the preparedness plans of the global hospitality company were put into action. "Plans are reviewed in advance of hurricane season and activated when needed," he says. Examples of measures taken include testing power generators and checking fuel supply; securing adequate food and water supplies; having medical supply kits fully stocked; and establishing a safe (and comfortable) shelter, with games, movies, rest areas and internet access.
Many hotels continued to house employees and their families; others were home to evacuees and first responders. Casa Marina, A Waldorf Astoria Resort in Key West was spared much of the damage and quickly reopened following Irma. For the week's following Irma, Casa Marina provided instrumental recovery efforts for the region, including housing rescue workers and supplying meals to local fire and police departments. During Harvey, Hilton Americas-Houston hotel chefs helped prepare more than 1,000 meals, and the team provided 5,500 pounds of linens and 6,000 towels for those evacuees at Kay Bailey Hutchinson Convention Center.
"Our teams are resilient, and it is remarkable to see the spirit of our guests, team members and first responders who have extended countless acts of kindness, going above and beyond in their communities," Berger says. Hilton employees are now continuing that effort to support rebuilding efforts in Puerto Rico.
While some events were cancelled, Berger reports many have rebooked for future dates or, in some instances, were able to move to other properties.