Boardroom at Crowne Plaza JFK Airport New York City
New initiatives are geared toward planners
Crowne Plaza, one of InterContinental Hotel Groups' (IHG) main brands for meetings, has been rapidly expanding its business services around the globe.
"The Crowne Plaza brand is all about making business travel work for the modern-day business traveler," says Gina LaBarre, vice president of the brand in the Americas. "The needs of business travelers have changed and evolved over the past nine years, and the Crowne Plaza brand has been at the forefront of recognizing and addressing those shifts to ensure that it provides its ambitious guests with the resources they need to succeed."
A series of initiatives have been implemented specifically for planners, including a Crowne Plaza meetings director, a two-hour response guarantee to all requests for proposals and a daily meeting debriefing.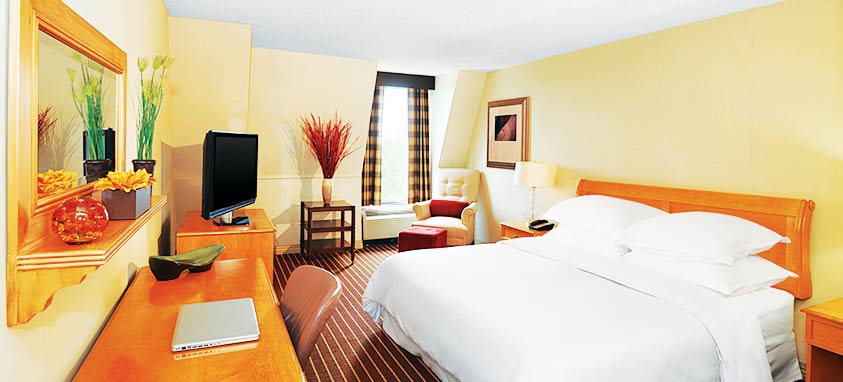 Crowne Plaza Annapolis, Maryland
"Always On" enhancements provide all guests with enhanced in-room charging stations for mobile devices, complimentary Wi-Fi and one-time internet log-in. The enhancements also include healthy snack options, run stations with local maps and towels (at select hotels), new business centers and secure, wireless printing.
Plenty more has been happening with Crowne Plaza, the fourth-largest—and one of the fastest-growing—upscale, full-service hotel brands in the world.
Brand-Wide Changes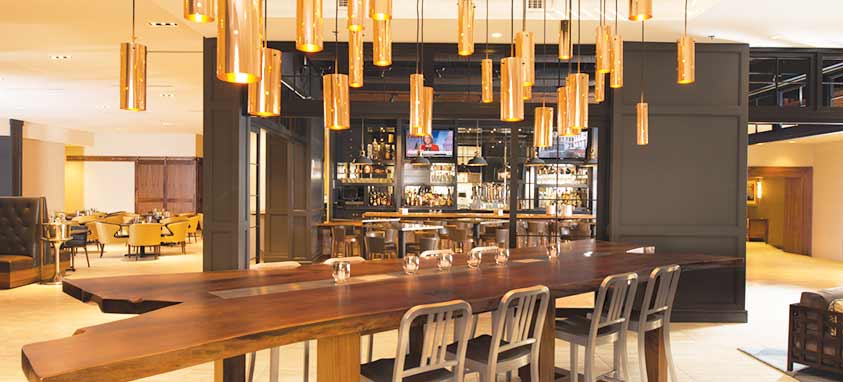 Bar at Crowne Plaza Charlotte Executive Park, North Carolina
Crowne Plaza recently unveiled a next-generation guest room concept that is designed to make guests feel more at home and relaxed, and therefore be more efficient.
The new concept is based on the notion that modern business travelers are looking for a peaceful environment where they can be productive without feeling like they are working. Such an environment allows them to recharge and revitalize, thereby setting themselves up for success.
Also, the concept is designed to satisfy millennials entering the workforce, who expect their "office" to be wherever they are—as long as there is connectivity.
The rooms will be introduced at Crowne Plaza Atlanta Midtown this year, and will then be implemented at other properties. The rooms are divided into three areas:
Uniquely angled bed: Featuring a padded, curved headboard, it sits in the center of the room to reduce noise levels and help to ensure sound sleep.
Dedicated, focused desk workspace: Boasting a clutter-free surface, accessible outlets and adjustable lighting, it provides a productive work environment.
Innovative nook area: An ideal gathering spot, it's a comfortable place to hold informal meetings, as well as socialize and relax."Our innovative, intuitive guest room design creates a fantastic new space that will encourage [guests] to be productive, but also to rest and, crucially, to get a great night's sleep," says Keith Barr, chief commercial officer for IHG. "The response from guests has been outstanding. They tell us they can rest more easily and can focus more on what they need to do to be successful. We want to help all our guests have a successful life—not just a successful stay."
Giving Planners a Voice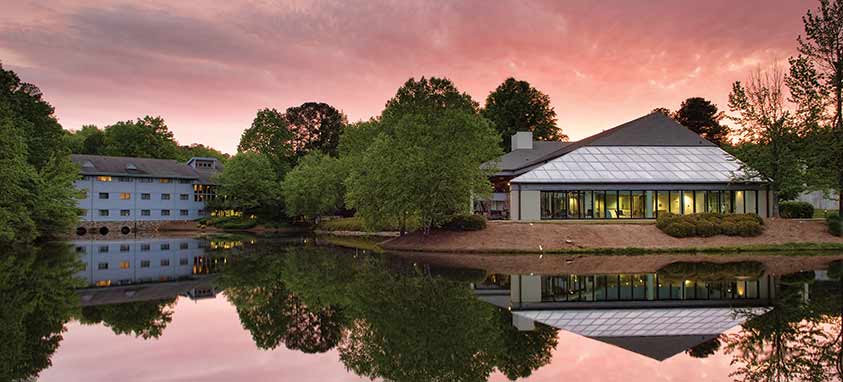 Crowne Plaza Atlanta SW-Peachtree City, Georgia
Crowne Plaza is continuing to explore ways of better accommodating meeting groups and other hotel guests. For example, the staff at Crowne Plaza Aire MSP Airport-Mall of America in Bloomington, Minnesota, asked a hand-picked group of seasoned planners for advice when revamping 18,000 sq. ft. of meeting space.
Two panels met with Clint Greenbaum, the hotel's director of sales, and among other things, suggested that the hotel's meeting spaces could benefit by offering a memorable sense of arrival and unique layouts.
"Their feedback was invaluable, steering us toward smartly designed meeting spaces that are easily reconfigured, with ergonomic and modern furniture," says Judith Kalfon, general manager of the 430-room property. "They also appreciate enhanced food and beverage offerings, an area we're committed to redesigning, as well."
Planners suggested many technical changes, including dependable Wi-Fi, better sight lines and plenty of charging stations. They most strongly recommended enhancing face-to-face meeting experiences, by providing creatively designed spaces, among other things.
The panels also suggested better facilitating set up and breakdown by having adjacent stairwell entry and easy access to a cargo elevator. They requested ways to stretch expensive coffee service, serving tap instead of bottled water and dispensing with linens.
"We're incorporating many of the planners' ideas into our new design as the renovations continue," Kalfon says. "They seemed very pleased that they were finally being listened to, and we want them to know they are being heard."
---
Important Openings & Renovations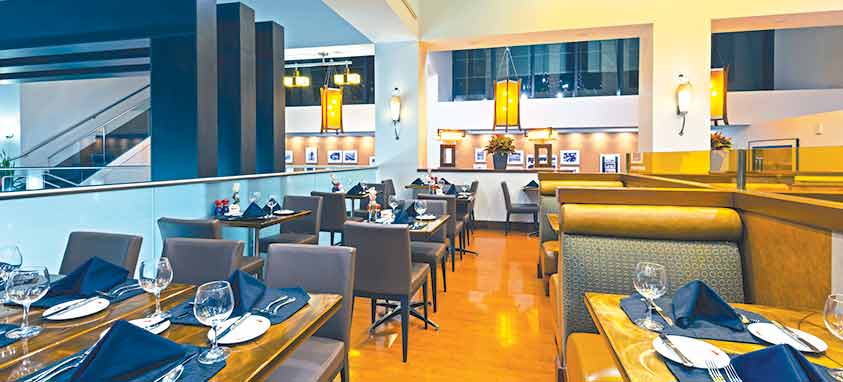 The brand's surge in renovating and opening individual properties is keeping pace with its flurry of brand-wide changes. During the past four years, more than 50 percent of the brand's North American real estate has consisted of new hotel openings and completed renovations.
Crowne Plaza now has 406 properties—172 in the Americas, including 136 in the United States; 88 in Europe; 75 in Greater China; and 71 in Africa, the Middle East and Asia (AMEA), excluding China. The brand has 84 hotels in the pipeline, comprised of 15 in the Americas (nine in the United States), 11 in Europe, 19 in AMEA and 39 in Greater China.
Two of the main properties the brand recently purchased and converted are Crowne Plaza Atlanta SW-Peachtree City in Atlanta and Crowne Plaza Annapolis in Maryland.
The Atlanta property, which was unveiled March 22, is located less than an hour south of downtown. The hotel has more than 60,000 sq. ft. of meeting space, including 65 meeting rooms, a 5,000-square-foot ballroom and an auditorium that can seat up to 150 people.
The 196-room Crowne Plaza Annapolis, situated near the United States Naval Academy and the Maryland State House, opened Nov. 2. It also features the brand's new enhancements, as well as 10,000 sq. ft. of meeting space, divided among 10 rooms.
Crowne Plaza also has renovated several significant properties. Crowne Plaza Charlotte Executive Park, a 300-room hotel in North Carolina, recently completed a $10 million renovation of all areas. All guest rooms have been updated with modern decor and the 15,500 sq. ft. of meeting space now has floor-to-ceiling windows.
At Crowne Plaza Seattle-Downtown (pictured), a two-phase, $14 million renovation project added a new lobby and updated the 415 guest rooms, restaurant and bar, fitness center and more than 10,000 sq. ft. of meeting space, divided among 12 rooms.
Crowne Plaza Los Angeles Airport completed a $25 million renovation that consisted of updating all 613 guest rooms with a new design. The hotel features more than 14,000 sq. ft. of meeting space.
A recent, hotel-wide $45 million renovation of Crowne Plaza JFK Airport New York City added a vibrant, inviting design scheme. The hotel offers 330 guest rooms and 4,540 sq. ft. of meeting space.
Looking ahead, Crowne Plaza executives are excited about plans to open a new 251-room hotel in Midtown New York City in 2017. Located on 36th Street, the hotel will feature an 80-foot glass atrium at the entrance, flexible meeting space, a standalone restaurant and bar concept, and a state-of-the art fitness facility.
Situated in Manhattan's Garment District and adjacent to Times Square South, the hotel is in the heart of the neighborhood's popular rooftop bars and lounges, and fashion boutiques.