Julius Caesar Statue at Caesars Palace Las Vegas (Photos by Erik Kabik)

Landmark property remains a leader on The Strip
When Caesars Palace Las Vegas opened Aug. 5, 1966, its opulence and enormity stirred up the worldwide hotel scene. It was a 680-room Roman-themed fantasyland with imported marble statuary and fountains, a 25,000-square-foot convention complex, a 980-seat showroom, two restaurants and the Roman Forum Casino, among other things.
Celebrating its 50th birthday this month, the property still features a Roman theme and some of its original components, but has continuously grown over the years and now boasts 3,960 guest rooms, 300,000 sq. ft. of meeting space, 14 restaurants, world-class entertainment and many other amenities.
"Caesars Palace has continuously evolved through the past five decades to become the leader on the Las Vegas Strip," says Gary Selesner, president of the property. "From bringing the biggest names in entertainment, including five-time Grammy Award-winner Celine Dion, to an unmatched collection of celebrity chefs, top sporting and special events, luxury accommodations, premier shopping and the best in gaming action to Las Vegas, Caesars Palace continues to demonstrate its commitment to the next 50 years."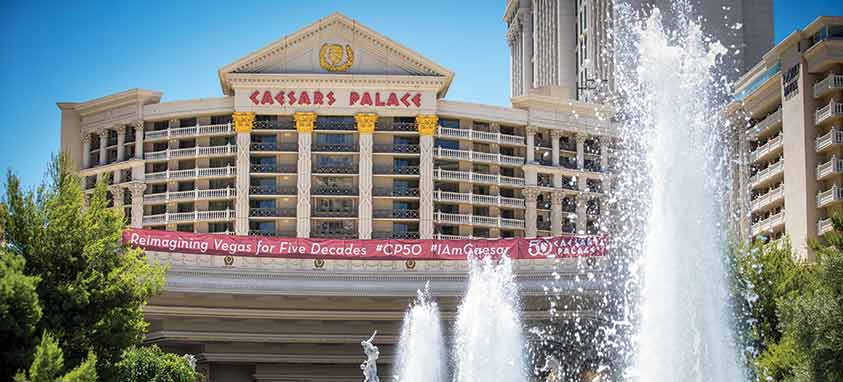 Front fountains at Caesars Palace Las Vegas
The iconic resort has a rich history of firsts, such as introducing the resident headliner concept, celebrity chef-driven restaurant (Wolfgang Puck's Spago) and high-tech race and sports book. Caesars Entertainment Corporation (CEC) has continued to invest in the property, which includes spending more than $1 billion in the past several years on improvements.
"Caesars Palace is unique in that we never rest on our laurels," Selesner says.
The property is taking the same ambitious approach to its Summer of Caesars celebration, which kicked off June 17 with a self-guided walking tour and historical photo exhibit. Golden Weekend (Aug. 5–6) will feature a commemorative cake and champagne toast, a gala for invited guests and VIPs, a sweepstakes, special 50th anniversary room packages, commemorative merchandise and much more.
Recent Developments at Caesars Palace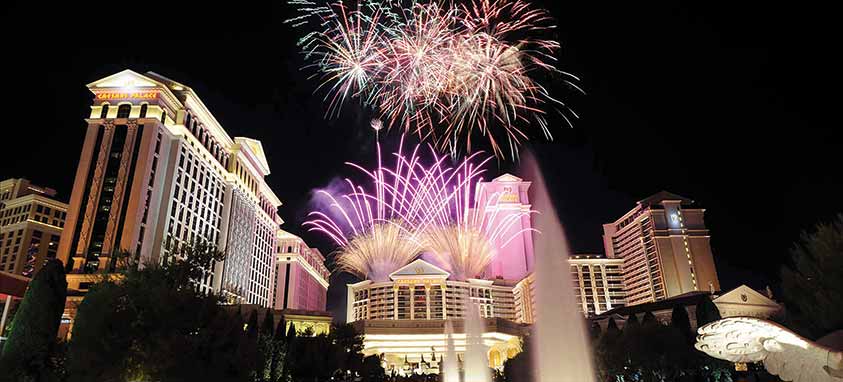 Fireworks at Caesars Palace Las Vegas
While celebration festivities have grabbed the spotlight, many other exciting developments have occurred recently at Caesars Palace.
The original tower, Roman Tower, underwent a $75 million transformation and was renamed Julius Tower, after the property's namesake. The tower's guest rooms feature bright colors and a layout that maximizes the space with upgraded technology and new beds.
Also, Augustus Tower rooms were renovated to feature new draperies, wall coverings and carpets, along with a social sitting area in the larger rooms. The property's Roman theme is reflected by silhouettes of Roman statues within the artwork and Greek details in draperies and fixtures.
"Our goal for the Augustus Tower renovation was to create a new and refreshed room experience for our guests—we looked for ways to create the most impactful change," Selesner says.
At the end of 2015, Caesars Entertainment debuted new self-check-in kiosks at its Las Vegas resorts, beginning with The Linq Hotel & Casino, Flamingo Las Vegas and Caesars Palace. It's the first fully integrated program in Las Vegas that facilitates check-in via email, text, web or mobile app at kiosks.
Caesars Palace guests also are enjoying the new play by Total Rewards mobile app, which lets users create unique experiences wherever they are and whenever they want. The app allows guests to use smartphones to check their Total Rewards account balance, book rooms, make restaurant and show reservations, view property maps, and receive exclusive offers and messages.
Responsible Meetings Program
Three Sisters Fountain at Caesars Palace Las Vegas
Caesars Entertainment Company, like its Caesars Palace property, has steadily grown over the years. Its background can be traced to 1937, when Bill Harrah opened a small bingo parlor in Reno, Nevada, a predecessor to Harrah's Reno.
In 1955, he expanded to Stateline, Nevada, on the south shore of Lake Tahoe, where he eventually opened Harrah's Lake Tahoe. The company has grown through development of new resorts, expansions and acquisitions, and it now operates 49 casinos in 14 U.S. states and five countries. The portfolio also includes Caesars Entertainment UK.
CEC resorts operate primarily under the Harrah's, Caesars and Horseshoe brand names. Caesars also owns the London Clubs International family of casinos.
Caesars properties host more than 15,700 meetings, gatherings, conventions and private events each year. The company has established a Responsible Meetings program to assure top-notch service. These initiatives include:
–Sustainable practices
–Efficient facilities
–Community partnerships and engagement opportunities
–Environmentally preferred choices
–Efficient transportation options
–Certifications and reporting
–Responsible gaming and business practices
The program includes Responsible Meetings training, which is completed by all Caesars sales and catering convention services managers.
In May, Caesars announced that it would expand the program by adding a menu of Meetings for Good community service opportunities. The menu was created in response to meeting groups' desire to have more community involvement: A study by Meeting Professionals International shows that 60 percent of planners are more likely to book a venue that offers social impact benefits.
The Meetings for Good menu was rolled out in Las Vegas, New Orleans and Atlantic City, New Jersey, and will be available in all other markets in the United States by the end of this year.
Participating nonprofit organizations include those dedicated to seniors, environmental sustainability, education, health and wellness, deployed soldiers and veterans.
"The Meetings for Good program allows groups to choose from preselected nonprofit organizations that we already have a partnership with," says Michael Massari, senior vice president of national meetings and events at Caesars Entertainment Corporation. "The menu makes it easy for groups to add a CSR activity to their agenda."
The Responsible Meetings program includes a training and certification program. Planners participating in Meetings for Good can work with an onsite certified Responsible Meetings professional to designate an event as a Certified Responsible Meeting if it meets a list of environmentally friendly choices such as organic meals, recycled meeting materials, electronic signage and post-meeting environmental reports.
A Highly Diverse Portfolio
CEC offers many other attractive options for planners, including a diversity of properties.
"Each brand and property within Caesars Entertainment is so unique," Massari says. "For example, we can look at Las Vegas alone and see multiple identities in one city. We have Caesars Palace, an icon of Las Vegas and luxury. There is The Linq Hotel, perfect for the modern techy and millennial. Then there is The Cromwell, the only boutique hotel on the Las Vegas Strip.
"All of our properties have a very distinct feel and atmosphere, making them all incredibly different from one another."
---
What's New at Other Caesars Properties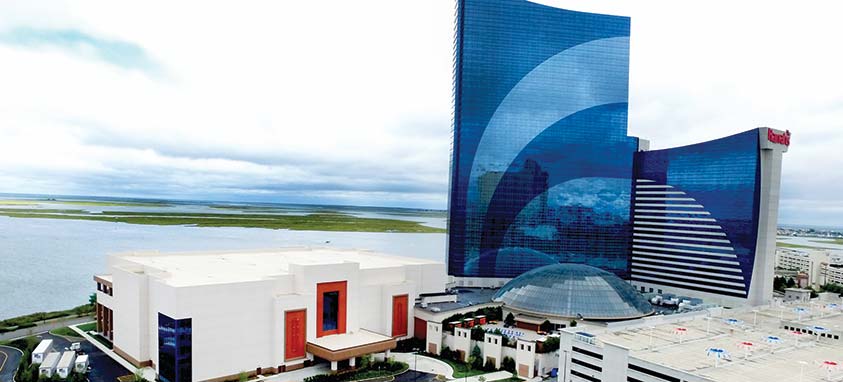 The biggest news for Caesars during the past year was the opening of Harrah's Waterfront Conference Center on Sept. 17. It features 150,000 sq. ft. of meeting space, and thereby expanded Harrah's Resort Atlantic City's space from 25,000 sq. ft. to 125,000 sq. ft. This has contributed to a huge increase in the number of room and event bookings at the New Jersey property, including Meeting Professionals International's World Education Congress June 11−14.
"It was an amazing event that showcased Atlantic City and helped to put us on the map as a premier meetings destination," says Michael Massari, senior vice president of national meetings and events for Caesars Entertainment Corporation.
During the past year, Caesars also transformed the Pacific Ballroom at Bally's Las Vegas into the Jubilee Ballroom. The $4.6 million renovation includes a new contemporary design that features added air walls, additional registration counters and upgraded IT infrastructure. Caesars also renovated the 25,000 sq. ft. of meeting space at Harrah's Lake Tahoe.
Caesars is investing in more than 5,700 current guest rooms nationwide at its properties and will have upgraded more than 4,800 rooms in its four Las Vegas properties by the end of 2016. Renovations will include Planet Hollywood Resort & Casino Las Vegas (1,294 guest rooms), Paris Las Vegas (1,320 guest rooms) and Harrah's Las Vegas (672 guest rooms).
Room renovations are also slated for Caesars Atlantic City (274 guest rooms), Bally's Atlantic City (147 guest rooms), Harrah's Resort Atlantic City and Harrah's Gulf Coast (499 guest rooms) in Biloxi, Mississippi
"Also, at Caesars Entertainment, we have always been on the forefront of the culinary scene, and within the last year we've welcomed various restaurants to the empire," Massari says.
This year's highlights include the opening of Mr. Chow, featuring Beijing cuisine and modern and classic decor, at Caesars Palace; Guy Fieri's El Burro Borracho (Drunken Donkey), offering Mexican dishes with Fieri's unique flair, at Rio All-Suite Hotel & Casino and Harrah's Laughlin in Nevada; and Gordon Ramsay Fish & Chips at The Linq Promenade in Las Vegas.
Caesars doesn't plan to open any properties within the next year. "Our focus right now is on renovating our current product," Massari says.