Jack's Urban Meeting Place (JUMP)
Broadening its appeal
After touring a Basque neighborhood, groups can visit an Anne Frank human rights memorial and a cutting-edge creative center before heading to one of the many nearby wineries.
This type of stimulating outing conjures up images of San Francisco, Los Angeles, Boston and other progressive, multicultural cities. But surprising to many, the experiences are all available in a high-desert city in the Pacific Northwest—Boise, Idaho.
Boasting a rich, fascinating history, Boise has long offered plenty of attractions, and within the last few years it has added more modern features, thereby broadening its appeal. This is attracting more visitors, including meeting groups, to the area. They're discovering that this city of some 250,000 people is a hidden gem, situated 42 miles east of the Oregon border and 110 miles north of the Nevada border.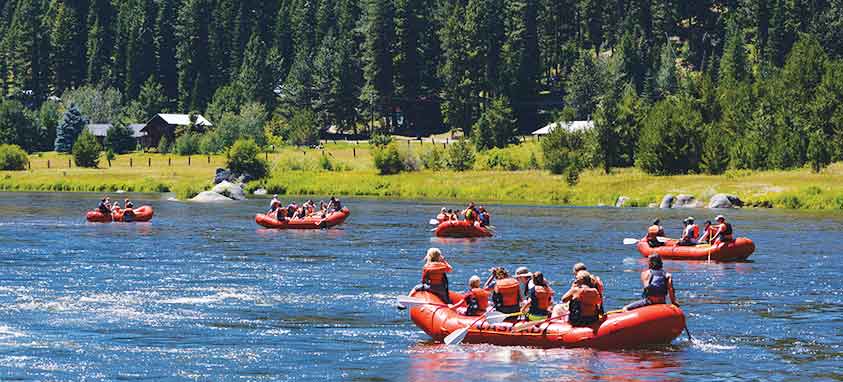 Cascade Raft and Kayak outing on Payette River
Exciting Outdoor Activities
Boise is known for its exciting year-round outdoor activities. A series of public parks along the Boise River are linked by the 25-mile Boise River Greenbelt system. The river and greenbelt are outstanding for running, walking, bicycling, rafting, fishing and other sports. Also, the Ridge to Rivers Trail System consists of more than 100 miles of trails that connect Boise neighborhoods with nature, and the Boise National Forest north of the city covers 2 million acres.
Bogus-Basin, located 16 miles northwest of Boise, is great for biking and hiking during the summer, and toward the end of the year it becomes a winter wonderland, with 37,000 acres of Nordic trails, snowshoe trails and tubing runs, as well as 3,000 acres of downhill skiing.
One particularly enjoyable team-building activity is whitewater rafting. Cascade Raft and Kayak, located 45 minutes from Boise in the Boise National Forest, offers a variety of rafting trips, from a mellow half-day river float to a full day of whitewater thrills on the Payette River.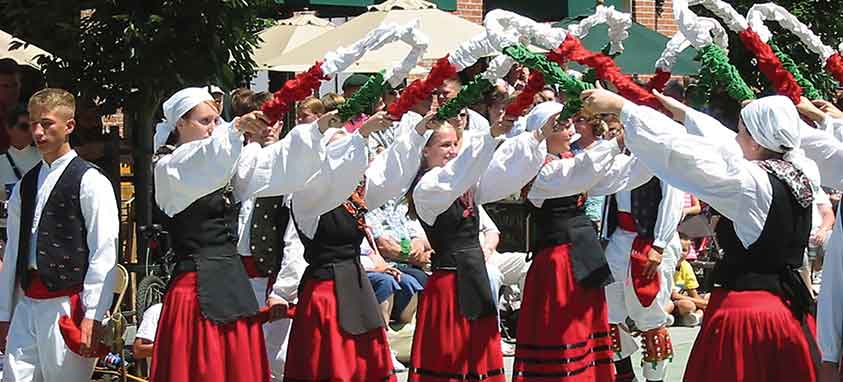 Oinkari Basque Dancers at The Basque Block
Intriguing Historical Attractions
Many visitors are surprised to find that Boise has a lively Basque community with 16,000 members, making it one of the largest in the United States. Descendants began arriving there from the Basque areas of Northern Spain and Southern France in the late 1800s, and many of them worked as sheepherders. Today, their traditions and customs are preserved on The Basque Block, featuring The Basque Museum and Cultural Center, restaurants and The Basque Market.
The Basque Block also offers events and small festivals, many of which feature the Oinkari Dancers, a group of young men and women who preserve Basque traditions through their thrilling performances. They also perform at national Basque gatherings around the country and for local charities, hospitals and nursing homes.
Another fascinating attraction, Idaho Anne Frank Human Rights Memorial, opened in 2002, not as a Holocaust memorial, but as an educational park designed to encourage visitors to reflect, think and engage one another on human rights issues.
A life-size bronze statue of Frank, a Holocaust victim known worldwide for her book, The Diary of a Young Girl, is the centerpiece of the memorial, located in an 81-acre park that blends water, stone and native plants. A Universal Declaration of Human Rights is on display with quotes from some of the most prolific advocates of peace. The words of the famous and the unknown, including world leaders and slaves, are inscribed side by side.
Fun Outings
Jack's Urban Meeting Place (JUMP), which opened in December, perhaps best reflects the new image Boise is forging. The downtown space was created for people to gather and explore their passions, interests and creativity in five interactive studios: Share, where master and amateur chefs experiment with new dishes; Make, a place where builders, inventors and creators collaborate on projects; Play, where people explore the use of video and sound, including film making; Move, focusing on yoga, dance, fitness classes and other physical activities; and Inspire, where people share dreams and innovative ideas with others. Jump can be rented for group events.
Idaho also features several craft breweries and wineries, many of them new. Boise Ale Trail is a self-guided tour through several craft breweries. Guests who buy a passport and then a beer at each brewery listed in the passport receive a stamp. Once the passport is filled, they get their own Boise Ale Trail Silipint and two weeks of buy one, get one free drinks at participating breweries.
The Gem State also boasts more than 50 wineries, including several in Caldwell, about an hour's drive west of Boise, in the Snake River Valley American Viticultural Area. Two of note—with comfortable tasting rooms—are Ste Chapelle, Idaho's largest winery, and Huston Vineyards, a boutique vineyard and winery.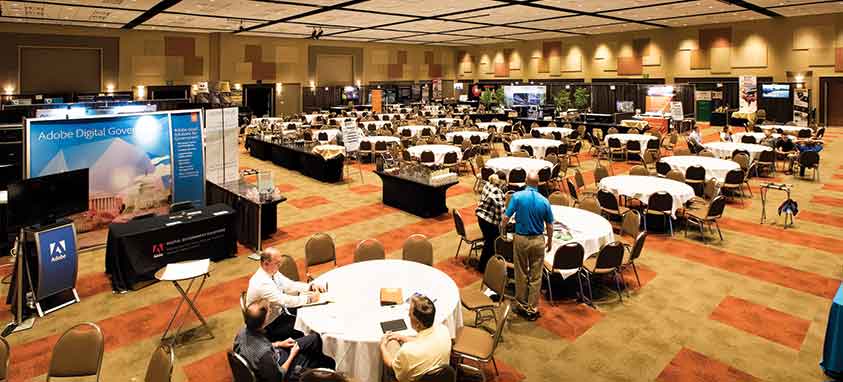 Boise Centre
Outstanding Meeting Venues
Boise Centre opened a new facility this summer, Boise Centre East, which provides a 14,000-square-foot ballroom, 13,000 sq. ft. of meeting space and 9,000 sq. ft. of prefunction space. This increased the total ballroom space to 39,000 sq. ft., meeting space to 30,000 sq. ft. and prefunction space to 17,000 sq. ft.
Boise's only AAA Four Diamond hotel, The Grove Hotel, is situated in a central downtown location yet provides striking views of the nearby green foothills. It has 250 guest rooms and 12,000 sq. ft. of flexible meeting space. Seating for 5,400 is available at adjacent CenturyLink Arena.
The Riverside Hotel, a resort-style property, is minutes from the heart of downtown. Set on the banks of the Boise River, it provides 303 spacious, comfortable guest rooms, as well as 20,000 sq. ft. of meeting space. The Sapphire Room, which opened in 2012, features performances by local and touring musicians, and has seating for 170 guests.
Three additional hotels—a 186-room Marriott Residence Inn, a 107-room Inn at 500 Capitol boutique hotel and a 152-room Hyatt Place—are being built in Boise, and two more are in the pipeline.
Planners looking for a distinctly different meeting facility sometimes opt for Old Idaho Penitentiary, which housed some of the nation's most hardened criminals from 1872 to 1973. Tours are available showing the gallows, death row and solitary confinement; they provide a marked contrast to the property's beautiful landscaping and immaculately tended rose gardens, which can be used for events. A new indoor meeting space is being created, too.