Hard Rock Hotel Cancun, Mexico
Understand all sides of the options to create memorable meetings with great value
As anyone in the group travel business knows, all-inclusive properties that offer a per-person price for guest rooms, food and beverage, activities and other amenities are a mainstay in the incentive market. Qualifying attendees generally love such properties, and planners love the ease of budgeting for these reward-and-recognition events.
With each passing year, the all-inclusive segment of the resort business gets a little more well-versed and capable of handling business-oriented meetings, too. Formal meeting spaces are expanding across various brands. For example, an educational or training event that would usually go to a stateside destination for three or four nights may now consider using one of the many all-inclusive properties in Mexico and the Caribbean.
"The perception had always been that these resorts are not formal enough, or at least not set up the right way, to fully handle the meeting segment," notes Lynne McNamara, president of Meetings Plus Events in South Kingstown, Rhode Island, who uses all-inclusives a few times each year. "I don't think that's true anymore."
She's not the only one who believes the tides are changing.
"Even though their itineraries have a business focus, our meeting clients who choose all-inclusives are saying, 'We want our people to feel like we're taking great care of them,'" says Dyhalma Torres, associate regional vice president for HelmsBriscoe in Miami. "Naturally, the participants really look forward to those training, education and networking programs."
In short, host organizations can reach their business objectives at all-inclusives while giving attendees an experience that's memorable and makes them feel valued, much like incentive winners—but without spending more than budgeted.
Unique Advantages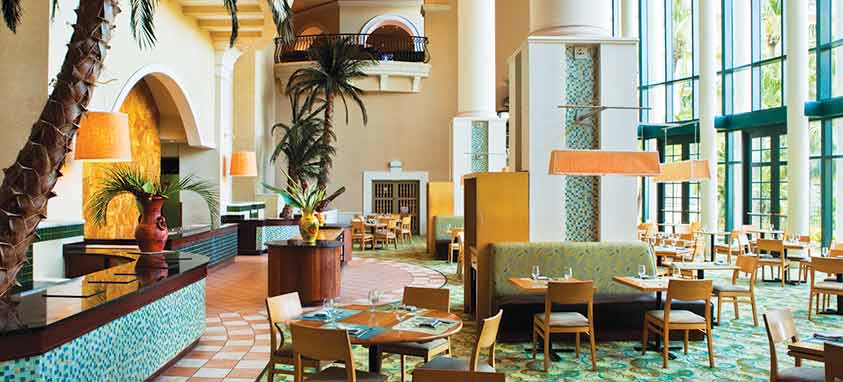 Marbella Restaurant at Wyndham Grand Rio Mar Beach Resort & Spa, Rio Grande, Puerto Rico
For planners, there's an obvious benefit of all-inclusive events: "Our group clients like the upfront price certainty," says Willie Chin, director of sales and marketing for Wyndham Grand Rio Mar Beach Resort & Spa in Rio Grande, Puerto Rico. His property recently began offering groups an all-inclusive option for shoulder and offseason programs, as did Atlantis Paradise Island Resort in the Bahamas a year before that. Chin says all-inclusive makes for a more relaxing event for attendees when they are out of meeting sessions.
That relaxed vibe is due not only to the unlimited access to food and beverage from various outlets, but also to the free recreational activities that can be enjoyed individually or with other resort guests.
"It keeps attendees satisfied with staying on property the entire time, rather than having to entertain them off property at additional cost," says Annette Furman, director of meetings and incentives for Iberostar Hotels and Resorts. "We have a creative staff that plans daily activities for all guests, but groups can modify an activity on that menu for a team-building session if they choose."
Torres says that not having to source local vendors or use a DMC for team building is very attractive to some clients. "For a small labor fee, a resort will run a private activity for us on an event lawn or on the beach," she says.
Some properties even offer activities in the all-inclusive rate that are typically quite expensive. At Wyndham Grand Rio Mar, Iberostar Grand Collection properties and some other all-inclusive properties, groups receive one round of golf per person. At Sandals Resorts on four islands in the Caribbean, groups can partake in unlimited scuba diving. "That's an activity that normally costs at least $150 per person," Torres says. "When you are comparing airfares and other costs for different destinations, these types of things make all-inclusives appealing."
Navigating the Negotiation Phase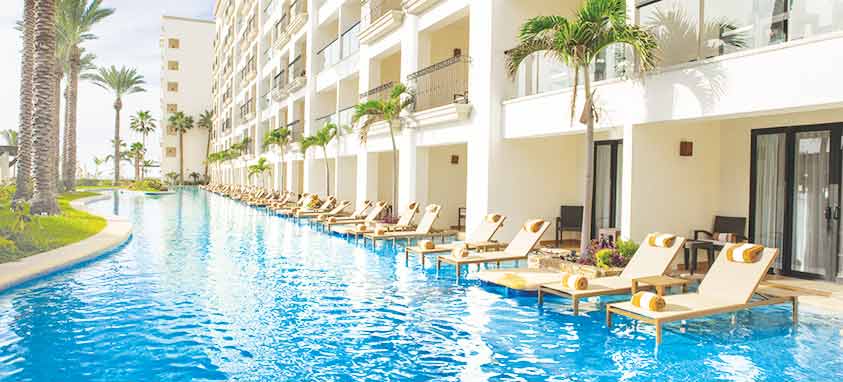 Hyatt Ziva Los Cabos, San Jose del Cabo, Mexico
On the flip side, some elements that are specific to business groups don't necessarily fall under the all-inclusive pricing arrangement. Kevin Edmunds, vice president of meeting and incentive sales for AIC Hotel Group, which includes Hard Rock Hotels' all-inclusive collection, says that planners should ask for sufficient details upfront.
"You have to know the quality of food and beverage you're getting for that per-person price," Edmunds says. His suggests asking the following questions:
–Does your plan include top-shelf liquor brands?
–Does it include all restaurants on property, or do certain a la carte restaurants have an upcharge?
–Is room service included?
–What is the gratuity policy?
Palace Resorts, which operates six resorts in the Mexican Caribbean and Jamaica, offers an all-inclusive package that includes dining in all restaurants and buffets, 24-hour room service, hotel minibars and liquor cabinets, top-shelf liquor, unlimited private functions and a variety of indoor and outdoor event venues.
"There is a huge difference between properties with different star ratings on the luxury scale," McNamara says. "You have to ask enough questions to make sure you are matching a property's quality and amenities to the level of your group."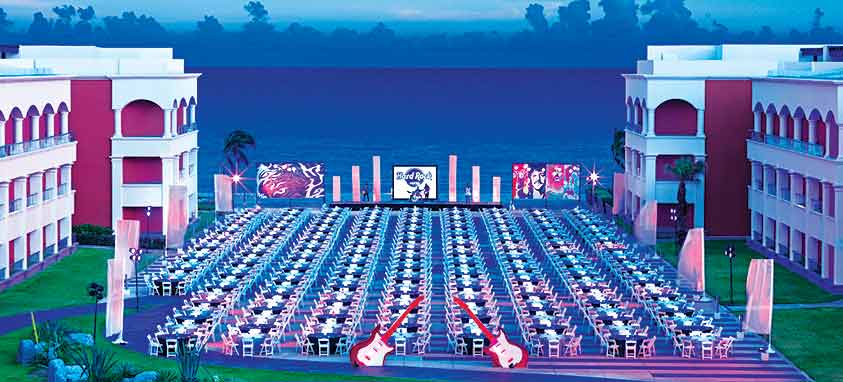 Hard Rock Hotel Riviera Maya, Puerto Aventuras, Mexico
Even though most all-inclusives will throw in an opening reception as well as a gala dinner as part of the package, labor costs for other private events is an area where a budget can go awry if not addressed ahead of time.
"The charges are often between $25 and $50 per person," Torres says. "We understand the need to charge for outdoor events, but we negotiate hard to bring those fees down by about half, and even further for indoor events."
Furman advises planners to think outside the box when it comes to handling meals and meeting breaks at all-inclusives.
"We like showing our clients how to use our buffet and a la carte restaurants during the meeting in a way that works for them logistically, and so there's no additional cost," she says. Lunch is generally the one meal conducted with a private set-up, in order to keep the flow of business sessions intact.
Given that most all-inclusive properties have a variety of food and beverage outlets plus multiple seatings at a la carte restaurants, groups can do several dine-arounds in the course of one event. "When there are that many restaurants, you don't have to leave the property to keep people interested," says Taylor Martindale, operations manager for planning firm Destinations Inc. in South Jordan, Utah. "This saves time and transportation costs."
There is some limitation when using restaurants at all-inclusive properties.
"We don't offer reservations in our a la carte outlets, but we do have four seatings per night," says Pilar Alvarado, director of sales for Hyatt Ziva Los Cabos in San Jose del Cabo, Mexico. "We could have 150 event attendees in each restaurant at one time, so a group of 600 can have dinner simultaneously in different outlets.
And the next evening, everyone rotates to an outlet they haven't dined in before."
An insider tip from Chin: Know your audience and use it to your advantage. "We usually can't have a group buy out an entire seating in one restaurant—but because Americans generally eat dinner earlier than our Latin American and European guests, we always get things to work out," he says.
For Maximum Value, Timing Is Key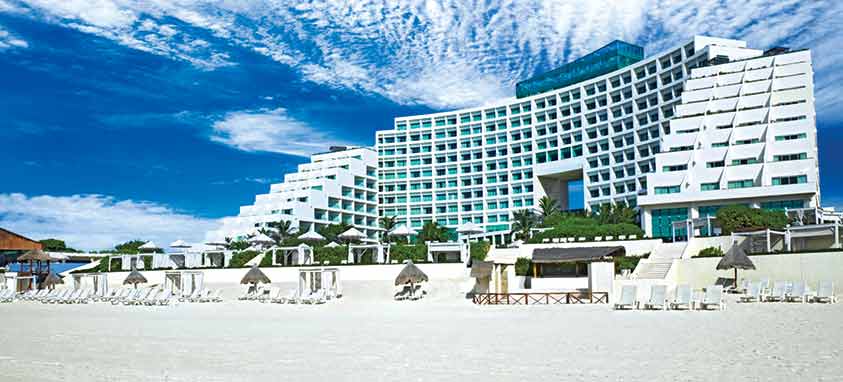 Live Aqua Cancun, Quintana Roo, Mexico
The one way a group can guarantee a restaurant all to itself is to buy out the entire property. Even some of the largest all-inclusives are willing to do this. "We've had insurance groups take all 1,780 rooms at our Punta Cana property, and do back-to-back four-night programs," says Edmunds of Hard Rock. "It's not just incentive groups; training programs can work that way, too."
The 591-room Hyatt Ziva Los Cabos, owned by Playa Hotels & Resorts, reopened after a full renovation in September 2015 with a four-night buyout. "We have a lot of insurance and financial groups doing this, but also some associations, too," Alvarado says. "If a group can commit 18 to 24 months out, a buyout is very possible."
Martindale recently conducted a buyout of the 371-room Live Aqua Cancun in Quintana Roo, Mexico, for a combination educational meeting and incentive for funeral directors. "The property has good meeting space, and we got so many concessions because we took over the whole place," she says.
While many all-inclusives will discuss a buyout for almost any time of year, groups that don't require one can gain negotiating leverage by holding their events during the shoulder or offseason. In fact, the shoulder seasons coincide nicely with meetings seasons.
"Outside of December through Easter, we have real flexibility to negotiate prices and offerings," Furman notes. McNamara encourages her clients to book April or May, or between late October and early December, when the hurricane probability is very low and the value is great.
Double Down for Value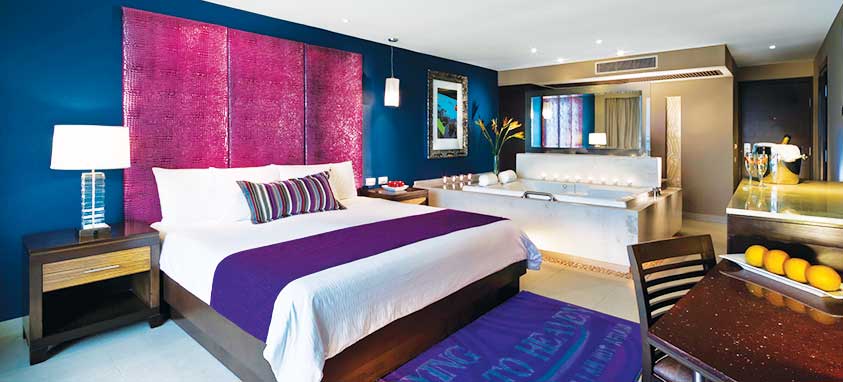 Hard Rock Hotel Cancun, Quintana Roo, Mexico
Another factor in maximizing value is using double occupancy whenever possible.
"A lot more companies are now willing to do this to save money, and the properties prefer that over single occupancy," Torres says. For a cosmetics company that had to deliver product education to 60 retail-counter employees, she found the all-inclusive an easy sell. "They knew the attendees would love the destination, so they were willing to double up," she says.
For a financial company conducting telemarketer training, Torres secured 250 double-double rooms at a 650-room property in the Dominican Republic. "It was part meeting and part incentive, so it was a really exciting trip for them," she says.
Martindale was even able to secure nearly 500 double-double rooms on a little more than three months' notice when an agreement with another property fell through. How? Her meeting was scheduled for mid-November.
"It was the only place we could get that kind of inventory on short notice," she says. Torres notes that planners will find sufficient double-double inventory more often at family-oriented all-inclusives than at adult-only properties.
One other value element of all-inclusives is tax deductibility. Because the per-person rate does not break out guest-room charges from food and beverage, more of the total spend is fully deductible. And in Mexico, the VAT tax can be waived for foreign groups that have a certain percentage of meeting time within an itinerary; some all-inclusive properties will even help planners coordinate the paperwork for the waiver.
"You just have to ask the right questions to see how the per-person rate can meet as many of your group's needs as possible," McNamara says. "You should also understand the offerings of other all-inclusives in that destination and in an alternate destination, in order to negotiate from a position of strength."
"You have to ask enough questions to make sure you are matching a property's quality and amenities to the level of your group."
-Lynne McNamara, president of Meetings Plus Events
---
The State of Cuba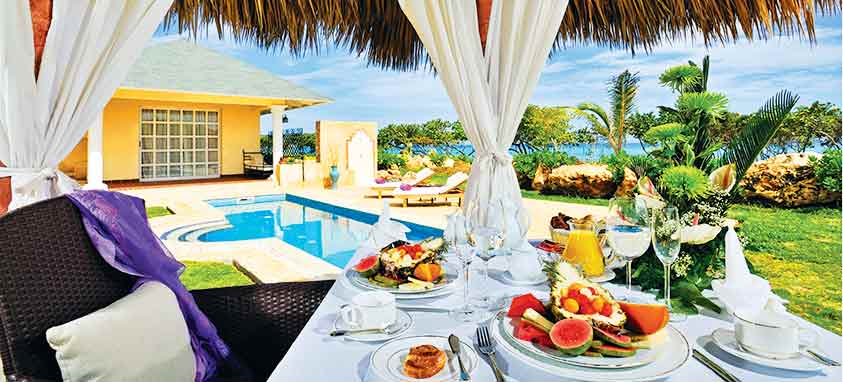 In March, President Barack Obama announced new rules that allow Americans to travel to Cuba individually, for purposes of learning about the people and culture of Cuba. While the U.S. trade embargo is still in place and therefore does not allow business-related trips such as meetings and incentive programs to go there, it is expected that the travel allowance will be broadened to include such trips soon.
As for the ability of the hospitality inventory on the largest island in the Caribbean to host American meetings and incentives—particularly in an all-inclusive manner—more work will be required even after business-related trips are permitted.
At present, companies such as Iberostar and Melia have several traditional hotels and resorts on the island, including the 574-suite ultra-all-inclusive Paradisus Varadero Resort & Spa (right) and the all-inclusive 814-room Iberostar Laguna Azul in Varadero.
"I think more of the traditional hotels and then the all-inclusives will jump into that market," says Kevin Edmunds, vice president of meeting and incentive sales for AIC Hotel Group, parent company of Hard Rock Hotels' All Inclusive Collection. "The great thing is that there is such a bottled-up demand for Cuba from the American market. It is definitely on our radar as we look at new destinations that show promise for our type of product.
"[However,] the infrastructure is not there yet for a typical incentive trip, and it won't be for at least a few years. We'll see the pace of how things develop. If the American market gets full freedom to travel there, that will open the floodgates of demand, followed by spending on development."
With several all-inclusives already in its portfolio, AMResorts is presently making inroads with the Cuban government to convert or develop from scratch properties that would satisfy the meetings and incentives market, said CEO Alejandro Zozaya at the NYU Hospitality Investment Conference in New York City in June.
On the demand side, eGroup Communications in Miami is running fact-finding trips for travel agents and meeting planners interested in Cuba.
"I've already seen people at industry events speaking to planners about the possibilities for Cuba," says Dyhalma Torres, associate regional vice president of HelmsBriscoe. "I'm thinking the infrastructure would need five more years to develop. But once that's in place, Cuba will be an amazing group destination."
---
Rob Carey is a business journalist and principal of Meetings & Hospitality Insight, a content marketing firm for the group-business market.