Cruise cuisine for groups has never been better
Think of it as Las Vegas' culinary makeover on the high seas. That neon-lit city in the desert, once a culinary wasteland, is now a mecca of celebrity chef-driven dining. Less well known is a similar transformation in the world's seas and rivers. The cruise industry is becoming a foodie favorite. Both group and leisure passengers can take the ride as never before.
All-you-can-eat buffets no longer rule the oceans. "Long gone are the days of lackluster waffles and pizza under heat lamps, and in are the days of caviar platters and $5,000 cocktails," as the digital magazine Tasting Table puts it.
Small, specialty restaurants on cruise ships are trending—think Japanese, Chinese and beyond. So are menus created by legendary chefs. Jamie Oliver has Italian prix fixe restaurants on several Royal Caribbean ships. Wolfgang Puck delivered the keynote at this year's Global River Cruise Expo, sponsored by the American Society of Travel Advisers, in Budapest, as nine river cruise ships from six cruise lines docked in the nearby Danube.
"All-you-can-eat buffets no longer rule the oceans."
Jacques Pepin is executive culinary director for Oceania Cruises, and Emeril Lagasse recently collaborated on a revamp of Carnival Cruises Line menus. Their counterparts elsewhere afloat often boast resumes with turns at the world's top hotels and restaurants.
Food Experiences at Sea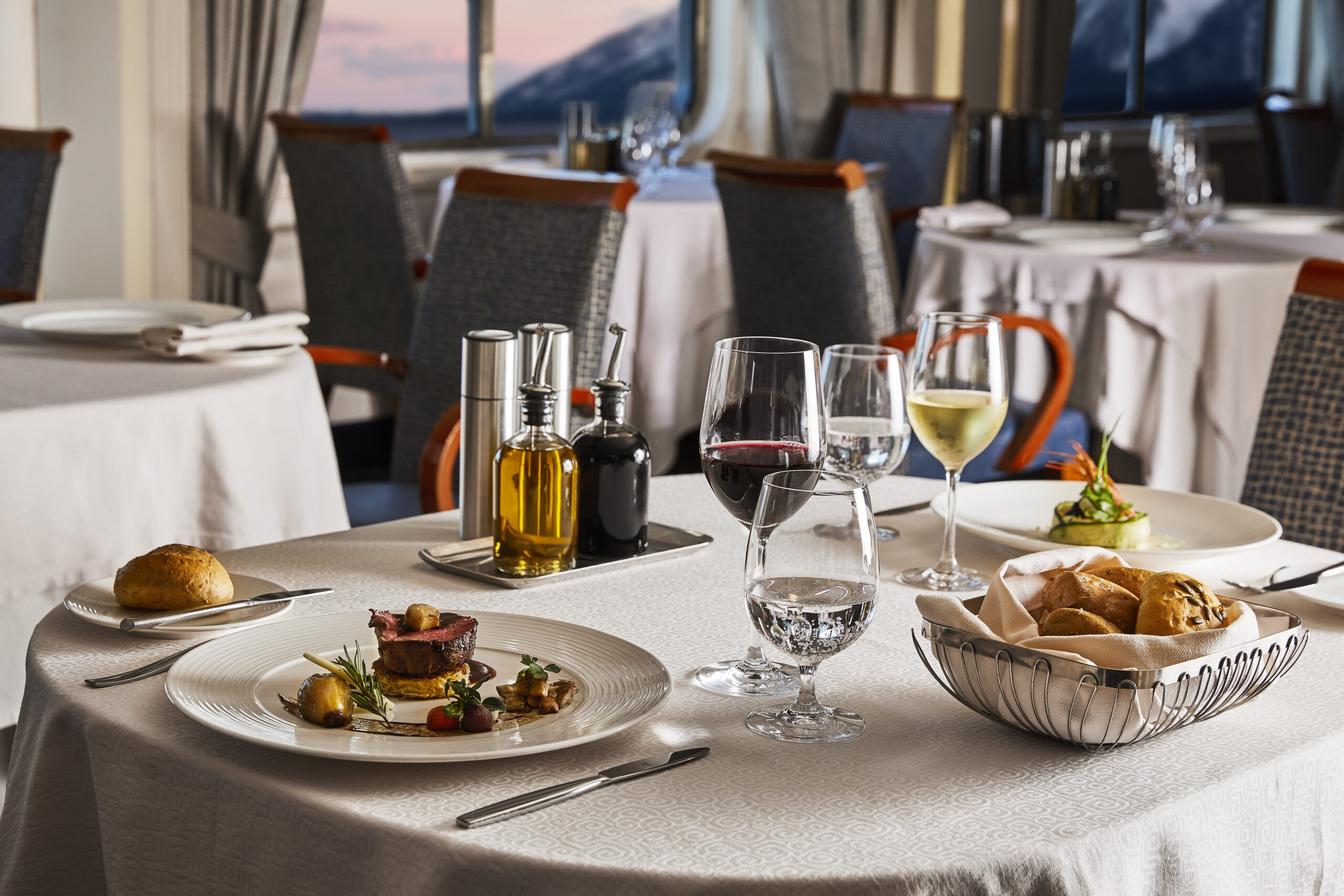 Immersive food experiences include the Silversea S.A.L.T. (Sea and Land Taste) program that changes menu offerings based on what's typical and tasty at particular ports of call. It came to life under the tutelage of Adam Sachs, a former Saveur editor with three James Beard Foundation Awards. The program also includes an interactive cooking "laboratory" where guests can enjoy food lectures, cooking demonstrations and hands-on lessons.
Similarly, cruise lines like Celebrity with a long history of group business offer cooking classes for attendees as well as creative accommodations for all the usual dietary restrictions. Celebrity, by the way, has made Michelin-starred chef Daniel Boulud its Global Culinary Ambassador. Le Voyage, his first restaurant on a Celebrity ship, is "designed to give you a taste of the places that inspire him. To accompany the culinary experience is the most awarded wine collection at sea."
Boulud also offers a separate plant-based menu.
In Food & Wine's Global Tastemakers awards this year, Viking took top honors for its river and ocean cruise cuisine. "Its ocean cruises have eight different food and beverage outlets, ranging from the Restaurant (its main dining venue serving regional cuisine and international classics) to the Wintergarden serving afternoon tea with live music by a string quartet," the magazine notes, while also giving the cruise line a shout out for its onboard herb gardens. Viking's website features nearly three dozen recipes from its shipboard collection, including Scandinavian specialties based on recipes from the founder's mother.
Sea Food That Soars
Like in Sin City, cruisers are now competing in excess, too. Holland America Line, which made waves with its launch of several chef-driven food cruises, has a Pinnacle Grill on numerous of its ships. This swanky steak house, created by chef David Burke, is said to be among the best and most over-the-top anywhere, surf or turf. In addition to the 23-ounce porterhouse, its decadent choices include beef tenderloin topped with lobster dumplings and accompanied by celery root puree, horseradish bordelaise and lobster bearnaise sauce.
A Forest Mushroom Soup drizzled with truffle oil is poured tableside from a tea kettle. The Not-So-Classic Baked Alaska is filled with Ben and Jerry's Cherry Garcia ice cream and adorned with flaming cherries jubilee.
Food tourism is bigger than ever. A World Tourism Organization report found that 88.2% of travelers rank the culinary experience a prime attribute of a destination's brand. Now, it's clear, a food destination can be found in the vast expanse of the oceans as well.