Insights from Alan Fuerstman, founder and CEO of Montage Hotels & Resorts
Montage Hotels & Resorts, which currently operates five properties in the United States, is a major player in the ultra-luxury market. When he launched the brand 13 years ago, founder and CEO Alan Fuerstman's intention was to change the definition of luxury.
"The idea was to create a style of gracious hospitality, devoid of the pretentiousness that was the hallmark of traditional Old World luxury," Fuerstman says.
While working at high-end properties such as The Phoenician in Scottsdale, Arizona, and Bellagio in Las Vegas, the entrepreneur noted an evolution in what customers were seeking in a luxury experience. Fuerstman envisioned a new type of hotel that provided the superior level of service expected from top properties, but where guests could be as comfortable in jeans as they were in suits.
He opened the first Montage Hotel & Resort in Laguna Beach, California, in 2002. The concept resonated with the younger generation, which Fuerstman says "was looking for a more unscripted but still gracious approach to hospitality." Older guests more accustomed to a formal approach were impressed, as well. "The reaction we got from them was, 'We didn't necessarily need all that BS, either,'" he says with a chuckle.
Since its debut, Montage has consistently received stellar reviews from customers and been ranked highly by independent rating organizations. In ReviewPro's 2014 Top Luxury Hotel & Brand Report, Montage was rated No. 1 in service and location in the small luxury hotel category, overall garnering a 93.3 percent rating.
According to Fuerstman, Montage Hotels & Resorts has been successful because it continually exceeds guests' expectations by anticipating individual needs and creating what he terms "wows." In addition, the executive team selectively chooses properties in dazzling locations and develops them with a true sense of spirit and place. In many cases, this has meant turning down opportunities.
"We're as much defined by the deals we don't do," Fuerstman says, "but we won't compromise by adding hotels that don't quite fit the portfolio. It's part of the discipline of the brand." He points out that in order for Montage to command room rates of $500 or more per night, the destination must be in a luxury market.
In addition to Laguna Beach, Montage has properties in Beverly Hills, California; Park City, Utah; Bluffton, South Carolina; and Lahaina on Maui, Hawaii. The newest property, Montage's first foray into the international market, is on track to open in Mexico in late 2017. Montage Los Cabos is located on a 39-acre stretch of white sand in Santa Maria Bay, within the exclusive residential enclave of Maravilla Los Cabos. It will feature 122 guest rooms and suites, along with 52 Montage residences and 6,100 sq. ft. of indoor and outdoor meeting space.
Looking toward the future, Fuerstman would like to see Montages in major gateway cities such as New York, Miami and London.
What's in a Name?
When hunting for an appropriate moniker, Fuerstman rejected hundreds of possibilities suggested by his advertising and PR companies. Ultimately he sat down at a computer and found an online art reference guide, pausing at the word, "montage." It was defined as "an artful compilation collection."
"That was exactly what we were trying to create," he says. "'I'm staying at the Montage' sounded good off the tongue. I decided it would be the perfect name."
Montage competes with established and venerable upscale brands such as The Peninsula Hotels, Four Seasons Hotels and Resorts, The Ritz-Carlton Hotels and The St. Regis Hotels.
Make Way for Pendry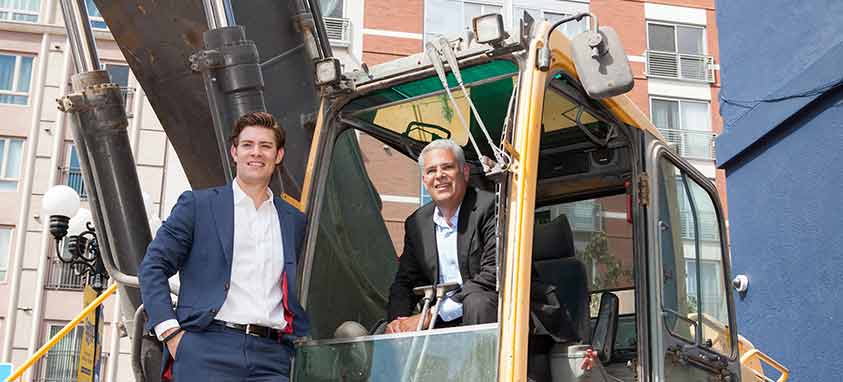 Fuerstman and his son, Michael (pictured), have just launched Pendry Hotels. He describes the new brand as "a collection of design-focused hotels in taste-making destinations that will marry fashion-forward, inspired design with the renowned service culture that Montage Hotels & Resorts is known for."
He envisions a broad market for Pendry, noting that lifestyle hotels are generally known for vibrant lobbies, bars and F&B, but not for their service or guest rooms. "We're going to combine the two. We're going to have very active and exciting public spaces, coupled with a luxury experience in the guest rooms," he promises.
The first Pendry will open in fall 2016 in San Diego's Gaslamp District, several blocks from San Diego Convention Center. It will feature 317 rooms and more than 22,000 sq. ft. of meeting space. Two other such properties are in development and more are in the pipeline. According to Fuerstman, the prime market for Pendry is domestic cities such as New York, Miami, Seattle and Austin, Texas.
Magnificent Meetings
Montage is very committed to its group business, which averages about 40 percent of its room nights. It hosts a broad base of clients across different industries, from high-end corporate and board meetings to elite incentive business. Fuerstman points out that pleased planners often book one year at a mountain resort, and the following year at a beach resort. He says it is also common for an individual to come for a meeting, and later return with their spouse for a leisure trip. According to Fuerstman, planners appreciate Montage's meticulous attention to detail, while attendees bask in the personalized, signature service.
Over the years, Fuerstman has witnessed myriad changes in the hospitality industry. One trend he finds particularly inspiring is the transparency as many potential guests turn to social media and websites such as TripAdvisor to learn about properties. "Frankly, we love that. They are getting an unvarnished look at the kind of experience our guests have had, and we're proud that they are sharing it with the universe," he says.
An Early Introduction to the Hospitality Business
Fuerstman's career in the hospitality industry began at age 17 when he landed a part-time job working at a Marriott. Fuerstman was considering law school when Marriott International invited him to join its management training program. He fell in love with the business and has never looked back.
After several successful years with Marriott, Fuerstman joined ITT Sheraton and was ultimately named president and managing director of The Phoenician. It was there that he was exposed to the luxury-market segment—a profound experience that influenced the trajectory of his career. In 1998, Steve Wynn recruited Fuerstman to open Bellagio Casino & Resort in Las Vegas. During his tenure, Bellagio became the first Vegas hotel to earn a AAA Five Diamond rating. Armed with plenty of experience and ideas, Fuerstman left Bellagio in 2000 to develop his own brand of ultra-luxury hotels.
When asked what he would tell a young person interested in entering the hospitality industry, Fuerstman says, "It never quite goes the way you think it will, but be open to where the opportunities present themselves." It's advice that Fuerstman himself has certainly heeded.
---
BORN: In Passaic, New Jersey. Grew up in New Milford, New Jersey.
EDUCATION: B.A. in political science, Gettysburg College, Pennsylvania, 1978.
SMART CAREER MOVE: Although he considered law school, after graduation he joined Marriott International's management training program.
FIRST MONTAGE OPENED: 2002
FAMILY LIFE: Alan and his wife, Susan, have four grown children. Two of them (Michael and Jessica) work in the family business. Alan and Susan live on the property at Montage Laguna Beach in California.