The Art, a Hotel, Denver
While the desire for luxury is constant, the definition is constantly evolving. To ascend to the upper echelon of the modern luxury market, hotels and resorts must not only cultivate excellence in design, service and amenities, but also remain vigilantly attuned to changing tastes, technologies and expectations. Properties that offer unique experiences earn reputations as havens of contemporary indulgence—and the abundance of business that follows such accolades.
Success stories can be found in a wide range of locations, from the bayou to the beach, surrounded by mountain peaks and Midwest skyscrapers. Just as the needs of each group are different, no two modern luxury properties are exactly alike—and that's part of the allure. These six interpretations of splendor are designed to wow the most seasoned attendee.
1. The Art of the Stay
Elements chosen for the exclusive purpose of delighting and stimulating the senses are one hallmark of a truly luxurious setting. Devoid of practical purpose, they exist simply to enhance the environment and capture the imagination of those who cross their path. The Art, a Hotel demonstrates complete command of this concept.
The Art, which debuted in Denver's Golden Triangle district in June 2015, offers guests an experience that is intimate and refined, but far from sedate. Two onsite galleries—as well as gathering spaces, hallways and 165 guest rooms—act as a canvas for the boutique property's vast collection of original contemporary art.
A custom light installation by Leo Villareal, lit by 22,000 LED bulbs, transforms the hotel's entrance into a twinkling stage. Inside, works by Frank Gehry, Andy Warhol and Ed Ruscha grace the main lobby. Avant-garde video art entertains elevator passengers, an undeniable upgrade from muzak. On each floor, the design is inspired by an individual modern artist. An original work anchors the theme, which extends to the color palette featured in guest rooms.
With 7,000 sq. ft. of meeting space spread across 13 meeting rooms, the property is equipped to host intimate gatherings and retreats for more than 300 guests. One standout space is Fire Terrace, an open-air, fourth-floor bar and dining area featuring a fire pit and downtown views. The Art offers inspired group experiences, such as painting and drawing workshops taught by local artists, and private tours of the hotel's art collection, which can be adapted into a scavenger hunt.
2. Class and Culture Unite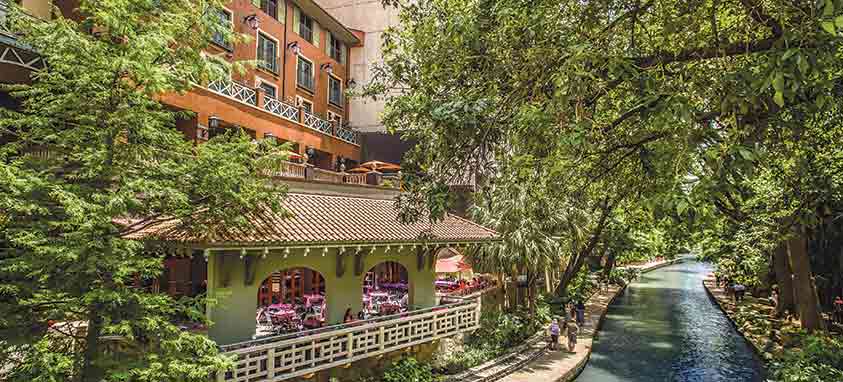 Hotel Valencia Riverwalk, San Antonio
Refinement infused with location-specific flair makes a stronger impression than a formulaic setting. When executed with authenticity, quality and subtlety, the results produce an enchanting immersion experience completely unique to the destination.
Opened in March, the 234-room Ace Hotel New Orleans combines a contemporary cool brand with a soulful historic city. Located in a 1928 Art Deco building that once housed a family-owned furniture store, the hotel sits in the Warehouse District, surrounded by art galleries and museums.
The hotel itself is no less curated. A mix of Gulf Coast charm, Art Deco glitz and controlled restraint create an environment that reads as both of another era and a thoroughly modern mash-up. Hip flourishes abound. All guest rooms feature Smeg refrigerators, and some include turntables and Martin guitars.
Flexible event spaces and an accommodating staff help meeting planners utilize nearly 16,346 sq. ft. of meeting and event space to maximum advantage. The largest available space is 4,000-square-foot Barnett Hall, which attendees can access via a street-side courtyard or through the lobby. Bring your own ideas or give the staff free reign to brainstorm. Either way, a memorable, distinctive experience is guaranteed.
More than 500 miles west, Hotel Valencia Riverwalk San Antonio provides a dramatic, sophisticated setting for group gatherings. Renowned Houston-based architect Lauren Rottet blended Spanish Colonial and modern Mediterranean design to create a warm, welcoming beacon perched alongside San Antonio's famed River Walk. Cross-cultural influences also anchor Dorrego's, the property's newly unveiled fine-dining restaurant, where local ingredients star in a menu that showcases Argentina's culinary heritage.
The boutique hotel contains 213 guest rooms and nearly 7,000 sq. ft. of meeting space. Board meetings, seated dinners, presentations and receptions can all be accommodated at Hotel Valencia. The premiere gathering space is an open-air courtyard made for atmospheric mingling.
3. Sumptuous Sierra Nevada Properties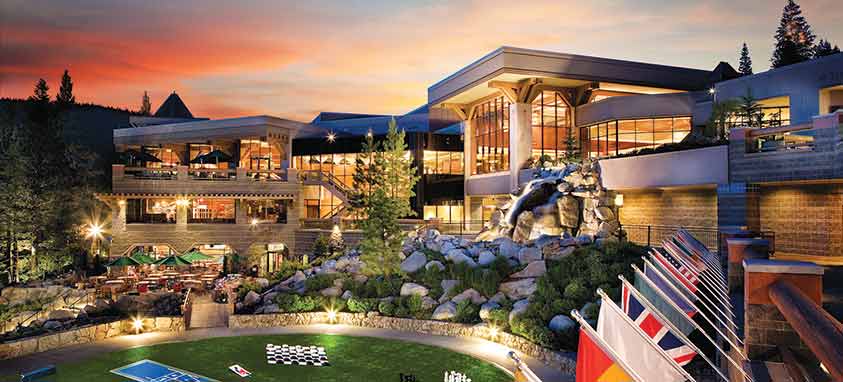 The juxtaposition between wild, craggy mountains and polished, upscale accommodations holds timeless appeal. Two North Lake Tahoe properties demonstrate a mastery of modern mountain luxury through their design, amenities and recreational options.
Resort at Squaw Creek, a AAA Four Diamond property in Olympic Valley, California, provides an exhaustive array of authentically adventurous amenities. Offerings include ski-in, ski-out access, a cross-country skiing center, an ice-skating rink, hiking and biking trails, a fly-fishing center, an 18-hole championship golf course, heated swimming pools and a waterslide. Guests may never want to go inside, but if they do venture indoors, floor-to-ceiling windows in the lobby, overlooking a waterfall, will ease the transition.
Recent enhancements and upgrades to the 24 meeting and conference rooms were designed to facilitate productivity and foster breakthrough moments. Concentrated in one area of the resort for ease of navigation, 33,000 sq. ft. of meeting space features state-of-the-art multimedia technology and satisfies all IACC requirements. The largest ballroom measures 9,525 sq. ft. In addition, 14,750 sq. ft. of outdoor meeting space is available for groups preferring to gather against a mountain backdrop.
An ideal midmountain location affords groups staying at The Ritz-Carlton, Lake Tahoe a perfect jumping-off point for adventure—or soaking up panoramic views from the AAA Five Diamond resort's wraparound balcony. Summer's seasonal recreational offerings, such as mountain biking and stand-up paddleboarding, will get a boost this June, when the resort's new Lake Club opens. The private lakeside multiuse facility reserved exclusively for guests will provide access to a boat dock, beach space, fire pits and multilevel dining venues.
The property caters to meetings and special events with more than 44,000 total sq. ft. of indoor and outdoor spaces that take advantage of the magnificent scenery and mountainside location. Highlights include 6,600-square-foot The Ritz-Carlton Ballroom, offering views of Martis Valley; 1,803-square-foot Pines Foyer, with a private terrace; and 1,733-square-foot Fireside Terrace, featuring a large outdoor fireplace. Warm wood tones and textured fabrics punctuate the 153 guest rooms, all with fireplaces.
Whether your group's mission is business, relaxation or a mix of both, these North Lake Tahoe luxury destinations deliver memorable experiences and excellent service.
4. Oceanfront Opulence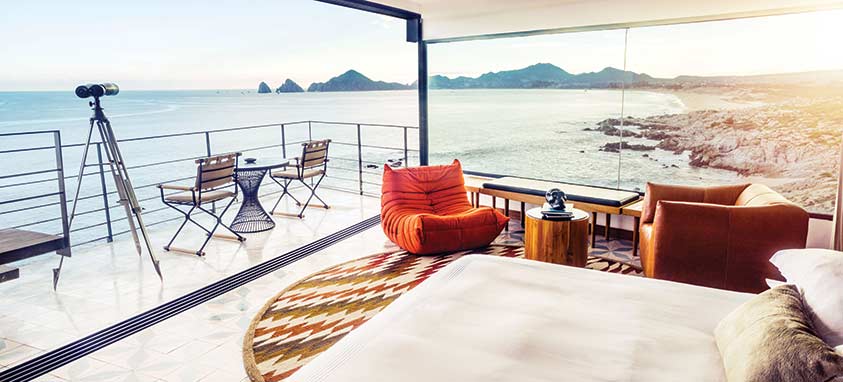 Down at sea level, the loss of altitude does not translate to a decrease in luxury. That's especially true at The Cape, a Thompson Hotel, which opened in summer 2015 in Cabo San Lucas, at the southern tip of the Baja California peninsula. Mexico City architect Javier Sanchez countered the cape's wild, rocky contours with clean, contemporary lines, imparting a 1960s Southern California-meets-Baha ambience to the boutique property.
Water is the star attraction, as the hotel's secluded beach, infinity pool, saltwater pool and hot tub attest. Even when guests retreat to their rooms, the waves aren't far away: Ocean views and private balconies are standard in all 161 guest rooms.
Meeting spaces totaling 5,188 sq. ft. are intimate and beautifully appointed. Glimpse, an open-air rooftop event space that seats up to 180 banquet-style, provides sweeping ocean views. A-Frame offers 1,664 sq. ft. of fully connected, private meeting space accented by warm woods and clean lines.
Resort offerings encourage socialization, creating an ideal environment for group retreats. Attendees can enjoy live music on the rooftop each night at sunset, taste locally brewed beer, get acquainted with Mexican wines and take a cooking class. Offsite adventures include buggy trips into Baja's high country for some off-road exploration.
5. Desert Glamour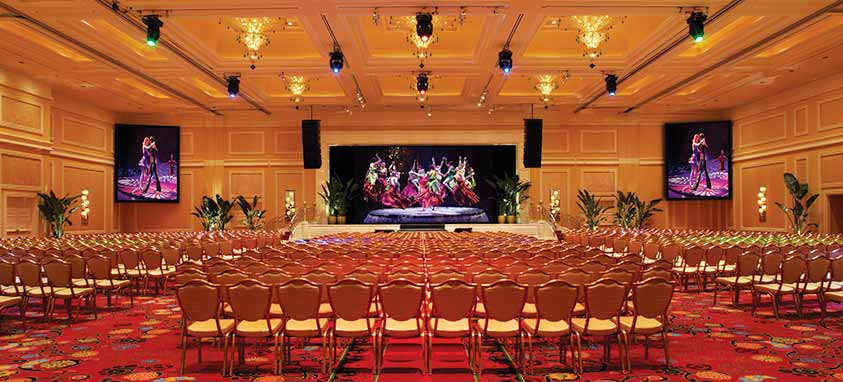 Featuring gilded lanterns, a gold peacock sculpture and glittering chandeliers, Wynn Las Vegas and Encore Hotel makes no attempt to keep opulence under wraps. There, glamour unabashedly takes center stage. Every indulgent amenity imaginable is on offer, including an award-winning spa, high-end shopping, a spectrum of exquisite dining options, live entertainment, casino games and exciting nightlife.
The property's two luxury hotel towers hold 4,750 guest rooms and 260,000 sq. ft. of meeting and convention space. Combined, Wynn and Encore offer three column-free ballrooms, 35 meeting rooms and three boardrooms. Many spaces feature expansive windows to show off the resort's picturesque grounds.
Groups looking for an interactive experience can take part in the newly launched Wynn Master Class Series. The thoughtfully curated program's master classes and workshops invite groups into exclusive areas throughout the resort for hands-on courses taught by master chefs, sommeliers, mixologists and artisans. Attendees will leave energized and inspired.
6. Reinventing Convention Lodging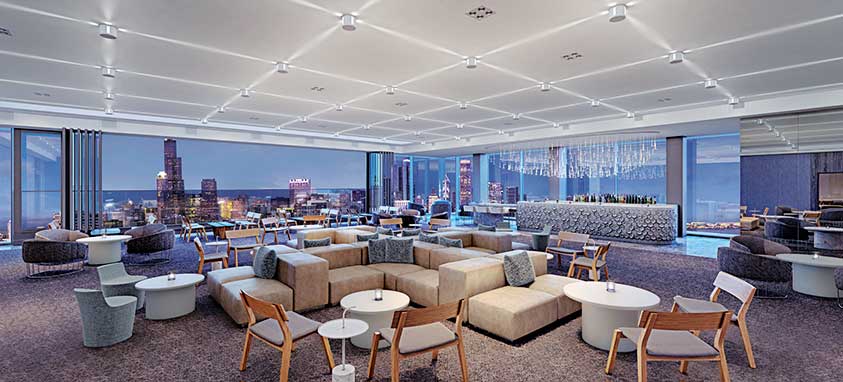 Presented with the chance to redefine Chicago's concept of a luxury convention hotel, Marriott Marquis Chicago endeavors to exceed expectations of meeting planners and attendees by offering expert planning and execution services, elaborate displays, a top-notch culinary program and unsurpassed service.
The innovative, ambitious project, set to open this fall, also boasts an architectural pedigree befitting a splashy addition to Chicago's famed skyline. Its design is the work of Gensler, a Chicago-based firm widely considered to be a world leader in collaborative design.
Rising 40 stories above the South Loop neighborhood near Lake Michigan's western shore, the hotel will contain 1,205 sleek, contemporary guest rooms and suites, as well as 93,000 sq. ft. of ultra-modern meeting space spread across 65 rooms. Meeting rooms will be imbued with a sense of place. For example, walls of windows in dual 25,000-square-foot ballrooms will create the impression of meeting amid skyscrapers. A 4,000-square-foot event space on the 33rd floor will reveal 180 degrees of city and lake views.
A sky bridge will offer access to the 2.6 million sq. ft. of event space at McCormick Place, the largest convention center in the United States. Marriott Marquis Chicago represents part of a larger effort to transform the surrounding neighborhood, already a bustling meetings destination, into a vibrant entertainment district. The hotel will also connect to Wintrust Arena, which will add a 10,000-seat event and performance venue to the neighborhood when it debuts this fall.
Armed with additional amenities such as amplified food and beverage offerings, premium connectivity and proximity to public transportation, Marriott Marquis Chicago promises to reinvigorate Chicago's convention lodging landscape.
---
Inventive Haute Cuisine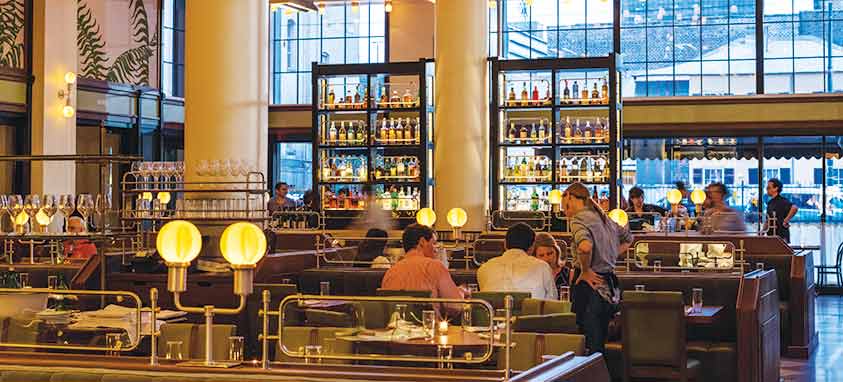 Josephine Estelle at Ace Hotel New Orleans (photo by Fran Parente)

Taking inspiration from the art-filled surroundings Fire, the signature restaurant at The Art, a Hotel in Denver, turns creative combinations into culinary works of art. For example, an assertive rib-eye steak shares a plate with black-eyed peas, jalapeno corn bread and chimichurri, blending favorite flavors from the South, Argentina and the Rockies. Sleek glass walls let in Colorado's ample sunshine and offer gorgeous downtown views.
Fusion fare is also the focus at Ace Hotel New Orleans' Josephine Estelle, where James Beard Award-nominated chefs Andy Ticer and Michael Hudman mingle Italian classics with Southern ingredients. The name of one dish, Gemelli with Maw Maw's Gravy, conjures the soul-soothing union of two crowd-pleasing cuisines.
The Ritz-Carlton, Lake Tahoe is home to Manzanita, where an emphasis on seasonal ingredients and contemporary cooking informs a refined interpretation of California cuisine. Layered textures and natural materials suggesting rustic elegance put guests at ease. The act of cooking becomes a type of performance art, thanks to an open kitchen viewable from every table.
Manta, the premier dining destination at The Cape, a Thompson Hotel, plates up globally inspired dishes reflecting Pacific Coast culinary traditions from Mexico, Peru, Japan and more. One dish that illustrates the fusion fare is roasted maitake mushrooms with pumpkin seed mole. Seafood is plentiful, as are local ingredients. Mezcal, tequila and sake feature prominently in the beverage menu.