HaaS: Hotels as a Service
The major hotel trends permeating the hospitality industry today aren't exactly new. We know individuals and organizations are concerned about being sustainable; we know that tech is the talk of the day. But as we dig deeper, there's one aspect that's at the center of all these trends: hotels, as they change with the times, are initiating a transformed guest experience.
The hotel trends of 2023 usher in an age of HaaS, or Hotels as a Service. Whether hotels are implementing major sustainability initiatives or presenting an exclusive look at a world destination, at their core, they know they're there to offer guests a memorable stay. Hotels as a Service is all about tying the industry's transformations into an exciting, insightful guest experience that captures it all.
Watching Our Waste
Sustainability is at the front of our minds. Attendees at meetings want to know they aren't contributing to major carbon emissions by being present. This means making efforts to ensure that every aspect of an event—menus, lighting, gifts, venue practices—have as minimal an environmental impact as possible.
Luckily, hotels are increasingly operating in the same vein. Every day it seems that another hotel has eliminated single-use plastics, renovated to reduce the use of HVAC systems or embarked on a stewardship practice.
Hotels serve a lot of guests and host many meetings. These operations, by nature, produce waste. However, hotels recognize this, and many have implemented widespread efforts to reduce their environmental impact and counteract their emissions.
Kiawah Island Golf Resort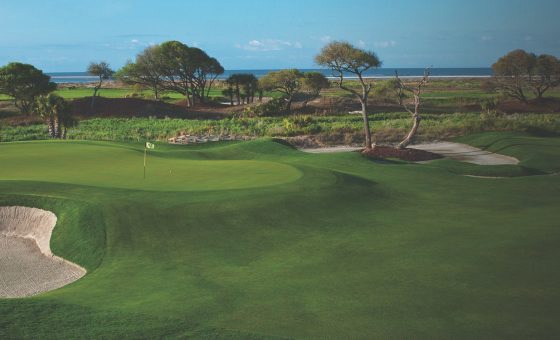 "We are acutely aware of the important role the resort plays in protecting the natural landscape of the island and of our obligation and sacred duty to ensure that it is preserved for posterity."
–Marty Couch, Director of Group Sales at Kiawah Island Golf Resort
25 miles south of Charleston, South Carolina is Kiawah Island. This barrier island is comprised of a number of interdependent ecosystems, from lush maritime forests to sandy dunes. It is also home to Kiawah Island Golf Resort. In addition to offering world-class amenities, award-winning recreational activities and respected golf courses, this resort is leading the way in ethical, eco-conscious operations throughout all its dynamic functions.
On the day-to-day, the resort limits and in some cases eliminates single-use plastics. Water bottle refill stations are available throughout their Forbes Five-Star hotel, The Sanctuary. They recently replanted all five of their golf courses and added 10 new Har-Tru Hydrocourts to their Roy Barth Tennis Center, reducing chemical maintenance needs and water waste.
Read More: You Can Go Net Zero
Each of their restaurants and chefs are committed to using locally sourced ingredients. Their fine-dining seafood restaurant, The Atlantic Room, is a member of the South Carolina Aquarium's Good Catch program, which supports local sustainable fisheries.
The hotel grounds are a National Wildlife Federation Certified Habitat, and both the hotel and golf courses are certified Cooperative Sanctuaries by Audubon International. The resort works integrally with island entities, like Kiawah Conservancy, to ensure they are taking part in long-term conservation of the island. In 2020, they launched the Kiawah Island Bobcat Guardian program, and in 2022, the Comprehensive Marsh Management Plan.
Kiawah Island Golf Resort is a prime example of how hotels can incorporate illuminating guest service into their sustainability efforts. The resort team works with meeting planners to create unique give-back programs tailored to each group's values. Their recreation department offers nature programs, led by full-time naturalists, on both land and sea. Even activities not typically known as outwardly sustainable, such as kayaking and boating, are led by naturalists who educate participants on the importance of the marsh ecosystem. Guests leave with an enriched understanding of the environmental importance of the location they've visited and how they can help preserve it.
Across the resort, planners have their pick of 90,000 sq. ft. or indoor and outdoor meeting space, made up of classic ballrooms, boardrooms and terraces, as well as fifth-floor dividable and combinable hospitality suites, three golf clubhouses and an 18,500 sq. ft. entertainment venue, The Grand Lawn.
Meet at Peace
Wellness is changing the game for meetings. Even a decade ago, it was rare to hear mental health, burnout or the importance of quality rest discussed in the workplace. Now, it's widely understood that people are more productive and produce better-quality work when they are physically and mentally well.
Hotels have always been a space for luxury. As a site for meetings and events, hotels are also transformed into workplaces and venues. This creates a special opportunity to bring wellness into the lives of busy professionals. Wherever you host your meeting, look to the wellness services offered there; they can turn a routine meeting into one that attendees remember as one of their favorites.
Rancho de los Caballeros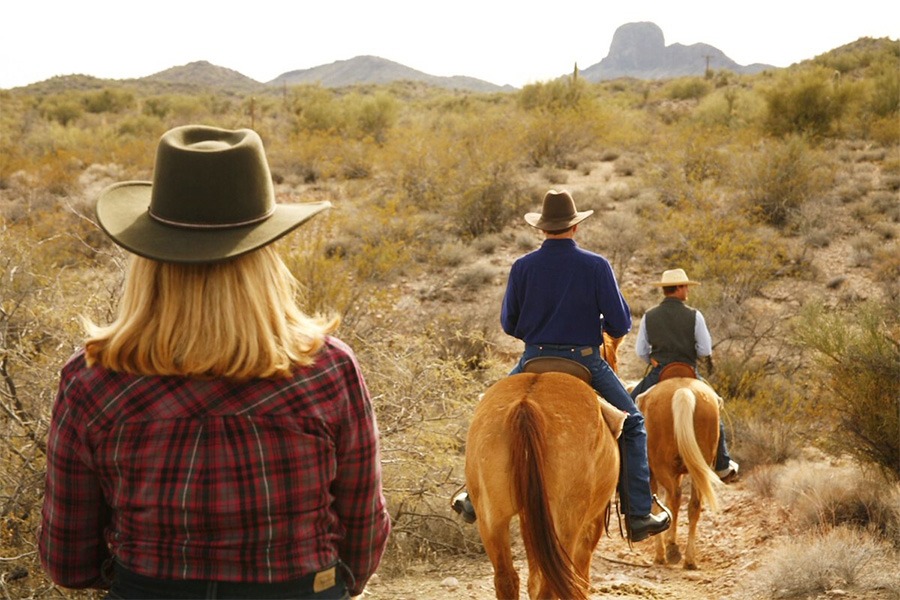 "Wellness at Rancho de los Caballeros is leaving the real world behind and immersing yourself into the experience."
–  Codie Martin, Spa Director at Rancho de los Caballeros
There is perhaps no greater center of luxury than a resort's own spa—Rancho de los Caballeros takes it to the next level. Its 18,000 acres in the Arizona desert is a sanctuary in itself. Combined with innovative spa treatments led by skilled experts, this resort is redefining just how incredible wellness can be.
The spa's treatments are uniquely designed around the resort's landscape. Guests can partake in anything from common spa treatments to an expansive selection of century-old practices. Guests can book hypnotherapy, reiki and sound healing treatments. The spa offers Labyrinth meditations, designed specifically to soothe anxieties and calm the mind. Guests craving a little more adventure can embark on the Horseback to Yoga Mat experience, where they ride out into the desert to meet a yoga instructor at a desert studio for a 60-minute flow.
Perhaps the most unique treatment drawn from the resort's natural surroundings is a desert rain soak in a claw foot tub, featuring bath salts handmade by Martin and Executive Chef David Ellis, which implement a creosote plant extract. This plant has extensive medicinal properties and is responsible for a compelling desert fragrance following a rainstorm. This treatment can help loosen tight muscles before a massage, or simply allow guests to experience this incredible desert-rain smell.
As these treatments and activities show, when it comes to wellness, HAS is a way for hotels to take a close look at their unique environment and tailor wellness offerings to provide an experience guests can't get anywhere else.
Though you'd probably love to pass your days enjoying this incredible spa, it's good to know the resort offers top-of-the-line meeting space, including a 3,200 sq. ft. dividable indoor conference room, a 4,000-square-foot patio, as well as dining and incentive activity packages for meeting groups.
Technology is Booming
We live in a rapidly changing world. Just in the past year, we've seen AI become the most talked about tool that wasn't even on our radar a year ago. Lighting and sound systems used in meetings have faced continual updates, and virtual reality is an increasingly popular way to make meetings more immersive.
Read More: Helpful Technology for the Organized Traveler
Some hotels have taken the technological advancements of recent years to streamline an entirely new and perfectly convenient guest experience—robots.
LUMA Hotels – San Francisco & New York City
"As a brand, LUMA Hotels is committed to elevating the guest experience through advanced technology."
–  Molly Mitoma, Brand Marketing Manager for LUMA Hotels
LUMA Hotels, has properties in San Francisco and New York City has adopted some mechanical friends to help deliver HAS in a fun way.
When LUMA Hotel Times Square introduced their robot, Alina, in October 2017, she was an instant sensation. From the comfort of their own room, guests can order in-room dining or any other items they might need. "Extra towels? Nespresso coffee? More shampoo? Alina is at your service," says Mitoma. Popular with children, Alina also delivers curated packages and amenities for young guests such as games, toys and more.
New York City's first hotel robot butler is approximately three feet tall and less than 100 lbs. She travels through the hotel hallways and elevators independently to make deliveries, freeing up hotel staff to focus on skillfully assisting guests. "Guests love spotting her in the elevators and rolling through the hallways," says Mitoma. "You can't help but smile when you see her!"
Recently, at LUMA Hotel San Francisco, LUCY and LUMIE joined the existing robot, HENRY. Like Alina, they move independently through the hotel and its elevators. Each is fitted with a 3D-printed beverage carrier—they can deliver anything from glasses of wine to piping hot coffee with no chance of spillage straight to guest rooms. Together, they can make 25 deliveries per hour. Guests can place orders by scanning a QR code in their rooms or calling the front desk. When one of the robots arrives with their order, guests receive a quick ring on their phone to notify them.
LUMA San Francisco boasts 7,250 sq. ft. of dynamic meeting and event space with fully integrated Avidex digital connectivity for easy lighting, sound and projection control via Bluetooth.
Meet. Connect. Experience the world!
Now, more than ever, attendees want to blend business with pleasure. At the end of the day, meetings are a space to do quality work and connect. But when attendees wake up in the hotel, go to meetings all day, then crash into bed in the evening, they might feel that they're missing out.
Look to the hotel's staff; it's made up of seasoned experts who know the area inside and out. Hotels are bound to offer endless activities to connect attendees with authentic local experiences that you can tailor to your group's size and wants. It's important to work in time for attendees to get excited about the place they're visiting. By doing so, you'll help build a meeting or retreat your attendees will cherish for years to come.
Colonial Williamsburg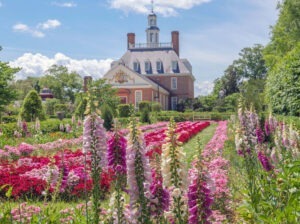 "From venues that surround guests in traditional elegance to gorgeous outdoor spaces that break with convention, a unique meeting experience is always on the agenda at Colonial Williamsburg."
–  Brittany Rice, Director of Hotel Sales at Colonial Williamsburg Resorts
Known as "the world's largest living history museum," Colonial Williamsburg sets the precedent for experiential travel. Where better to visit for an immersive experience than the historic political and cultural capital of Virginia during the very beginnings of the United States? The Colonial Williamsburg Foundation upholds the location's history through continuing preservation efforts and authentic programming.
At the site, guests can visit beautifully preserved historic sites, arboretum gardens and two world-class art museums. Talented interpreters hold live performances exemplifying how people lived and worked in the colonial era, and there's no shortage of eateries providing colonial cuisine. Programs, from culinary demonstrations in the Taste Studio to behind-the-scenes tours, are available and customizable for all group sizes.
Meeting facilities can accommodate groups ranging from ten to 1,000. Together, the Colonial Williamsburg resorts offer 48 meeting rooms—28 at The Williamsburg Lodge, 11 at the Williamsburg Woodlands Hotel and nine at the Williamsburg Inn and The Griffin Hotel.
Rice says, "[Colonial Williamsburg] provides an immersive and educational experience for all visitors to enjoy…and become part of one of the greatest stories ever told."