Or, how I started remembering to bring my sunglasses on trips
As someone who travels frequently for work and pleasure, I'm always on the lookout for ways to make the experience more enjoyable and stress-free. One area where technology has truly revolutionized travel is in the realm of "organization." With the right tools and apps, you can streamline everything from packing to itinerary planning, PowerPoint and video to navigating foreign lands. Here are a few of my favorite tech tools for making travel and organization easier.
Know Before You Go
First and foremost, let's talk about packing. For me, the key to stress-free packing is having a comprehensive list of everything I need to bring with me, as well as the things that only occasionally need to be brought. In the days before cell phones, I have to admit I was pretty bad at packing. I always seemed to forget something, and most often it was something small, but consequential—like shaving cream or sunglasses. As soon as I created my first digital packing list, the instances of my forgetting something mundane but important fell way down.
If you're in the Android universe, you can't go wrong with a simple reminder/notes app like Google Keep. For the Apple folks, the Reminders app or Notes can work just as well. Both of these have the added bonus of being able to be accessed by the digital assistants of Siri or "Hey Google". That might not seem that important, but being able to say, "Hey Siri—add 'change out my razor blade' to my Travel list" can make the difference between a baby-face smooth shave and little bits of toilet paper on my face or head for the next event.
Read More: Essential List: Top International Travel Apps of 2022
Bar none, this habit has been the most consistent improvement to my travel over the last decade. It seems so small, but making sure you have what you need when you travel is one of the most important ways of making travel more organized and pleasurable. My list has grown from the obvious ("work socks"), to the less-obvious-but-just-as-important things like "TSA Precheck?", "passport?", "laser measuring tape?", or even "swim shorts?" or "extra cigars?" Just having these things on my list forces me to consider whether or not I need them for that particular trip.
While I've been happy with just the basic notes/reminders apps, the more advanced traveler might want to consider a dedicated travel app. While I haven't used it myself, I've heard good things about an app called PackPoint. PackPoint purports to generate a personalized packing list based on your destination, length of stay and planned activities. It also takes into account the weather forecast for your destination, so you'll never forget that extra sweatshirt or raincoat. It also ties in with services like TripIt, so it can automatically import your destinations and plan accordingly. It doesn't really matter what app you use, as long as you're consistent about checking the list every time.
The Journey, not the Destination…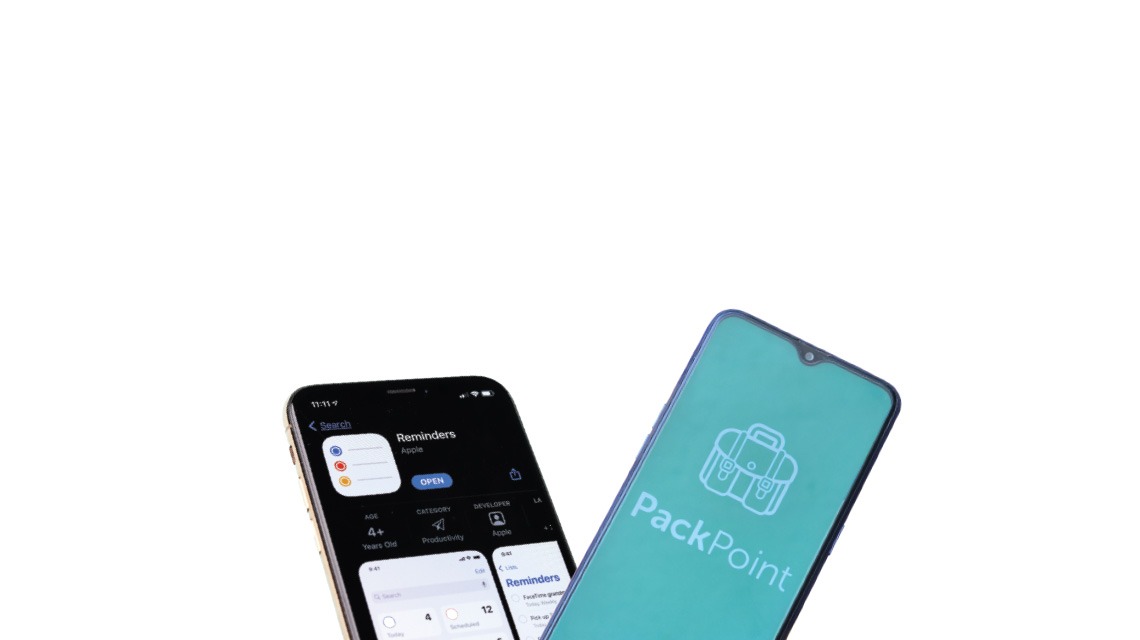 Once you've got your packing list sorted, it's time to think about how you're going to get there. In addition to the obvious apps for travel such as Uber, Lyft and your airline's mobile app, you might want to consider a few other apps to help you along your way. One of these apps is the already-mentioned "do it all" travel app, TripIt.
"Personal technology has truly revolutionized the way we travel and stay organized."
TripIt is a travel organizer app that takes all your travel confirmation emails from hotels, car rental companies and airlines, and creates a master itinerary for you. It will update in real-time if there are any changes or delays to your travel plans, and you can even add notes and recommendations for places to eat or things to do at your destination. With TripIt, you'll always know what's coming up next on your trip, and you can easily share your itinerary with friends or colleagues.
Another handy app is FlightAware. At its core, FlightAware is a tracker that keeps tabs on every flight—past, in the air or future. I find it's often more accurate than the airline's estimates of departure and arrival. On a couple of occasions, I knew about a delay before it was officially announced and was able to get first in line for phone assistance on rebooking on a different flight. You can also see what the "normal" flight path is, vs. any unexpected deviations or holding patterns.
All the Files, Everywhere, All at Once
Just like I use packing list apps to make sure I have all my toiletries and socks, I use cloud apps like Dropbox and Google Drive to make sure I have all my show files—whether it's the latest run-of-show from the client or the keynote speaker's NCSS_Final_Presentation_v12_may2023_USETHISONE_final_FINAL.ppt, these apps keep the files I need within my reach, at all times.
Our organization uses Google Drive for cloud storage, so before I leave, I make sure I click on the folder and select "Keep Offline." This makes sure my computer has a local version of all the files, so when I first arrive on site I don't have to worry about what the convention center Wi-Fi password is, and  I can hit the ground running. Show files can be easily shared either digitally or via USB with the appropriate techs.
Read More: How AI-driven Wi-Fi Can Make Your Events Better
Combine this with the ability for most of these services to offer "upload links" where the client can directly upload their presentations and video files directly to these services, and you have a potent file organization system.
When traveling internationally, I keep a password-encrypted zip file on these file services that contain copies of my passport, driver's license, itinerary, reservation and other important docs. That way, in an emergency, I can access these documents from any device—phone, laptop or iPad. Often, I will put this encrypted ZIP file on multiple cloud services, just in case.
On Location
Once on-site in whatever city I'm arriving in, I start to rely even heavier on my smartphone. Both Android and iOS, depending on the version and manufacturer, have the ability to create custom home pages. I have a "travel home page" on my iPhone that I only enable when I'm…traveling. It keeps all the most important apps just a left swipe away, including Uber, Lyft, Delta, a couple of clock widgets for home and local times, FlightAware, Carrot Weather (an app for another discussion another time) and Google and Apple Maps. Sooooo many people I've spoken with have no idea of this feature in most modern smartphones and find it incredibly useful once they learn of it.
Of course, Google and Apple Maps are more than just navigation apps. You can use them to find nearby restaurants, coffee shops or attractions based on your current location. They also provide real-time traffic updates or transit information, so you'll always know the best way to get from point A to point B. When I take bus or train routes in a city, I can use these map applications to know what stop to get off at to get to the venue, or where is the nearest place to get a pint of Guinness or authentic Kansas City Barbecue. Neither is perfect, so I like to have both installed so I can compare and contrast the results.
Combine these apps with standbys like Uber Eats, Instacart or other delivery services and you'll never want for dim sum delivered to your hotel again!
Personal technology has truly revolutionized the way we travel and stay organized. From packing to itinerary planning to file sharing, there are a ton of tools and apps out there that can make the travel experience more enjoyable and less stressful. By using the right technology tools, you can focus on what really matters—working smartly, experiencing new cultures, meeting new people and making unforgettable memories for both your attendees and yourself!
This article appears in the July 2023 issue. You can subscribe to the magazine here.