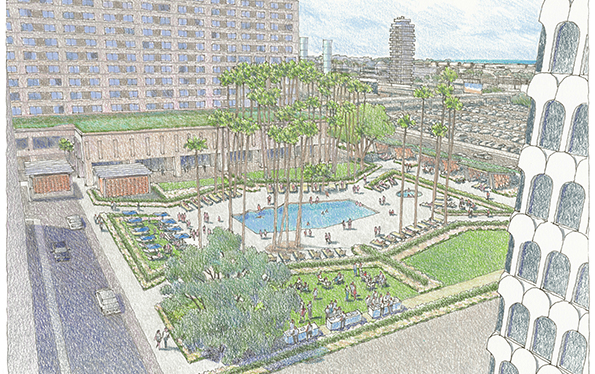 The Concourse Hotel at Los Angeles International Airport has revealed a major part of its transformation to become Hyatt Regency Los Angeles Airport in early 2016.
Meeting and event planners will appreciate the new lush event lawn being built behind the hotel. The reimagined space will serve as an ideal spot for guests to recharge and retreat, as well as becoming a great destination for events once complete by May 15, 2015.
"We look forward to kicking off spring with the opening of the new event lawn, yet this space is just a preview of the magnificent interior renovation that is already underway," says Managing Director Jeff Rostek. "With a location so close to the airport, this hotel is being designed as the premier destination at LAX."
Designed by New York City-based SWA Group, the new lawn will be centered around a swimming pool. Three distinct lawns are shaped by pathways and lined with grasses, trees, shrubs, and succulents. Several cabanas have been incorporated to provide more privacy. The new space will be able to accommodate up to 750 guests.
The Concourse Hotel is located one block from Terminal 1 of Los Angeles International Airport, providing travelers with easy access to the airport via complimentary shuttle service every 10 minutes.
For more information, visit www.concoursehotellax.hyatt.com or contact the hotel directly at (424) 702-1234.