The final day of PCMA Convening Leaders at David L. Lawrence Convention Center in Pittsburgh was the exclamation point on the message that business event strategists can and should be a force for good in the world.
"No economic good will be successful if we don't have social good," said Sherrif Karamat, PCMA president and CEO, in a small breakout room before the final speaker (more on actor Geena Davis later) took the stage to address the approximately 3,800 people who traveled from 36 countries to be there for the flurry of networking and education sessions. More than 900 also watched parts of the presentations on livestream.
"Doing good" may sound like a stretch when event managers are already turning themselves into pretzels dealing with so many other challenges, including navigating rising costs, managing risk and picking a registration technology platform—all topics covered in Convening Leaders sessions, by the way. Karamat broke the challenge down into specific steps and demonstrated how it is done by taking some chances.
Partner on the Tough Issues
Karamat is not shying away from big problems, but he is also not trying to boil the ocean alone.
In May, he challenged the biggest players in the industry to sign The Ascent CEO Promise, a pledge to be more inclusive in their workplaces and events. This includes working to ease tensions around gender, sexual orientation, race, ethnicity and disabilities. So far, 130 companies, including Hyatt Hotels Corporation, Greater Miami Convention & Visitors Bureau, Destinations international and National Restaurant Association, have signed on. Those companies now have access to webinars and training materials designed to overcome unconscious bias and will be part of the conversation about how to continue to make workplaces work for everyone.
Cultivate Empathy
IMEX sponsored a series of VR booths designed by Stanford Virtual Human Interaction Lab and Columbia University to help people experience realities very different than their own—those of a homeless person, a minority and a degrading ecosystem. The simulations, associated sessions and after-chats (new agenda items developed at a previous hackathon to help people better process and take action on presentations) leveraged technology to address very human problems.
"Event professionals play a powerful role in bringing people together around the world, sparking conversations one person at a time," Karamat said.
Put Resources in Right Hands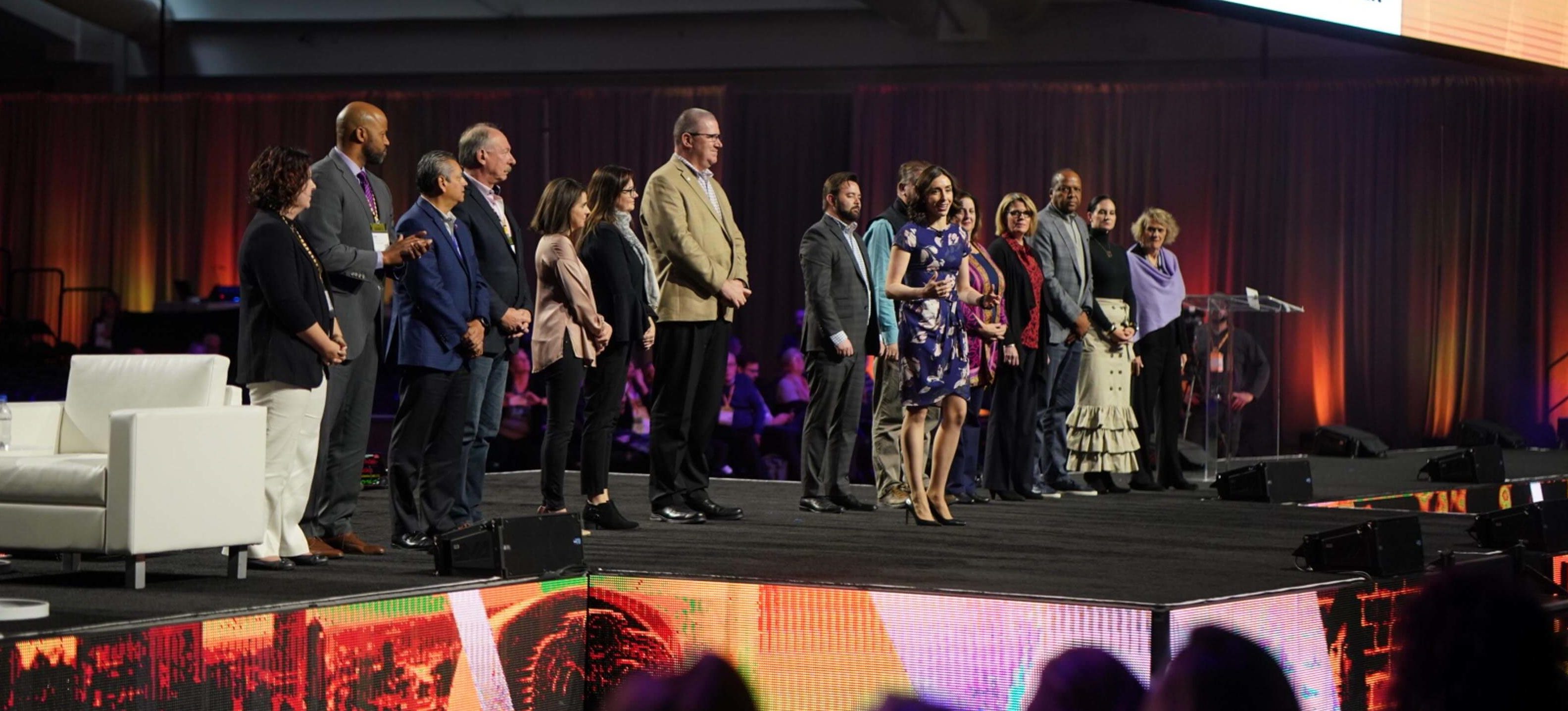 Last edited by Sofia Wright on October 8, 2019 at 9:58 am
PCMA Foundation, which raises funds through Party with a Purpose and other vehicles throughout the year, collected $644,000 in scholarships and research grants to support the professionalization of the industry.
Another issue PCMA Foundation is tackling with the help of others in the industry is human trafficking. "It happens everywhere, in hotels and airports, and we are uniquely positioned to say something if we see something," Karamat said.
At the signing of The Code of Conduct for the Protection of Children from Sexual Exploitation in Travel and Tourism, PCMA Foundation Chair and President of Maritz Global Events David Peckinpaugh and incoming chair and Executive Vice President of Smith Bucklin Carol McGury explained that by partnering with ECPAT-USA, PCMA can achieve more together than if the organization tried to develop all the resources alone.
"As an industry, currently worth over $150 billion, we have the power of advocating and raising awareness of the human trafficking epidemic, and have a stronger voice for the vulnerable, whose opinions and opportunities have been taken away from them," said Peckinpaugh, who presented a session devoted to the issue.
As the organization continues to grow in the Americas, Europe (where knowledge exchanges are delivering resources and which will host an influencer summit in Barcelona in September) and Asia-Pacific (where the organization has a growing presence in Singapore and is planning a conference in Macao in November), Karamat hopes PCMA can be an even greater force for good around the world.
"Business events are a platform for economic and social progress—that doesn't have borders," he said.
Choose Speakers Wisely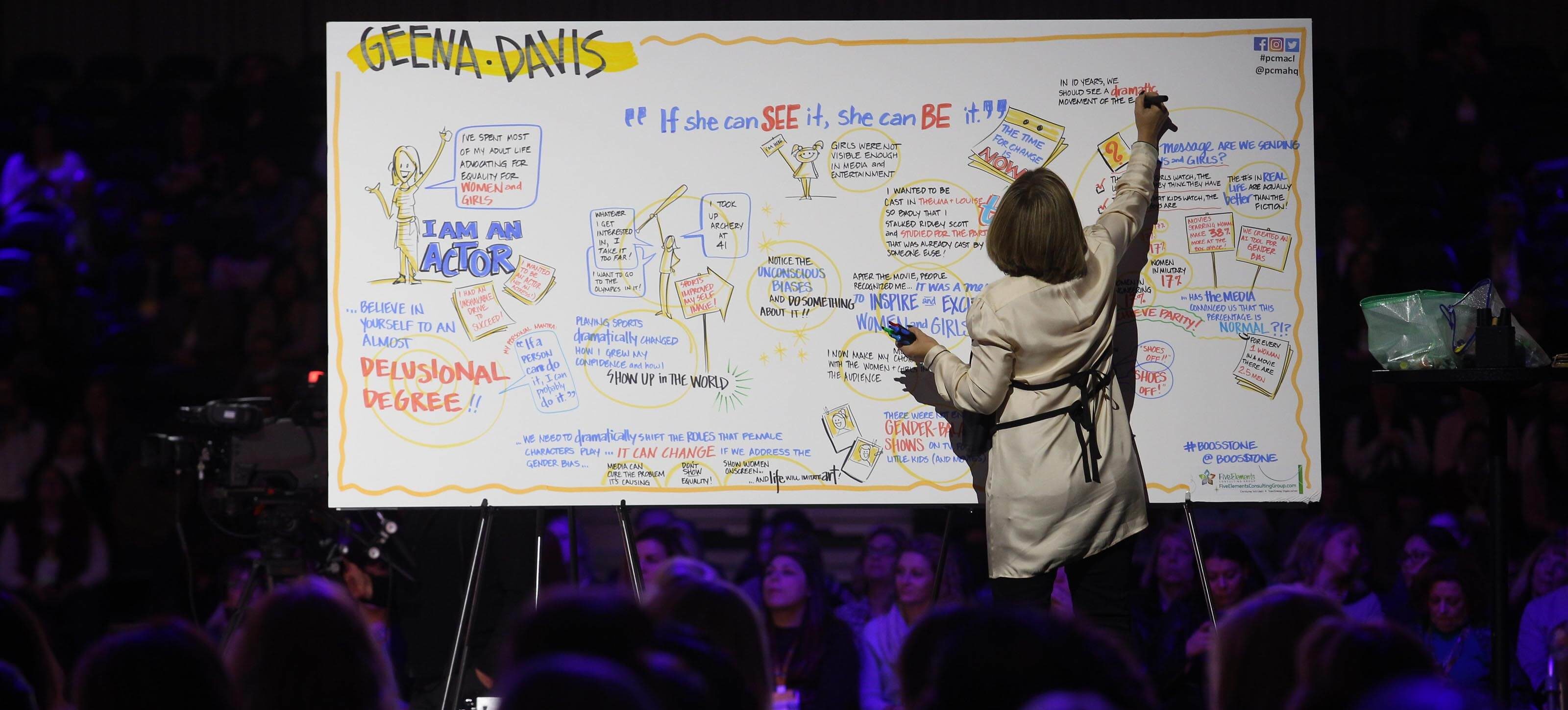 The people on stage set the tone for the discussions at the closing reception, on social media and back in the office. Being intentional about putting a variety of faces representing a variety of ages, genders, races and points of view allows the diverse audience members to feel represented and welcome.
Karamat went beyond the industry to find people whose stories inspired others because they did the right thing when it was not the easy thing.
In addition to marketing guru Seth Godin, diversity expert Steve Pemberton, millennial entrepreneur Nadya Okamoto and tennis legend Billie Jean King, Karamat brought in some Hollywood star power—Geena Davis—to talk about the power of raising awareness (I told you there would be a Thelma & Louise moment). After a career playing role models that included a gifted baseball player in A League of Their Own and president of the United States in Commander in Chief, she realized how lopsided views of women were on the big screen and started Geena Davis Institute on Gender in Media, focused on collecting data on children's programming. Her studies found that male leads outnumber female leads 2-1. Don't get her started on the types of roles they get to play. And the statistics are even worse in cartoons, where the mother is almost always killed off right away and princess seems to be the only job worth pursuing. This is despite the fact that statistics show movies with strong female lead characters make 38 percent more revenue.
Davis blamed this misrepresentation for creating unconscious bias that keeps girls from going into math and science careers, and said the first step is awareness. "If she can see it, she can be it," Davis said.
That is why Karamat thinks event strategists are in the perfect position to bring about change. "The first step is awareness of a problem, followed by ownership—that is a difficult one—and then you can move to action," he said.