The Breakers in Palm Beach, Florida.
Along Billionaires Row, some of the world's richest own colossal mansions in Palm Beach, Florida. At Smart Meeting East National, we met where the creme de la creme vacation at the majestic The Breakers resort Aug. 26–28. The historic oceanfront property burned down twice before the current structure was built to last in 1926.
"This is better than church. This is awesome," said Marin Bright, Smart Meetings founder and CEO, in her opening remarks.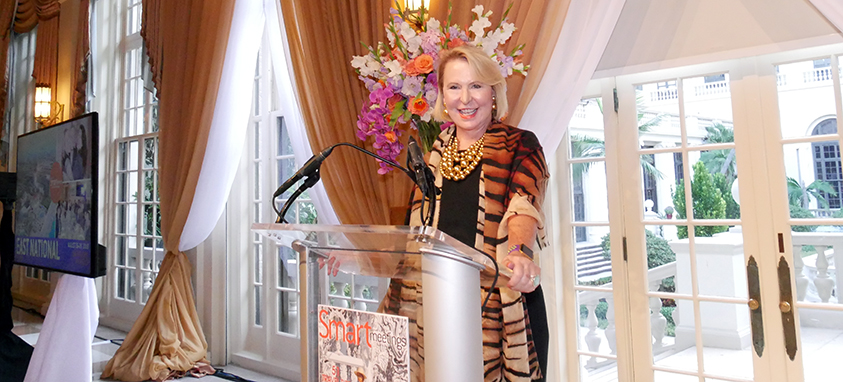 With an aura of wealth in the salty sea-air, it was only natural for big business to be done and waves of RFPs to crash into shore during the signature one-on-one appointments involving more than 140 planners and suppliers. Since the inception of these national and regional events in 2009, "I'm proud to say that over $500 million worth of business has been booked as a result of Smart Meetings," Bright said.
Do Ask, Do Tell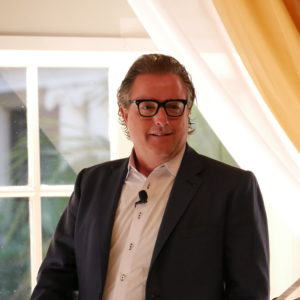 One of the topics speaker Daren Martin touched on in his keynote was the difference between ask-assertive and tell-assertive people. He said different personality types go about requesting something from someone—some choose to phrase it like a question with a soft tone of voice, while others take a more authoritative approach by making a firm statement.
Attendees from each group chimed in about how they view members of the opposite group. Ask-assertive people generally viewed their tell-assertive counterparts as bossy and tell-assertive people grew impatient with ask-assertive people as they wait for them to get to the point in a round-about way.
Martin has authored four books, A Company of Owners: Maximizing Employee Engagement, Whiteboard: Business Models that Inspire Action, The Sink: Radical Transformation with One Small Change and Beached Whale: Learning to Swim in the New Ocean.
Small Talk Makes a Big Difference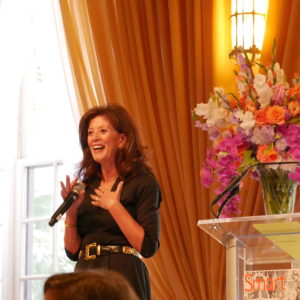 Networking and social functions thrust people into the sometimes-uncomfortable scenario of faking small talk with new acquaintances or catching up with associates you've previously met. Debra Fine, author of The Fine Art of Small Talk, equipped participants with new tools they can apply immediately at one-on-one appointments. She taught about appropriate opening lines to break the ice and how to properly phrase questions that won't be offensive, pry too much or force people to discuss a topic they would rather avoid.
For instance, if you know an individual has a child who is a high school senior, asking where they intend to go to college may be a sore topic. What if that student doesn't intend to go to college against the parent's wishes? Instead, ask for an update on the child. This leaves the situation open-ended for the mom or dad to share what they would like to share. Fine also wrote The Fine Art of The Big Talk and Beyond Texting: The Fine Art of Face-to-Face Communication for Teenagers.
'Thoughts from a New Member,' a poem by Debra Fine
I see you at the meetings, But you never say hello.
You're busy all the time you're there
With those you really know. I sit among the members,
Yet I'm a lonely gal. The new ones feel as strange as I,
The old ones pass us by. Darn it, you folks urged us to join
And talked of fellowship, You could just cross the room, you know,
But you never make the trip. Can't you just nod your head and smile
Or stop and shake a hand, Then go sit among your friends?
Now that I'd understand. I'll be at your next meeting,
And hope that you will spend the time to introduce yourself,
I joined to be your friend.\
Valley Girl Vocab
So, like, have you ever like, you know, counted how many times you like, say the word "like" and other unnecessary words in a sentence? Take a moment and tally up your score in any given conversation. You'll likely be embarrassed to admit your number. During his keynote address on Tuesday morning, Smart Meetings TV host Mike Lyons raised awareness about this common habit of using filler words and how to edit yourself.
LikeSo app is a personal speech coach that records you speaking and measures your use of filler words. It makes you concentrate and focus on avoiding these key words, which sometimes forces you to pause silently mid-sentence while you wrack your brain for an alternative word.
Intelligent speech is a large part of planning and conducting meetings, so try not to sound like Elle Woods from Legally Blonde or Cher Horowitz from Clueless the next time you lead a presentation in a boardroom or on stage. Some people have a "swear jar" to penalize themselves if they curse, so consider making yourself a "filler-word jar" as an added incentive to quit this habit.
On the first day of the conference, Lyons also treated attendees to a special rendition of the song "The Best Is Yet to Come," customizing the lyrics to fit Smart Meetings' mission. The final day wrapped with another Frank Sinatra tribute performance, this time to a tweaked version of "That's Life."
Balancing Act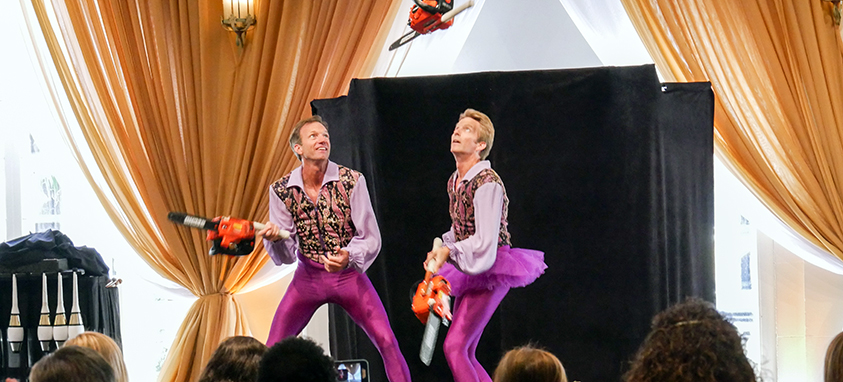 Metaphorically speaking, meeting planning requires juggling and, at times, feels like a three-ring circus. America's Got Talent finalists The Passing Zone take juggling to the extreme by tossing and catching machetes, a stun gun and other sharp and dangerous objects, sometimes while balancing on shoulders and wobbling on a rola bola.
While keeping the audience captivated with their humor and death-defying tricks, the talented duo of Jon Wee and Owen Morse taught the crowd about innovation, collaboration and execution, three things meeting planners are tasked with every day. Everyone, especially two brave souls—Andrew Neaubauer, director of sales and marketing for Hilton Marco Island Beach Resort and Spa, and Josh Pelczar, national sales manager at Big Sky Resort—who were picked from the audience to participate in the show, could also take away a valuable lesson in trust.
We Built This Bike with Nuts and Bolts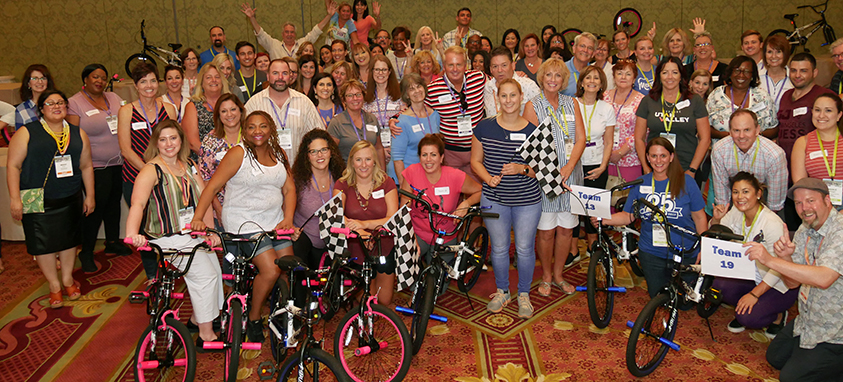 Urban Youth Impact is an organization that helps inner-city youth realize there is hope for a brighter future by helping them develop literacy, career and life skills. As a CSR team-building activity, East National attendees divided up into teams to compete in obstacle courses and a trivia contest—it was like elementary school field day for adults.
After completing each task, teams received a tool needed to build a bicycle. The bicycles will go to the organization's Christmas Store, where low-income parents can "shop" for complimentary gifts for their kids.
Fun, Food and Friendship
The Breakers did a superb job of throwing memorable evening receptions on Sunday and Monday night. The first one, held in Circle Ballroom, featured an abundance of food options, including tender filet mignon, sushi, fresh-baked chocolate chip cookies, and spiked and candy-licious milkshakes. Guests enjoyed the music of Timothee Lovelock, a multitasking electric violinist and deejay. The violin was illuminated by LED lights and sparklers.
The second dinner reception, coined a "Flamingle," was set to be outside, but with rain showers in the forecast, the hotel made the call early in the day to move festivities indoors. Aside from more tasty food, this party featured lawn games such as corn hole and the limbo, cigar rolling, a live painting of a Lilly Pulitzer-influenced artist, Don Julio tasting and a calypso band. One of the highlights was a robotic photobooth from Fotoboyz Events that followed guests around to snap the perfect well-lit photo, GIF or Boomerang to share on social media.