Albuquerque 
Albuquerque Convention Center
Modern facility; serves as a downtown anchor, with the concerts and events of Civic Plaza nearby; recently completed $23 million renovation to ballrooms, technological infrastructure, kitchen, and interior and exterior design; large windows bring the sun inside; 2,300-seat Kiva Auditorium; 270,000 sq. ft. of meeting space.
Albuquerque Marriott Pyramid North
Close to Old Town; Pyramid 51, a noted restaurant, recently completed renovations; business center; fitness center; free Wi-Fi; pool; 310 guest rooms; 30,505 sq. ft. of meeting space.
Hotel Albuquerque at Old Town
Surrounded by historic Old Town; pool; free Wi-Fi; fitness center; noteworthy Garduno's Restaurant; catering and audiovisual services for meetings; flamenco dance performances; 188 guest rooms; 62,000 sq. ft. of meeting space.
Hotel Andaluz
AAA Four Diamond hotel; Conde Nast Traveler Reader's Choice Top Ten Hotels in the Southwest; sustainable practices; three eateries; 107 guest rooms; nearly 7,000 sq. ft. of meeting space.
Hotel Chaco
Was scheduled to open May 26; design elements of ancient Chaco Canyon; Level 5 Restaurant; noteworthy native art; 118 guest rooms; 1,430 sq. ft. of meeting space, plus space at adjacent Hotel Albuquerque.
Hotel Parq Central
Very distinctive hotel, with arched windows and wood floors; outdoor dining, gardens; rooftop lounge with stunning views of the city; 74 guest rooms; 5,300 sq. ft. of meeting space.
Hyatt Regency Albuquerque
Downtown hotel close to Albuquerque Convention Center, cultural and historic sites; two restaurants, Starbuck's, two bars; fitness center; heated outdoor pool; 395 guest rooms; 30,000 sq. ft. of meeting space.
Hyatt Regency Tamaya Resort and Spa
Sprawling New Mexico-style resort on 550 acres; created by Santa Ana Pueblo tribe; three pools; spa; five restaurants; 350 pueblo-style guest rooms; 29,000 sq. ft. of meeting space.
Los Poblanos Historic Inn & Organic Farm
B&B set amid expansive lavender fields and gardens; all 20 guest rooms have kiva fireplaces and patios; pool; fitness center; popular restaurant serves farm-to-table offerings; 17,296 sq. ft. of meeting space.
Nativo Lodge
Very cool hotel; rooms painted with Native-American art, from traditional to avant-garde; indoor-outdoor pool; free Wi-Fi; Spirit Winds Cafe; 145 guest rooms; 7,154 sq. ft. of meeting space.
Santa Fe
Drury Plaza Hotel in Santa Fe
Historic renovation includes private terraces and views of Sangre de Cristo Mountains; rooftop pool, hot tub and bar; LEED Certified; award-winning Eloisa restaurant; near downtown Santa Fe, Georgia O'Keeffe Museum and Meow Wolf.
Eldorado Hotel & Spa
Adobe landmark in adobe city; Old House restaurant has superb food, hacienda ambience; fitness center; Nidah Spa; 219 guest rooms; 17,520 sq. ft. of meeting space includes rooftop area.
Hilton Santa Fe Historic Plaza
Conveniently located in downtown Santa Fe near the Georgia O'Keeffe Museum and Santa Fe Community Convention Center; award-winning Ortiz Restaurant; 8 meeting rooms; 3,400 sq. ft. of meetings space; accommodates 300 people; seasonal outdoor pool/hot tub; kiva fireplace; fitness center.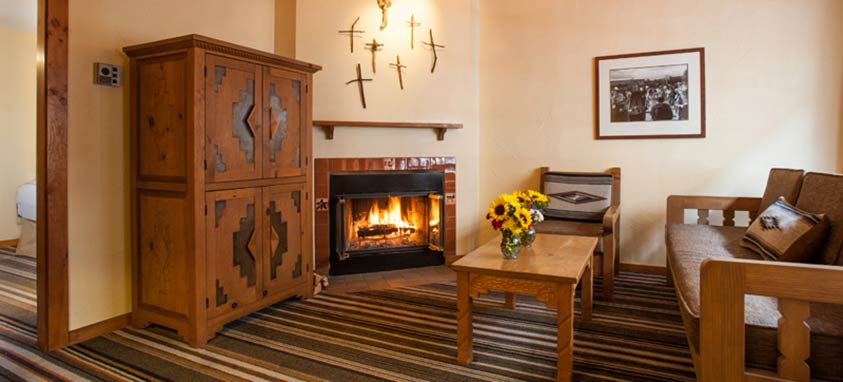 Hotel Chimayo
Guest rooms feature distinctive artworks, Old New Mexico furniture; business center; complimentary walking tours of Old Santa Fe; Estevan Restaurant serves locally sourced food; 56 guest rooms; 1,736 sq. ft. of meeting space.
Hotel Santa Fe the Hacienda & Spa
Luxurious hotel in revitalized Railyard District, which features shops, entertainment, restaurants; Native-American artwork; pool and hot tub; 170 guest rooms; 14,749 sq. ft. of meeting space.
Hotel St. Francis
Santa Fe's oldest hotel; an adobe building on National Register of Historic Places; excellent Tabla de Los Santos restaurant; streetside veranda; 77 guest rooms; 4,702 sq. ft. of meeting space.
Inn and Spa at Loretto
Impressive adobe structure with towers; close to plaza; legendary spa; Luminaria Restaurant and Patio offers excellent dining; adjacent to historic Loretto Chapel; 136 guest rooms; 12,000 sq. ft. of meeting space.
La Fonda on the Plaza
Adobe landmark in the heart of historic Plaza; AAA Four Diamond hotel; hand-carved beams, stained-glass skylights; popular La Plazuela Restaurant; 180 guest rooms; 20,112 sq. ft. of meeting space.
La Posada de Santa Fe Resort and Spa
Stunning Southwestern art throughout; Spa Sage; Old Mexico ambience; three restaurants; meeting venues have historic atmosphere, with advanced technology; 157 guest rooms; 4,500 sq. ft. of meeting space.
Rosewood Inn of the Anasazi
Luxury hotel celebrating the spirit of the native peoples; unique interior design elements; Anasazi Restaurant proffers local cuisine; massage, aromatherapy treatments; 58 guest rooms; 1,100 sq. ft. of meeting space.
Santa Fe Community Convention Center
Adobe structure with Native-American artifacts and design; LEED Silver-certified structure; close to the Transit and Civic Center; underground parking; indoor fireplaces; outdoor terrace with spectacular views of city and mountains; innovative audiovisual capabilities; 72,000 sq. ft. of meeting space, including a 17,000 square-foot column-free ballroom.
Further Reading: