Hotel Terra, Jackson Hole, Wyoming
Companies looking to take their top earners on a memorable executive retreat are looking for a place that offers myriad luxury experiences and leaves their guests feeling pampered and satisfied. There are countless reasons why Jackson Hole is that place. Why do the likes of Harrison Ford, Sandra Bullock, Dick Cheney and other celebrities call Jackson, Wyoming, home? We can't say, for sure, but the jaw-dropping views coupled with charming western lifestyle lend a hint.
Here are some of the most alluring attractions for executive retreats.
1. Once-in-a-lifetime wildlife encounters. At dusk and at dawn, when the air is cool and quiet, the elk, bison, mule deer, moose, coyote, birds of prey and other wildlife come out of hiding. Getting up before the sun to embark on a peaceful safari in Grand Teton National Park is truly an unforgettable experience.
2. Variety of lodging experiences. Jackson Hole is extremely approachable no matter the bottom line, thanks the range of hotel options nearly as vast as the surrounding plains. From the Five-Star, AAA Five Diamond Four Seasons Resort Jackson Hole (124 rooms and suites) to the 202-room Wyoming-chic Snow King Resort, upscale boutique Hotel Terra Jackson Hole, family-friendly Teton Mountain Lodge & Spa,  to the many condos, inns, luxury homes and townhomes offered by Jackson Hole Resort Lodging management company.
3. Arguably one of the greatest landing experiences at an airport. Jackson Hole is the only airport in the country that is located entirely within a national park, and its one of the few that require passengers to board and exit outside via ramp. The backdrop stepping off the plane can only be described as awe-inspiring–there is nothing quite like it.
The best part is, the airport itself is lodge-like, decorated in overstuffed leather recliners and bookended with fire places.  It offers nonstop flights to twelve major US cities, to boot.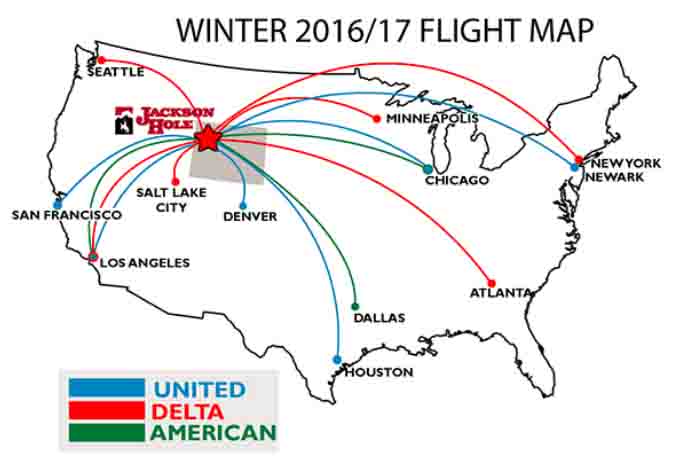 4. Ski-in meetings. The central village at the bottom of the Tetons is walking distance from the majority of hotels and resorts, and heated sidewalks lead the way to myriad restaurants, spas and event spaces. Teton Mountain Lodge & Spa is just one of the properties where attendees can literally ski or board right up to the side of the meeting room, hang up their skis, set their boots on dryers and plop down in the boardroom. You can't come up with a more invigorating breakout session than that.
5. Tram happy hour. Groups can arrange for beverage service before boarding an aerial tram. Just picture your group sipping spiked hot cocoa while soaring more than 4,000 vertical feet en route to a catered dinner on top of the mountain.
6. Three places to golf.  Take your pick: the 18-hole, Robert Trent Jones Jr.-designed Jackson Hole Golf & Tennis Club; 18-hole Arnold Palmer & Ed Seay-designed Teton Pines Country Club; or the Tom Fazio-designed Shooting Star Jackson Hole Golf Club. Unbelievable backdrops are guaranteed at all three.
7. So much more than skiing. The activities available in Jackson Hole are endless. Snowmobiling, snowshoeing, cross-country skiing, sleigh rides, winter (and summer) biking tours, paragliding, hot air ballooning, camping, park tours, running trails, rafting, fishing–and that's just the list of things to do outdoors. The options for museums, galleries, shopping, spas, restaurants and nightlife in downtown Jackson are just as long.
8. Truly unique meeting spaces. We've all heard "a ballroom is a ballroom,"–there isn't a whole lot you can do to spruce up a ballroom or a boardroom. But when they outdoors is as beautiful as it is in Jackson Hole, the best thing you can do for your event space is show off the great outdoors. And that's exactly what Hotel Terra did with it's three meeting rooms. Floor-to-ceiling windows, french doors, stone fireplaces and warm, earthy carpets and drapes create intimate settings that don't look like any other hotel meeting room.