The Evergreen State lives up to its name
Sustainability was the focus of this year's IMEX and will continue to be a focus in the industry through 2023 and beyond. Rightfully nicknamed the Evergreen State, Washington has been a leader in sustainability for the last two decades.
The cleaner air travel options, green business practices in hospitality, and especially, the culinary scene in Washington's biggest cities make it a desirable destination for eco-conscious professionals. From sustainable seafood in Seattle and Tacoma to locally sourced grains in Spokane, Washington promises great responsibly sourced dining in addition to its many other sustainability initiatives for the event industry.
Arrive in the Pacific Northwest
Although summer is over, travel remains heavy at Seattle-Tacoma International Airport (SEA) where Port of Seattle anticipates the number of passengers could grow by 1 million by 2035. To ensure the airport can handle the increase in traffic and cargo demands, the Sustainable Airport Master Plan (SAMP) outlines the changes needed for the airport to accommodate travelers without compromising the Port's dedication to sustainability and energy efficiency.
Clean Air on the Go
Renewable natural gas (RNG) is the focus for SEA when it comes to transportation. With the port aiming to be the most energy-efficient port and airport in the nation, electric vehicles were made available at SEA for years.
Read More: Now Boarding at Gate Green…
The fleets of vehicles transporting passengers and employees as well as the vehicles providing ground assistance for arriving planes are being upgraded from fuel-powered to wind electricity in order to reduce greenhouse gas emissions. Port of Seattle is attempting to be carbon neutral or carbon negative by 2050.  
Meeting and Staying Evergreen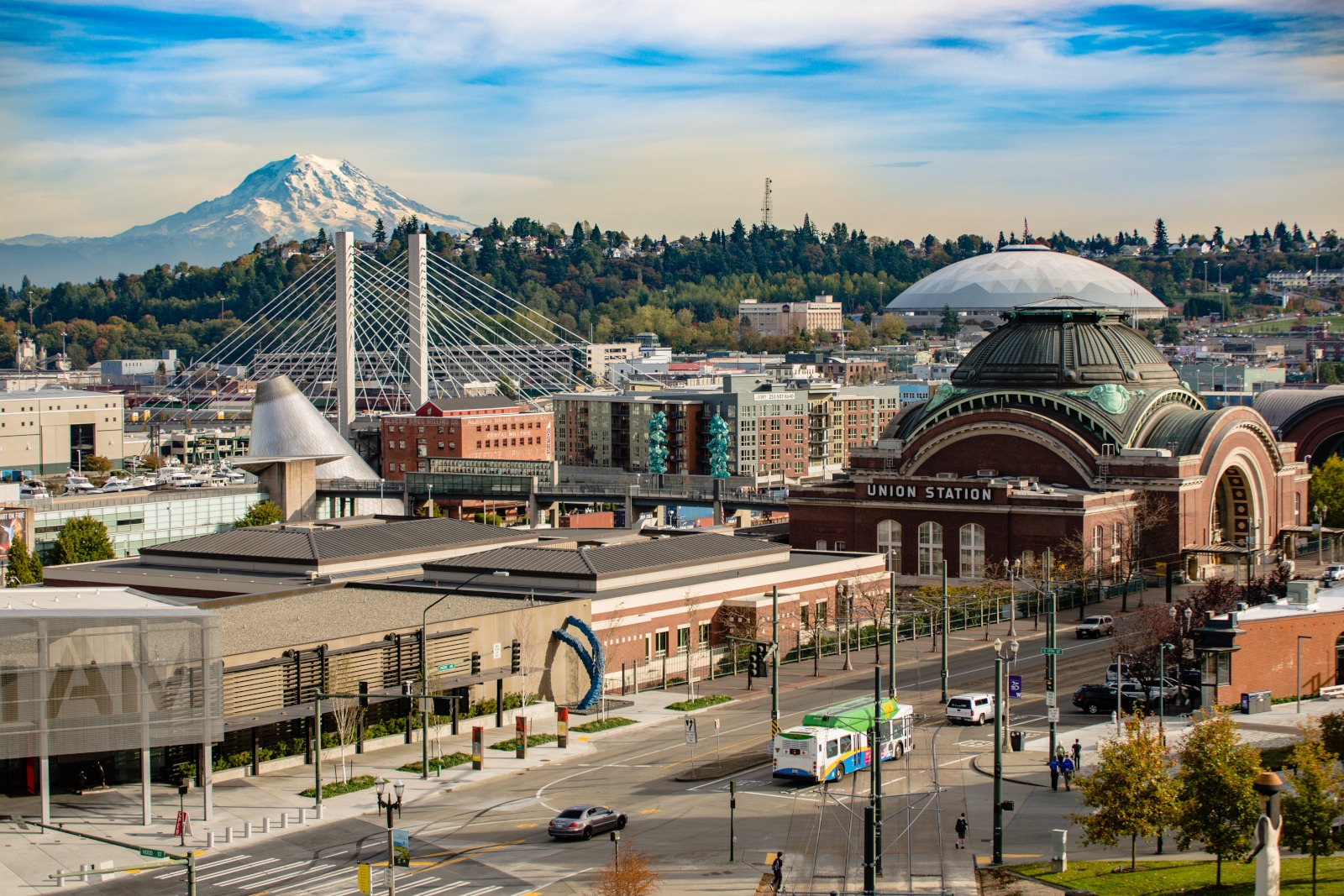 As one of the pioneers of sustainability, Washington's hospitality and events industry continues to be eco-conscious. Even during expansion projects from event centers and hotels, the commitment to recyclable materials, environmentally responsible infrastructures and policies to reduce waste stay a priority.
Seattle
Downtown Seattle's hotels and convention center epitomize urban sustainability efforts. RC Hedreen has built three hotels within a block from each other in downtown Seattle that is now referred to as A Seattle Collection and is committed to green business operations. Hyatt Regency Seattle, Grand Hyatt Seattle and Hyatt at Olive 8 each have different personalities, yet sustainability is a shared thread.
Green cleaning products are used across the hotels and the Elaia Spa in Olive 8 supplies recyclable and reusable products. Half of the culinary team's products are locally grown and produced and 60% of the seafood is from sustainable seafood sources. Hyatt at Olive 8 was Seattle's first Silver LEED-certified hotel in 2009—an example of Washington pioneering the importance of sustainability in the hospitality industry.
Abby Polasko, marketing director for A Seattle Collection, says Hyatt Corporation has "aggressive goals in this area" when it comes to sustainability. The company is launching a sustainability guideline for meeting planners that will communicate what Hyatt is doing, what the individual hotel is doing and what the planner can do, says Polasko.
Walking distance from A Seattle Collection is Seattle Convention Center's new Summit building slated for opening in January of 2023. Construction of the architecturally modern addition used recyclable materials. Seattle Convention Center President and CEO Jeff Blosser gives examples of how the 1.4 million-square-foot Summit building was focused on sustainability from the ground up.
"When we excavated the bus station, we recycled a majority of the rebar and concrete at that site," says Blosser. Other old buildings from Seattle's history were also utilized, including historic Auto Row structures. "One of the Honda dealerships had these beams in the old building, they were like from the 1930s, so we recycled and reused the beams in part of (Summit) building. We did as much as we possibly could on the front-end of the excavation to recycle and reclaim as much as we could."
Tacoma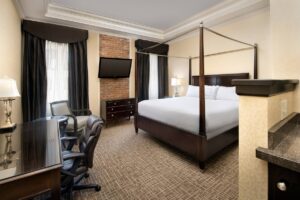 About an hour south of Seattle is the city of Tacoma, sitting between the foot of Mount Rainier and kissed by the saltwater of the Salish Sea, Tacoma is a scenic destination for mid-size meetings and events.
Tacoma's natural geography is unmatched, but the city also has a lively downtown metropolitan area. Courtyard by Marriott Tacoma Downtown is steps away from Tacoma Convention Center, fine dining restaurants and cultural attractions such as museums and theater. The hotel offers 5,708 sq. ft. of event space and three meeting rooms.
Reduce your carbon footprint by having your event outside! The City of Tacoma has created the Green Events Program. Meeting professionals who choose this option can be sure their event is the greenest of the green as their event will include bike racks for a cleaner air initiative and recyclable containers and content paper. Green Events Program also reduces waste by donating excess food.
Participation in the Program can earn you a Green Merit or Green Excellence certification. As sustainability is a hot topic in the events industry, the seal will be evidence of your commitment to being environmentally responsible. Costs will also be lower—for you and your vendors.
Spokane
Want the best of both small-town Northwest and a culturally rich city? Spokane strikes that balance. Jessica Deri, sales director for Spokane Convention Center and First Interstate Center for the Arts, describes the dichotomy of Spokane well.
"Spokane has all of the amenities of a big city without the headaches," says Deri.
Spokane River runs through the center of the city, providing scenic views for Davenport Grand's 716 guest rooms and 62,800 sq. ft. of meeting space, one of two hotels connected to Spokane Convention Center.
Spokane Convention Center is Silver LEED-certified and has implemented eco-friendly infrastructural components and sourcing policies. The center has installed solar panels, flatware is compostable and cooking oil is recycled.
Spokane Convention Center participates with American Fisheries Society established by Spokane Tribe of Indians and their salmon replenishment program. Chinook salmon are released into the Spokane River to rebuild salmon runs and hosts a "salmon draw." The program ensures sustainability and limits over-harvesting of the fish.
Seafood and Grains
Seafood is not just a commodity in the Pacific Northwest, it is part of the culture. For centuries, its ports have been the main dock for Alaskan fishing vessels to deliver to the lower 48. For many, fishing is a multi-generational way of life and a large part of the economy. Sustainable seafood is necessary for the industry to continue.
Read More: Healthy World: The Emptying Seas
The more landlocked city of Spokane has breweries and bakeries sourcing their grains from local farms. The grain farms also produce local wine and beer and all three cities have many restaurants proudly serving local Washington beverages. Both seafood and grains are staples of Washington's cuisine and the efforts to sustain their industries are impressive.
Responsible Fishing
Responsible consumption of seafood starts with education. Seattle Aquarium has partnered with Monterey Bay Aquarium in its Seafood Watch program to inform people about what sustainable seafood means and what meeting professionals can do to contribute. The aquarium is also a founding partner of the "Smart Catch" program, encouraging local chefs to support each other in their commitment to sustainable seafood.
Japanese restaurant Sushi Kappo Tamura (SKT) is a partner with Smart Catch and Seattle Urban Farm Company in its efforts towards sustainability. The partnerships guarantee the seafood at SKT is responsibly sourced and diners can be assured the restaurant is committed to environmental stewardship.
Also a hub of seafood fare, Tacoma's restaurants have the same dedication to sustainable fishing. The popular Duke's Seafood has seven locations around the Puget Sound and promotes that  100% of wild Alaskan salmon served was caught by humane methods and chicken and other ingredients are sourced from local and sustainable farms. Even their fishing boats are fuel efficient!
Grains of Spokane
Taste what grains should taste like with Spokane's sustainable wheat fields and old-school grain processing techniques. From bread to artisanal beers and spirits, locally grown grains are a staple of the region.
The Grain Shed grows and harvests landrace grains for its breads and beer and while most industrial farms have switched to chemical leaving for mass production, Grain Shed continues to use stone-milling and classic fermenting processes to retain the integrity of the ingredients.
It doesn't get more authentic than No-Li Brewhouse, it's in the name! No-Li takes incredible pride in their home base of the Spokane woods and the hands-on tradition of brewing artisanal beer. The family-owned business uses locally grown grains and touches every step of the brewing process.
A Way of Life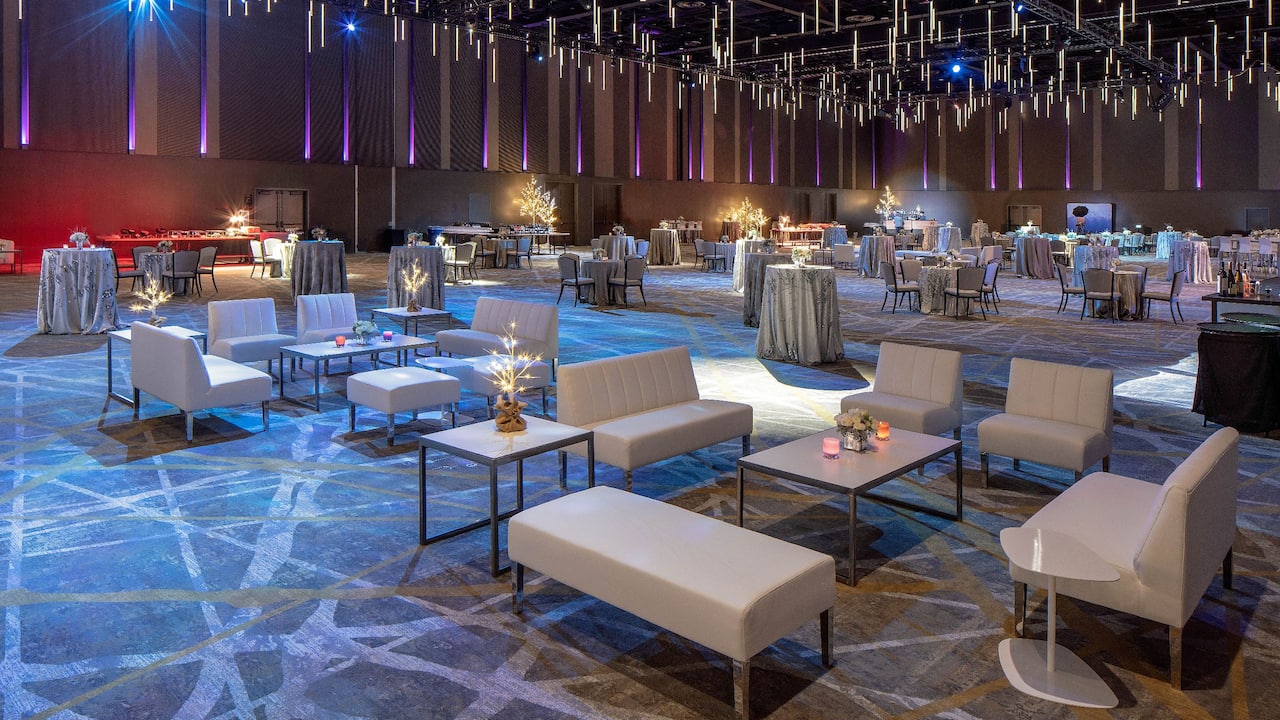 Protecting the environment and practicing purposeful travel when planning events is more than just a selling point from the Northwest's tourism industry. Washington has a deep connection with its environment and the efforts the state has made to reduce its carbon footprint in the hospitality, culinary and travel industries precede most in the country. When planning an event in Washington, the state urges visitors to be a conscientious and respectful friend to the environment.
"Sustainability…is just part of the DNA here."
– 
Jeff Blosser, Seattle Convention Center
Chelene Potvin-Bird, chief strategy officer for group development and sales for Travel Tacoma, stresses the importance for visitors to be eco-conscious. "Tacoma relies on our natural geographical platform," says Potvin-Bird. "We have Mount Rainier on one side of us and the Salish Sea on the other, and it's imperative that we protect those."
The deep history of the fishing industry and harvesting the grains of the land in the state of Washington has instilled a rare sense of responsibility in the people who call the region home. When asked if this background made sustainability efforts more personal for the Northwest, Blosser agreed.
"I think it really does," said Blosser. "This is what we're supposed to do," says Blosser. "And it's the right thing to do. It's what we do. That's the difference—it's just part of the DNA here."
Resource Box
This article appears in the December 2022 issue. You can subscribe to the magazine here.