This diverse urban destination has a friendly, outdoorsy side
True to its ranking as North America's fourth-largest city, Ontario's capital pulses with commerce and international culture. Bay Street is a melting pot of financial, legal and government activity, languages and cuisine. Nearby, Metro Toronto Convention Centre (MTCC) hums with 442,000 sq. ft. of exhibit space that recently hosted the annual conference for Destinations International.
But the city is also home to an emerging affinity for earth-friendly initiatives, outdoor venues and natural pleasures.
Following is a look at what is new, cool and fun for groups.
Arrive
Toronto Pearson International Airport (YTZ) is more than a gateway for hundreds of thousands of global attendees each year. It was the first airport in North America to achieve ISO 14001 certification and is committed to net zero carbon emissions by 2050. The property is also home to a honeybee apiary called YYbeeZ, that supports food security and sustainable agriculture in the area.
Meet and Stay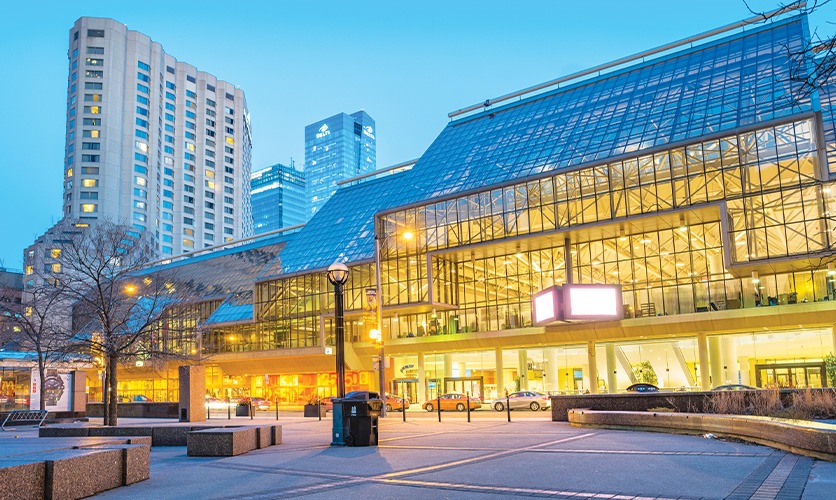 Sprawling MTCC also checks the sustainability box for meeting profs. The facility diverts 90% of event waste from landfills and offers clean energy from Bullfrog Power. The Voyage Control app can reduce CO2 emissions during move-in and move-out. Additionally, as much as 80% of wine and 65% of food sourced by MTCC last year was locally sourced.
Read More: Western Canada: Touring Indigenous Lands
The facility served as home base to Canadian International Autoshow, The MoneyShow and the annual Student Life Expo. The modular design allows the facility to straddle neighborhoods and make multiple groups operating simultaneously feel as if they the only show in town.
Despite its size, Toronto is a notoriously walkable city. Steps from MTCC, an array of hotel choices offer distinct experiences. InterContinental Toronto Centre is connected to MTCC through glass doors. Its 18,000 sq. ft. of meeting space and 584 guest rooms boast sweeping views of Lake Ontario and the city.
Delta Hotels Toronto across the street from MTCC offers 21,534 sq. ft. of meeting space and 567 guest rooms with a modern, organic vibe. The property has earned a four-green-key certification from the Foundation for Environmental Education.
Fairmont Royal York Hotel recently celebrated its 90th anniversary with a massive renovation that added an all-new entry experience and elegant lobby bar to the 1,300 guest rooms and rooftop garden. All 62,000 sq. ft. of event space have been lightened and brightened without losing the crystal and gold touches that have welcomed celebrities and monarchy.
1 Hotel Toronto opened in 2020 in the emerging King West Village neighborhood in walking distance of CN Tower. A biophilic ethic infuses the 112 guest rooms and almost 20,000 sq. ft. of indoor/outdoor meeting space. In the five restaurants featuring locally sourced ingredients, waste is used to fertilize the 2,300 plants on-site while kitchen grease is converted to biofuel.
Read More: 4 Ways the Office Is Becoming More Sustainable
The newest hip spot in Yorkville is W Toronto, which features 222 stylish modern guest rooms and, a W Sound Suite recording studio to accompany the 4,678 sq. ft. of meeting space and a trendy rooftop bar and Skylight restaurant.
Eat & Do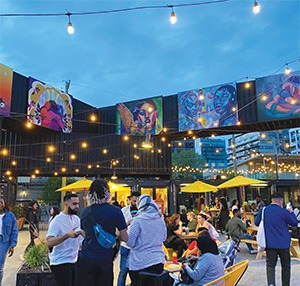 Inside MTCC, all of the wine and craft beer served is locally sourced. From Trius Winery Cabernet Sauvignon and Le Clos Jordanne Chardonnay to Steam Whistle Pilsner and Harmon's Lunchbox Non-alcoholic Lagered Ale, the initiative supports local businesses and delivers the bounty of the region to attendees.
Also within strolling distance of MTCC is the growing King West neighborhood. The aforementioned Destinations International event turned to the outdoor venue Stackt Market in the mixed-use development for a closing reception on an outdoor stage, surrounded by shipping containers that artfully house a collection of locally inspired restaurants and organic shops with views of the city.
Need to Know
2 million kilograms of waste (90%) diverted from landfills in 2018 alone
180 languages spoken and half of residents were born outside Canada
135 million people live within a 90-minute flight
This article appears in the October/November 2022 issue. You can subscribe to the magazine here.