Delving into Western Canada's past
Like many destinations around the world, Canada's history is one of a people exerting power on others. While impossible to fully reconcile for its past indiscretions, Canada is one of many nations that tries to shed light on its history and the many Indigenous nations that were on the land before European settlers arrived.
This comes in many different forms. In addition to keeping traditions alive through annual ceremonies and historical sites, there are plenty of enlightening Indigenous experiences for groups to engage in, as well as hotel properties and venues currently owned and operated by First Nation tribes.
Indigenous Arts and Crafts in Vancouver
Metropolitan Vancouver, British Columbia, is home to the third-largest Indigenous population in Canada, with 52,375 people. Cultural centers, traditional cuisine, Indigenous art and practices keep the population alive. Bringing your group here to explore and experience the population for themselves will both bond your attendees and ensure these Indigenous practices live on.
Sleeping, Eating and Experiencing the Culture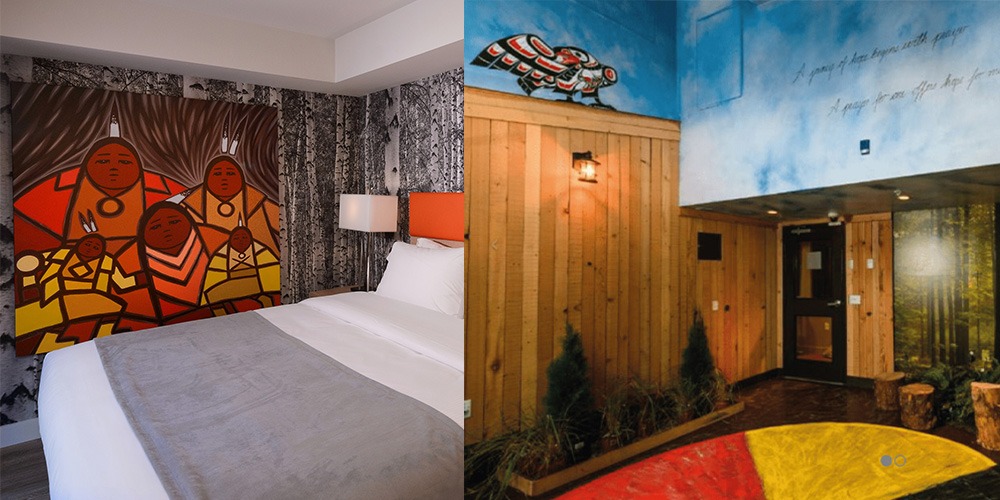 In 2012, the first Indigenous-owned hotel in Canada opened. It goes by the name Skwachays (pronounced 'swatch-eyes') Lodge Aboriginal Hotel & Gallery, formerly Pender Hotel. The property features 18 suites and is adorned with local artwork from Indigenous people on its top three floors.
"Canada is one of many nations that tries to shed light on its history and the many Indigenous nations that were on the land before European settlers arrived."
On its ground floor, the hotel doubles as an art gallery, and provides housing and studio space for 24 artists who span the entire spectrum of artistry, including jewelry, painting and carving. To date, the program has had more than 110 artists complete the program. Depending on participation and achievements, artists can look forward to a maximum residency of three years. Attendees are welcome to visit the studios of the resident artists.
Skwachays Lodge has five different spaces, which includes the Indigenous Art Gallery in the hotel lobby, where groups can meet among authentic art by local Indigenous artists. The Indigenous Smudge Room, one of the five venues, is where the property's Smudging Ceremony takes place. In this practice, Indigenous people place and burn plants— Cedar Bows, Sage and Sweet Grass—around a person's body, done as a way to purify their body and spirit.
Read More: Canada Remains Covid-Cautious
Whistler, north of Vancouver, is home to the Squamish and Lil'wat First Nations. The Squamish Nation, as it is today, has existed since 1923. Before this, the Squamish people were organized in separate physical communities: the Burrard Inlet, English Bay, False Creek and Howe Sound watersheds in. The majority of the Nation now lives on the North Shore of Vancouver in three communities in Western and Northern Canada. The Lil'wat Nation artifacts have been found in different areas of British Columbia dating back to 5,500 BC.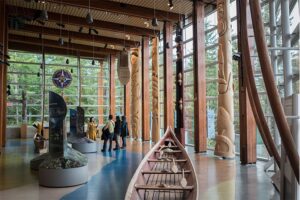 Groups can delve into deeper detail about both Nations at the Squamish Lil'wat Cultural Centre in Whistler, located on shared territory by the two Nations. The facility features four venues that make up just over 16,000 sq. ft. of meeting space; its largest space, Great Hall, is 5,372 sq. ft. In addition to group tours and cultural showings, the facility also hosts craft activities, where groups can try their hand at creating necklaces, bags, ornaments and more.
Salmon n' Bannock is the only indigenous owned and operated restaurant in Vancouver, sourcing all its ingredients from the coast of British Columbia. Salmon is served here, as the name suggests, but it goes beyond basic salmon fillets. There's the Urban Sage Smoked Salmon Burger, made with Lemon Aioli, and Candied Salmon, which is topped with maple drizzle (it's the Canadian way). The restaurant also has space for private events of up to 400 people.
Non-Indigenous Stays
Dining at the 82-room Granville Island Boutique Hotel, on Granville Island, includes scenic views of the boat-lined marina, False Creek, as well as the Vancouver Skyline. Its humble 2,939 sq. ft. of event space can spread across five venues, two of which are combinable.
Fairmont Hotel Vancouver underwent a $75 million renovation in 2019, which included updates to its suites on its ninth through 14th floor, as well as the 14th floor's private lounge. Twenty-two classic-styled rooms and two grand ballrooms that can combine to create the 11,400-square-foot BC Ballroom make up the 557-room property's total 63,000 sq. ft. of meeting and event space.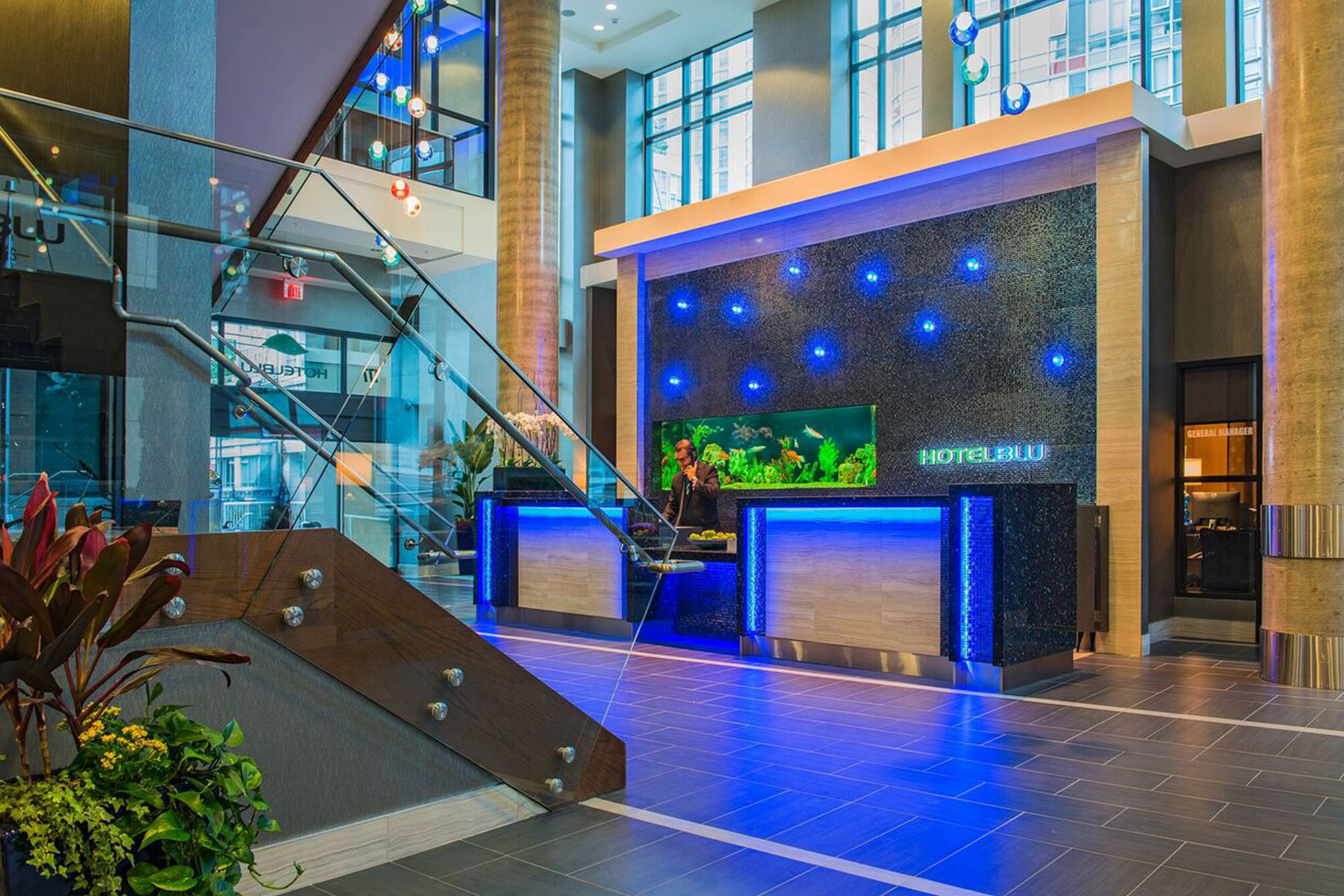 Hotel Blu takes its name to heart. In several areas throughout the property, including its brightly lit lobby desk and its accompanying backdrop to its tinted-window 14-person Pacific Boardroom, its namesake is seen throughout. The property's second venue and conference room can accommodate up to 60 people. Hotel Blu has also partnered with Bullfrog Power, a Canadian company that specializes in renewable energy, pursuing efforts in sustainability, with its second floor being entirely carbon neutral.
Calgary
Calgary, Alberta, is investing more than $1 billion dollars into its meetings and events infrastructure, scheduled for completion by 2024. The investment will include a $500 million expansion to BMO Centre, after which the facility will offer 500,000 sq. ft. of space, making it the largest in Western Canada, along with upgrades to the entertainment and shopping venue Stephen Avenue, Culture + Entertainment District and more.
Indigenous Hotels and Event Spaces

The year of 1877 marks the signing of Treaty 7, one of eleven agreements between Canada and several First Nation governments in which reserves were established for five tribes and they were promised annual payments, provisions, or both. In exchange, they gave up their rights to their territory—which is what now makes up Southern Alberta. Ongoing arguments exist as to whether they knew what they were agreeing to at the time when the treaty was signed.
Fort Calgary National Historic Site is one of many sites that rests on the native soil of the people of Treaty 7. Fort Calgary serves as a beacon of history, where stories, documents and maps of the area's former life are shared. Before or after perusing the Fort Calgary, groups can settle down at the property's more than 6,000 sq. ft. of indoor meeting space, as well as its ample outdoor space, to get on with the gathering.
Canada's largest living museum, Heritage Park Historical Village, is also located on the Treaty 7 territory, where nearly 100 years of Canadian history is shared through more than 180 exhibits and 55,000 historical artifacts.
Heritage Park also includes attractions like Hudson's Bay Company Fur Trading Fort and the three-story Gasoline Alley Museum, which takes visitors back to the automobile's humble beginnings in the form of one of the largest public collections of antique cars and oil and gas-related items. Gasoline Alley also features several venues, including Founders' Lounge, which can hold up to 80 people, and the grand hall, which can hold up to 1,000—just two of a multitude of indoor and outdoor spaces.
In 2007, the Tsuut'ina First Nation opened Grey Eagle Resort & Casino, just outside of Calgary's city limits. The 178-room hotel, which brushes the Rocky Mountains, features 30,000 sq. ft. of meeting space, including the 2,500-seat Event Centre. The property features four dining venues, including Little Chief Hotel Restaurant, named after Tsuut'ina medicine warrior and great war chief "Little Chief," who was lethally wounded in battle in the 1800s.
Also on Tsuut'ina Nation is Seven Chiefs Sportsplex & Chief Jim Starlight Centre, a sports and event facility. The facility's open field house has 45,000 sq. ft. of event space, as well as two indoor ice rinks with seating for 2,000 in one and 400 in the other.
Non-Indigenous Stays
Located in Calgary's arts and entertainment district, Hotel Arts features an artful design from its lobby to its 175 guest rooms and suites. The property features eight meeting rooms across 11,000 sq. ft. of meeting space and offers two dining options, the contemporary Yellow Door Bistro and Poolside at Hotel Arts.
Comedy shows at Hotel Blackfoot's The Laugh Shop could go perfectly for a group that wants to end the day on a comedic note. This 3,000-square-foot venue is included in the property's total 10,000 sq. ft. of space, which also includes the 3,196-square-foot Blackfoot Ballroom, as well as Green's Restaurant, Lobby Lounge and The Other Side Sports Bar, all of which serve food and drinks until sundown.
Right next door to Calgary is Clarion Hotel & Conference Centre in Abbotsford. While the property is boutique-sized with 116 guest rooms, its 24,000 sq. ft. of event and conference space across six venues provides ample room for event hosting.
With Oscar Wilde as inspiration, The Dorian, Autograph Collection recently opened this summer as one of the newest Marriott International offerings in the area. Designed for less sizable groups, the 137-room Euro-inspired property features 3,745 sq. ft. meeting space across two event rooms.
The State of Indigenous People in Canada
Canada is home to three Indigenous groups: First Nations, Metis and Inuit peoples. As of 2016, that population was numbered at 1.67 million (Covid disrupted the country's 2021 census, so data is inconclusive). Comprising about 5% of the Canada's population, they are the fastest growing population in the country, having grown 42.5% from 2006 to 2016.
Imprecise numbers aside, the Indigenous world is one of immense color, tradition and depth. Canada in general, but particularly Western Canada, is home to handfuls of Indigenous experiences and historical insights.
The Inuit mostly occupy regions within the Artic circle, representing only 3.9% of the Indigenous population in Canada. Their homeland is known as Inuit Nunangat, a reference to the land, water and ice contained in the region. There are currently 53 communities across Inuit Nunangat, composed of eight different Inuit ethnic groups.
The First Nations people, who mostly reside south of the Arctic Circle, are those who the European settlers erroneously called Indians when they first arrived in what is now Canada. It has been estimated that the First Nations have been in Canada for at least 12,000 years, longer than the other two groups. The country recognizes more than 600 First Nations around the country, among these communities, more than 50 languages are spoken.
The Metis peoples, of mixed European and Indigenous ancestry, originated in Western Canada. According to Canadian Geographic, the Metis have growing populations in Manitoba, Saskatchewan and Alberta, as well as British Columbia and Ontario to a lesser degree.
Resources
This article appears in the September 2022 issue. You can subscribe to the magazine here.