Eastern Canada's major cities feature outstanding multicultural cuisine and festivals
Festival Orientalys, Montreal
Boasting a province where French is spoken in 91 percent of homes as well as one of the most multicultural cities in the world, Eastern Canada is unique among the country's regions. This makes it an enticing draw for planners seeking diverse, adventurous destinations for their attendees.
The French influence in Montreal and Quebec City can be felt immediately upon arrival in everything from cuisine to architecture. But just as the English-speaking parts of Canada are not English, Quebec Province is not France. Many other cultures have blended into the fabric of Montreal and Quebec City, creating a unique mix.
"Quebec City's international flavor stems not only from its culture: It's deeply ingrained in the economy, the way business is conducted and ultimately, what types of events are held," says Ann Cantin, director of communication and marketing for Quebec City Business Destination and Quebec City Convention Centre. "This is a fundamental distinction that makes Quebec City such an important Canadian meeting destination."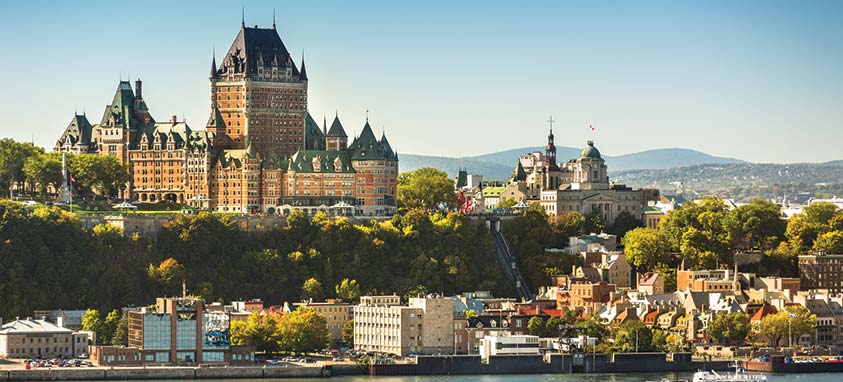 Situated 501 miles southwest of Quebec City (and 338 miles from Montreal), the Ontario Province city of Toronto is becoming more multicultural by the minute. More than half of its residents were born outside of Canada, and they speak more than 180 languages and dialects. Toronto was named the most multicultural city in the world by BBC News, the fourth-best city to experience culture by Foreign Policy's Global Cities Index and one of the world's best LGBT-friendly cities by Lonely Planet.
"Over the past decade, Toronto has seen a remarkable transformation—not just with new attractions, restaurants and entertainment, but also with an international vibe that's taken over the city," says Tara Gordon, vice president of sales and service for Business Events Toronto. "Toronto has found a new sense of swagger, which has come to define the city, and resonates with meeting planners and attendees from around the world."
Attendees can experience the multiculturalism of Toronto, Montreal and Quebec City in a variety of ways that are sure to stimulate their meetings experience. Two of the best ways are by enjoying the exciting international cuisine and broad range of buoyant ethnic festivals.
Toronto
Much of Toronto's cultural diversity can be experienced in the thriving downtown area, but more intensive, authentic doses can be gained in the city's neighborhoods.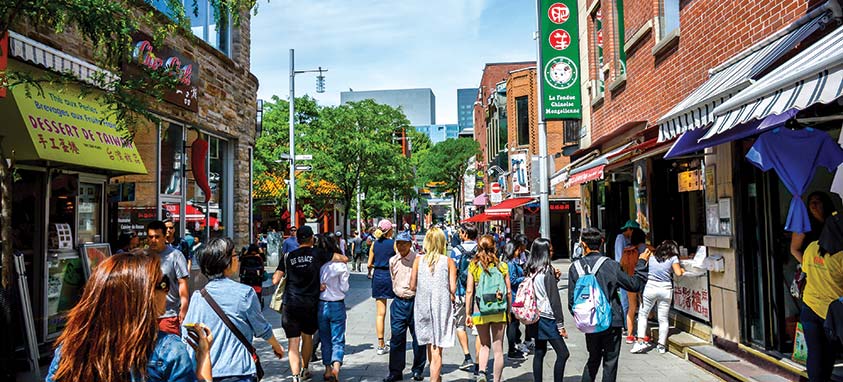 "There's a constant interplay of ideas, customs and perspectives in over 100 cultures that call Toronto's vibrant neighborhoods home," Gordon says. "Meeting delegates can experience the world of traditions throughout the streets of Chinatown, Little Italy, Little Portugal, Kensington Market, Greektown's the Danforth and more. The neighborhoods are just outside the doors of many meeting venues, restaurants and hotels, making them almost impossible to miss while in the city."
More destinations: San Diego Culinary Women Rising Up
Culinary
Many of these neighborhoods have outstanding restaurants specializing in the cuisine of their respective cultures. And frequently, restaurants emerge that blend cultural traditions and inspire ground-breaking dishes.
"Out of this inspiration arises Toronto's internationally acclaimed chefs that head high-quality restaurants like Capra's Kitchen [chef Massimo Capra], Lee Restaurant [chef Susur Lee] and Maker Pizza [chef Matty Matheson]," Gordon says. "They bridge ethnic staples to create flavors that are distinct and iconic."
Baro Food & Drink, one of the city's top restaurants, reimagines traditional Latin culture and cuisine with a distinct modern flair. Cibo Wine Bar has three locations in Toronto; its spot in King West neighborhood features authentic rustic Italian flare (including wine and food) blended with vibrant nightlife. Canoe restaurant features contemporary Canadian cuisine, including inspired dishes reflective of Canada's diverse landscape, history and culture. Canoe has two private dining rooms accommodating groups of up to 100 and offers full restaurant buyouts on weekends.
Aroma Fine Indian Cuisine, situated in the heart of Toronto's entertainment and theater district, features an extensive menu of meat and vegetarian dishes, and can accommodate groups of various sizes. Located inside Queen's Quay Terminal, Pearl Harbourfront Chinese Cuisine has been serving authentic dim sum and Chinese dishes for almost 30 years. More than 6,000 sq. ft. of dining space is available for group events. Lee Restaurant is a stylish eatery that features creative Asian and French-influenced small plates meant for sharing. Three private spaces are available for group gatherings.
Festivals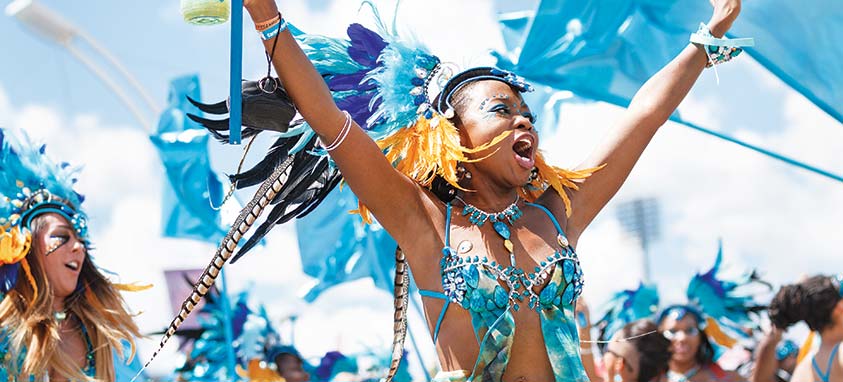 Toronto Caribbean Carnival is a four-week explosion of Caribbean music, cuisine and revelry. It is the largest cultural event in Canada and the largest outdoor festival in North America. It features floats, food, music and celebrities. This year, it will take place July 7–Aug. 11 and the theme, "Canada's Celebration of Freedom and Diversity," will infuse every aspect of the festival, from the parade route to the shows and performers, including singers, pannists and calypsonians.
One of the city's liveliest festivals, Taste of the Danforth, is celebrating its 25th anniversary this year. The popular, annual street festival takes place every August in and around the Greektown BIA. It began in 1994 with just 5,000 attendees and now it's Canada's largest street festival, with well over 1 million people attending each year. It celebrates not only Greek food and culture, but also many other traditions. During one of its events, Let's Dance, instructors from the city's Greek, Chinese, South Asian, Filipino, Egyptian, Greek, Japanese, Azerbaijani, and Afro-Caribbean dance groups teach festival-goers traditional dances from their home countries.
For 10 days each June, Luminato Festival transforms theaters, parks and public spaces across the city into places for performing and visual artists to play, share and create. It was launched in 2007, and in its first decade, Luminato presented more than 3,000 performances featuring 11,000 artists from more 40 countries and commissioned more than 80 new works of art.
More festivals: New Orleans: A Meeting Planner's Dream
During one sleepless night each fall, adventurous residents and visitors take to the streets from sunset to sunrise to celebrate Nuit Blanche (Sleepless Night), a free, contemporary art event featuring hundreds of Canadian and international artists. The familiar is discarded as the city becomes an artistic playground for a series of exhilarating art experiences.
Montreal
Like Toronto, Montreal is home to several ethnic neighborhoods, including Chinatown, Little Italy, Little Portugal and Mile End (Jewish and other groups). These and other ethnic groups are more integrated into the fabric of the city than in many other North American cities.
"It's easy to see the French and British histories intermingling in Old Montreal, but the city's international flavor really comes from all the people who live and work here," says Mylene Gagnon, vice president of sales and convention services for Tourisme Montreal. "Montreal is one of the rare bilingual cities in the world, with the majority of citizens speaking both French and English. We're also home to the largest bilingual and trilingual workforce in Canada, and there are over 120 ethnic groups represented in the Metropolitan Montreal area."
Culinary
Montreal's food and beverage scene offers such a wide variety of ethnic restaurants that it's hard for planners to know where to begin.
"There's so much to choose from, ranging from affordable neighborhood eateries to cutting-edge haute cuisine," Gagnon says. "You can find a great Nepalese restaurant just a few doors down from a Latino bakery. You can taste the world in neighborhoods all over town."
One of the best options for groups is to experience several restaurants all at once—on one of the outstanding food tours. Beyond the Market tours take groups on a culinary adventure to lesser-known parts of neighborhoods around Jean-Talon Market, one of the largest public markets in North America. Aux 4 Coins de la Table (At the Four Corners of the Table) offers gourmet experiences in Little Italy and the multicultural Parc Ex neighborhood, as well as food and cooking workshops in French and English on a variety of topics, including Spanish-Portuguese, Korean, Japanese and Chinese cooking.
Two additional multicultural food experiences are coming to Montreal within the next two years. A Time Out Market is slated to open late this year in Centre Eaton de Montreal downtown. Groups will be able to enjoy a curated culinary mix from 16 of the city's top chefs and restaurateurs, and sip cocktails from leading mixologists at two bars. The market will also feature a cultural stage, demonstration kitchen, cooking academy and retail shop.
Another way to sample Montreal's culinary diversity is by heading to the esplanade of Olympic Stadium on the first Friday of every month, from spring until fall. There, the largest food truck gathering in Canada offers a wonderfully diverse array of local and international cuisines. Also, the 260,000-square-foot Carre St-Laurent, scheduled to open this year in the Entertainment District, will include some 40 food stalls showcasing a variety of local cuisines.
Festivals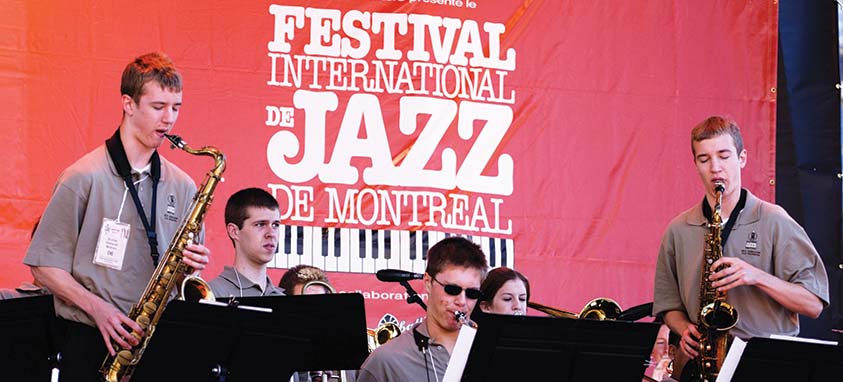 The annual Festival International de Jazz de Montreal (Montreal International Jazz Festival) features roughly 3,000 artists from some 30 countries and more than 650 concerts (including 450 free outdoor performances), and welcomes more than 2 million visitors. The festival takes place for 10 days each summer at Place des Festivals, and surrounding streets and squares. Some 20 different stages are used, including free outdoor sites and indoor concert halls.
For four days and four nights each summer, Festival Orientalys docks at Old Port of Montreal. This free festival is dedicated to the meeting of Eastern and Western cultures, and celebrates Montreal's diversity. It features native and fusion performances from Northern Africa, China, Spain, Turkey, Syria, Lebanon, Iran, Cambodia, India, Japan and many other places. Shows, workshops, animations, exhibitions and activities for children and adults are on the program each year.
Festival International Nuits d'Afrique (Nights of Africa International Festival) is an internationally acclaimed, 13-day world music event featuring music from Africa, the West Indies, the Caribbean and Latin America. It takes place in April at Quartier des Spectacles and includes six days of free outdoor activities.
Les Francos de Montreal, an annual music and performance festival held in June in Downtown Montreal, features more than 1,000 French-language performers from all over the world in 70 indoor shows and 180 free outdoor concerts. The event attracts more than 500,000 people.
A July tradition, Carifiesta Montreal is one of the city's most engaging parades. The second-largest Caribbean festival in Canada, it brings together approximately 100,000 people, all kindred spirits toe tapping and dancing to Latin, Afro-Caribbean and Indian music. Colorful floats, interspersed with fancifully costumed characters, represent a host of nations and traditions. Plenty of parties keep things going after the main event.
Week-Ends du Monte at Parc Jean-Drapeau in July provides Montrealers of all backgrounds with the opportunity to celebrate and share their culture and traditions with the entire population through music, dance, culinary discoveries and family activities.
Presence Autochthone, Montreal's First Peoples Festival, highlights aboriginal art, history and traditions. The richness and vitality of traditional and contemporary aboriginal cultures take center stage, encouraging a spirit of awakening. Held at Places de Spectacle, it features music and films.
An international LGBTQ film and arts festival—Massimadi, or the LGBTQ Afro Film and Arts Festival— takes place in February (Black History Month). The festival has been running since 2009. It aims to raise awareness, educate and inform members of black communities to eradicate homophobia in these communities and familiarize people with the LGBTQ population.
Quebec City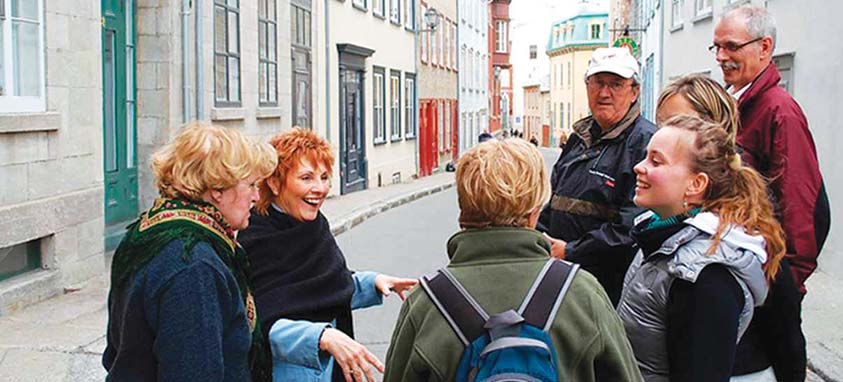 Located 145 miles northeast of Montreal along the St. Lawrence River, Quebec City was founded by French explorer Champlain in the early 17th century. It is the only North American city that has preserved its ramparts, along with numerous bastions, gates and defensive works that still surround Old Quebec, which is a UNESCO World Heritage Site.
The city has a dynamic and innovative vibe, and this is perhaps most evident in Saint Roch neighborhood, which also features an eclectic, culturally diverse ambiance.
Culinary
Quebec City's culture has always been centered around food. From French cuisine to Quebecois, vegetarian and Asian, groups can enjoy unforgettable culinary experiences. Just as in Montreal, one of the best introductions to Quebec City's food is through a tour.
One of the best tours for sampling a diversity of local cuisine is offered by Tours Voir Quebec. Participants can meet locals in areas where they live and eat while learning about and tasting the food of several cultures and culinary traditions.
Groups won't have a difficult time finding French and British restaurants in Quebec City. They will also want to experience the earthy, traditional Quebecois cuisine. The dinerstyle Buffet de l'Antiquaire in Old Port of Quebec is famous for its traditional Quebecois dishes made from recipes typical of the lower St. Lawrence region of Quebec.
Another highlight is First Nations cuisine, featuring such offerings as Sagamite stew, made with hominy, grease and root vegetables. Or, your group can enjoy balsam fir, green alder pepper, sea buckthorn, honey berries and other culinary delights from the boreal forest.
Planners with groups meeting at Quebec City Convention Centre can work with chef Jean-Pierre Cloutier to customize menus that include innovative fusion dishes.
Festivals
During Quebec Exquis (Delicious Quebec) in April, groups can experience the gastronomy of the region. Special menus featuring local products, prepared by renowned chefs, are offered at friendly prices in some of Quebec's best restaurants.
Each spring the walk-through experience of Ou Tu Vas Quand Tu Dors en Marchant? (Where Do You Go When You Sleepwalk?) leads thousands of spectators into unlikely places, plunging them into unique and extraordinary worlds. Each performance runs approximately 15 minutes and plays continuously from 9 p.m. to 11 p.m.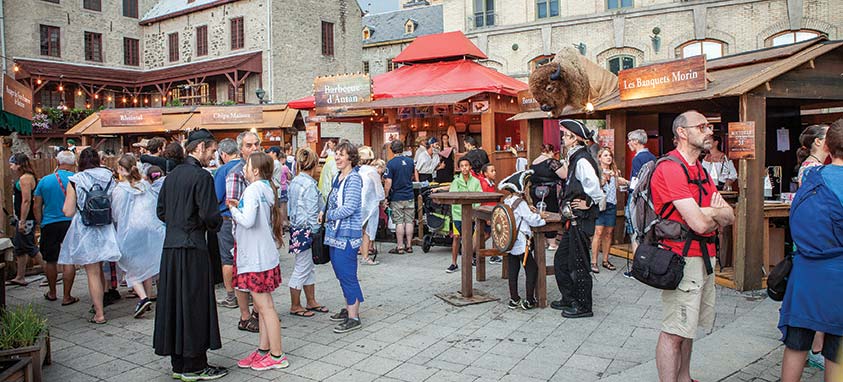 Fetes de la Nouvelle-France festival (New France Festival), held each summer, offers a host of gourmet culinary experiences and 400 shows, reenactments and lectures that celebrate with pomp and humor, Quebec City's history.
Festival d'Ete de Quebec (Quebec City Summer Festival), an 11-day music festival in July, welcomes some of the world's top music performers at 10 venues scattered throughout the city. The main acts play on the historic Plains of Abraham to a crowd of more than 80,000. There's music for everyone: rock, folk, hip-hop, electro, French song, jazz, world music and much more.
Glorious Meeting Spaces
Toronto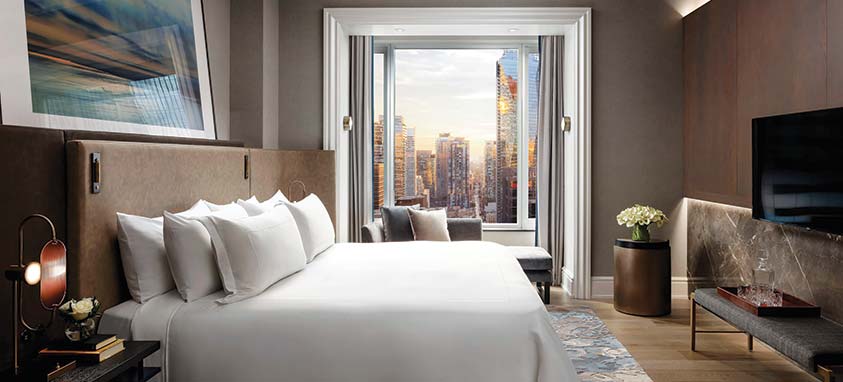 The St. Regis Toronto opened in early December, marking the luxury brand's debut in Canada. It features 258 guest rooms, including 124 luxury suites—the most of any luxury hotel in Canada. The 12,000 sq. ft. of event space can accommodate gatherings of all kinds, from executive meetings to lively celebrations. The 30th-floor meeting rooms offer sweeping views and can be customtailored with St. Regis and Astor ballrooms, connecting via a grand staircase on the eighth and ninth floors.
One of North America's leading convention centers, Metro Toronto Convention Centre underwent a $23 million modification last year that added eight contemporary meeting rooms with more than 11,000 sq. ft. of meeting space in the South Building. The convention center now boasts more than 700,000 sq. ft. of exhibit and meeting space and 77 meeting rooms ranging in size from 500 to 50,000 sq. ft.
The ground-breaking for Nobu Toronto, which will feature the world's first Nobu-branded high-rise residences as well as Canada's first Nobu hotel and Nobu restaurant, took place in the Entertainment District last year. The 15,000-square-foot, two-level restaurant will offer a signature bar lounge, outdoor seating and chic, private dining rooms.
Montreal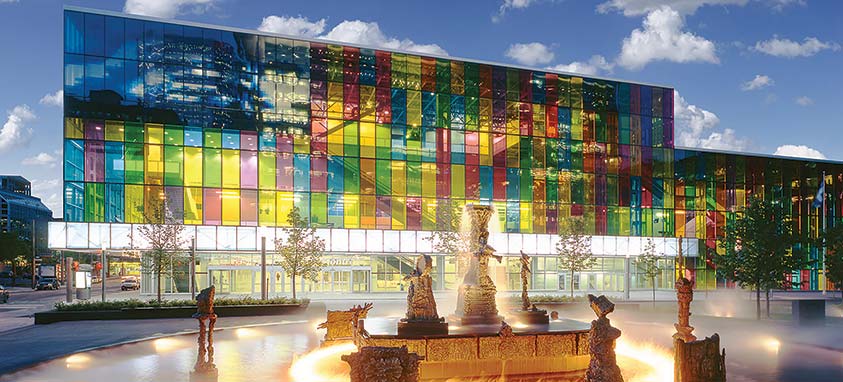 Palais des Congres de Montreal offers 551,520 sq. ft. of meeting space, including 113 rooms, three ballrooms and four terraces. It sits between downtown, Chinatown and Old Montreal.
"A quick walk in any direction will reveal the city's changing flavors and cultures, be they Asian, North American or European," says Mylene Gagnon, vice president of sales and services for Tourisme Montreal.
The big stir this year is over the spring opening of Four Seasons Montreal in the Golden Square District downtown. It features 168 guest rooms, stellar restaurants, a luxury spa and 10,636 sq. ft. of meeting space.
The transformed, century-old Birks building on Phillips Square downtown opened last year as Hotel Birks Montreal, with 132 guest rooms and 1,000 sq. ft. of meeting space. Another new downtown property, Hotel Monville, provides 269 guest rooms and 4,000 sq. ft.
Quebec City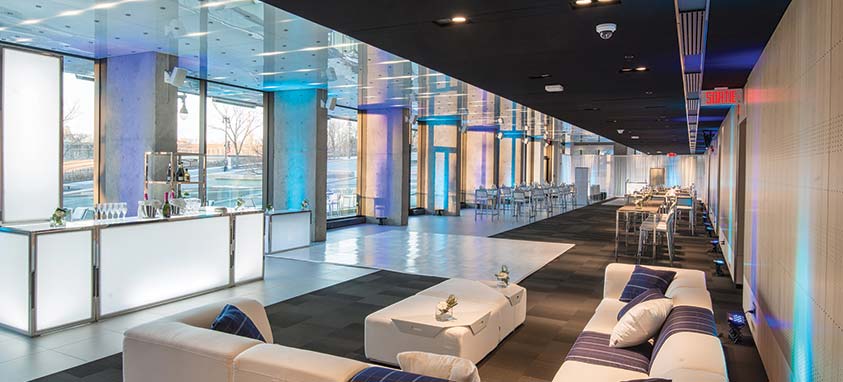 Centre des Congres de Quebec (Quebec City Convention Center), a LEED-certified building, was named Best Convention Centre in the World in 2006 by International Association of Congress Centres. Situated in the heart of Quebec City, it offers 300,000 sq. ft. of exhibition, convention and meeting space.
Voltigeurs de Quebec Armoury, formerly Grande-Allee Armoury, was rebuilt and reopened in May 2018 for use by the military and government. It also provides three rooms—ranging from 8,600 to 21,525 sq. ft.—that can be rented for gatherings, as well as a large foyer area with stunning views of the Plains of Abraham.
Located on a private beach, 5-acre Entourage-Sur-le-Lac Resort, which opened in September 2017, features 166 guest rooms, modern design, wide-open spaces, gourmet food and 6,300 sq. ft. of meeting space.
Hilton Quebec, with 571 guest rooms and 20,000 sq. ft. of meeting space, will be closed on Jan. 1, 2020 for a complete transformation that will include the exterior of the building, the hotel infrastructure, guest rooms and all public areas. The renovation is scheduled to be completed, and the hotel is scheduled to reopen, in late 2020.