Sponsored by Hard Rock Hotel San Diego
Adding diversity to San Diego's F&B scene
Tacos, fajitas, quesadillas and other Mexican staples are typically associated with the San Diego culinary scene, largely due to the city's proximity to Mexico. But San Diego actually has a wide diversity of food and beverage choices, which is expanding during the culinary revolution taking place at restaurants, food trucks, cocktail and wine bars, and breweries.
The Point Loma neighborhood is known for its seafood dishes, North Park features Asian and Middle Eastern selections and a beer festival, downtown boasts cuisines from throughout the world as well as craft cocktails, and Little Italy pays homage to Mediterranean traditions.
"In San Diego, you'll find all the world-class features you'd expect from a major metropolis, like incredible dining and nightlife," says Candice Eley, director of communication for San Diego Tourism Authority. "The diversity of the destination provides endless options for meeting planners."
A group of women leaders are active players in the widespread culinary movement. Some of them have been pioneers for 20 years and have opened restaurants without much fanfare, while others are making an impact with their modern twist on traditional recipes and their entrepreneurial skills in launching new ventures.
It's been a male-dominated industry, but things are changing. Here are some dedicated, creative women who are helping to make San Diego an even more attractive culinary destination.
The Initiators
Veggie platter at El Jardin (Photo by James Tran)
As a grande dame of San Diego innovative cuisine, restaurateur Tracy Borkum brought her passion for Italian flavors and California ingredients to her Urbana Kitchen Group. Since 2004, she has been opening several food businesses in Southern California, including Cucina Urbana in the Bankers Hill neighborhood, Cucina Enoteca in Del Mar and Cucina Sorella, a full-service catering company and an online retail shop based in the Kensington area.
With an educational background in theater and no experience in the food and beverage industry, this London food entrepreneur embarked on a journey in 1995, marked by some failures and many successes. After closing her first fine-dining restaurant in 2005, with no money in her bank account, she took a leap of faith and conceived a disruptive concept—providing a menu with no items exceeding $20.
Her first restaurant that implemented this concept, Cucina Urbana, was welcomed by the community, and in a few years, she was able to recover the losses she suffered from her previous restaurant. The rapid success of Cucina Urbana helped her to fund her restaurant group and expand the business outside of San Diego. The rustic-chic design, casual environment, vibrant atmosphere and sharing-style dishes helped the Cucina restaurants gain widespread acclaim—and the contemporary Italian cuisine fit the Southern California taste.
Deborah Scott, popular chef and partner of Cohn Restaurant Group—one of the industry's largest groups in the city—is a pioneer in the local F&B scene. A native of Virginia Beach, Virginia, she relocated to Southern California in 1992 and two years later, she launched her first venture, Indigo Grill, a modern Latin kitchen in Little Italy.
Scott developed the concept, designed the menu, and worked both in the front and back of her restaurant. A year later, she met David and Lesley Cohn, and her life completely changed. Together, they opened a series of successful eateries, most recently Coasterra on Harbor Island. In her kitchen, there are around 40 women—hired for attitude, not for gender. She teaches them that in a male-dominated industry, they need to speak up when a situation doesn't feel right.
"There has always been abusive behavior in the kitchen and there will probably continue to be abusive behavior in the future, but it's up to each individual to not be silent," Scott says. "No one has to take abuse, and no one has the right to put anyone in [an uncomfortable] position. So, speak up. The good thing is that it is so much easier to have a voice today than in the past."
She's committed to strive to always think outside the box: She recommends two of her original dishes at Coasterra, Ahi Toastada and Caesar with Carne. "Above all, when you are at the restaurant, have the guacamigo (guacamole-making friend) visit your table. They are fun and make guacamole tailored to your liking," Scott says.
The New Generation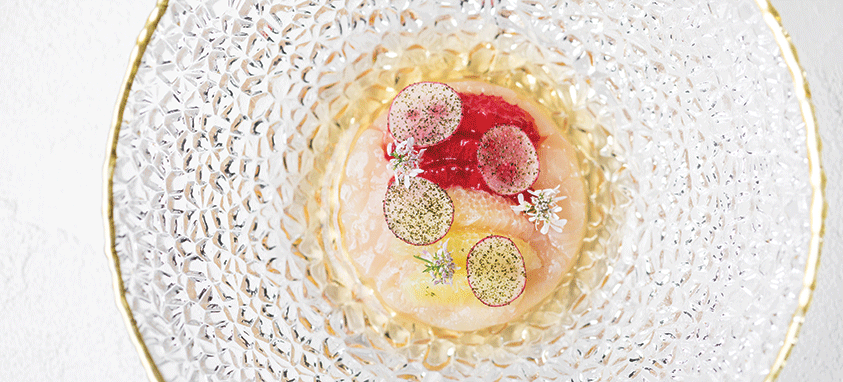 Award-winning and emerging Mexican chefs are honoring the sophisticated fusion of modern and traditional cuisine. Claudette Zepeda-Wilkins, 2019 James Beard Foundation Best Chef of the West award-winner and star of Top Chef, opened El Jardin, a new eatery at Liberty Station. Known for her creative skills and focus on sustainability, Zepeda-Wilkins provides her own spin on her family's recipes.
For instance, albondigas en chipotle (meatballs in chipotle sauce), originally her grandmother's dish, is made with beef and pork from local farmers, and served in a bed of chipotle, rice, grilled carrots and house-made chochoyotes (corn dumplings).
She started her career in the restaurant business when she was 16 years old. "I had my son at 18," she says. "When it dawned on me that I could do something I love rather than sit in a classroom for seven years, I thought of my son and the example I wanted to set by chasing my dreams. In the industry, I found mentors who helped push and mold me into the cook I am today."
The idea of starting her own business came while filming Top Chef Mexico. She had the opportunity to visit a few states to befriend traditional cooks. "I saw tremendous potential of bringing the ingredients and dishes of my people to the States, but it was a challenge," Zepeda-Wilkins says. "I was excited to take it on."
In the restaurant's backyard, she planted an organic garden where she can grow the vegetables that she uses for her dishes. You can taste them in the house guacamole, served with mixed veggies in escabeche, or in El Jardin Salad, with garden tomatoes, cucamelons (small watermelons), triple cream cheese, smoky chamoy dressing, nectarines, peaches and garden herbs.
Many restaurants are praising women for their hard work, dedication, commitment, attitude and skills. At Addison, located on the grounds of The Fairmont Grand Del Mar, 30-year-old Stefani De Palma, the chef de cuisine, has already made an impact on the industry with her talent. Every day, she stands close to executive chef William Bradley to create Franco-Californian dishes that combine local ingredients and contemporary French techniques. In 2017, De Palma was one of the nominees on Zagat's first Nation 30 Under 30 list.
"Sometimes it is surreal to think that I'm in this position, but I also know I put an immense amount of time and hard work into reaching this goal of mine, becoming chef de cuisine," she says. "I feel simultaneously honored and humbled—I want to be able to set an example for young and excited chefs."
Another hard-working role model is Alia Jaziri, chef and owner of Medina, a new Moroccan-Baja California inspired restaurant that opened in February on El Cajon Boulevard in North Park. After a few years of working at pop-ups and in a food truck at Lane Field Park Market, Jaziri—who learned to cook by helping her father in the kitchen when she was young—launched a solo project that blends the flavors of her family's culinary heritage with other traditions.
On the menu are lamb tacos with merguez (house-made spicy lamb sausage), tomato cucumber pico, queso fresco (fresh cheese), pickled onions and shakshouka, a Mediterranean dish with eggs poached North African-style in a smoky, spicy vegetable-laden tomato sauce.
Drink in Pink
Local breweries and restaurants are appreciating the refined taste of many women in determining the quality of a beer or a bottle of wine. This is the case, for instance, with Modern Times Beer, the popular beer production company and brewery in Point Loma, with other locations in Los Angeles and Portland. Oregon. Morgan Tenwick is the quality assurance manager of the company, and her role is to assure the high caliber of each can or bottle that is distributed.
In recent years, the beer industry has seen a growing number of women in leadership positions. Micaela Cano, for instance, is the bar manager of Pizza Port, a successful brewery in San Diego founded by Gina and Vince Marsiglia in 1992. Located on Ocean Beach, the company has won more than 91 medals and awards, and has five locations in the San Diego area where groups can taste the signature Grand View Ale, Chronic Ale, Amber Ale and Swami's IPA.
Faith Fulginiti, with nearly two decades of hospitality experience, is now wine director of the new Del Frisco's Double Eagle Steakhouse inside InterContinental San Diego, the first West Coast location for the restaurant chain. Fulginiti, who spent the last decade running the $8 million wine program at its Manhattan outpost, will oversee the award-winning wine list. She has a Bachelor of Fine Arts in musical theater, and discovered that the life of a sommelier is similar to a performing artist—both involve holding staff tastings, teaching classes and conveying passion. She has found that among women, there is strong solidarity and support in the industry.
"Starting in 2012, an annual Women in Wine Leadership Symposium in New York City has celebrated—and collaborates with—women in the wine industry," Fulginiti says. "It is a phenomenal event that brings women together to support each other. There is so much talent out there. I look forward to one day helping to establish a group in the San Diego community that offers the same respect for everything that we bring to the table.
"I come from an all-female sommelier team at Del Frisco's in New York City that celebrated women in wine, and that is a huge focus of mine. Additionally, we just kicked off a successful wine dinner featuring a female winemaker, Sally Johnson of Pride Mountain Vineyards."
Attendees might see her at the front of the restaurant, making recommendations regarding the 1,200 bottles from around the world. One of her favorites is Del Frisco's Double Eagle Cabernet Sauvignon by Paul Hobbs Crossbarn Winery, which goes great with the restaurant's steak selections.
Cater Your Event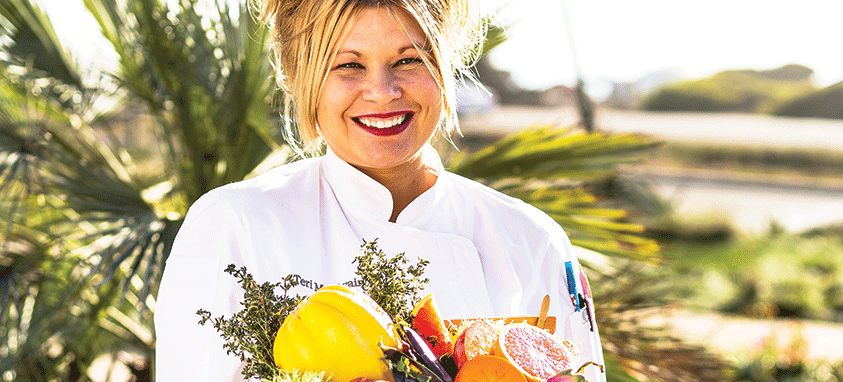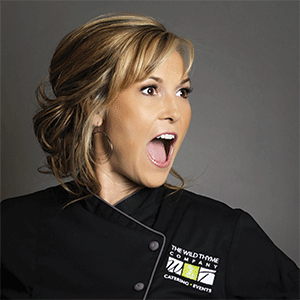 Planners looking to organize an event in San Diego can utilize one of several catering companies owned by women, including everything from award-winning pastry chefs to experienced executive chefs. Karen Krasne, for instance, is the owner and executive pastry chef at Extraordinary Dessert, a company specializing in desserts and author of Extraordinary Cakes.
Named Queen of Cakes by Gourmet Magazine, Krasne makes beautiful chocolate cakes, colorful cupcakes, refined petite desserts, and gluten-free and vegan sweet treats for all kinds of events. She is known for her creativity and talent, as well as her support of young women who want to pursue a career in the cooking and baking industry. Her team includes many female chefs who work with her in the company's two San Diego locations, where she also hosts classes for the community.
Dawn Carvajal, founder, owner and chef at The Wild Thyme Company—with a staff that is 80 percent female—started her business in 2005 because she wanted to have a career that allowed her to spend time raising her daughter. She found that the company offers the perfect work-life balance, enabling her to focus on her two main passions—food and family.
When she's not playing with her daughter, Carvajal is in the kitchen cooking some of the dishes listed on her menu, designed for an array of ceremonies and events. Attendees will be delighted to taste the Cuban island thyme poke or jumbo shrimp skewer for hors d'oeuvres, or Thai fried rice cakes, seafood crudo tostada and esquites (toasted corn).
Top Hotels and Meeting Venues
One of the most significant meeting event cities in the United States, San Diego has many attractive hotels and resorts. The new Carte Hotel & Suites San Diego, slated to open in June in the Little Italy neighborhood, is a 14-story hotel with 240 upscale guest rooms, along with a restaurant, rooftop bar with fireplaces, wine shop and 3,000 sq. ft. of flexible event space. In the downtown area, The Guild, a 162-room Marriott Tribute Portfolio property, is a great option. Housed in an iconic, 1920s-era Army-Navy YMCA building, its interiors show off the latest hotel-design trends with their airy spaces, refined details and contrasting colors. The boutique hotel encompasses 18,000 sq. ft. of indoor and outdoor event space, including 4,000-square-foot ballrooms.
Also downtown, Marriott Marquis San Diego Marina showcases 1,360 guest rooms and more than 280,000 sq. ft. of indoor and outdoor meeting space, with marina views and two new 36,000-square-foot ballrooms. Moreover, it has just launched Neighborhood, a catering program designed specifically for meetings and events.
Built as a beachfront resort with 757 guest rooms, Hotel Del Coronado offers 65,000 sq. ft. of indoor and outdoor meeting space with ocean views and a private white-sand beach for an after-party event. For planners who want to add entertainment, Hard Rock San Diego (420 guest rooms) downtown provides 40,000 sq. ft. of meeting space and 8,700 sq. ft. of terraces next to the rooftop pool and bar.
Housed in a resort-like setting, Manchester Grand Hyatt San Diego is a perfect location for an award gala event. The property provides 1,628 guest rooms and 320,000 sq. ft. of flexible space, including four ballrooms, multiple reception areas and 61 breakout rooms. Sheraton San Diego Hotel and Marina offers stunning views of the marina. It features 1,053 rooms and 115,932 sq. ft. of event space. Situated on a private island in Mission Bay, Paradise Port Resort and Spa has 462 bungalow-style guest rooms and more than 80,000 sq. ft. of event space.
Pantai Inn, located on the gorgeous LaJolla coastline, is ideal for small groups, corporate retreats and executive outings. The boutique property has 30 guest rooms and 289 sq. ft. of indoor meeting space for 20-24 people. For more room, the courtyard can be converted to a meeting space for 40-60 people, and they are open to property buy-outs.
A Carlsbad Feast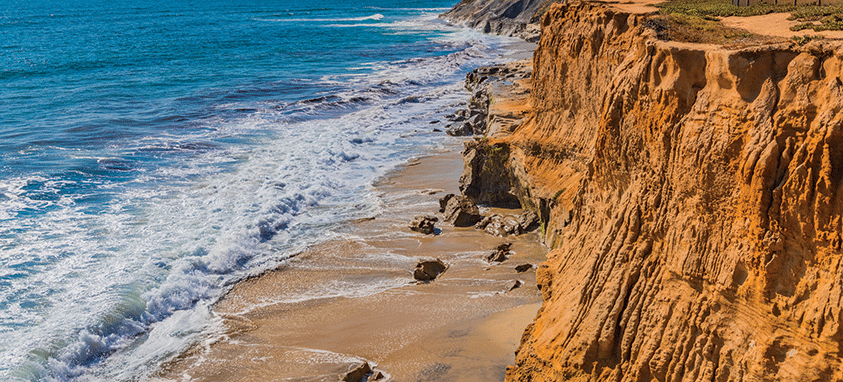 Nestled on seven miles of pristine coastline and 35 miles north of San Diego, Carlsbad is becoming a food destination where attendees can satisfy their palate with farm-to-table produce and seafood dishes.
"For the culinary enthusiasts, our resorts have teams that take advantage of our local agriculture and seaside location to prepare creative menus of fresh seafood, meats, vegetables, cheeses, honey and flowers," says Tamara McGiboney, director of group sales at Visit Carlsbad. "Our guests love the distinctive craft breweries and international restaurants in our charming village and surrounding areas."
Some of the leading personalities in Carlsbad's food and beverage industry are women. At Chandler's, the signature restaurant at Cape Rey Carlsbad, a Hilton Resort, chef Teri McIllwain, the culinary director, delivers a menu inspired by California cuisine. Before landing this role, McIllwain served as chef de cuisine at Omni La Costa and Spa, working in nearly all the resort's culinary areas. She also served as a nutritional chef for the wellness-focused fitness camp and Chopra Center. McIllwain's hard work and dedication earned her recognition as one of the leading chefs in San Diego.
"I love my town and I love showing it to our guests by using only local and seasonally sourced ingredients in our dishes," she says. "I love the energy we see in the hotel, from guests to locals." She is known for her healthy approach to cooking, and among the menu items she recommends is Ahi Quinoa Poke, a twist on the classic.
Last July, The Westin Carlsbad Resort & Spa opened its doors, featuring 208 guest rooms and more than 70,000 sq. ft. of indoor and outdoor meeting space. Sheraton Carlsbad Resort & Spa recently unveiled extensive property-wide renovations and upgrades, including 48 suites and the addition of a new restaurant, 7 Mile Kitchen. The hotel has 71,404 sq. ft. of event space and 251 guest rooms.