Lake Tahoe
It's bound to happen. At some point during a Reno or Lake Tahoe event, you're going to look out the window and there it will be: a view of the mighty Sierra Nevada. Majestic, snow-capped mountains beckon your attendees into the great outdoors, so why not just make that natural inspiration an integral part of your plan to surprise and delight?
What sets the Reno-Lake Tahoe area apart as a meeting destination, explains Ben McDonald, communications manager for Reno Tahoe and the Reno-Sparks Convention & Visitors Authority, "is the sheer diversity of what we have to offer outdoors—hiking, biking, kayaking, boating, fishing, camping, parasailing, skiing—the list is crazy."
From most any venue in Reno, North Lake Tahoe and South Lake Tahoe, the opportunity for guests to step outside, stretch their legs and refresh their minds is only minutes from the conference room.
Plus, you're not limited to recreation in one locale or the other. The lake is about an hour's drive from the city by car, and the drive is lovely, particularly if you take Mount Rose Highway, which winds up through coniferous forests to an exposed mountain pass, then drops into the Tahoe basin, where the highest alpine lake in North America stretches out to the horizon.
Heading Out in Reno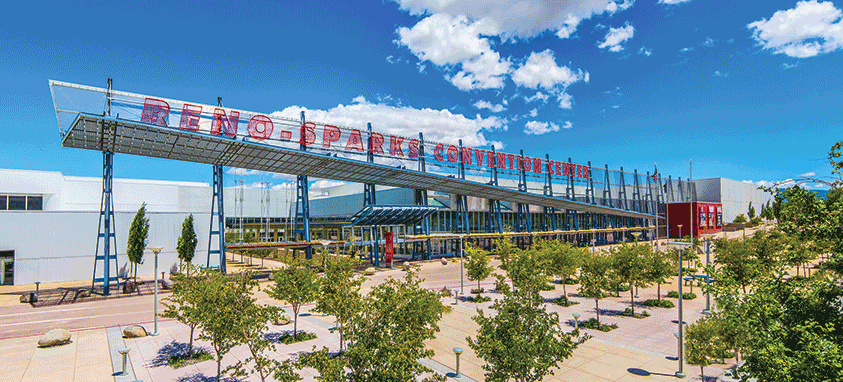 While the focus of extracurricular activity in Reno often is, rightly so, its fabulous casinos, a top-tier outdoor attraction runs right through downtown. The Biggest Little City's RiverWalk runs alongside the sparkling Truckee River, born in Lake Tahoe and ending in Pyramid Lake, northwest of the metro area. The 3.5-mile walking loop is part of the 13-mile-long Truckee River Trail, a linear parkway encompassing everything from a nearly pristine riparian corridor in the Sierra foothills to modern art installations and an amphitheater.
If your attendees are at one of the downtown hotels, a three-block stroll will deposit them in the RiverWalk District. In summertime, the waterfront paths attract locals and visitors alike: families with babes in strollers, in-line skaters, runners, walkers and kayakers who play in the white water near Wingfield Park. Depending on the date, you may be able to enjoy live music in the amphitheater. Year-round, you can marvel at the sculptural exhibits, enjoy a snack or libation at a riverfront cafe, or sip a cappuccino while watching a street performer.
If you'd rather chill out away from the crowds, a dollop of open space lies a scant five-minute drive from the bustle of downtown. Oxbow Nature Study Area offers a peaceful mile-long loop trail through willows and cottonwoods alongside Truckee River. Though the surroundings are decidedly urban, the trail is insulated by greenery and enlivened with bird song, offering a glimpse back to Reno's bygone days as an outpost in a vast western wilderness.
Head north by car about 10 minutes and you'll reach Rancho San Rafael Regional Park, adjacent to University of Nevada, Reno campus and home to May Arboretum. The park features longer trails into the high desert (perfect for a trail run), a disc golf course and a dog park, as well as the arboretum, with garden rooms and stellar views of the Sierra and Reno's skyline.
In winter, the mountains are blanketed with snow, edging skiing, snowboarding and sledding to the top of visitors' outdoor choices. Mount Rose Ski Tahoe is the closest resort to Reno, and convenient to meeting locations in North Lake Tahoe, as well. The ski area has the highest base elevation, 8,260 feet, among Tahoe's ski resorts and boasts wonderful views across the Truckee Meadows into Nevada's Carson Range. According to McDonald, the area's snowpack has been boosted by a recent $2 million investment in snow-making equipment. Spring skiing—and the cozy fireside gathering places at the bottom of those majestic slopes—is just a short drive away.
Combine Pleasure with Work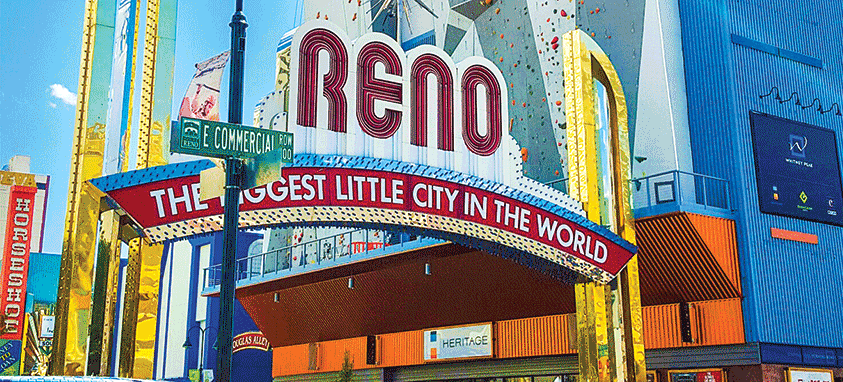 "Reno is a thriving, growing community and much of that growth has come from the influx of new businesses to the community, such as Switch, Tesla, drone programs, Apple, ZuLilly and so much more," says Tanna Pearman, The Row Reno's business development director. "This development has increased the size of our community and the amenities available here."
On The Row, which encompasses Silver Legacy Resort Casino, Circus Circus Reno, and Eldorado Resort Casino, improvements to facilities and attractions have just gotten started, Pearman explains. "The Row Reno has invested more than $100 million in its three properties," she says, including a 21,000-square-foot spa featuring elements from the Sierra Nevada mountains and a Ruth's Chris Steak House, which opened in December. Full renovation of rooms, bathrooms and soft goods is also underway.
Extensive additions and renovations are also planned for the Reno-Sparks Convention Center, McDonald says. The center contains more than 600,000 sq. ft. of single-level exhibition and meeting space, with recently upgraded technology and award-winning service.
Now being operated by SMG, which McDonald calls "the world leader in facility management services," the center is, being upgraded with new carpet, interior signage, fresh paint, modern furniture, a $1.3 million 10G Wi-Fi upgrade and LED high bay-style fixtures in the event halls.
The meeting space offered at the convention center complements the embarrassment of riches found in Reno's casino resorts. Grand Sierra Resort and Casino is the biggest site, with more than 1,900 rooms and 200,000 sq. ft. of meeting space. The resort has also invested more than $25 million over the last few years to make significant improvements, including a new outdoor pool area that features bars, food service and Jacuzzis. Other casino-resorts—Atlantis Casino Resort Spa, Nugget Casino Resort in Sparks—have made significant investments in room renovations, as well, McDonald says.
Likewise, Whitney Peak Hotel expanded and improved its meeting spaces and accommodations in 2016. The Third Floor conference facilities include meeting rooms named for iconic peaks in Nevada and along the Sierra crest. The property is home to the world's tallest exterior rock climbing wall, as well as an indoor bouldering park that is protected from the elements year-round, points out Andy Bomberger, Whitney Peak Hotel's assistant director of sales. "Reno is adapting and changing to the market every day. If you haven't been in here in a while, it is time to change that," he adds.
South Shore's Scenic Scene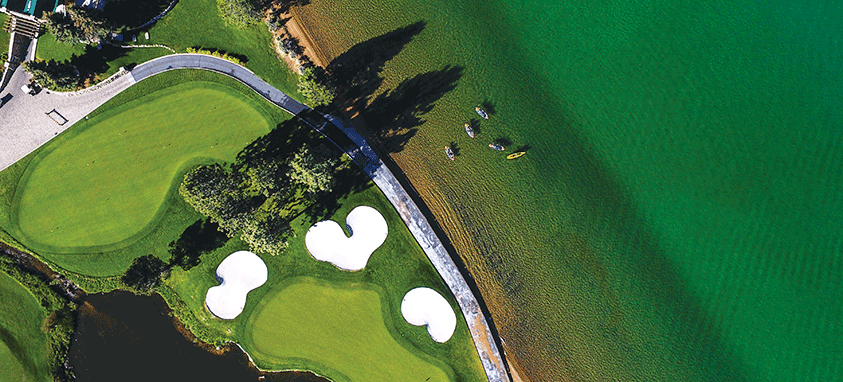 Meeting venues in South Lake Tahoe are clustered at Stateline, where a short "strip" links Hard Rock Hotel & Casino Lake Tahoe, Harrah's Lake Tahoe, Harvey's Lake Tahoe (which features an outdoor concert venue that attracts first-class musical acts) and MontBleu Resort Casino and Spa. Edgewood Tahoe, with its 18-hole golf course, is at lakeside.
Down the road in California, Heavenly Valley cradles Heavenly Mountain Resort, Lakeland Village Resort at Heavenly and Lake Tahoe Resort Hotel—an all-suite property that was recently updated with big-city AV options in a resort setting. All offer easy access to the scenic Heavenly Gondola, shopping and dining at the base of the mountain.
A lovely little trail explores meadows, pine forest and sprawling Nevada Beach, next to the casinos in Stateline. Lam Watah Historic Trail is a 3.2-mile loop linking a pond ringing with birdcall to the lakeshore, its surface partly paved and wide enough for walking and talking. Interpretive signs along the path describe various aspects of Lake Tahoe's history.
Venturing into California, you can dip deeper into Tahoe's storied history at Tallac Historic Site. Paths wander among sprawling estates of the Baldwin, Pope and Heller families, all dating back to the days when barons of industry—mining, railroads, lumbering—built summer homes along Tahoe's crescent beaches. The Rainbow Trail, a 0.6-mile paved loop beginning at the U.S. Forest Service's Taylor Creek Visitor Center, reaches into a stream profile chamber where you can check out kokanee salmon and rainbow, brown and Lahontan cutthroat trout (the latter species is native to Lake Tahoe), as they make their way up Taylor Creek.
Venture a bit farther along the scenic highway encircling the lake and you'll reach the busy Bay. Emerald Bay and Vikingsholm—a 1929 Nordic mansion, with a roof sewn in wildflowers, that is tucked in the woods at the head of the bay—are premier attractions and available for tours.
Touring Tahoe's North Shore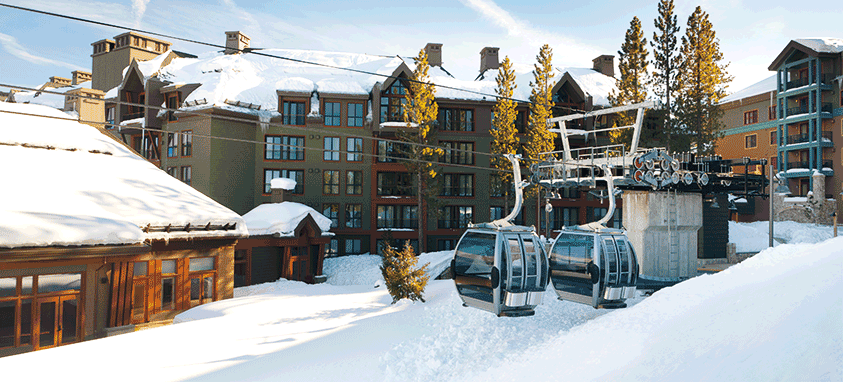 A pleasant blend of great meeting venues and outdoor adventures lie along Tahoe's North Shore, with locations along the west and east shores offering access to a bonanza of recreational options.
Tahoe Meadows stretches below the pass that separates Slide Mountain from Mount Rose, near the apex of Mount Rose Highway. Verdant and bursting with wildflowers in spring and summer, sparkling white in winter, the meadows are scenic and easy to navigate on foot or on cross-country skis. The 1.3-mile Tahoe Meadows Interpretive Trail is a flat, friendly loop with an alpine feel and incorporates a stretch of the Tahoe Rim Trail—a-route that cruises the summits and passes on the high ground above the lake.
Picnic Rock, a cluster of rock outcroppings with picture-postcard perfect views of the entire Tahoe basin, is a great destination if your meeting venue is at The Ritz-Carlton Lake Tahoe, near the base of the Northstar California Resort. This luxurious, woodsy retreat just outside the frontier town of Truckee offers ski-in/ski-out access to Northstar's slopes in winter.
Truckee River and a parallel trail link Tahoe City to Alpine Meadows and Squaw Valley ski resorts. The outdoor opportunities abound along this stretch of the river. Arguably the most popular activity is rafting: In summertime, the Truckee fills with blue, gold and orange boats floating lazily downstream. The water also beckons anglers in the quiet mornings and evenings. Cycling is a popular option on the parallel trail, as are running and walking. If your base is on the shores of Lake Tahoe, such as at Incline Village at Hyatt Regency Lake Tahoe, pick up the trail at 64 Acre Park in Tahoe City.
If your base is one of the meeting venues in Resort at Squaw Creek or Squaw Valley, Alpine Meadows, where $8 million is being invested infrastructure improvements such as parking and snow-making, you can pick up the trail at the junctions of the access roads and California State Route 89. A bonus: Both resorts have made upgrades in recent years to their restaurant and hospitality offerings, including renovation of High Camp at Squaw.
Incline Village is the gateway to Tahoe's beautiful East Shore. Hyatt Regency Lake Tahoe Resort and Spa and Casino ,o, occupies prime lakeshore real estate in the village, including its own private stretch of beach. Indoor and outdoor meeting and conference space totals 50,000 sq. ft. More than 400 guest rooms are available, and the hotel is home to restaurants that have drawn rave reviews from locals and visitors alike.
For a fast and fun outing from Incline, head down Lakeshore Highway to Sand Harbor, one of the loveliest spots along Tahoe's East Shore. A short interpretive trail composed of boardwalks links the half-moon beach, which quickly fills with swimmers and picnickers during the summer months, to a secluded cove where you can scuba dive among the interesting rock formations along the shoreline. A visitor information center operates throughout the summer months and the Lake Tahoe Shakespeare Festival takes place at the harbor each August.
Stay Safe Outside in Reno and Lake Tahoe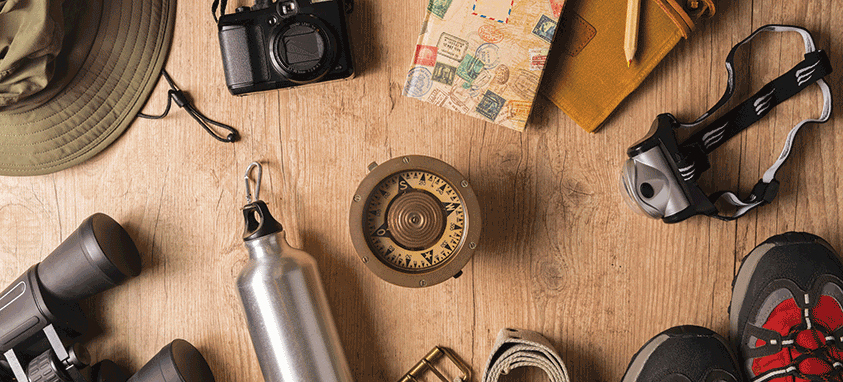 To ensure your forays into the outdoors in the Reno-Tahoe region are safe and comfortable, keep a few items in mind and in your backpack.
If you are coming from sea level, the region's altitude may affect not only your performance, but also your well-being. Taking a day or two to acclimate will offset the chances that you'll suffer the headaches, nausea and symptoms of altitude sickness.
If you go for a hike or a trail run, take a friend. Be sure to tell someone where you're going and how long you plan to be gone.
Small backpacks won't take up much space in luggage, and can be used to carry sufficient water, snacks and basic first-aid supplies, as well as the fun stuff, such as binoculars, field guides and notebooks.
Your cellphone can be an excellent tool for route-finding or calling for help. They have limitations, however. You won't always been in range of GPS satellites or cell towers, so do not rely on them exclusively for either purpose. Also, keep in mind that on the trail, not everyone wants to hear your music or listen to your conversation. If you must listen or talk, use ear buds to minimize the annoyance.
Weather can be variable and changeable, particularly around Lake Tahoe. Check the forecast before heading out and be prepared for changing conditions by dressing in layers and carrying rain gear.
A Legion of Authentic Experiences
When Bridget Robinson, CMP, director of national convention and meetings for The American Legion, was looking for a city to host 9,000 people for the organization's national convention, scouting unique adventures was a priority. Reno-Tahoe checked the boxes.
"Lake Tahoe is the quintessential tourist place and the most beautiful drive. It is a picturesque, romantic setting with upscale shops and a lakefront park. Reno-Tahoe has a vast array of exploratory options for visitors," she concludes.
A side trip to Virginia City added another authentic note. "The drive to and from is not for the faint of heart…or heights…or curves, but once there, it is the best little town of the West. From gold mining to enjoying a libation in an old saloon to souvenir shopping, Virginia City is great place to experience what it was like back in the day," she says.
Don't Miss These Reno Events
Starting in May and running through the spring, summer and fall seasons, Reno Tahoe's special events period encompasses more than 290 days to enjoy the outdoors. Some of the don't-miss events in the region in 2019 include the following.
Reno River Festival (May 11–12, downtown, along the RiverWalk): This national championship event kicks off the special events season in Reno, with competitors taking on the challenge of the Truckee as snowmelt fills the river. renoriverfestival.com
Reno Rodeo (June 20–29, Reno-Sparks Livestock Events Center): Touted as the "Wildest, Richest Rodeo in the West," the Reno Rodeo celebrates 100 years in 2019. renorodeo.com
Reno Championship Air Races (September, Reno): For a week each September, the skies north of Reno fill with hundreds of aircraft—both civilian and military—flying in competition and exhibition. airrace.org
Best in the West Nugget Rib Cook-off (Aug. 28–Sept. 2, Sparks): More than 100 tons of ribs are dished up as part of this annual feast, which features competitors from across the United States. nuggetribcookoff.com
Great Reno Balloon Race (Sept. 6–8, Rancho San Rafael Regional Park): The largest free festival for hot-air balloons features the "Mass Ascension," where more than 100 colorful craft take to the skies over the city. renoballoon.com
Burning Man (Aug. 25–Sept. 2, Black Rock Desert): Reno serves as the hub for the thousands of adventurers who take part in this legendary annual event, where a 65,000-person temporary city is erected on the Black Rock playa. Participants converge on the city to fuel up and gear up, then return a week later to chill out and "hose down." burningman.org
Tracy Salcedo is the author of numerous A Falcon Guide hiking books, including Best Easy Day Hikes Lake Tahoe and Best Easy Day Hikes Reno. You can find her at LaughingWaterInk.com.