Gateway Arch, St. Louis
When Meriweather Louis and William Clark embarked on an expedition in 1804, they hoped to discover a way into the unknown West.
Were the two pioneers alive today, they would find that there is more to be explored within their great home state. Modern-day Missouri is in the middle of an unprecedented expansion of improved statewide infrastructure and city attractions.
"If you haven't been to St. Louis lately, then you really need to come and see for yourself all of the great things that are happening in this hidden jewel of the Midwest," says Anthony Paraino, director of communications for St. Louis Convention & Visitors Commission.
More than $5 billion in development has been invested across the state, with the 630-foot-tall Gateway Arch at the center of it all. This Midwestern state's transformation is catching the eyes of planners in search of convenience, affordability and uncompromised quality.
Springfield
In 1926, America looked to Springfield for direction. Emblematic Route 66 highway paved the way for plenty of journeys westward. Today, the birthplace of Mother Road is calling visitors to return to where it all began. As more conventions and events head inland for ease and accessibility, the Queen City of the Ozarks welcomes meeting groups with wide-open arms.
"Downtown Springfield has been undergoing revitalization over a period of years and appears to be approaching a pinnacle this year," says Susan Wade, public relations manager of Springfield Missouri Convention & Visitors Bureau. Springfield's facelift has reconfigured vacant buildings into renovated facilities and properties well-suited for larger events than in the past.
Springfield Expo Center hosts a number of large-scale conventions throughout the year. With 112,000 sq. ft. of flexible floor space, the building is adjacent to University Plaza Hotel & Convention Center, another meetings hub with 39,000 sq. ft. of meeting space and 267 guest rooms. For stadium seating, JQH Arena is built for high-volume sports events, with 11,000 seats. It's also the home of the NCAA Division 1 Missouri State University Bears. White River Conference Center brings the wilderness of the Ozarks indoors with 25,600 sq. ft. of rustic meeting space.
Downtown Restored
In the early phases, historic tax credits and construction incentives were met with resistance from lawmakers and skeptics about the actual benefits revitalization would provide to Springfield. Despite the costs, its economy today has received a big boost from downtown construction. According to Urban Districts Alliance, around 100 local developments and thousands of jobs statewide have stemmed from the area.
A larger effort has focused on preserving historic features of downtown buildings. Originally erected as a county courthouse in 1869, Heer's Building in Park Central Square reopened in August as a residential and commercial development. The History Museum on the Square and Fox Theatre, which offer group tours, are being restored within four historic buildings to retain their classic facades.
Guests can experience refurbished Springfield in what will surely be known as one of its most iconic properties. Hotel Vandivort opened to a warm reception in July with 50 upscale boutique-style rooms. Listed on the National Register of Historic Places, the four-story 1906 structure first served as a Masonic temple. The new rendition is up to date and offers high-tech design: It has 3,900 sq. ft. of meeting space with built-in teleconference technology and is striving for LEED Gold certification.
"Springfield is large enough to offer all the amenities of larger destinations but doesn't have the same hassles." Wade says. "People love the relaxed atmosphere. Springfield is friendly, safe, convenient and easy to get around."
No visit would be complete without a tour of Bass Pro Shops Outdoor World, one of the largest outdoor recreational stores in the United States. The Springfield location is the first and largest Bass Pro Shop in the world, with almost 500,000 sq. ft. of space, complete with waterfalls, springs and seven large fish tanks. Fantastic Caverns is another outdoor wonder—it's the only cave in North America to offer an entire tour on four wheels.
Kansas City
Kansas City, which straddles the Missouri-Kansas line, is popular for its succulent barbecue, thriving jazz and more recently, its winning baseball team, the Kansas City Royals. A decade-long revitalization of the industrial city's downtown district has transformed it into an affordable and desirable destination.
The centerpiece for groups is Kansas City Convention Center, an eight-square-block facility that boasts 388,800 sq. ft. of column-free exhibit space, a LEED Silver certified 46,400-square-foot grand ballroom, a 10,700-seat arena and a theater that seats 2,400. The impressive facility connects with major downtown hotels via skywalks and underground walkways. Kansas City has several attractive downtown hotel options, including Kansas City Marriott Downtown, Hilton President Kansas City, Crowne Plaza Kansas City Downtown, Hotel Phillips and Aladdin Hotel and Spa.
For years the ambitious city has yearned for a large convention headquarters hotel, and that dream will soon become a reality. The long-awaited, $300 million project calls for an 800-room Hyatt with approximately 75,000 sq. ft. of meeting space to be built next to the convention center's ballroom. The facility will offer 9,000 sq. ft. of garden/terrace space, more than 15,450 sq. ft. of retail and dining space and a 9,913-square-foot recreational facility. Construction is slated for 2016, with completion anticipated in 2018.
Ronnie Burt, president and CEO of Visit KC, notes that although Kansas City has a state-of-the-art convention center and many desirable amenities that make it a prime meeting and convention destination, its downtown lodging inventory has been inadequate for large groups.
"This new convention center hotel will be a game changer for the Kansas City hospitality industry," he says. "Over the last 10 years, Kansas City has lost out on hundreds of groups, representing millions of room nights and more than $3 billion in economic impact. We look forward to reversing those fortunes."
Kauffman, Center for Performing Arts, Kansas City
The proposed site is a short walk from Sprint Center arena, Kauffman Center for the Performing Arts and the Power & Light District, a vibrant dining and entertainment destination that has more than 50 boutique shops, restaurants, bars and event venues, and often features free live music and performances.
Crown Center Has It All
Sheraton Kansas  City Hotel at Crown Center, Kansas City
Less than 2 miles south of downtown is Crown Center, which also carries plenty of appeal for planners. Anchoring the neighborhood are Sheraton Kansas City Hotel at Crown Center and The Westin Kansas City at Crown Center. The sister properties, which have 730 and 724 guest rooms, respectively, are connected by a covered walkway and share access to the recently refurbished 45,500-square-foot Crown Center Exhibit Hall. Combined, the two properties offer 150,000 sq. ft. of flexible meeting space.
Crown Center is the international headquarters for Hallmark Cards. In addition to the two hotels, the family-friendly complex contains more than 60 restaurants and attractions, including Legoland Discovery Center and Sea Life Aquarium. Within walking distance is The National WWI Museum and Memorial, the country's only World War I museum, and Union Station, which has rotating exhibits and a planetarium.
St. Louis
Those who haven't visited St. Louis in a while are in for a surprising number of changes. In the past few years, a burst of energy has infused the convention quarter, as well as several surrounding properties geared toward meetings and events.
New additions were orchestrated around America's Center Convention Complex, which houses four meeting facilities in more than 502,000 sq. ft. of space. A stone's throw away, there are more than 7,000 guest rooms, including 1,750 newly remodeled rooms. Renaissance St. Louis Grand hotel underwent a $30 million rebranding and reopened last August as Marriott St. Louis Grand Hotel. All 917 guest rooms were completely remodeled, and 6,400 sq. ft. of meeting space was added. What was once Lennox Hotel reopened last month as Courtyard St. Louis Downtown Convention Center after a $15 million update. The new boutique-style property offers 165 guest rooms and an 800-square-foot rooftop venue.
Now in its second year of operation, Ballpark Village is already a big hit. Located across from Busch Stadium, home of MLB's Cardinals, the 120,000-square-foot multistory entertainment complex is not just for baseball fans. There are restaurants, nightlife and live entertainment for after-hours fun, plus an array of venues for groups from 20 to 10,000.
"This is a must-see entertainment venue for any meeting attendee looking to kick back and relax after a long day on the convention floor," Paraino adds.
Even more convention area entertainment is on the horizon. Later this year, National Blues Museum will be the first exhibit-cum-concert hall to celebrate St. Louis' rich blues and jazz history. The new building will feature interactive displays and a 150-person venue available for private functions and concerts.
Across the Arch
The Gateway Arch has embodied the spirit of St. Louis since it opened in 1965. It's only fitting that the iconic structure is at the heart of the city's transformation. When the Arch was first constructed, it revived the riverfront and stimulated the economy—that's the same goal of the current multiphase project, to be completed in 2017. It is expected to bring 1 million visitors, 4,400 jobs and $367 million in economic impact each year.
While the monument itself will not be touched, Museum of Westward Expansion will be renovated and the visitor's center will offer additional private event space. Surrounding areas will also be adapted for better access. "The improvements happening now are definitely the most extensive construction on the grounds since the Arch was completed," says Ryan McClure, director of communications for CityArchRiver 2015.
The $380 million project will connect the Gateway Arch to the central downtown business district and allow visitors to walk from the Old Courthouse to America's Center Convention Complex. The former federal and state courthouse will benefit from updates to exhibit areas and include a new 42,000-square-foot area available for events.
Across the way, visitors can expect improved outdoor areas on the banks of the Mississippi. A new 7.5-acre riverfront park will include pathways for walking and biking. Outdoor promenade areas, ideal for concerts and festivals, will offer gathering space for more than 2,200. People will be able to enjoy the riverfront more days out of the year, as the entire area is being raised by 2.5 feet to prevent flooding.
---
A Sentimental Celebration
This month, St. Louis citizens celebrate the 50th anniversary of their famed national landmark. Several events will commemorate the birth of the Arch and the enduring symbol of hope and promise it holds.
"The Arch is our calling card to the world. It is the undeniable symbol of our city that unites us all," McClure says. "The innovation, courage and determination it took to build the Arch remind us that St. Louis can do great things and will continue to do great things."
---
The Wild World of Branson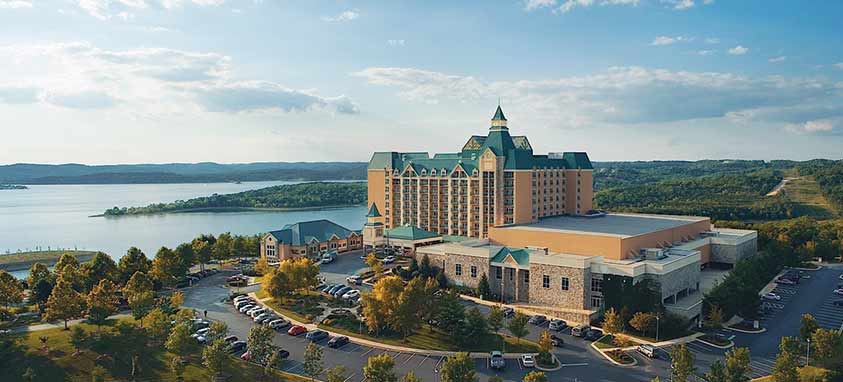 Wild entertainment or the wild wilderness? The eclectic city of Branson, located in the Ozarks along Missouri's southern border, has both. Several properties take advantage of the broad mountainous region, which encompasses large rivers and lakes, thick forest, rolling hills and more than 6,000 natural caves. Chateau on the Lake Resort Spa & Convention Center (pictured) is Branson's only AAA Four Diamond property and features award-winning dining and breathtaking views of Table Rock Lake. Village at Indian Point Resort & Conference Center provides rustic lodges in a secluded setting, but is only 4 miles from Branson's other wild side.
Titanic Museum, Branson
All of a sudden, glitzy attractions and bright casino lights appear on Missouri Route 76, a winding road that turns into "the live music show capital of the world." There are too many gaming properties, theme parks and performances to name in this bustling little city. Branson has more than 50 theaters where headliners such as Acrobats of China and Clay Cooper's Country Express perform. Silver Dollar City amusement park is its biggest attraction, with thrilling rides and themed festivals across more than 61 acres. For a quirky dose of entertainment, visit Ripley's Believe It or Not Odditorium, Hollywood Wax Museum or Titanic Museum.
---
Major Meeting Venues
Branson
Chateau on the Lake Resort Spa & Convention Center
Overlooks Table Rock Lake; 301 guest rooms; 43,500 sq. ft. of convention space; 32,000-square-foot Great Hall; 14,000-square-foot Spa Chateau.
Grand Plaza Hotel and Conference Center
Full-service conference center hotel; 200 guest rooms; 4,367 sq. ft. of conference space; fitness center; free Wi-Fi; 24-hour business center.
Westgate Branson Woods Resort
Located on 145 wooded acres of Ozark Mountains; 150 guest rooms within 600 rental units; 8,998 sq. ft. of meeting space; outdoor recreational activities. q
Kansas City
Ameristar Casino Hotel Kansas City
Overlooks Missouri River; 184 guest rooms; six conference and reception rooms accommodate 30–140; 24-hour gaming; eight dining options.
Hilton President Kansas City
Power & Light District 1920s-style property; short walk to Kansas City Convention Center and Sprint Center arena; 213 guest rooms; more than 12,000 sq. ft. of flexible space
Hotel Phillips
Historic Art Deco hotel built in 1931; located in Power & Light District; 217 guest rooms; 11,000 sq. ft. of meeting space; artists in residence program.
Hotel Sorella Country Club Plaza
Downtown upscale property; European Renaissance-style architecture; 132 guest rooms; 5,700 sq. ft. of event space; 1,800-square-foot terrace.
Sheraton Kansas City Hotel at Crown Center
Located next to Crown Center complex; 730 guest rooms; 88,360 sq. ft. of exhibit space; largest ballroom in Kansas City, with 17,487 sq. ft.
The Raphael Hotel, Autograph Collection
AAA Four Diamond boutique hotel built in 1927; 126 guest rooms; 841 sq. ft. of meeting space; upscale dining at Chaz on the Plaza.
The Westin Kansas City at Crown Center
AAA Four Diamond property; across from Crown Center; 724 guest rooms; 53,873 sq. ft. of meeting space; connected to 52,000-square-foot Crown Center Exhibition Hall. q
Springfield
Courtyard by Marriott Springfield Airport
Property renovated in 2014; 142 guest rooms; 4,199 sq. ft. of meeting space; business center; The Bistro lobby restaurant; free airport shuttle service.
DoubleTree Springfield
Located in Springfield business corridor; Ozark Mountain foothills, Bass Pro Shops and Battlefield Mall nearby; 201 guest rooms; more than 10,000 sq. ft. of meeting space.
Holiday Inn Express & Suites Springfield
Downtown hotel close to Bass Pro Shops, Federal Courthouse and Fantastic Caverns; 120 guest rooms; 1,350 sq. ft. of event space for up to 40.
Ramada Plaza Springfield Hotel & Oasis Convention Center
Hotel with full-service convention center; 173 guest rooms; 30,000 sq. ft. of convention space; near Springfield-Branson National Airport (SGF).
TownePlace Suites Springfield
Extended-stay hotel opened in 2014; LEED Silver certification; 110 guest rooms; 1,296 sq. ft. of meeting space; TV capabilities for Netflix, Hulu, Pandora and Crackle log-in.
University Plaza Hotel & Convention Center
Convention center and hotel close to area universities; 267 guest rooms; 39,000 sq. ft. of event space; Springfield Expo Center, with 112,000 sq. ft. of exhibit space, located directly across hotel.
St. Louis
Drury Plaza Hotel at the Arch
Historic property located around the corner from Gateway Arch; 355 guest rooms; 12,000 sq. ft. of meeting space; free Wi-Fi; business center.
Four Seasons Hotel St. Louis
AAA Five Diamond hotel above Lumiere Palace Casino tower, with 500,000 LED lights; Gateway Arch views; 186 guest rooms; 20,017 sq. ft. of meeting space; team-building activities. q
Hampton Inn St. Louis Downtown Hotel
Central downtown location; 190 guest rooms; 5,000 sq. ft. of flexible space; 2,625-square-foot Lewis & Clark Ballroom; business center; audio/visual equipment rental available; fitness center.
Hyatt Regency St. Louis at the Arch
AAA Four Diamond riverfront hotel; 910 guest rooms; 83,000 sq. ft. of meeting space; 19,758-square-foot grand ballroom.
Marriott St. Louis Grand Hotel
Downtown property close to Busch Stadium and America's Center Convention Complex; 875 guest rooms; 55,000 sq. ft. of meeting space.
Moonrise Hotel
Quirky lunar-themed boutique hotel in Delmar Loop district; 125 guest rooms; 4,000 sq. ft. meeting space; eco-friendly property with 60-foot solar canopy made of 107 glass solar panels.
The Westin St. Louis
Located in historic Cupples Station; across from Busch Stadium; 255 guest rooms; 19,629 total sq. ft. of meeting space; Avis car rental.