Team building or jumpstarting the new year, nothing beats hearts pounding in unison
You know that thing people always promise themselves at the beginning of the new year? That they're going to start working out, eat healthier and generally be more active? For many, not too far into the year, there follows the "inevitable" slump. Massachusetts has an answer for that. The anti-slump. By offering a host of physical activities and sporting facilities to get your group's hearts beating in unison, the Bay State reinforces individual resolve and helps keep those new year's promises alive. With sports and activities for every season, attendees can "get physical" all year long. From top tourist attractions to world-class beach activities, options are endless.
These "meetings in motion," of course, double as a great way to create bonds through team building. As many of these facilities also double as meeting spaces, consider this a win-win for your attendees and your meeting objectives.
Greater Boston
Greater Boston is home to a wide range of experiences, harbor views and hotels that gracefully toe the line between modern and historical. Outside of the hotel, plenty of team-building activities may come as a welcome surprise to group members—and surprises make for the best memories.
More: Small is Big in Greater Boston
Hotels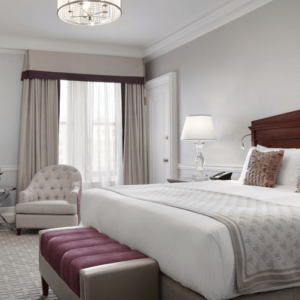 Fairmont Copley Plaza opened in 1912 in Boston's Back Bay district. From the lobby to its meeting spaces, this 383-room property has 20th-century elegance written all over it. The event space, 25,000 sq. ft. in total, features venues that accommodate intimate groups—take the 1,375-square-foot St. James Room—to the sizable—see the gold-lined decor of the 6,090-square-foot grand ballroom. Fairmont Copley Plaza is home to Oak Long Bar + Kitchen, which serves classic cocktails, wine and meals appropriate for every hour.
Four-hundred and twenty-four newly renovated guest rooms grace the halls of InterContinental Boston. These same halls will lead attendees to one of 11 of the property's meeting spaces, encompassed in its total 32,000 sq. ft. of meeting space; Rose Kennedy Ballroom and Abigail Adams Ballroom, a combined 15,575 sq. ft. of space, overlook Boston Harbor. Miel Brasserie, one of the hotel's restaurants, serves up Euro-American foodie options. Vodkaba, the property's bar, pours vodkas from an eclectic menu of countries.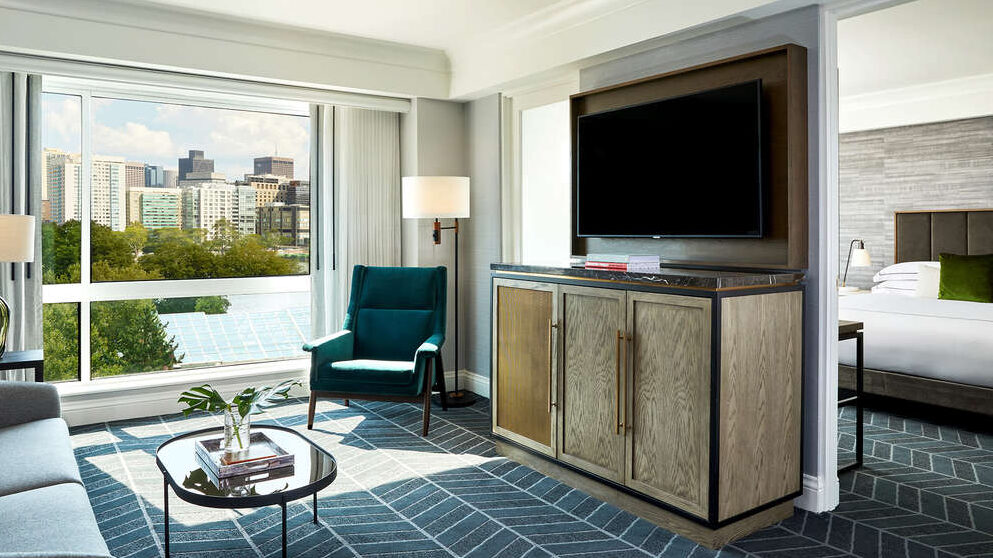 Just across the Charles River from Boston, in Cambridge, is the 237-room Kimpton Marlowe Hotel, fresh off a renovation. Across the property's 15,000 sq. ft. of meeting space, you'll find outdoor and indoor spaces that boast beautiful views. Bambara Kitchen + Bar, the property's American-fare restaurant, comes equipped to handle your next group with a 100-person private dining room and 30-capacity lounge.
Head toward Cambridge's Kendell Square neighborhood, named "the most innovate square mile on the planet" due to its high concentration of start-ups. Amid all the innovative ventures, it'd be a shame to overlook all the rooms and spaces the square offers, such as Boston Marriott Cambridge, which features 426 guest rooms and nearly 13,000 sq. ft. of meeting space.
Across the way in Harvard Square in Cambridge is The Charles Hotel. It looks collegiate with its brick-lined facade—fitting, given its proximity to Harvard University. On offer are 400 guest rooms and more than 18,000 sq. ft. of indoor and outdoor meeting space, ranging from 260-square-foot Doriot Board Room to 4,730-square-foot Charles Ballroom. Regattabar, another of the property's spaces, hosts jazz shows when not privately booked.
In Babson Park, on Babson College's campus west of Boston, is Babson Executive Conference Center. Despite the "conference center" in its name, the property is sleep-over ready with 211 guest rooms. Meeting profs will find more than 22,500 sq. ft. of gathering space and two food and beverage options, buffet-style Sorenson Commons and Bottom Line Lounge, featuring casual fare like flatbread pizzas.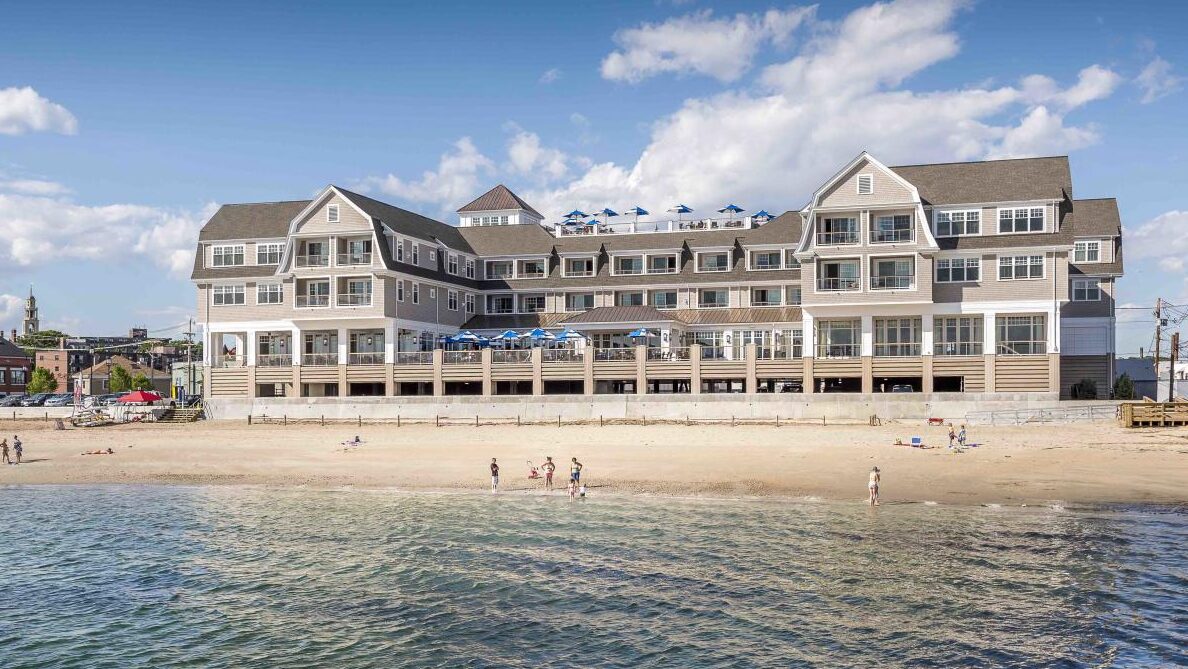 To the north of Boston is where the waterfront Beauport Hotel Gloucester awaits, with its 10,000 sq. ft. of meeting space, the largest on Boston's North Shore, and 94 guest rooms, including 14 suites. On the lobby level, 1606 Restaurant & Oyster Bar offers up American marine cuisine while providing a panoramic view of from where it derived. The property also offers experiences exclusive to its guests, such as a 12-hour fishing excursion with the crew from television show Wicked Tuna; the experience includes a to-go breakfast, a lobster roll lunch and your beverage of choice, including beer and wine, and a survival kit. Bonus: You get a share of the earnings for your catch.
Team-centric Activity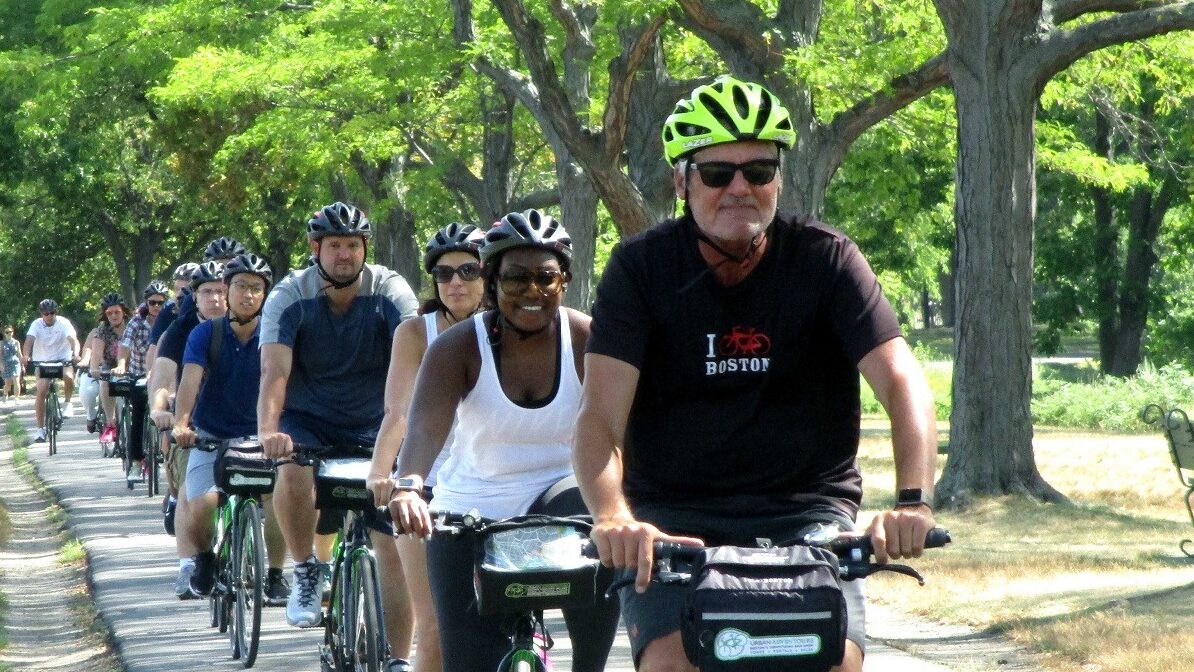 Boston is the only city in the United States where groups can experience Bikebus, a spin class-bus tour hybrid of sorts. While on stationary bikes mounted where the bus seats would normally be, your group will cruise around to the city's historical monuments and other points of interest. These 45-minute bus experiences have a capacity of up to eight people; larger groups can be split into multiple, consecutive sessions.
Or bike out on the open streets with the locally owned, green-focused Urban AdvenTours. These guided bicycle tours visit some of the city's most frequented locations, such as Fenway Park, Freedom Trail and Charles River Esplanade. Rental bikes can be delivered to your hotel via a vegetable oil-powered BioBus.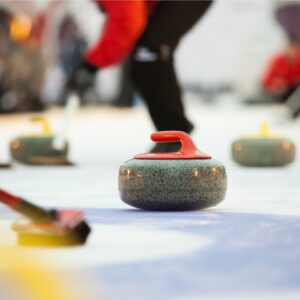 Or what about curling as a form of team building? Send participants into fits of surprise—if not gales of laughter—by taking them to Petersham Curling Club in Petersham, west of Boston. From mid-October to April, Petersham Curling Club features nightly league play; it also offers private rentals, "learn to curl" sessions and, thank goodness, a bar.
See also: Meeting Inspiration That's Outside the Box
Wachusett Mountain Ski Area, an hour west of Boston in Princeton, offers plenty of skiing and snowboarding fun on its 26 trails, which range from novice to expert level. Wachusett Mountain also features meeting spaces that can accommodate groups of up to 400; venues named Ash, Maple and Beech are located in the property's Slope Skybox, which affords views of the scenic slopes at no extra charge.
Greater Springfield
The Greater Springfield region is home to a wide range of hotels, venues and inns, from classic B&Bs to the globally renowned. The city is also home to many firsts, such as America's first armory and military arsenal and the first American-made vehicle.
Hotels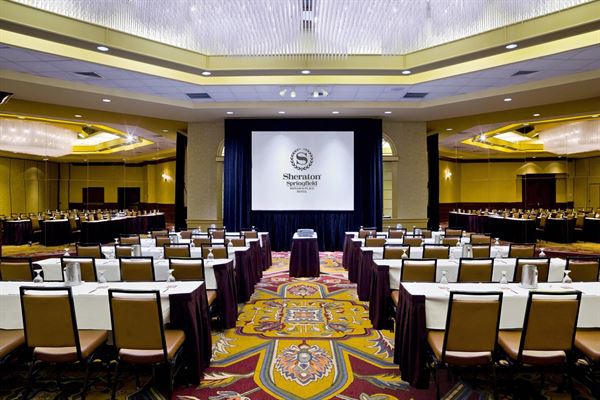 Hotel Northampton, 20 minutes north from Springfield, offers 106 guest rooms. The property, a Historic Hotels of America member, is clad in brick in the city's downtown. Hotel Northampton also features six meeting venues, with the capacity to host up to 200. Wiggins Tavern, the hotel's restaurant, offers up fishy delights such as pan-seared salmon and baked stuffed shrimp.
Designed for longer-term stays, the eight-room Naomi's Inn Bed & Breakfast may be as intimate as it gets. Each guest room comes with its own distinct flavor, such as the French-inspired Louis the XIV and Anthony's Room, designed to replicate a Massachusetts home and the only room with its own private entrance. Outdoor
venues are plentiful, too.
In to-be-expected MGM fashion, MGM Springfield brings on an impressive amount of entertainment, meeting space, and food and drink options, making this property an easy choice if the goal is to go big. Along with the on-property 34,000 sq. ft. of meeting space, the 100,000-square-foot MassMutual Convention Center is where your group members can put their passion for a favorite song on display.
Sheraton Springfield Monarch Place Hotel is not far from MGM Springfield and MassMutual Convention Center. The property is all in on American fare, with the American MVP.pub and Picks Restaurant, a sports bar that serves craft cocktails, beers and classic eats. The grand ballroom, which can seat up to 1,000, is one of the largest in Springfield and is just one of the many venues in the property's 33,213 sq. ft. of meeting space.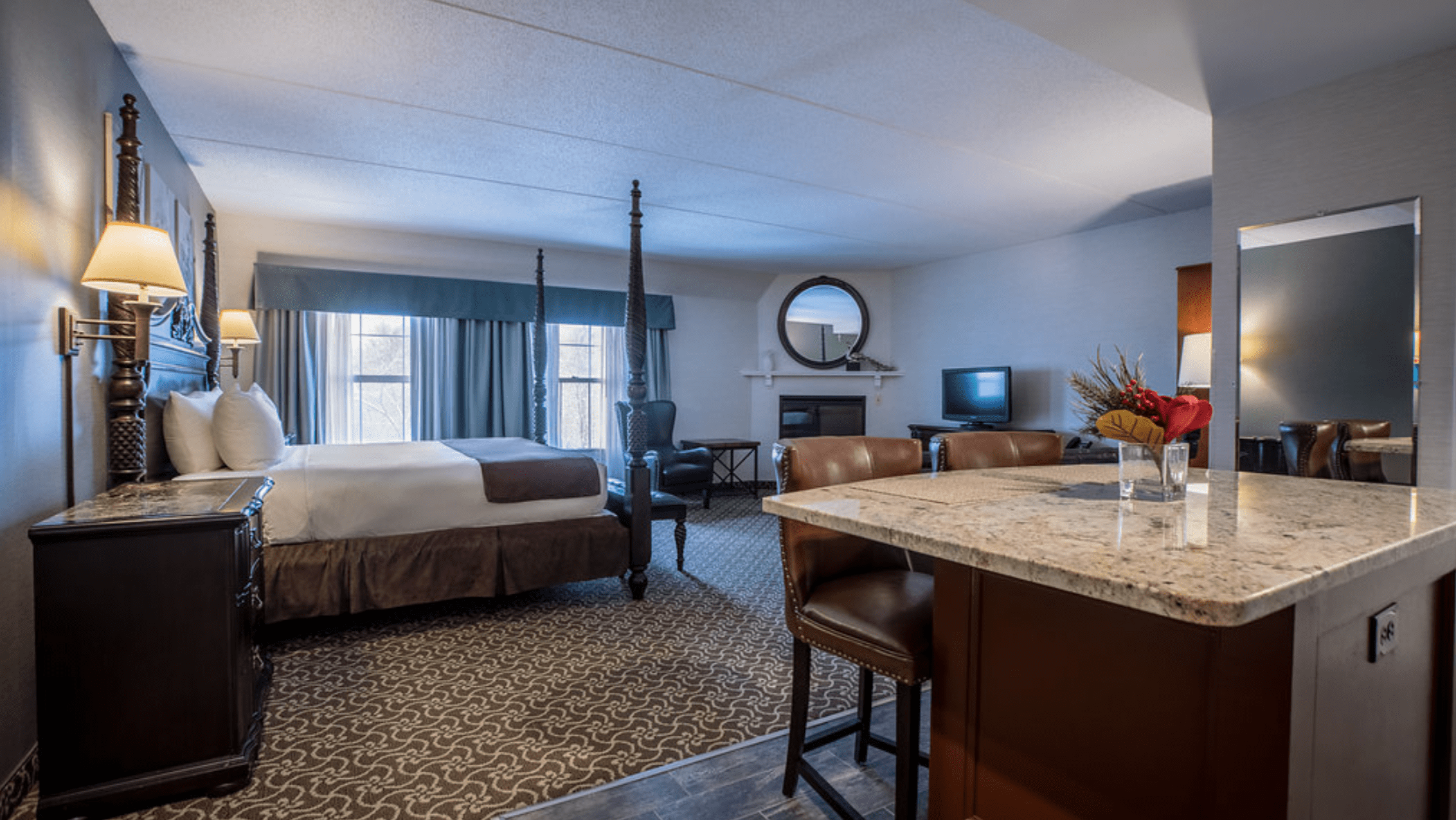 D. Hotel Suites & Spa is a 61-room property in Holyoke, north of Springfield. Designed to feel like home—its facade alone achieves that with flying colors—this property just may provide the comfort you're looking for. It's home to two restaurants, Delaney's Grill, a steakhouse, and the casual Mick. The hotel is attached to Delaney House, an event venue with space for up to 1,000.
Marriott Springfield Downtown is slated to open summer 2022. The property will feature 266 guest rooms, 10 meeting venues across 16,364 sq. ft. of meeting space, including outdoor rooftop space, and 1636 Restaurant and Bar.
Dine and Detect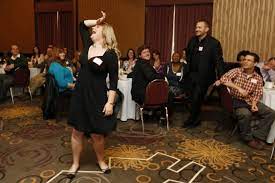 Eating dinner, solving murder mysteries. Just a regular night in Massachusetts. The Dinner Detective, the largest interactive comedy murder mystery show in the United States, is what's on the menu at the 184-key Holiday Inn Boston Bunker Hill Area, in Somerville, less than a mile outside of Boston. In a three-hour show, guests will be taken through the roller-coaster of crime-solving. Good luck guessing who the culprit is—the show's actors come in plainclothes and sit among the audience.
If meeting professionals have other event plans pre- or post-show, the property has 9,700 sq. ft. of meeting space. The Dinner Detective also hosts private corporate events and can bring the fun to your business or venue anywhere in Boston. F&B can be provided, including baked New England scrod, beers, wine and cocktails.
Group Adventuring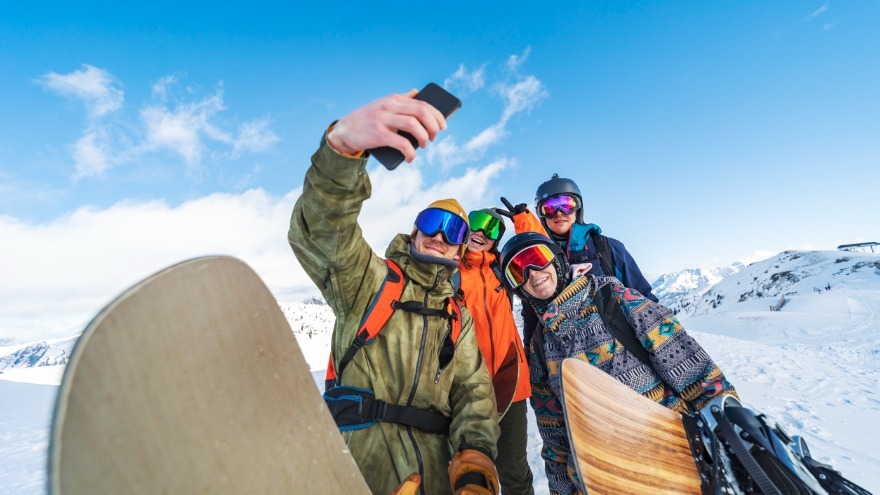 Group activities at Adventure East come in all shapes, sizes and types of exertion. Located in Sunderland, Adventure East offers group experiences such as cycling, hiking and snowshoeing for up to 80 attendees. You can also book private farm-to-table dining in the form of a picnic, wine and cheese pairing, or a sunset-accompanied dinner.
PedalnParty takes the bicycle and throws it in the water, but don't worry, it's on pontoon tubes. These are hydrobikes, and they are guaranteed to be a source of fun at your next team-building gathering. For a memorable hour, your group will have the chance to pedal along the Connecticut River at a smooth 4-6 mph (that's top speed); longer sessions are possible, as well.
Berkshire East Mountain Resort is in Charlemont, 30 minutes north of Springfield, an outdoor playground of skiing, snowboarding and tubing during winter. Berkshire East also houses indoor-outdoor event space for up to 200 guests. During other times of the year, the property features a mountain coaster, mountain biking, white-water rafting and ziplining. Zoar Outdoor, its sister property, also offers rafting and ziplining opportunities.
Springfield is the birthplace of basketball, so it's a slam dunk fitting in a visit to Naismith Memorial Basketball Hall of Fame. Recently renovated, the latest exhibits include the SuperFan Gallery, Court of Dreams and a tribute to Kobe Bryant. The facility features more than 80,000 sq. ft. of meeting space.