Hybrid or scaled-back, here's your sweet spot
Greater Boston
How important can small meetings be? Let's start with an example you probably learned about in grade school. In one of the most momentous meeting in history, 116 men are known to have taken part in the Boston Tea Party. Their bold action set the wheel of history in motion. In today's Greater Boston, gatherings of a few highly motivated attendees can potentially have impact felt far and wide, too.
And with an assist from up-to-the-minute technology, those who meet on New England soil can now instantaneously and directly interact with untold thousands across the country and beyond. For while Greater Boston's role in the founding of the United States runs deeper than almost anywhere, it is at the same time a buzzing hub of innovation and thought leadership.
It's no wonder Greater Boston CVB (GBCVB) launched a marketing campaign earlier this year called #MeetSmallDreamBig. Small is big in Greater Boston, and you will find no better incubator for your group's loftiest goals.
Boston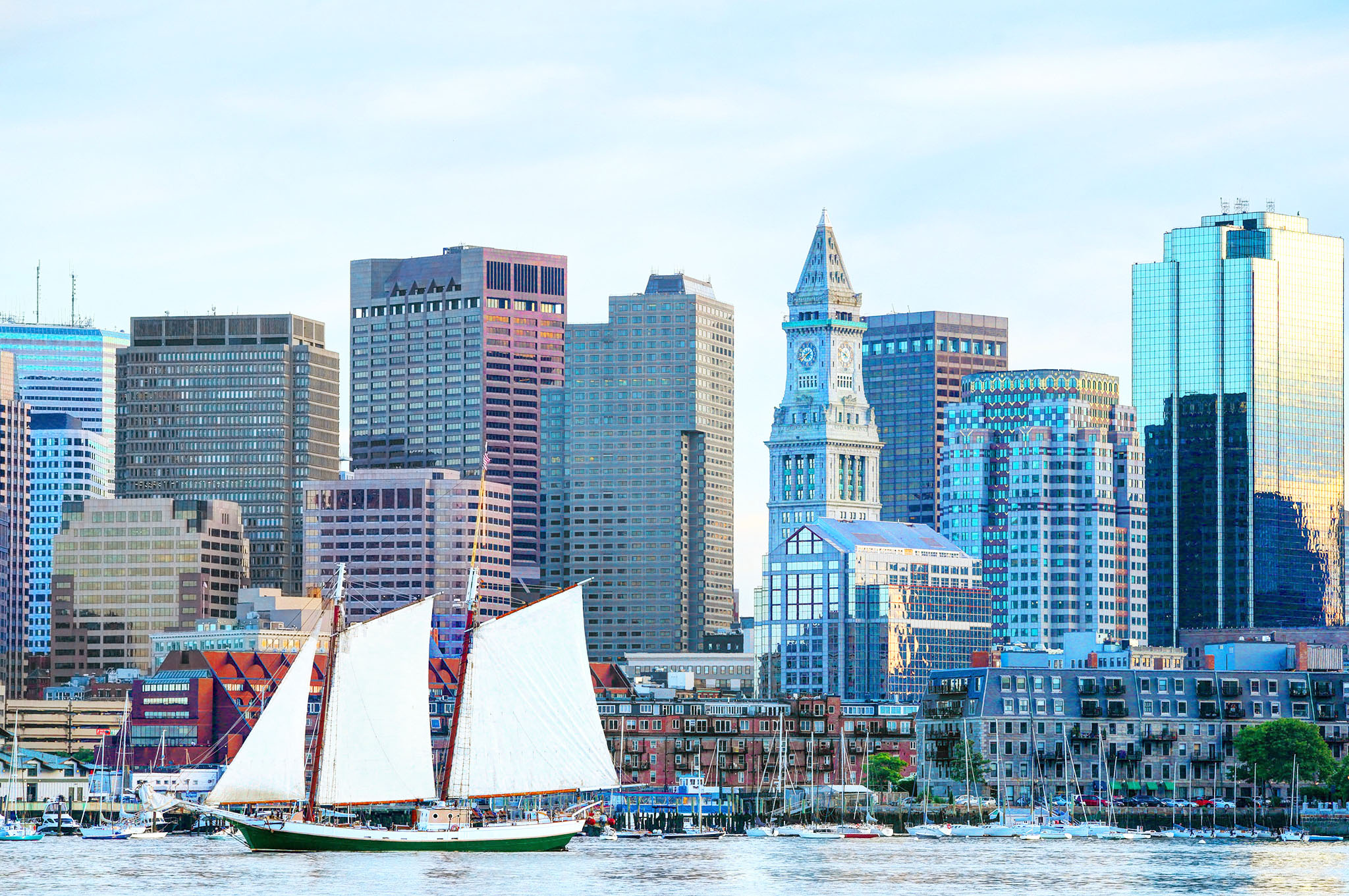 Boston is, and always will be, one of the country's premier meeting destinations. Historic waterfront…check. Deep culture…check. Spirited foodie and nightlife scene…check. Intellectual ferment…double check. It's one of those cities where if you were brought blindfolded to a busy downtown intersection, you'd know where you were in an instant…or, at least, after you heard someone warn, "Watch out for that kah!"
Easy to get to for both the drive and fly market, Beantown—which also, tellingly, likes the nickname Hub of the Universe—has focused heavily on making visitors feel safe in returning. Logan International Airport (BOS) was recently ranked No. 1 by Travel Pulse for airport safety. Working with industry partners, GBCVB launched the Boston Safe & Strong Pledge, a collective mission for businesses and visitors to share responsibility for stopping the spread of Covid-19.
Industry sectors that drive Boston's economy—higher education, health care, biomedical R&D, life sciences, fintech, smart manufacturing and consumer technology—are all resilient.  For any planner looking to host a conference or event with a backdrop of innovation and a cross-pollinating ecosystem of forward-thinking ideas, Boston (and neighboring Cambridge) may be unrivaled.
Meet Small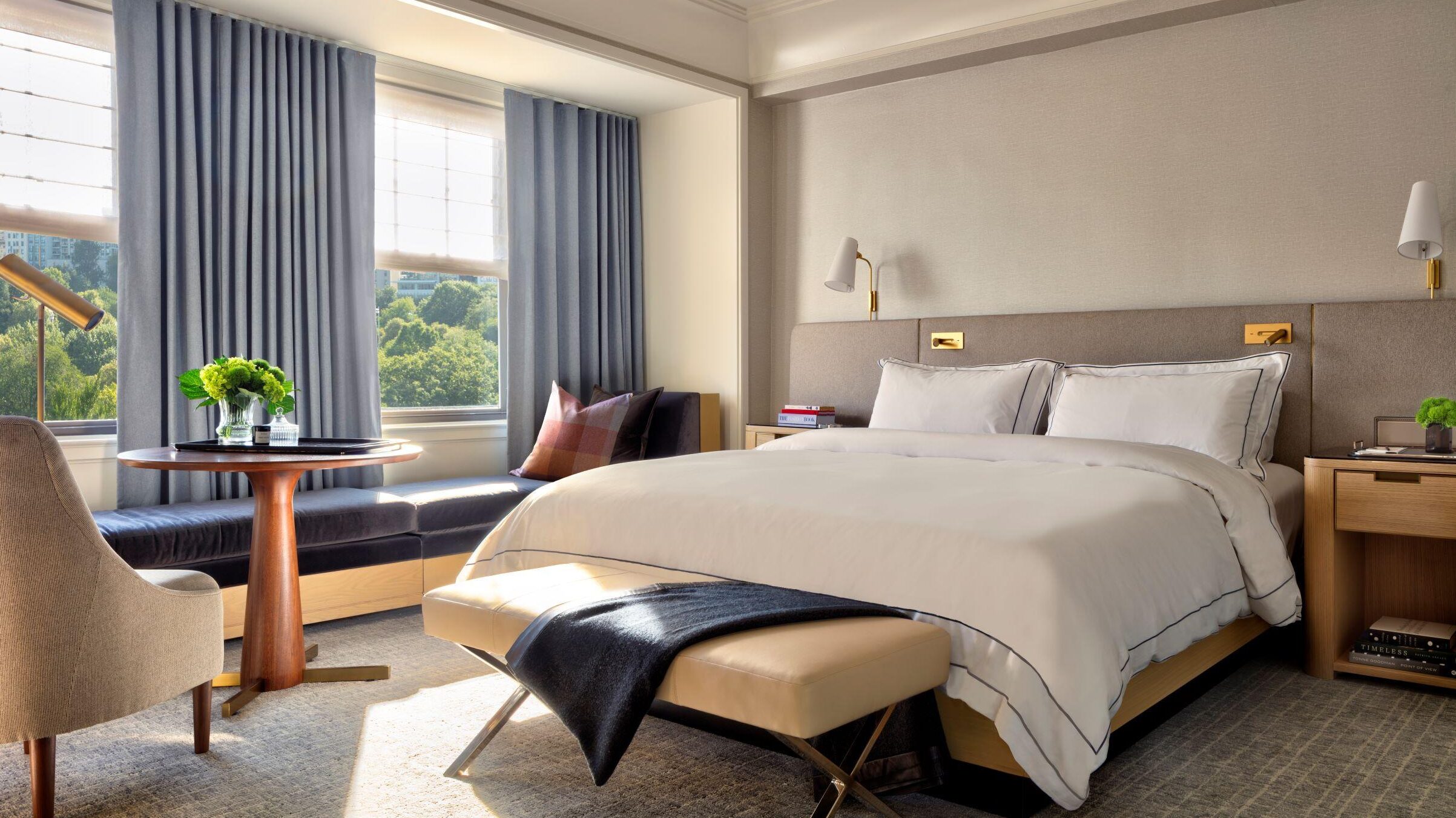 No matter what you're looking for in lodging and meeting space, Boston's got it—full or limited service, boutique, luxury, you name it.
Two historic properties are reopening this spring or early summer after amazing renovations, and both are perfect for smaller gatherings. The unveiling of Newbury Boston, housed in a Back Bay icon that most recently was Taj Boston and dates to 1926, was postponed due to the pandemic, but its moment has now arrived.
As its website proclaims, "We offer elegance and charm in a place where culture and commerce converge daily. No bland hotel catering. No boring boardrooms. Just beautifully curated contemporary spaces, historic ballrooms, and authentic, dedicated service at one of Boston's most prestigious addresses—One Newbury Street."
In all, 16,000 sq. ft. of event space awaits, suitable for retreats, conferences, receptions and other intimate gatherings that want an extra dollop of luxury and understated style. The 286 guest rooms and 44 suites are expansive and grand, with custom-designed furnishings, handcrafted woods and marble touches, not to mention Frette robes and linens.
And if your little band of attendees wants a break from all the opulence, the bar made famous in the TV classic Cheers also edges Boston Public Gardens.
Another treasured venue reopening soon is The Langham, in the former Federal Reserve Bank of Boston, a national landmark, on Post Office Square. In addition to 312 lavishly redesigned guest rooms and suites, and 13,000 sq. ft. of meeting and event spaces in 11 function venues, a stunning new Langham Club will debut, along with new bar and restaurant concepts.
Long known for innovative culinary creations in its catering, The Langham brand is upgrading its meetings capabilities in another crucial arena—cutting-edge audiovisual. The property has partnered with Encore—which also boasts iconic Fenway Park as a local client—for AV support in virtual and hybrid events.
Speaking of Fenway, which, of course, is home to MLB's Boston Red Sox, it is open for rental to groups small and larger. As is TD Garden, where the NBA's Celtics and NHL's Bruins play their home games. At Fenway, attendees can overlook the field from indoor meeting, conference and dining spaces (and rooftop decks) that host 20 to 200 guests. At TD Garden, rental opportunities include the arena floor and The Sports Museum and Legends, a sports-themed event space. Less than 30 miles from downtown, in suburban Foxborough, Gillette Stadium, where NFL's Patriots rule, has similar options.
Boston's Seaport District, a mega-project under development since 2014, is growing more robustly than any other area in the city. Seaport Square itself will encompass more than half of the 5,000-plus new hotel rooms being added to Boston's inventory in the next several years. The 1,106-room Omni Boston Hotel at the Seaport will begin to welcome groups this summer with 100,000 sq. ft. of meeting space, but two new, more compact properties that are already open should also be on your radar.
Hyatt Place Boston/Seaport District sits just through the Ted Williams Tunnel from the runways at Logan and only a short walk from technologically advanced Boston Convention and Exhibition Center (516,000 sq. ft. of contiguous exhibit space). The hotel offers 297 contemporary guest rooms, many with sweeping Boston Harbor views, to complement nearly 6,000 sq. ft. of meeting and event space in six light-filled venues overlooking the harbor; largest space is 1,843 sq. ft. The latest in AV enables virtual and hybrid gatherings, with help available from on-site event facilitators.
Homewood Suites by Hilton Boston Seaport/Hampton Inn by Hilton-Boston Seaport opened in April, offering a combined 416 guest rooms. The 14-story dual-branded property sits steps from the water at the gateway to Raymond L. Flynn Marine Park, offers over 6,000 sq. ft. of meeting space, including two outdoor decks, as well as easy access to the Seaport District's burgeoning list of top restaurants, bars, breweries, retailers and attractions.
Cambridge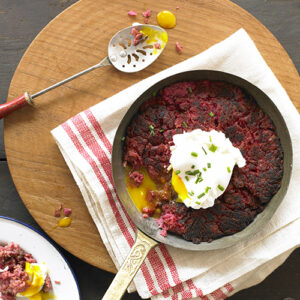 In this city of just over 110,000, Harvard University is the biggest employer, followed by Massachusetts Institute of Technology. That should tell you much of what you need to know about Boston's nearest neighbor to the north. Harvard Square is justly famous but so, too, is Kendall Square: It's been called "the most innovative square mile on the planet" because of a critical mass of entrepreneurial start-ups.
Biotech, in particular, has found fertile ground in Cambridge—does Moderna ring a bell?
At the same time, it's worth noting that Cambridge also has a long history of manufacturing, including the world's largest ink producer and a gaggle of confectionary and snack makers. Fig Newtons, Necco Wafers and Junior Mints all originated in this history-rich place—and those favorite movie theater mints (now part of Tootsie Roll Industries) are still made there.
It's easy to get to—minutes from Logan airport and several major highways. The Red Line underground train to Cambridge also provides public transportation to visitors from the airport to any one of Cambridge's five underground stations.
Cambridge has taken a more conservative approach than the rest of the Commonwealth to reopening, with tighter restrictions for indoor gatherings, says Robyn Culbertson, executive director of Cambridge Office of Tourism, adding, "All of this has meant a safer, more confident return to business for Cambridge's visitors as well as tourism and hospitality workers."
Meet Small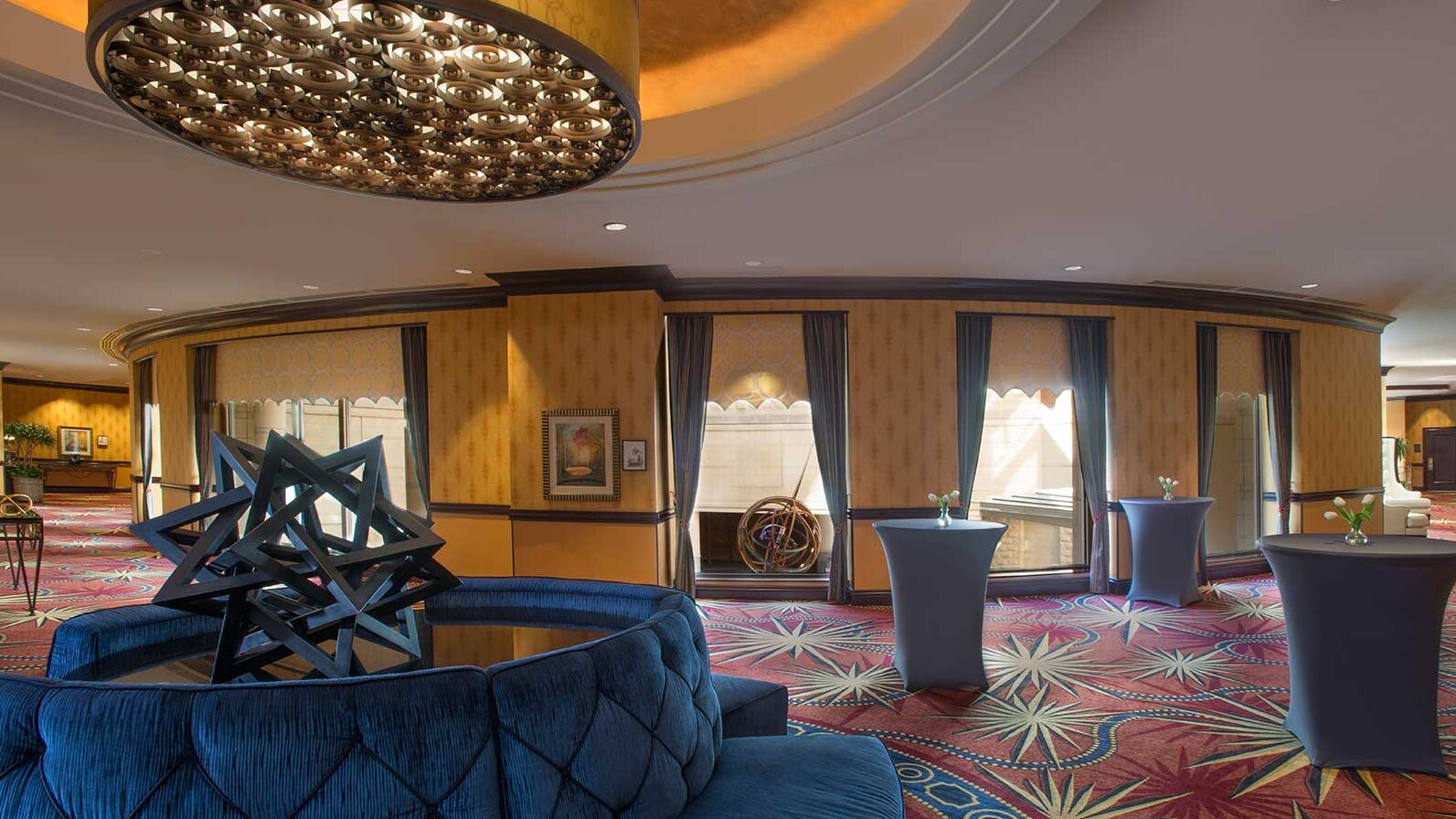 A number of Cambridge hotels have used the lockdown period to make extensive renovations. One of these is The Charles Hotel, long a haven for New England casual elegance in Harvard Square. Major renovation of the lobby and other common areas, as well as Noir Bar on the lower level, were just completed in a reimagining by world-renowned architect and artist Thierry Despont. The 294 guest rooms have Shaker furnishings, and over 18,000 sq. ft. of indoor and outdoor space is on offer. On-site AV consultants can assist in hosting virtual and hybrid gatherings.
Kimpton Marlowe Hotel, a 237-room luxury boutique property overlooking the Charles near Kendall Square, shows off the brand's distinctive flair in its 15,000 sq. ft. of flexible prefunction and meeting space (including a 3,400-square-foot ballroom) that feature natural light, lively decor and internet speeds of up to 250 MB to support hybrid meetings. There's also an attractive courtyard for hosting up to 300. Catering is offered from the property's Bambara Kitchen + Bar, where outdoor and private dining spaces can also be booked. Kimpton Marlowe Meeting Takeover, a special promotion being offered to planners, gives exclusive use of the hotel's event space and dedicated floors of newly renovated guest rooms for $10,000 a day.
Hyatt Regency Boston/Cambridge, the largest hotel in Cambridge at 470 guest rooms and 25,000 sq. ft. of meeting space, is undergoing a multimillion-dollar renovation this spring that will unveil new meeting rooms, lobby and two new food and beverage outlets. Smaller groups will still feel at home in the stylish pyramidal property on the Charles with skyline views of Boston and free shuttle service to Kendall Square.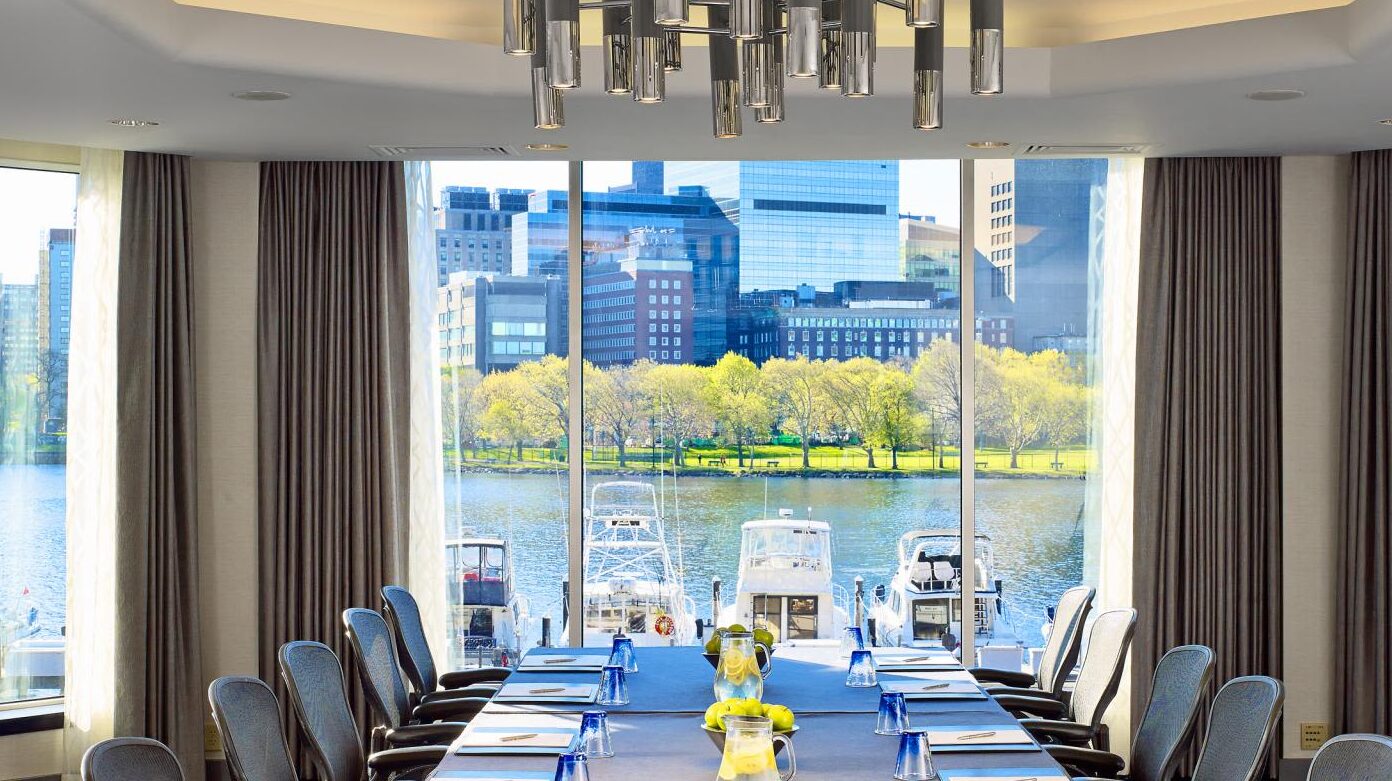 Another highly regarded Cambridge hotel along the Charles, 400-room Royal Sonesta Boston, a AAA Four Diamond property, offers planners the opportunity to book a block of rooms in a secluded part of the hotel, or even an entire floor as part of the Stay Safe with Sonesta program. In addition to 28,000 sq. ft. of function space, there's 3,800 sq. ft. of outdoor event space with breathtaking views to Boston.
In an imposing Colonial-style building in Harvard Square dating to 1926, 153-room Sheraton Commander Hotel has 5,443 sq. ft. of meeting space in five elegant venues. The landmark property has teamed with Cambridge Center for Adult Education to offer guest experiences in cooking, creating art, learning languages or other unique experiences that can be enjoyed virtually or in small group classes.
The Classic Coast
Less than two hours' drive south from Boston lie nine Rhode Island coastal towns anchored by fabled Newport that are a planner's dream for small meetings—stately Gilded Age mansions, manicured beachfront lawns, boutique lodgings and more. All wrapped in a colorful history and vibrant present.
Discover Newport markets them as The Classic Coast: Barrington, Bristol, Jamestown, Little Compton, Middletown, Newport, Portsmouth, Tiverton and Warren.
People have been meeting in Newport since before the Great Friends Meeting House opened its doors in 1699. They come for America's Cup sailing, International Tennis Hall of Fame, lobster bakes and Rhode Island wines at sunset or a clambake at historic Fort Adams, picnicking on the grounds of Newport mansions, scenic hiking and walking trails, harbor tours, charter sailing and deep-sea fishing.
Not to mention a lively craft brewing and winemaking scene.
Combined with convention hotels, boutique inns, charming B&Bs and more than 100 restaurants to try, repeat group business attests that Newport is one of the country's best seaside destinations. More than 1,000 guest rooms at five hotels complement 45 special event venues.
Among the top choices for small meetings is 98-room Newport Beach Hotel & Suites, with its meticulously restored gambrel-style historic hotel and contemporary shingle-style, all-suites addition. Combining  historic charm with contemporary sophistication, this seaside resort has 5,000 sq. ft. of meeting space and amenities that include an indoor pool, hot tubs, a fire pit and spa services. Another solid choice is Hotel Viking, a regal dowager in the heart of downtown with an award-winning spa and daily afternoon tea; it has 208 guest rooms and 14,000 sq. ft. of meeting space.
RESOURCES
Cambridge USA
Discover Newport

Greater Boston CVB