The Metroplex is on the move again
The 11 counties that make up the Dallas Metroplex include event destinations of Fort Worth, Arlington, Frisco and Denton. They would all be popular meeting destinations on their own. But the concentration of different types of spaces, attractions and prices, tips the balance toward a trip to Dallas-Fort Worth Airport (DFW), where a $2 billion renovation has been approved for Terminal C.
Add to the equation the almost constant forward motion of new development, an abundance of intellectual capital with 23 Fortune 500 companies headquartered there and lots of character and you have a perennial meeting favorite.
Dallas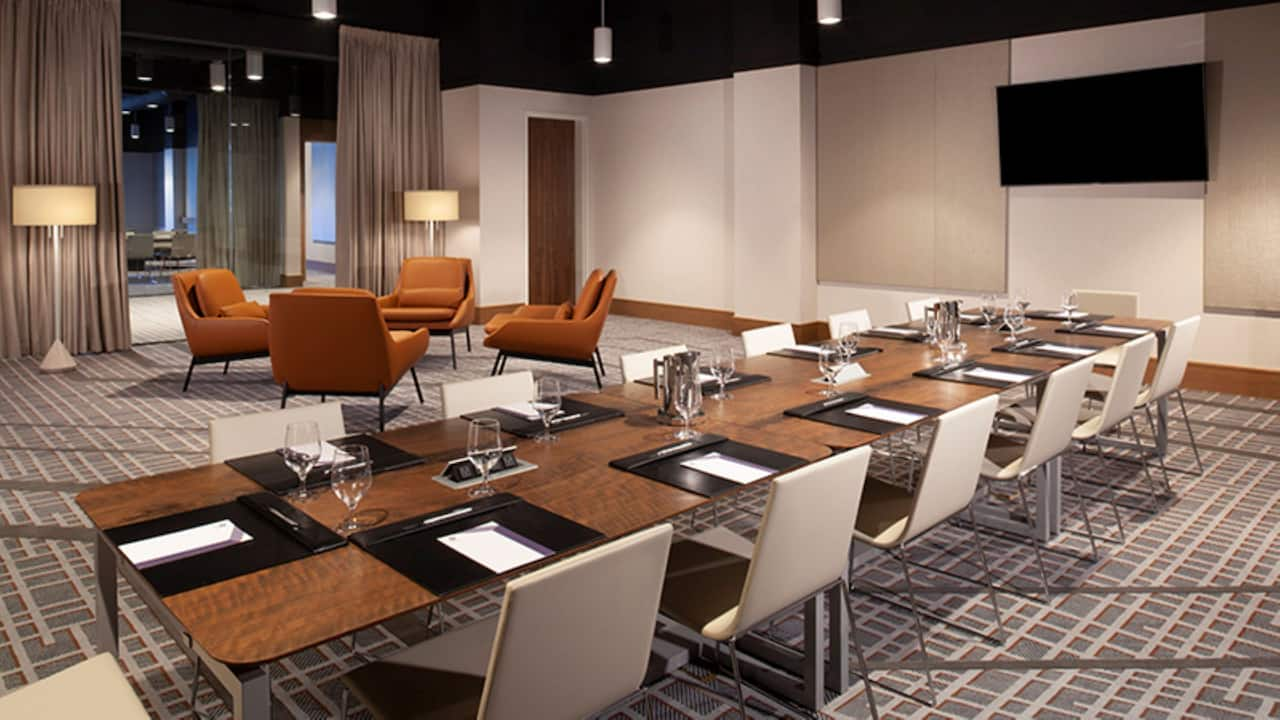 "Dallas has always continued to expand through good times and bad," said Craig Davis, president and CEO of Visit Dallas, on a Zoom call weeks before he anticipated issuing an RFP for design of a new 2.5-million-square-foot convention center located adjacent to the current Kay Bailey Hutchison Convention Center Dallas. The new center will feature 800,000 sq. ft. of exhibit space and a 100,000-square-foot ballroom. Construction on the $2 billion center is expected to begin in 2024 with completion in 2029. "We are constantly on the move," he said.
The dream of a fresh start almost went off the radar during Covid, Davis confided. "Once we realized we were going to survive that, we found the ability to fund it," he said. The City Council voted to create a project financing zone to raise 85% of the price tag. Unlike previous expansions, this is seen as an opportunity to connect to the city by capping the interstate and changing the orientation from East-West to North-South. This could make room for new attachments to large convention hotels and a new planned entertainment district. It will be integrated and walkable. "We have 15,000 rooms in downtown Dallas; we just need them to be closer," he said.
Read More: Dallas-Fort Worth: The Start of Something Bigger
The meeting space expansion builds on the momentum the city has made in other areas as well. Silicon Prairie has drawn banking, technology and healthcare companies from all over the country to put down roots. "The Intellectual capital here makes it easy to get expert speakers, particularly in the medical field," Davis said.
There is no lack of entertainment when groups are in town. Every major and minor league sport has a team in town, making off-sites or pre- and post-games fun and easy. "People want to know that there is excitement in a city; they want to meet in a city that has gravitas beyond the ballroom," said Davis, a certified pilot, native Canadian and sports fan in his own right.
He also admitted that the region benefitted from the fact that Texas was perceived as being open during Covid and emerged faster than a lot of big cities from the hospitality downturn. "We were able to offer certainty during a time of uncertainty because people knew we would make good on our promises and protocols were not going to change at the last minute," he concluded.
New and Renovated Room Options
The convention center is not the only landmark property that is rediscovering itself. Downtown, Sheraton Dallas Hotel was one of two flagship properties in the country that underwent multi-million renovations to fit a new definition of the Marriott brand focused on making guests feel like locals and locals feel like guests. The 1,841 guest rooms and 230,000 sq. ft. of meeting space are brighter and filled with the amenities attendees are craving, including co-working spaces, soundproof booths for making a quick call, an upgraded club lounge, rooftop pool, Sheraton Sleep Experience platform beds and even park access.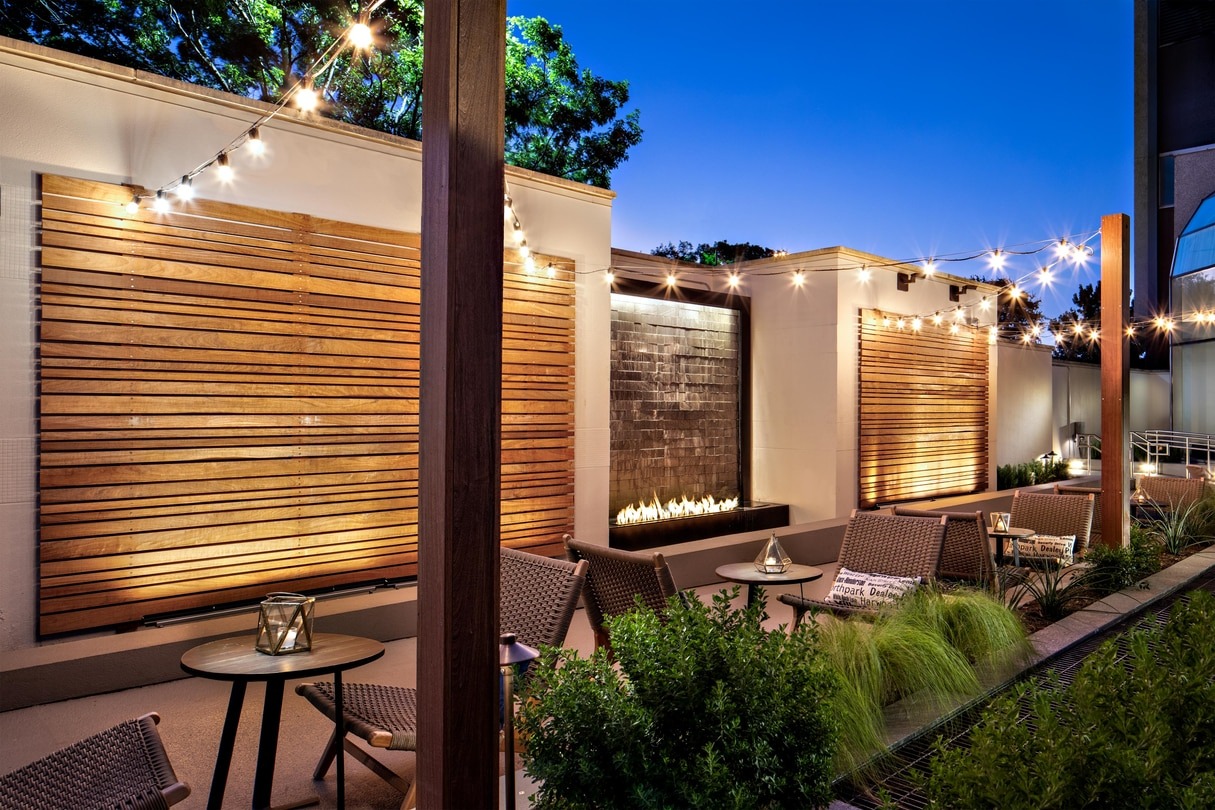 Marriott Dallas Uptown opened its doors last year with more than 17,000 sq. ft. of meeting space and 255 guest rooms and a 14th-floor rooftop event space with 360 views of the city.
Also Covid-new is Beaux Arts-style Kimpton Pittman Hotel, Dallas in the Deep Ellum neighborhood with 5,000 sq. ft. of meeting space and 165 guest rooms. The retrofit of a historic '20s blues venue adds a modern, comfortable feel to the venerable facade with wood-fired fare and craft beers.
At the same time, Thompson Dallas renovated its 21,000 sq. ft. of meeting space and 219 midcentury-modern guest rooms. As one of Hyatt's luxury brands, the difference is in the details at the award-winning spa and National Ballroom where views from the floor-to-ceiling windows are timeless.
Frisco
In nearby Frisco, a string of companies—Keurig, Dr Pepper, Metro by T-Mobile and Addus HomeCare Corp.—have announced they are moving operations, and in some cases headquarters, to the booming area. Visit Frisco bills itself as "The go-to place for fun in the DFW Metroplex" justifiably.
It is the home of FC Dallas, which plays at Toyota Stadium; Frisco RoughRiders double-A baseball team, which plays at, fittingly, Riders Field, where a lazy river is one of the spectator seat options. Frisco is also where The Dallas Cowboys practice at The Star, which happens to be connected to Omni Frisco Hotel's 300 elevated guest rooms and 24,000 sq. ft. of meeting space. For those more focused on indoor sports, it is also where The National Video Game Museum houses the world's largest home Pong console.
New and Renovated Room Options
In this city of action, Westin Dallas Stonebriar Golf Resort & Spa was no slacker when it came time to renovate this sprawling resort with three onsite food and beverage outlets, a full-service wellness spa, and access to an 18-hole course designed by Tom Fazio. The $30 million full property renovation completed in 2021.
The property features more than 30,000 sq. ft. of event space, including Legacy Ballroom, a 6,000-square-foot indoor option that complements abundant outdoor space with pond-side views of the rolling fairway. A TopGolf Swing Suite offers lounge seating and access to onsite food and beverage offerings.
Hyatt Regency Frisco-Dallas opened in 2020 and is ideally located near Stonebriar Centre Mall for those who see shopping as a full-contact sport. The shining glass frame tucks 303 guest rooms and 24,500 sq. ft. of meeting space, including two ballrooms, in its 18 stories.
One of the most exciting new projects to come to the area, Omni PGA Frisco Resort, is scheduled for a grand opening in Spring 2023. It will boast 500 guest rooms, 10 four-bedroom modern-Texas ranch houses, three pools and more than 127,000 sq. ft. of indoor and outdoor event spaces, including a 22,000-square-foot Grand Ballroom.
PGA of America is already moving its headquarters to the city, so the property obviously went big on two 18-hole championship courses designed by Gil Hanse and Beau Welling, a lighted 10-hole short course (The Swing), a two-acre putting green (The Dance Floor), lounge by Topgolf, PGA Frisco coaching center, and an entertainment district. The first golf tournament will be in May of next year and the property is taking RFPs for 2023 events now.
Fort Worth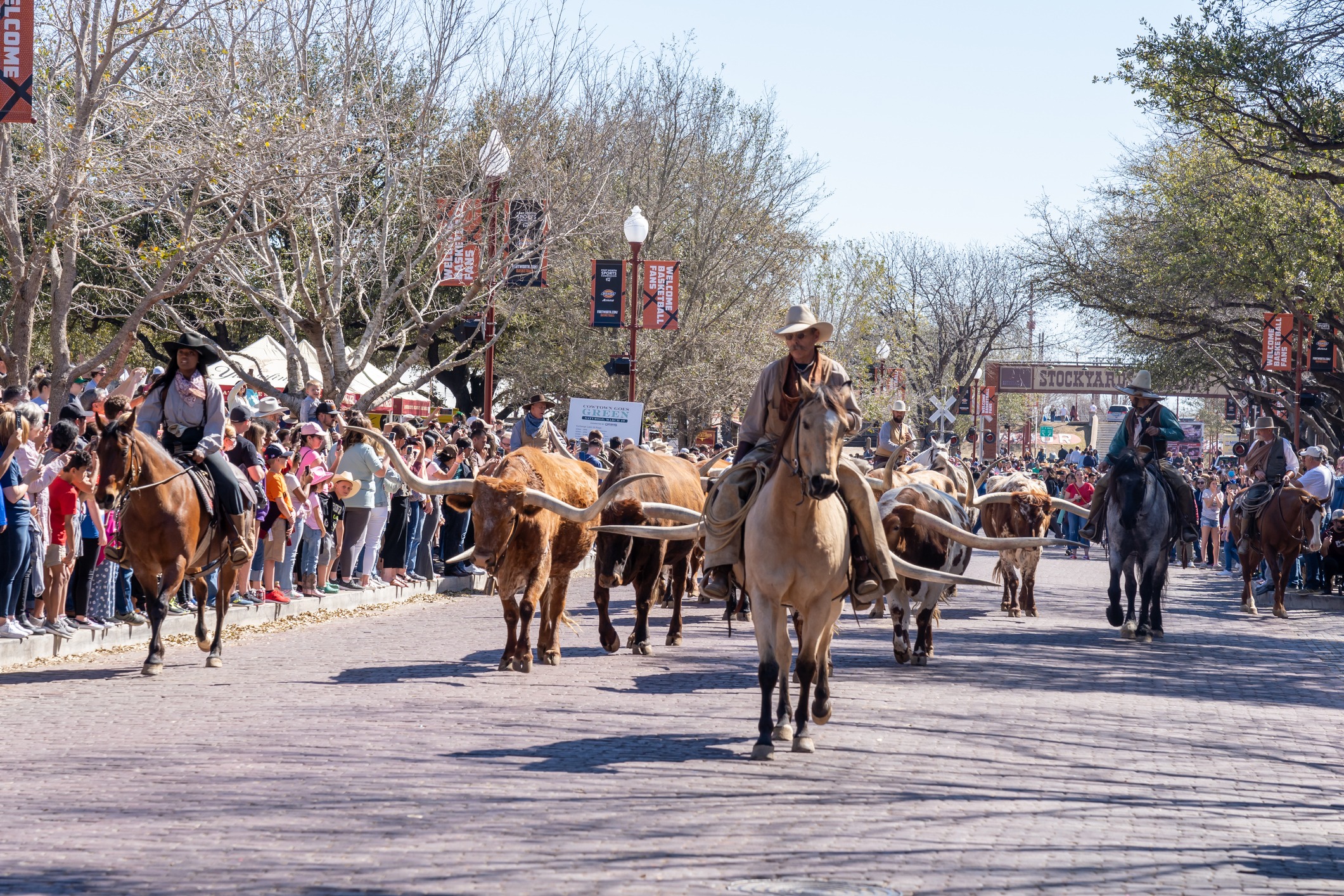 When Brooke Oltmann was announced as director of sales of Hosts Dallas-Fort Worth, she first celebrated the size and power of the region. "The one secret that I'm willing to share is no secret—everything's bigger in Texas!" she said in a release. She cited the rapidly growing population of 7.7 million people spread across 9,286 square miles (larger than the states of Connecticut, Delaware and Rhode Island combined). Then she pointed to the secret gems of the Historic Stockyards in Fort Worth, "where there is always Texas hospitality."
Read More: Big Business: 36 Hours in the Dallas-Fort Worth Metroplex
Oltmann will be the first to tell you that famous welcoming spirit is alive and well throughout "The City Where It All Begins." That includes Sundance Square Entertainment District, the museums of the Cultural District and Fort Worth Convention Center where a $500 million expansion is planned to start in 2023. When both phases of construction are complete, attendees will be treated to 97,000 sq. ft. of new exhibit space and a new 60,000-square-foot ballroom.
Mike Crum, director of the Public Events Department for the City of Fort Worth, admitted that this is another project that almost fell victim to the 'vid. "We had our first meeting with the design review committee in February 2020, and then two weeks later, our plans were shelved indefinitely," said. The arrival of $52 million in federal American Rescue Plan Act funds injected new life into the plans and the city is revisiting the design with new insights from meeting planners on what they and their attendees now expect from a venue.
New and Renovated Room Options
The Drover, a 200-room Marriott Autograph Collection property in a rejuvenated Mule Alley, celebrates the cattle drivers whose rugged industry shaped the plains. Making use of event locations within the hotel and throughout the famed Ft. Worth Stockyards, it offers 55,000 sq. ft. of indoor, rustic-luxe meeting space with lots of fun outdoor options.
Kimpton Harper Hotel in downtown Fort Worth opened last year in a 1920s skyscraper with 226 guest rooms, Refinery 714 (a penthouse lounge) and 10,000 sq. ft. of meeting space, including a sophisticated ballroom.
Arlington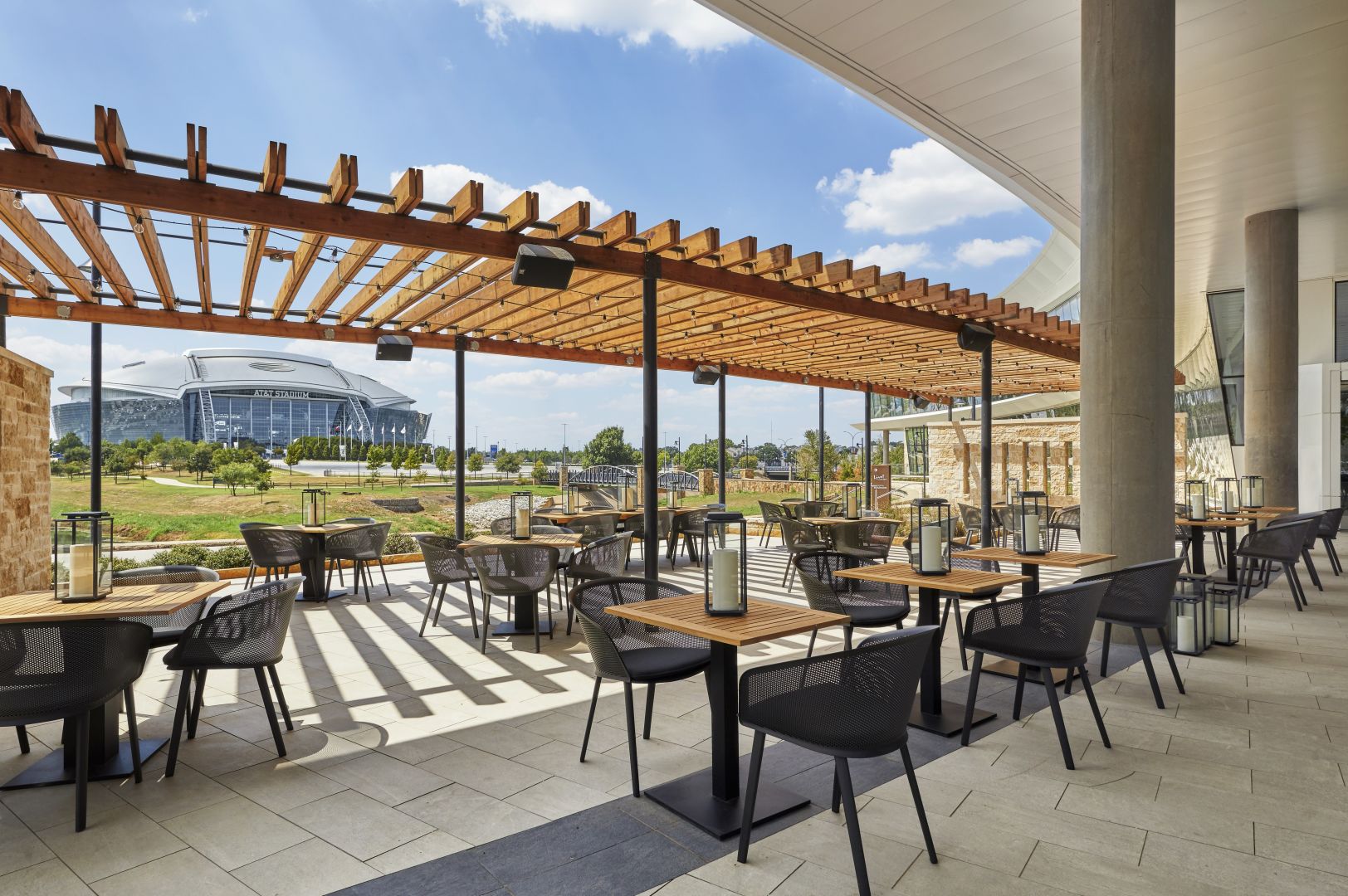 Not to be outdone, Arlington, already the site of AT&T Stadium, Globe Life Field and Choctaw Stadium (formerly Globe Life Field) will open a $150 million Live! by Loews-Arlington, TX in 2024. The 888-room convention hotel will feature Arlington Convention Center, 200,000 sq. ft. of indoor meeting space and 66,000 sq. ft. of outdoor function space, including an event lawn.
The area will be a citywide unto itself with five restaurants and lounges, dishing up wood-fire pizza and homemade pasta, a resort-style beach club with two pools, cabanas, fire pits and a water slide. It will connect via sky bridge to the existing 300-room Live! by Loews Arlington Hotel and its 35,000 sq. ft. of meeting space.
Adriana Huizar, sales manager at Arlington Convention & Visitors Bureau suggests arranging to see a game while in town. They have lots to choose from.
New and Renovated Room Options
A recently remodeled favorite for its convenience to sports action is Lux Hotel & Spa, a Trademark Collection by Wyndham with 192 guest rooms and 22,000 sq. ft. of meeting space.
Another fun project in the pipeline for 2023 is RiverPark Arlington, a boutique hotel with 87 guest rooms near Texas Rangers Golf Course. It is built around a golf driving range powered with TopTracer by TopGolf technology.
Climate-controlled bays and private suites, a miniature golf course and 5,000 sq. ft. of meeting space overlooking the greens complete the theme. It will also showcase the first tennis center in the area outfitted with the Playsight Smart Courts system, which records player swings on high-def cameras for analysis later.
Progressive Denton Discovery

If you have ever wandered 25 minutes north of DFW Airport for site inspections, you may have run into Rubin Perez, the "Midnight Mayor" of Denton, Texas. This evangelistic Dentonite's day job is as director of sales and services with Discover Denton, home of two universities, including University of North Texas.
If you have had the pleasure of chatting with Perez, then you know that this is a place with small-town charm and big city amenities. He probably also shared that the fine dining and cool, hip vibe comes at a price tag that is often as much as 35% less than neighboring cities. You must know that award-winning Embassy Suites Denton Convention Center is building another 125 suites for overflow rooms from the 70,000 already in place at Denton Convention Center.
But you haven't really experienced this unique destination until he has led you on a progressive walking dinner tour…or two…or three. Here is the starter foodie tour from Rubin Perez, but you will have to ask him for the skinny on the speakeasy and Back Door Donuts after 10 p.m.
Appetizers at LSA Burger Rooftop for margarita flights and brisket queso
Walk to Visitor Center for a souvenir and beer or hard seltzer (Smart Tip: Like Las Vegas, New Orleans and Napa, this is one of the few cities where you can walk around with open containers)
Walk to Komoto Loco for sushi
Walk to Denton County Brewing Co. for beer and dessert pairings
This article appears in the August 2022 issue. You can subscribe to the magazine here.