Colorado lures planners with rare pleasures
In a technological world obsessed with facsimile, there is something pure and graceful about doing business in the shadow of the majestic Rocky Mountains. No fake Zoom backdrop, virtual reality headgear or animated Metaverse can ever compare to attending an event, conducting a meeting, participating in a training or spending the after-work hours within the natural and rustic beauty of Colorado.
The state's claims to fame include the highest elevation, deepest hot springs, superior weather, stunning national parks and robust craft beer culture. It is not surprising that Colorado also attracts meetings and meeting planners who understand that setting is one of the many factors of success.
Though numerous cities and towns in Colorado lay witness to the Rocky Mountains outside their west-facing windows, Denver, Colorado Springs, Boulder and Aurora are among the best choices for meetings and events venues.
Denver Is the Place for Mile High Meetings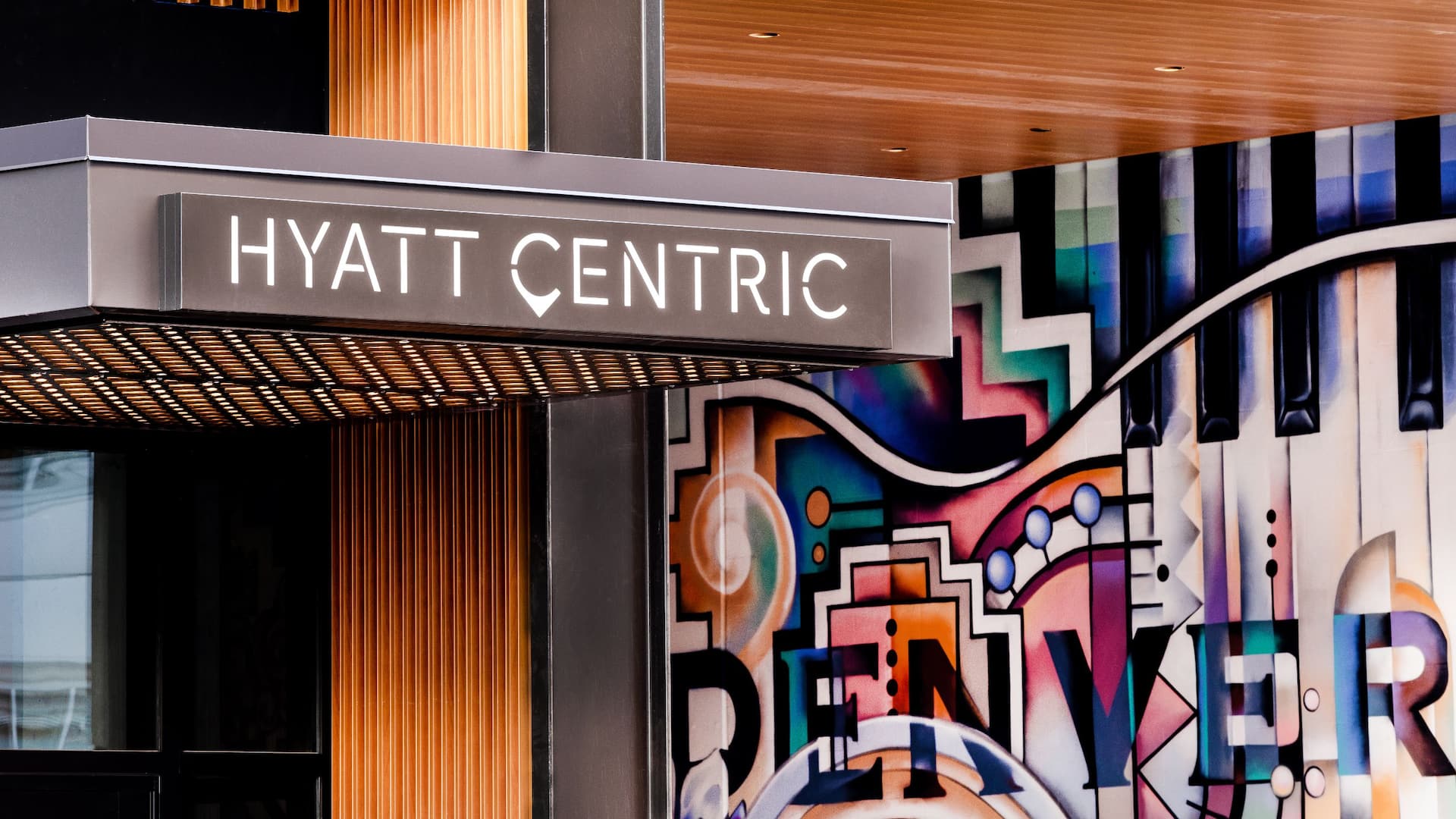 Denver boasts 300 days of sunshine each year, give or take, of course. The high desert climate and elevation contribute to clear blue skies and brighter stars than in most other parts of the country. Though the winters in Denver can get chilly and produce one of their most valuable resources…snow, the summer sees the heat rise to the low 90s. It gets hot, but as they say, it's a dry heat.
Rachel Benedick, executive vice president of sales and services for Visit Denver stated, "The convenience of Denver's walkability lends itself well to allowing meeting professionals and attendees to explore the city's chef-driven dining scene, thriving arts & culture and some of the finest craft breweries in the country."
"The state's claims to fame include the highest elevation, deepest hot springs, superior weather, stunning national parks and a robust craft beer culture."
Meeting planners would be wise to set their sights a mile high. Colorado Convention Center provides 584,000 sq. ft. of exhibit space, a 50,000-square-foot Mile High Ballroom, 35,000-square-foot Four Seasons Ballroom, 5,000-seat Bellco Theater, and two outdoor terraces with iconic views of the vast mountain range and downtown Denver.
Read More: A Tale of Three Cities: Denver, Boulder and Colorado Springs
An upcoming expansion, set to be completed in late 2023, will make this property even more impressive. The meeting spaces will be increased by 150,000 sq. ft., event space by 600,000 sq. ft., an outdoor terrace that will cover 20,000 sq. ft., and more unobstructed views of the Colorado majesty. Accompanying the expansion is a technology upgrade that will make the venue top of the class in that department. The expansion is projected to generate $85 million in revenue. In addition, the convention center is within walking distance to over 11,000 hotel rooms, and it is common knowledge that convenience is priceless.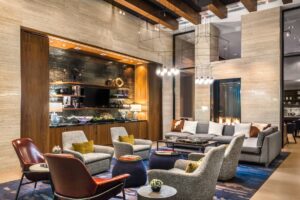 A two-minute walk from the Colorado Convention Center is AC Hotel by Marriott Denver Downtown. This trusted brand lives up to its reputation with a blend of European and urban styling, where subtle luxury lives alongside capital city chic. At the concierge desk, the use of Mobile Key, an app that allows for quick check-in and the convenience of using one's smart phone as a room key leverages efficiency and security.
The rooms themselves are classic, with simple lines and a lack of anything ostentatious. The atmosphere within the rooms allows meetings participants to rest before moving into the property's expansive venue spaces, which includes seven event rooms and eight breakout rooms.
At 12,050 total sq. ft. of event space, AC Hotel by Marriott Denver Downtown is ideal for planners looking for a trusted name and a great deal of flexible space.
For those amenable to a ten-minute walk from the Convention Center, Hyatt Centric Denver Downtown is worth the exercise. Besides sporting all the amenities and convenience expected for meetings, the top floor possesses over 2,500 sq. ft. of scenic meeting space, an expansive rooftop terrace with dazzling city views, an upscale fitness center, and a 1,000-square-foot CEO Penthouse Suite.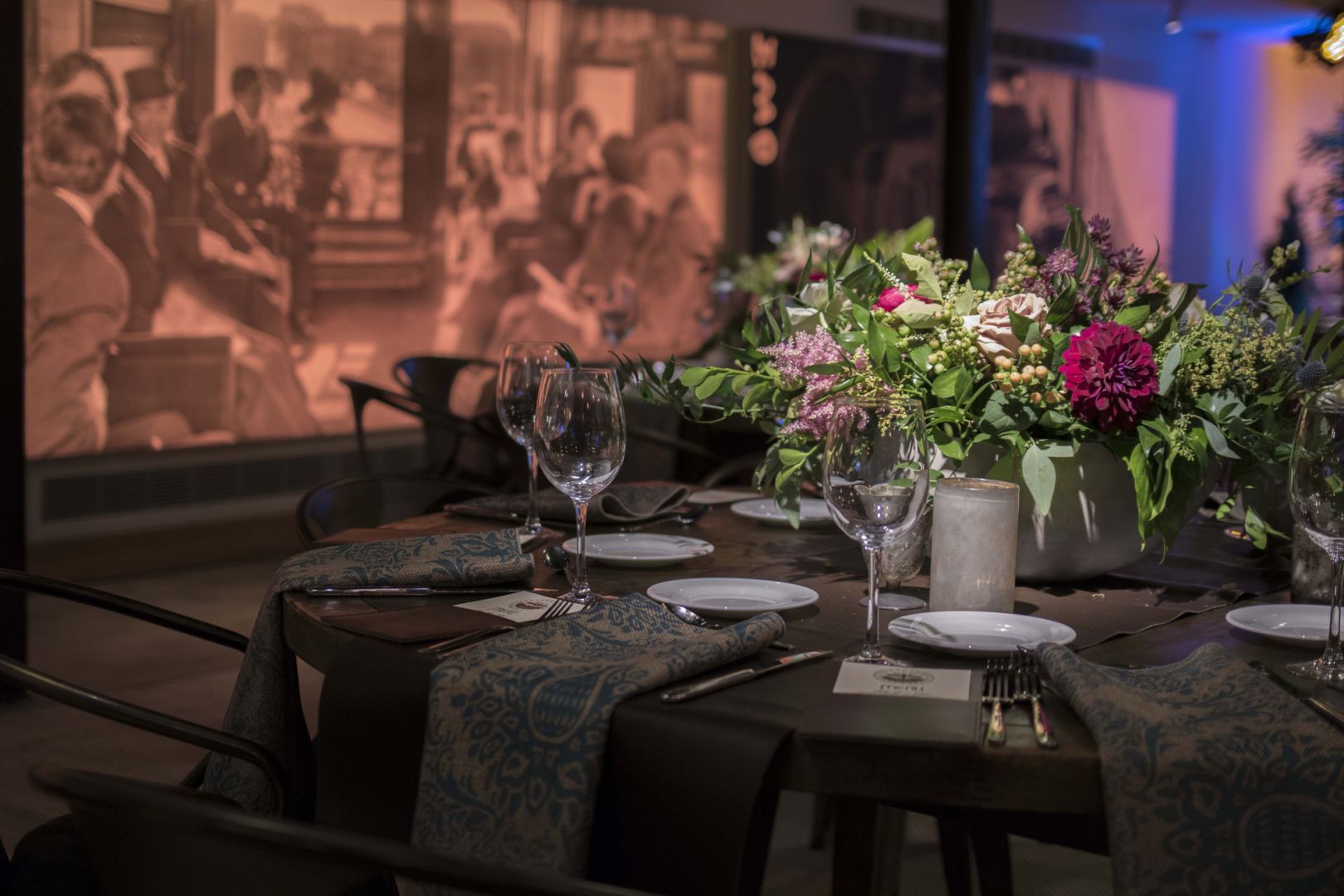 Ironically, the brand name of Centric is a reminder that the CEO becomes the center of the meeting experience, since the Penthouse Suite is the only guestroom on the penthouse floor, located steps away from every meeting or event on the itinerary. CEOs can also enjoy expansive city views from a private rooftop terrace, lounge in the living room area, or use the 8-person dining table to host executive meetings in the comfort of their own room.
A little under a mile from the Colorado Convention Center, Crawford Hotel offers a more intimate and urbanely chic setting for meetings. Situated above the Denver Union Station, Crawford Hotel is innately unique with its railway station vibe, 65-foot ceilings and ornate chandeliers. The train metaphors extend through the guest rooms, which are inspired by the classic Pullman sleeper cars, but with a contemporary comfort. The meeting and event spaces offer a specifically curated motif to fit any need, each with all the tech considerations to make the spaces comfortable and fit for meetings.
Colorado Springs Brings Mother Nature to the Meeting
If the site of a tourist attraction called The Garden of the Gods isn't enough to attract meeting planners and participants alike to Colorado Springs, not to mention Pike's Peak and countless other after-work excursions, then The Broadmoor is the icing on the cake. This legendary Forbes Five-Star and AAA Five-Diamond resort offers 315,000 sq. ft. of meeting and event space including the new addition of Bartolin Hall to the Convention Center at the Broadmoor.
Krista Heinicke, director of public relations for The Broadmoor, says, "For those who truly want to meet in a mountain setting, there is not a better location to hold it. The Broadmoor is set at the foothills of the Rocky Mountains. With 5,000 acres to spread across, there is plenty of space to meet safely and in style."
Read More: The Broadmoor: The Only True Luxury Colorado Mountain Meeting Experience
In addition to the 784 guest rooms, an additional 3,000 rooms can be found within 10 minutes of the resort. To increase efficiency and convenience, transportation is available between The Broadmoor and several partner hotels. For those staying on-grounds, The Broadmoor provides many unique experiences to its guests. Luxurious Cadillac rentals are available for up to three hours a day. Art workshops, golf, bowling and even falconry are available for guests looking for something to boast about around the water cooler.
Garden of the Gods Resort specializes in bringing meetings and wellness together. Meeting areas include 10,000 sq ft of outdoor terrace space with spectacular views, 12,000 sq. ft. of indoor space available with state-of-the-art technology in all its seven flexible function rooms. Team building and individual activities include yoga, golf, swimming and tennis. The Grand View dining room offers fine dining at its best, a mouthwatering way to make the meeting experience more than palatable.
For a smaller venue with the same grand locale, Cheyenne Mountain provides all the needs for meetings and events planners. Their meetings packages are comprehensive and scalable. The decor echoes an indigenous vibe and the grounds make the switch from business to pleasure perfectly seamless. At a total of 40,000 sq. ft., the large and varied event spaces offer elegance for all tastes.
Boulder – Where the Mountain Meets the Plains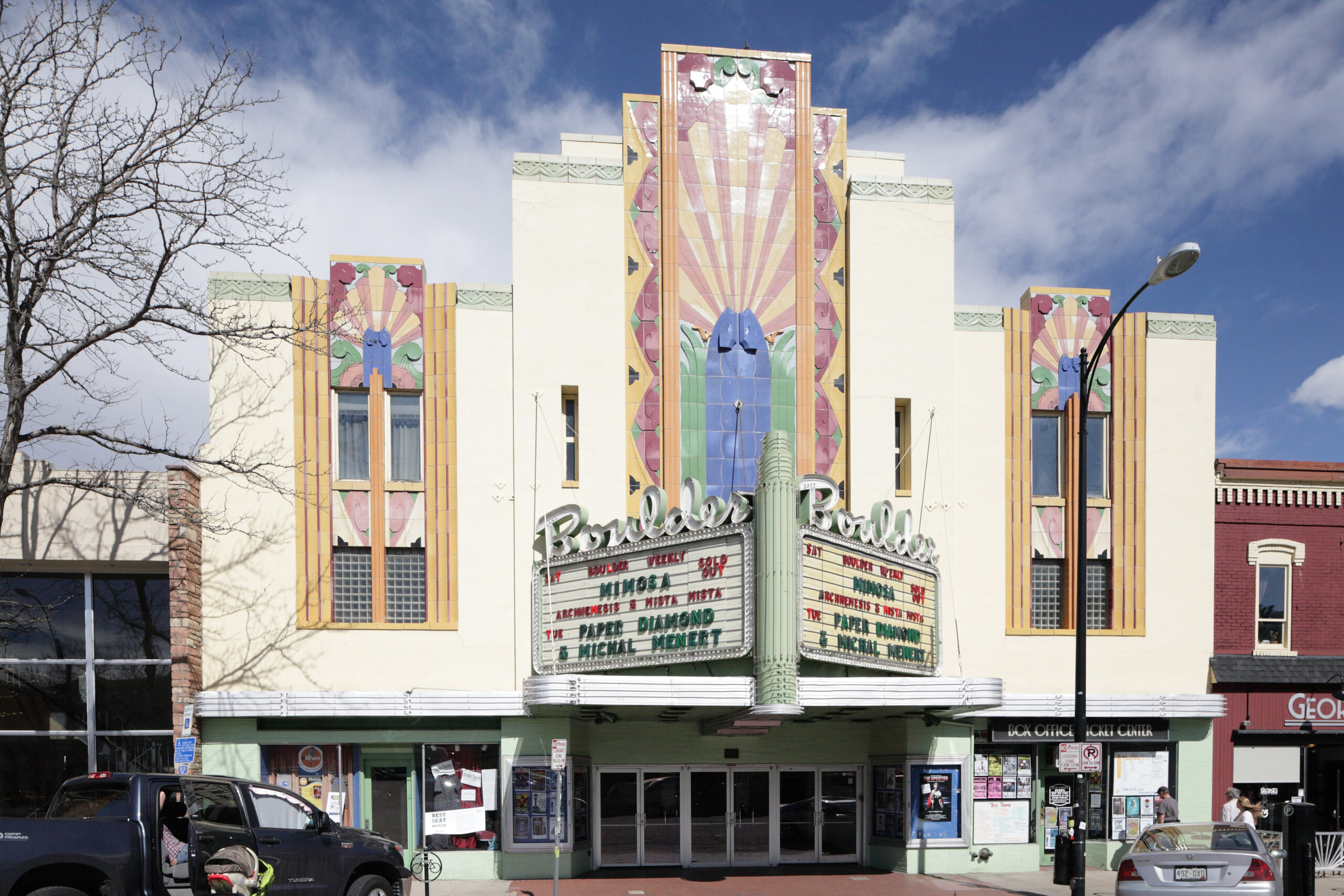 One might think that meetings and corporate events in Colorado would more likely trend toward the larger cities in population and land area, but Boulder, with a population just over 100,000 and a land area of about 25 square miles gives meetings and event planners a true bang for their buck. Boulder is described by Kim Farin, vice president of marketing for Boulder Convention & Visitors Bureau, as having "an anything is possible spirit that adds up to a magical town."
There is something operating in Boulder that has led to National Geographic naming it "the happiest city in the United States." It is the mix of the urban vibe, classic mountain town quaintness and immense natural beauty that is the major selling point for meetings prospectors.
Farin states, "Meeting planners are surprised by the sophistication of the hotels and meeting spaces. We are used to exceeding the expectations of planners." One example can be found at Boulder Theater, home to over 600 events per year, from music to film to tech conferences. The current building with its Art Deco facade, which sports an iconic marquee, opened in 1936 and is designed as a Colorado Historic Landmark.
Hotel Boulderado is the oldest hotel in town, celebrating 113 years in operation. The name of the hotel is not only a portmanteau of Boulder and Colorado, but the hotel's architectural design is also a blend of Italian Renaissance and Spanish Revival. A member of Historic Hotels of America, Hotel Boulderado addresses modern demands for flexible event space with 10,000 sq. ft., more than enough to achieve a business meeting or event within an edifice of historic significance.
Shine onto Aurora, Colorado
At more than 517,000 sq. ft. of event and meeting space, and sporting a trusted name, Gaylord Rockies Resort and Convention Center is a shining light in this already eclectic city. Easy access is key here, as the convention center is a mere four miles from Denver International Airport (DEN). The resort has 1,501 guest rooms, 85 meeting rooms, and a plethora of exhibit space.
The tech piece here is one of the stars of the show. A meeting services app connects planners with hotel personnel on any web-based device so that arrangements and troubleshooting will run a smoothly as possible. In addition, Marriott ResLink Direct makes it easy to reserve a block of rooms without having to enter different discount codes. The Direct link can be shared on a website events page or even emailed to attendees.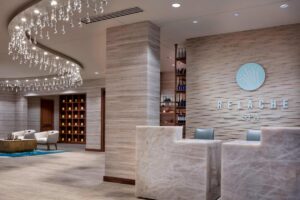 Hyatt Regency Aurora-Denver Conference Center matches the grandeur of larger venues while also providing a sense of warmth and intimacy to the meeting and event experience. The 36,000 sq. ft. of meeting and events space is ample and provides all the technology and event assistance common in the mega-venues. The rooms are fashioned with calming decor, comfortable furnishings and a contemporary style that expresses a sense of home away from home. Yet it is the outdoor event space that brings people together at communal tables under an umbrella, or by poolside, or strolling together, drink in hand under a big, blue sky.
Colorado, in general, is a popular destination for meetings and events. From the natural landscapes, among the most beautiful in the world, to its authentic focus on health and wellness, the diversity of experiences available to meeting planners in Colorado feels limitless. In a world of man-made opulence, the wealth of natural beauty gifted to visitors of Colorado puts all material success into perspective. Of course, the show must go on, and business must be done, but with Colorado as the backdrop, meetings here are a Rocky Mountain high to remember.
The Stanley Hotel
Some hotels that offer meeting spaces are attractive because of their curb appeal. Some cater to participants through an interior decor that vibrates with chic energy. Some have the latest technology keeping all players wirelessly connected. Still others capture the classic feel of historical hotels while maintaining a layer of intrigue and curiosity.
The Stanley Hotel, nestled at the foot of Castle Mountain in Estes Park, Colorado, is actually one of four different hotel types: The Stanley, for that historic hotel feel, The Lodge, when boutique is the desired atmosphere, Aspire, equipped with kitchenettes and a contemporary, apartment-like convenience, and The Residences, designed for groups and extended meetings with leisure.
Read More: Site Inspection: Meet Among the Wildlife in Estes Park, Colorado
In all, the Stanley Historic District boasts 41,000 sq. ft. of meeting space, not to mention the impressive Pavilion, which can be used for any venue from weddings to corporate events. The room houses 250 seats in auditorium style, but what makes the space most memorable is the floor to ceiling wrap around window facing a private pond and the steep grandeur of the mountainside. The window/wall lifts up mechanically to remove any barrier between guests to the room and the embrace of Mother Nature.
The rooms at The Stanley offer guests classic comfort consistent with the Georgian Colonial architecture, a style chosen by the original owner Freelan Oscar Stanley, and inspired by his British lineage. He and his wife Flora opened the hotel in 1912, an hour from Denver through modern transportation. The Stanley's distance from Denver, which was burgeoning into a major hub of culture and politics, allowed the well-to-do an elite, remote and elegant retreat.
However, meetings participants who want that extra layer of cool will be drawn to the hotel's haunting history. In 1974, horror fiction writer Stephen King rented room 217 at the end of the season as the hotel's only guest. That night, King reported to have had a dream that his son was attacked by a spectral fire hose. Unable to sleep, King conjured up the entire concept for his novel The Shining.
As it turns out, ghostly encounters had been occurring several times over the years in several other of the hotel's rooms, but unlike The Shining's "Overlook" hotel, these are of the benign variety. One theory suggests that ghosts haunt places where they have had the fondest memories; that speaks volumes about The Stanley Hotel.
The appeal of haunted hotels to meeting planners is that they all have one thing in common, and it's not the sudden, apparitional addition to the meeting. It's the fact that all haunted hotels have a rich and intriguing history. This legendary element adds a layer of interest to the group heading to a destination. In an odd way, it builds camaraderie among the living, and extends the experience once the group returns to home base. If The Stanley Hotel can inspire Stephen King to create one of the best known horror novels of all time, then certainly it can inspire business people to shine bright within their given genre.
Resources
Aurora Area Convention and Visitors Bureau
Boulder Convention and Visitors Bureau
Visit Colorado Springs
Visit Denver
This article appears in the July 2022 issue. You can subscribe to the magazine here.