Immersive experiences are easy production hacks
In an age where we're competing with nearly-addictive, user-generated social media content and experiences like Oppenheimer in IMAX 70mm, many of us are kept up at night wondering how we're going to earn the audience's attendance, and keep their attention, at our next event.
In fact, from recent Encore customer research, we've learned that an overwhelming 97% of event professionals are excited about technology that creates "wow" moments and more than 80% believe delivering those wow moments facilitates greater attendee engagement and event ROI.
While the buzz about immersive experiences right now leans a little into the future of augmented reality, or even holograms, it's worth looking at how the quality of your event production, with tools at your fingertips right now, can deliver that immersive wow-factor that gets your attendees talking.
Considering that 80-85% of our perception, learning and cognition is mediated through vision, one of the core components to impact audiences has always been color.
This fascinating field of research shows us that, not only does the presence of color affect our cognition and mood, but certain hues also affect how we internalize information and interact, which is crucial to the success of an event.  
Case in point: Pantone's Color of the Year. Each December the company that sets the global standard for color matching announces a color for the upcoming year meant to represent current trends, social and political events and global attitudes. Viva Magenta has been the Color of 2023. Described by the institute as "bold" and "unapologetic," this shade was chosen to evoke a sense of confidence and optimism in our post-pandemic landscape.
Back in December, Viva Magenta made sense to us, especially considering unabashed vibrancy in our fully-booked calendars, the growing size and number of events, and the excitement around more engaging, immersive events.
From fashion to marketing, the color of the year is used to forecast trends in branding and design, product development and purchasing decisions. It's become so influential that the 2024 color of the year has already been selected (Apricot Crush) and is meant to signify an energetic yet refreshing antidote to the uncertainty of next year.
With all that possibility for emotive affect, let's take a look at the opportunities to infuse color into events to create more captivating experiences for attendees.
Warming Up or Cooling Down Moods
Let's start with the neurological effects of warm versus cool tones. Bright and warm colors, like red, orange and yellow, stimulate our senses and can evoke feelings of happiness, optimism and energy. Contrastingly, cool and calm tones like blues and greens are typically internalized as soothing.
Read More: How to Encourage All Personality Types to Open Up
In fact, prisons have often painted jail cells pink to keep the peace. Taking a note there, how about a warm pink uplighting in a meditation room as a place of respite in a busy conference?
Colors are not just a matter of aesthetics; they can have a profound impact on our mental state. Research in this area has confirmed what we have long suspected: that colors can influence our internal physiology and create unconscious reactions.
Encouraging Networking
Let's say you're planning a ballroom luncheon where you want your attendees to interact and socialize. You could incorporate sweeping use of yellow visual content with LED walls because yellow is known to invigorate. The attention-grabbing technology and brilliant hue would serve to encourage these connections and even boost participants' moods.
Increasing Action and Critical Thinking
If you're looking to amp up the energy and increase productivity, red light might be the way to go, as it has been known to elevate pulse rates, and even respiratory rates. It's also known to encourage a more analytical mindset.
Purple has also been known to increase focus. For a small meeting, how about LED lamps at each table set to cast purple tones to keep the small groups focused and engaged.
Setting the Stage
Not every solution is an LED, although it's a high-powered tool for color psychology.
Read More: Spectacular Spaces: Event Design with Ed Libby
Scenic elements like spandex soft sets or modular backdrops, like BackDrop Pro, can be illuminated with front or back projection and the addition of gobo lighting for texture as a tool for setting the mood.
Content Designed to Engage
And while the production of your event is vital to success, it always starts with the content. You should be asking your creative and content development team about colors and graphics to influence the room in everything from your keynote presentation, to your sponsor reels during a banquet. It all matters.
—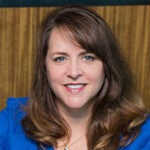 Annette Moody is senior vice president of production at Encore, where she oversees areas including production, supply chain and the Las Vegas operation.