All-inclusive properties may seem like the holy grail of venues to meeting planners, and while they can make the planners job a lot easier, they don't automatically guarantee a high-quality event. That is up to the planner.
In Smart Meetings' latest webinar, Erin Wendell, senior director of event management at Maritz Travel, shared her tips and tricks when working with all-inclusive properties for incentive programs. Here is a wrap-up of what we learned.
Why All-Inclusive?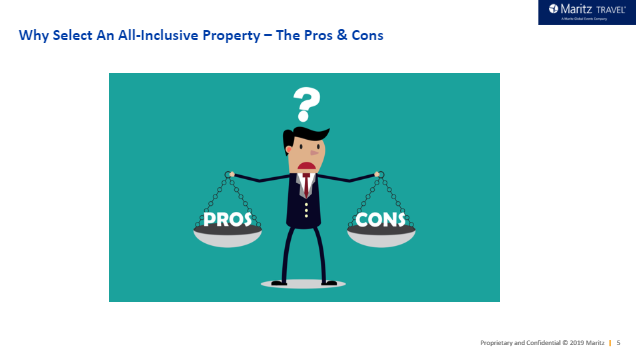 Wendell suggests using all-inclusives for incentive programs, noting the value they provide. Maritz Travel works with a handful of the many companies that offer all-inclusives in Mexico, the Caribbean, and Central and South America. Wendell, who has more than 10 years of experience, outlined the pros and cons she has found in using all-inclusives.
The pros center around cost. The cost is normally cheaper for the company and as guests don't have to buy their own food and drinks, there are fewer out-of-pocket costs for them. Another pro is the safety that is heightened by gated properties.
Cons include limitations on F&B options, prices and dinner reservation availability; a tendency toward poor communication, as CSMs are often dealing with heavy workloads; issues that arise with unlimited free booze; and the sense that your guests may get "lost in the crowd," as there are often many different groups staying at the same property.
More: Rewarding Trends in Incentive Travel
How to Work with an All-Inclusive Property
When selecting a property look at the property size, your budget, whether it is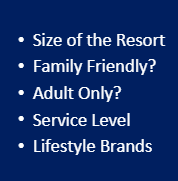 adults-only or family friendly, the service level and the brand. (Does your client want foam-pool parties or relaxing morning yoga sessions?)
When doing a (precontract) site inspection, make sure to explore room types, F&B options (meet the chef and dine in as many places as possible), audiovisual needs (even if you are not hosting meetings, ambience is important), spa offers and pick-up or departure points for activities—and see what the property can do to make the event special.
During your two- or three-night site inspection and prior to signing a contract, Wendell's smart tip is "negotiate, negotiate, negotiate. I can't say this enough; this is why our host companies hire us."
During these negotiations, make sure you clearly state your expectations, including an agreed upon response time from your CSM.
A local DMC partner is often best for addressing transportation needs, to ensure quality, insurance and expert knowledge of the area and the entertainment it has to offer. It can also help with any decor and international shipping needs you may have.
Smart Tricks to Elevate Your Next Incentive Program
Look into offering F&B options that are not on the a la-carte menu. Talk to the chef ahead of time about this to ensure your guests are well fed.
Ask the venue if there is anything special it is willing to do for your guests (remember to negotiate). A welcome gift or drink upon arrival is always very appreciated.
Bring clients on the site inspection so they are confident in the property and excited about the event.
Encourage creativity in your property. Just because it hasn't been done before doesn't mean it can't be done!
Listen to the full webinar here before planning your next all-inclusive.
More: Just Press Go: How All-Inclusives Can Exclude Worry for Planners