On a sunny evening in September, Visit Sacramento shut down the bridge over the California capital's namesake river for a very special event—the sixth-annual Tower Bridge Dinner—a locally sourced foodie adventure for 800 people to cap a week of celebrating the bounty of the agricultural area. The city, which bills itself as America's Farm-to-Fork Capital, embraced its roots by capitalizing on what it does best—culinary, community and charity excellence. What can event planners learn from a national celebration and local fundraiser marked by two parallel, flower-strewn tables running down the center of a 737-foot bridge that connects Yolo and Sacramento counties? A lot.
Food Forward
Sacramento's first settlers were farmers, and the Central Valley is still the most prolific agricultural producer in the country; the city is also home to one of the largest California Certified Farmers' Markets. It supplies 80 percent of caviar produced in the United States and 80 percent of the almonds processed in the world. From grapes to tomatoes, the country relies on the bounty of this river town.
In recent decades, internationally acclaimed chefs have discovered the quality of ingredients and life there and expanded the definition of what it means to eat fresh. As Tower Bridge Lead Chef Jeremiah Tower of Chez Panisse fame explained while standing shoulder to shoulder with local chefs Ed Roehr of Magpie, Kathi Riley Smith of The Oak Cafe at American River College, Ravin Patel of The Selland Group and Brad Cecchi of Canon, sourcing some of the best produce in the world so close to the iconic Berkeley restaurant made it possible for him to successfully deliver an innovative take on fine dining back in the 1990s.
Lesson: No matter where your event is staged, look in your backyard to see what the destination does best, and make that a central theme. Whether it is food, music, art or widgets, bring that into your event so the meeting becomes a statement.
Give Back
The Tower Bridge Dinner has become a highly coveted ticket near and far—two lucky guests won their tickets from a Food Network promotion. Funds from ticket sales pay for a free Farm-to-Fork Festival on Capitol Mall that educates—and feeds—80,000 people over two days. Filled with local craftspeople, food demonstrations and creative food trucks, it showcases the region's year-round offerings. Tickets also pay for scholarships for children of migrant farmworkers at nearby Sacramento State.
Lesson: The memories of an event don't have to fade with the centerpieces. Funds raised can extend the goodwill shared over Upper Crust Baking Company bread and Clarksburg wines beyond the evening to benefit those who could not be there in person.
Place Making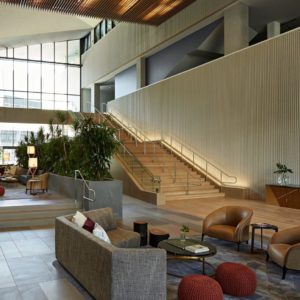 The gold-ingot hue of the bridge wasn't the only color on display. The city has become known for public art celebrating its sense of place. An annual Wide Open Walls Festival brings in 40 artists over 10 days to build on the tradition of wall-sized expression that began in the 1970s with the Royal Chicano Air Force. Walking tours by Sac Tour Company of a new DoCo (Downtown Commons) highlight vivid statements about everything from environmental waste to historic symbols rich with California poppies and mind-boggling trompe l'oeil.
Even the new Kimpton Sawyer Hotel is filled with nods to the earth tones and rolling, geometric patterns of the surrounding fields visible to travelers approaching Sacramento International Airport (SMF). Pops of purple and a generous supply of extra-long mattresses are a wink at the new Golden 1 Arena for the NBA Sacramento Kings team on the other side of the plaza. The hotel's 22,000 sq. ft. of meeting space is filled with natural light and catered with the best of local fare—peppercorn-crusted, strip-steak lollipops and pear and candied walnut salad being two popular options.
Lesson: An authentic meeting space makes it possible for attendees to get a taste of where they are the minute they open their eyes in the morning—even if they don't make it out onto the Revival at the Sawyer pool deck for a Royalty craft cocktail—gin with yellow chartreuse, coconut puree, pineapple, lime and butterfly (sugar) syrup.