Farm-to-table and local sourcing can be both sustainable and delicious
This summer, Director of Food & Beverage Chris Clark, Executive Sous Chef Nick Gummerson and I embarked on a food journey to Colorado's gem—the Western Slope, a frugal area where unique growing conditions of cool mountain air at night and warm air during the day help to ripen and sweeten fruit at just the right rate. Our trip took place during the popular Peach Festival in Palisade, Colorado. Our mission was to find new producers of locally made foods who are as passionate about taste, quality and food safety as we are.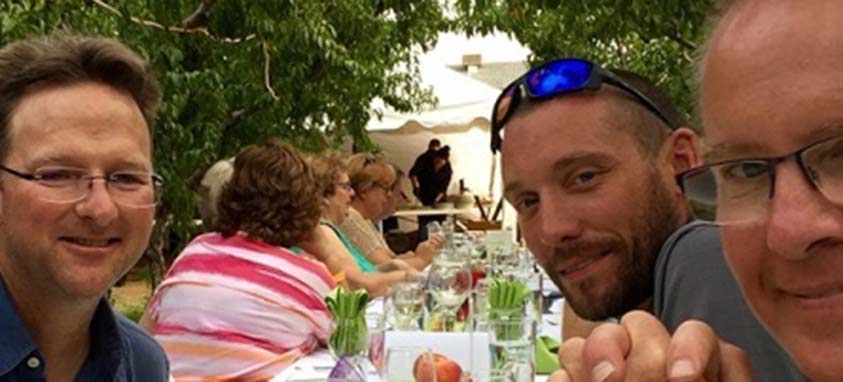 We toured 10 local farms and processing facilities for goats, alpacas, peaches, plums, preserves and sauces and more. "After visiting and observing their practices we feel comfortable both using and promoting their products. Our state is the source of some excellent foods that we have curated, and we feel is it our responsibility to introduce these treasures to our guests," Chris Clark said. "We truly enjoy partnering with smaller producers and sharing the experience of their growth and success."
For example, Colorado Mountain Jams, a family-owned operation, provides private label preserves for our hotel's restaurants and catering events. Owner Brian Olson, a schoolteacher in New York for 25 years, grows plums and apricots. When walking into his orchid your feet sink into soil that is very well-tended, with not a weed to be found. Every product Brian uses is of the highest quality. We tasted his products alongside the most expensive and well-known brands and found his jams to be superior.
During this trip, we met several people as passionate as we are about connecting people to the actual source of their food. The first stop on our quest was a visit to Jumpin' Good Goat Farms in Buena Vista, Colorado, where the owner, Dawn Jump, let us participate in herding and milking the goats. We tasted every cheese she produces and now many are featured in our cheese and charcuterie menu in 16MIX.
This stop in our journey taught us volumes about goat farming, a new favorite activity of Chef Nick's.
Another a-ha moment occurred when we witnessed the frustration of Harry Talbott, owner of Talbott's Mountain Gold Peach Farm. We watched the workers cull imperfect fruit from their production line. When asked about this practice, Harry said, "We don't grow fruit; we grow bouquets." He further explained that imperfect fruit must be used for other purposes, since American consumers will only buy unblemished fruit. He inspired us to work deals to give those imperfect peaches a home, turning the defective but exceptionally sweet and juicy fruit into smoothies, cocktails, purees, compotes and jams for our hotel guests to enjoy. We are now looking at every produce item with the same lens, embracing the UBU—ugly but useful—movement.
This experience reassures me that Sheraton Denver Downtown Hotel is on the right path by exposing our guests to local products and connecting them to the state that I am proud to call home. Supporting our community is another accomplishment we take pride in. Using responsibly produced, sustainable products is not a food trend for my team, but rather our culture.
---
Scott Skomal has served as Executive Chef at Sheraton hotels for more than 15 years and has been with Sheraton Denver Downtown Hotel since 2011. Colorado's largest and most flexible meeting hotel, located in the heart of downtown Denver, Sheraton offers 133,000-square-feet of distinct meeting spaces for conferences up to 3,000 people, with 1,231 guest rooms and 82 suites.