Last week, a select group of meeting professionals found themselves at a spirited Smart Meeting National 3-Day at Stanley, a Grand Heritage Hotel, in Estes Park, Colorado. The property has a famous history: Stephen King wrote The Shining there, making the famed room 217 a destination in itself; scenes of Dumb and Dumber were shot here as well, after which Jim Carrey experienced something in that very room that convinced him to never go back (you'll have to visit yourself to find out why).
The Space
The Stanley features 41,000 sq. ft. of meeting and conference space. The look of the spaces vary, from 8,000-square-foot Pavilion (where Smart Meetings one-on-one meetings were held), with a 250-seat floor-to-ceiling windowed auditorium that offers a beautiful backdrop of Rocky Mountain National Park and the more than 8,000 sq. ft. of banquet space that accompanies it. The 5,200-square-foot MacGregor Room (where breakfast and dinner took place) served as the perfect airy space for planners to meet and network over whiskey cocktails, which the property had in abundance.
The Speakers
When planners weren't eating, mingling or sharing stories about possible paranormal activities from the night before, they were listening to three powerful keynote speakers.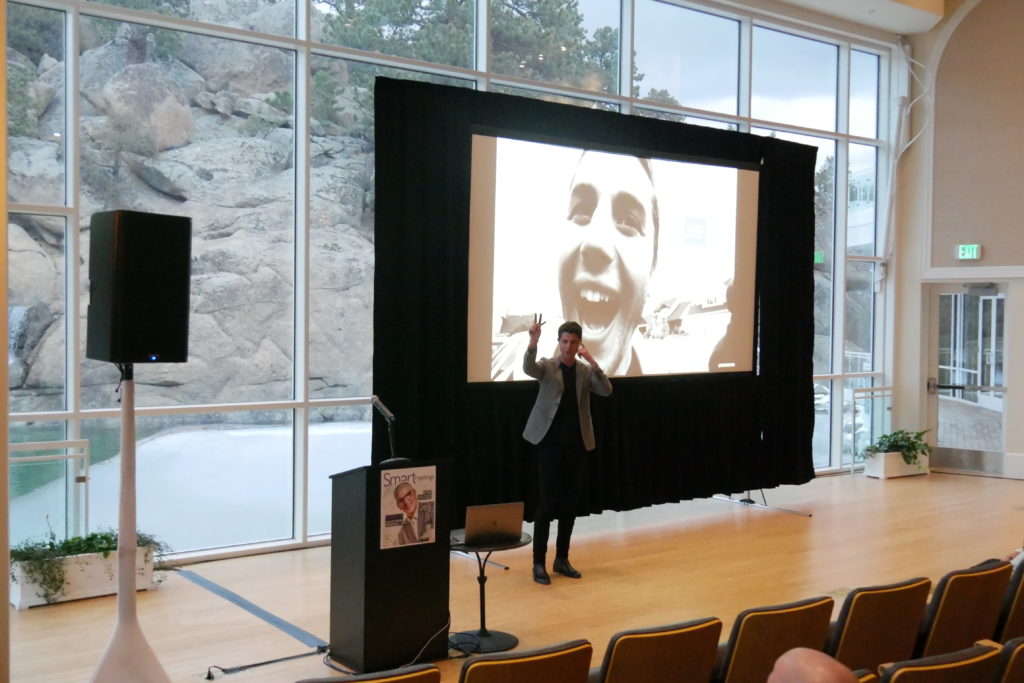 Ben Nemtin, a Canadian producer, writer, speaker, TV personality and co-founder of The Buried Life, had much to say about the importance of living life to the fullest, and not reaching the end of life with regret for the things never done. When Nemtin was in his early twenties, he and his three best friends set out to do the unthinkable: scratch off every item on their bucket list, of which there were 100. That promise to himself was the beginning of a journey of things unthinkable, from playing basketball with Obama at the White House to having a beer with Prince Harry. Even though these bucket list items sound like fun and games, the message to take away is that anything is possible if you want it bad enough.
Mike Dominguez, CEO of Associated Luxury Hotels Incorporated, is always an audience favorite, giving speeches around the globe. Dominguez' strategies for staying relevant were applicable to all in the room. The world is changing rapidly, and Dominguez really drove home the importance of adaption. In the next five years, 40 percent of individuals will be irrelevant if they can't change fast enough, Dominguez warned. He also cited research that showed a 1.9 percent increase in hospitality supply and a 1.6 percent increase in demand in 2020, all great news for the hospitality sector.
Steve Jones is the author of the book, "Brand Like a Rockstar," and has 30 years in the music industry. In his keynote, he laid out how rock stars used branding to become who they are today. One example Jones used was a band named Wicked Lester; he told the story of how when this band first started out they couldn't seem to catch a break. They considered splitting up, but before one more try with a new name: Kiss. The rest is history
The End
After three days at 7,800 feet of elevation, it was time to wind down and head home. Connections were made, business conducted and everyone left with a renewed appreciation of the industry. The Stanley now has something else to add to its list of memorable events: a historic Smart Meeting National 3-day.