Behind all that gold and neon at Caesars Entertainment hotels beats the heart of a green company. The operator of 40 properties in 20 destinations has qualified as a leader with CDP, a nonprofit that rates companies on how well they manage their environmental impacts on climate, water and supply chain.
A commitment to environmental sustainability has resulted in an 11 percent reduction in water consumption since 2008 and more than 58,000 tons of waste diverted from landfills in 2017—a total of 328,000 tons diverted since 2012. That is the equivalent weight of 1,640 blue whales-worth of trash that didn't go to dumps around the world. A total of 23 percent of greenhouse gas emissions have been reduced since 2011 and 446 million gallons of water have been saved since 2008.
Eric Dominguez, vice president of facilities, engineering and sustainability for Caesars Entertainment, says the conservation realized so far is just the beginning. CAESARS FORUM, the $375 million, 550,000-square-foot conference facility opening on The Strip in 2020 will be the smartest building in the portfolio. Individually controlled lights will enhance the guest experience and optimize use on a lamp-by-lamp basis, enabling planners to dim or turn LED lights off strategically when they are not being used.
The building will also minimize water use with drought-tolerant landscaping and the most current low-flow fixtures. Dominguez calculates that the building will save 44 percent compared to the baseline for a similar building—4.6 million gallons a year in savings, or seven Olympic swimming pools worth of water.
And get this: Sensor batteries will be recharged by microturbines activated in the faucet when water flows.
An advanced demand-control detection system will measure CO2 levels as a proxy for occupation and turn heating and air-conditioning off so air won't be flowing when no one is in the building. "This works well in convention spaces where there is variable occupancy, so you don't have to worry about turning the system off manually or putting it on a timer," Dominguez said. Overall, the building will be 24 percent more energy efficient than code requires, thanks to innovative technology and operational practices. He equates that savings to the amount of energy consumed by 73 average households a year, or 55,000 gallons of gasoline.
Additionally, fault detention will give the operations team remote visibility into all systems and a control system overlay will flag any glitches, such as a valve stuck open. All these sensors will eventually be integrated in a maintenance management system to automatically generate a work order to have problems fixed before they waste resources. Eventually, everything will be in the cloud so there is shared, centralized visibility with Harrah's Las Vegas Hotel and Casino, Paris Las Vegas Hotel and soon, Caesars Palace.
"We want guests to feel comfortable and have the right lighting; they probably won't even notice that behind the scenes, it is operating in a very efficient way," Dominguez said.
Responsible Meetings Matter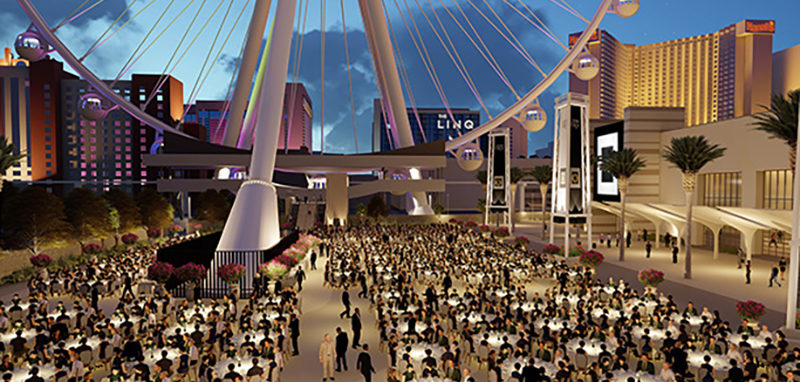 This sustainability investment is part of a bigger commitment to people, planet and play. Gwen Migita, chief sustainability officer, says that Caesars Responsible Meetings Professional program includes social, sustainability and environmental initiatives. Called Meetings for Good, it offers preset menus of philanthropic activities through Caesars Foundation so customers can easily plan volunteer events on- or off-property and make donations to vetted local groups.
More: Philanthropy and CSR: Missing Ingredients to Profound Meetings
More than 300 banquet and in-market sales managers have been certified through a responsible meetings training. It tests their knowledge of best practices and ties into operational audits at each property that follow national Green Key Meetings standards. The training covers everything from conscientious sourcing to proper idling, antitrafficking strategies and communications procedures to keep everyone safe. "This is part of a larger focus on corporate responsibility that been in place for 10 years," Migita said.