AC Hotel Nashville Downtown
Event professionals in Nashville now have more choices. On Tuesday, Marriott opened its first tri-branded property—an integrated AC Hotel Nashville Downtown, SpringHill Suites and Residence Inn. More than 9,000 sq. ft. of indoor-outdoor meeting space perches on the 21st floor, where the rooftop bar–named rtb!–overlooks Music City Center's 2.1 million sq. ft. of meeting and exhibit space in what is known as the SoBro district (South of Broadway) with easy access to Country Music Hall of Fame, Ryman Auditorium and Bridgestone Arena.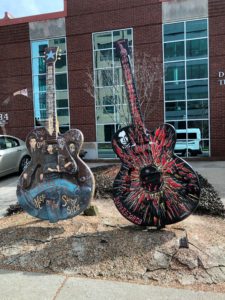 "This helps convince more groups to come to Nashville," said Charles Starks, president and CEO of the tri-branded property's neighboring convention center. He pointed to the development as a sign that the city's investment five years ago in meetings infrastructure was a smart one. "Our best convention days are still ahead," he said.
Related: Marriott to Launch Integrated Loyalty Brand
Eric Jacobs, chief development officer-North America with Marriott Select Brands, points out that a multi-branded hotel in a location close to the convention center gives planners the option of upgrading VIPs, offering attendees different price points and unique breakout configurations. "The view speaks for itself," he said.
AC General Manager Juan Mera explains that AC has become known for its stylish, minimalist design, while the limited-service properties have a more, well, residential feel. The entire property honors the local music culture with nods to musical instruments and styling.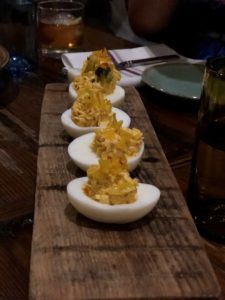 The project owner, Atlanta-based North Point Hospitality, developed the unique, 470-room building to leverage the benefits of the full-service AC amenities, such as the shared oversize pool, full gym with Peloton bikes, business center and restaurant and the more homey options at Residence Inn and SpringHill Suites, such as one- and two-bedroom suites with kitchens and a laundry room. The staff will even shop for groceries and stock the kitchen for just the cost of the staples. The color, design, and even scent signatures, make the transition obvious as guests move from one side of the building to the other through the twinned sixth floor lobbies.
The building also takes full advantage of the views with a wrap-around patio that can be rented for events, an abundance of corner suites that feature boardroom tables and fold-away beds and a presidential suite that could double as a meeting space.
Experience Marriott Bonvoy
The property offers access to locally inspired Marriott Bonvoy Moments, the new name combined loyalty program from Marriott that, in addition to access to more than 6,900 properties, across 30 brands in 130 countries and territories, offers 120,000 different experiences that can be purchased with a credit card with loyalty points. Guests can exchange points for a chef-led cooking master class Moment, behind the scenes tours at local venues and VIP entry to events at the many music venues in town.