Las Vegas is well known for its nightlife, but the showstopper of the day was the groundbreaking of Caesars Forum on Monday morning.
Caesars Entertainment bigwigs got busy digging at the ceremony, held underneath an air-conditioned tent to keep everyone out of the sun and comfortable, despite the sweltering summer heat. Roger Dow, president and CEO of U.S. Travel Association, emceed the event. Some of the other notable Caesars Entertainment attendees were Mark Frissora, president and CEO; Michael Massari, chief sales officer; and Lisa Messina, vice president of sales.
Construction will get underway shortly to transform an empty parking lot into the two largest pillarless ballrooms ever built. In true Vegas fashion, Caesars Forum is going all-in and going big.
The new $375 million conference facility will have 300,000 sq. ft. of meeting space. To put this into perspective, that is equivalent to 27 tennis courts or three ice skating rinks. Even an 18-wheeler truck can fit inside. In case a planner's vision somehow happens to outgrow the interior space, there will be an outdoor plaza offering an additional 100,000 sq. ft. of space. There will be 2.1 miles of technologically advanced airwalls to provide many configurations.
"It comes from the Roman forum; the town square that's the city center, where everything was discussed," Massari says. "Where the ideas were created and matriculated, and where the gatherings took place. Where commerce happened. These are all things we want to have happen at the Forum. You'll start to see a lot of Caesars legacy in some of the designs. We want to make sure we honor that heritage."
It Takes a Village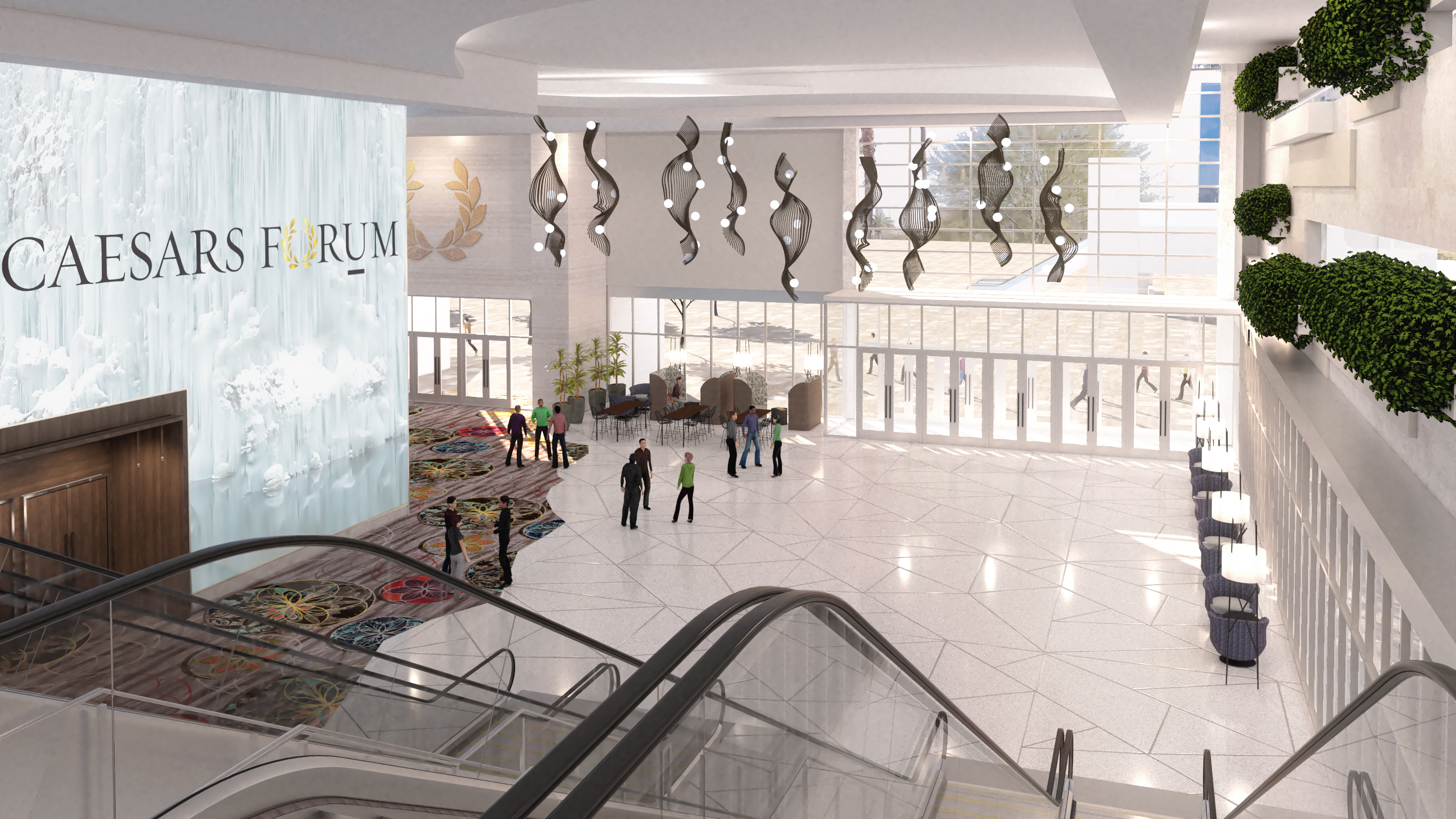 Before the current one-level floorplan was approved, the design of Caesars Forum underwent several revisions. To draw inspiration, the company did thorough research of other large meeting facilities, such as Orlando World Center Marriott, Gaylord Hotels, and Walt Disney World Swan and Dolphin Resort, says Bob Morse, president of hospitality for Caesars Entertainment.
"Whenever you do something like this, it's very hard to get lots of people's opinions," Massari says. "It's a lot easier and faster to have one person make all the decisions, but you just never get the best outcome. The kiss of death for a facility like this is to not incorporate everybody's opinions and thoughts into the project."
"We've made sure it's a very inclusive process from a customer's standpoint, from an employee's standpoint from all different levels, and then, of course, [from the standpoint of] all the architecture and design people. It can be frustrating sometimes, but it's well worth it in the end."
It takes a village to make a project of this enormity come to fruition, including the cooperation of local government. "This is a great market, in terms of collaboration," Massari says. "This is a tourism market, and so as big as the city's become, it's still a small community in terms of tourism. We work closely with our competitors. We work really closely with the LVCVA [Las Vegas Convention and Visitors Authority]. We saw Chris [Giunchigliani, Clark County supervisor] today, working closely with the city and the county to make sure we bring this program off without a hitch."
The designers of Caesars Forum are taking pride in the amount of natural light that will enter the meeting space. There will even be garage doors to open to the outside plaza. "For me, as the facility operator, it's this connection between the inside and the outside that I really wanted to make sure we had," Massari says. "People can free-flow from an interior reception to an outside reception, and they can utilize the outdoors and have breakfasts, lunches and dinners—even general sessions."
Sustainability will also be at the forefront of Caesars Forum. The conference center will be LEED Silver certified and the roof will be covered in solar panels.
The Calendar is Filling Up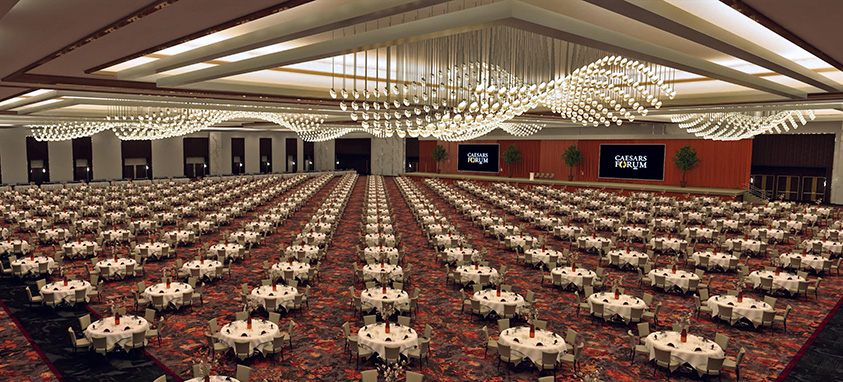 With an opening date scheduled in the first quarter of 2020, Caesars Forum is accepting bookings for as soon as April 1, 2020. It's already locked in 12 to 14 events. Notably, all these bookings are from new customers. Massari is not concerned that this new building will take business away from existing Caesars properties on The Strip.
"The customer reaction to what we're doing is fantastic," he says. "We've got $70 million in business booked for the first four years of operation before there's a shovel in the ground, and so we're really proud of that and we expect it to accelerate now that the building is beginning to be constructed."
American School Counselor Association secured the first booking, for its July 2021 conference. The group expects 3,500 attendees from throughout the country to register for the event.
Star Power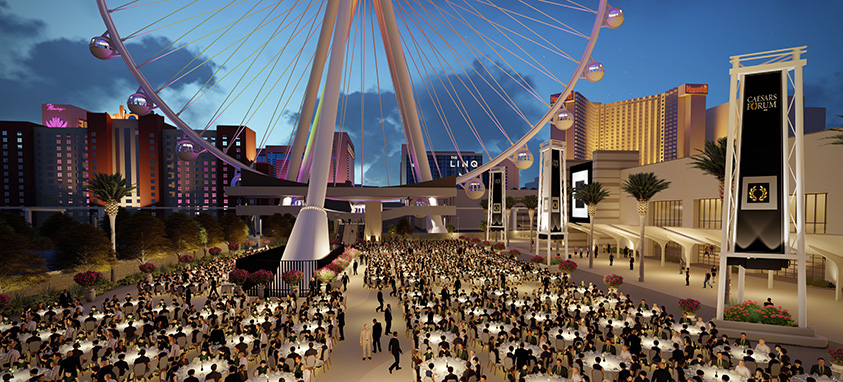 Catering for such a large facility is a massive undertaking. Don Ross, vice president of catering, conventions and events, will be overseeing the operation. One of the initiatives he is most excited about spearheading is incorporating celebrity partnerships with banquet menus. For example, he would love to see Guy Fieri's lollipop wings available to meeting planners. He also mentioned Caesar's concern for food waste and the steps it is taking to partner with charitable organizations to donate excess food to those in need.
"I think the celebrity chef piece will be really fun for us. We'll take some of the best dishes from our great partners on the celebrity chef side and be able to deliver those to our meetings and events attendees," Massari says. "I think the customers are going to really get a kick out of that."
Accessibility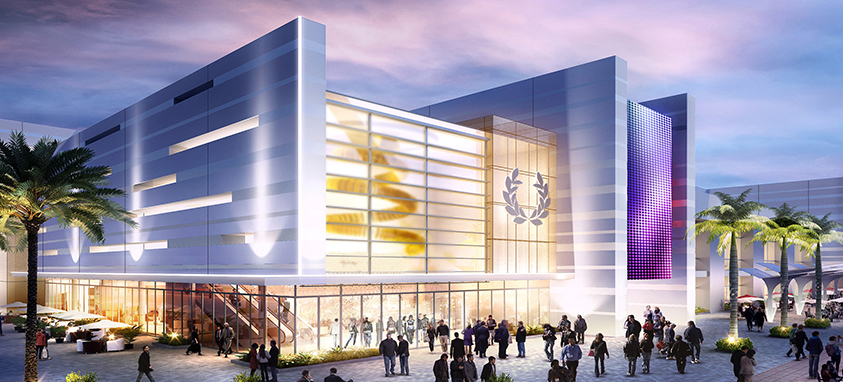 Caesars Forum will be will be within walking distance of 20,000 guest rooms and eight of the brand's nine Las Vegas properties. Five thousand rooms at Harrah's Las Vegas, Flamingo Las Vegas, and The Linq Hotel and Casino will be connected by skybridges and pedestrian bridges, so guests won't have to step outside. Massari assures planners that although many guest rooms are near the construction site, noise levels of equipment will not be a disturbance.
The groundbreaking will be a tough act to follow, and Caesars is already brainstorming ideas to raise the bar yet again for the ribbon-cutting in 2020 and celebratory milestones leading up to it. "It's hard—we're in the events business, and people [expect us] to throw these killer events, so it always makes us a little nervous and provides us with a little bit of pause," he says. "Everybody's thinking about what the topping off looks like, and then what the grand opening looks like."