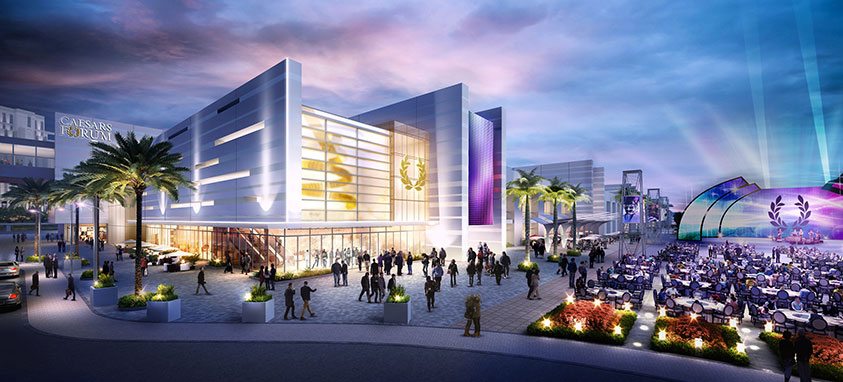 Rendering of the Caesars Forum conference center
New details have emerged about the upcoming Caesars Forum conference center. Last week, Caesars Entertainment Corporation released the first rendering of the exterior of the building and adjoining 100,000 square-foot outdoor plaza.
The company also launched a website specially dedicated to Caesars Forum that contains detailed floorplans of its more than 300,000 sq. ft. of flexible meeting space. When it opens in 2020, the conference center will feature the two largest pillarless ballrooms to ever be built, each measuring 108,000 sq. ft., in addition to two 40,000 square-foot ballrooms.
The name of the conference center evokes the Roman influences of Caesars Palace. The noun "forum" is defined as the marketplace or public square of an ancient Roman city, the center of judicial and business affairs and a place of assembly for the people. And, that's just what this $375 million project will do, bring people together to convene.
"I hope you'll agree with me that this investment, building the two largest pillarless ballrooms in the world, is another way that we show how committed we are to helping our customers plan and execute great events," Michael Massari, chief sales officer for Caesars, says in a video posted on the website.
With these floor plans, meeting professionals can now begin to map out their events in the expansive space. The charts depict more than 100 rooms for break-out sessions.
The state-of-the-art facility will be centrally located on The Strip and connect meeting goers to more than 8,500 guest rooms within the Caesars family at LINQ, Flamingo and Harrah's. An additional 20,000-plus hotel rooms are only a short walk away. Guests will also be able to take advantage of shopping, dining and entertainment at the LINQ Promenade and go for a ride around the High Roller observation wheel.