"Inclusion Drives Innovation" is the theme of National Disability Employment Awareness Month (NDEAM), which is honored in October and has existed in some form since 1945.
"Each day, millions of Americans with disabilities go to work and know firsthand the independence, pride and sense of community that comes with a job," said U.S. Secretary of Labor Alexander Acosta in a press release. "Their daily contributions are proof that inclusion helps drive American innovation."
NDEAM is promoted by the U.S. Department of Labor's Office of Disability Employment Policy.
Many organizations pitch in to help during NDEAM. Best Buddies International, a Miami-based nonprofit organization founded by Anthony K. Shriver in 1989, has expanded to worldwide outreach in more than 50 countries. Shriver and Jim Murren, chairman and CEO of MGM Resorts International, "put their heads together…about their desire to really embrace inclusion," Dominique Ianni, director of operations for Best Buddies Nevada, told Smart Meetings.
MGM Resorts International joined forces with the Best Buddies Jobs program in Nevada in 2014 to employ individuals with intellectual disabilities, such as Down syndrome, autism, cerebral palsy and traumatic brain injury.
Ianni says this initiative seeks to provide opportunities for this population of people to make competitive wages with benefits, and squash the perception that they are only capable of being "grocery baggers." Ianni says that they work in spas as receptionists or attendants, and as front desk ambassadors and gym attendants, as well as in the pool and culinary areas.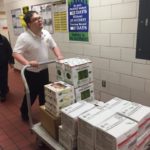 "[We've also] been looking at positions in their accounting department," she said.
One success story is that of Paul Brooks, who works as a gym attendant at Bellagio Resorts and Casino. He is very forward-facing with the guests and helps with the towels. At the 2016 Best Buddies International Leadership Conference, he was honored with the Jobs Program Participant of the Year Award for his stellar service. Ianni calls him "one of our shining stars."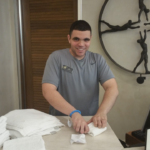 "Our partnership with Best Buddies Nevada helps promote a more diverse and inclusive workplace and allows individuals like Paul Brooks to showcase their incredible talents and abilities," said Shelley Gitomer, vice president of philanthropy and community engagement for MGM Resorts International.
Across the country in Leesburg, Virginia, The National Conference Center paired up with Loudoun County Public School System and the nonprofit organization Didlake for a similar program, Project Search, to help people with intellectual delays transition from high school to the real world. Participants take part in a 10-month internship to learn various areas of hospitality through classes and hands-on training.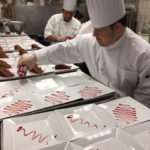 "We placed our nine interns in a variety of departments, including culinary, engineering, housekeeping, audiovisual, grounds and event services," said Geoff Lawson, vice president and general manager for The National, regarding the program's first graduating class in June. Three of the participants were hired by the conference center upon completion of their internships and a new group of students are currently enrolled in training.